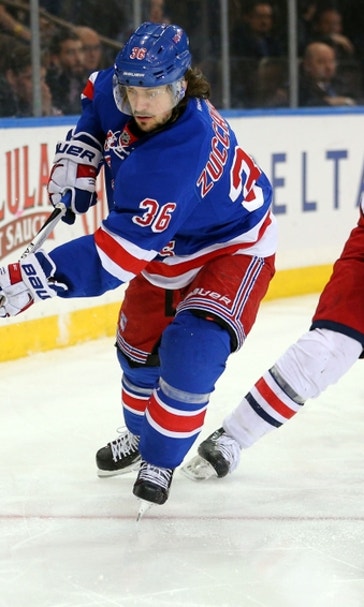 New York Rangers: More of Blue Line Station's Christmas Wishes
December 25, 2016

Fansided, Brandon Cohen/FanSided via Blue Line Station
Here at Blue Line Station, we would like to wish you a Merry Christmas! Santa Claus brought the Rangers a fantastic roster for the 2016-17 season, but there is plenty more we would like to see. With that, here is part two of what the Blue Line Station would like for Christmas.
Tim Haggerty-
What I want for Christmas is for the wins to keep coming.
Wishing for the wins to keep coming may seem pretty obvious. However, there is extra emphasis on this for the New York Rangers. The Rangers, and the seven other teams in the Metropolitan Division, have been plagued with competition unlike any other division in the league.
The tension in the standings leaves little to no room for error. For scale, the Chicago Blackhawks are the only team out west with more points than the Pittsburgh Penguins, New York Rangers, Columbus Blue Jackets, Philadelphia Flyers and Washington Capitals; all Metropolitan Division teams. That tandem makes up five of the top eight teams in the league.
Any short losing spurt could send the Rangers plummeting out of the division race. The answer? Keep up the winning ways, Rangers.
Michael Monti-
This Christmas for the New York Rangers, all I want is a healthier Rick Nash. The last two season we have suffered from one of our star players being out due to injury. Last year playing in just 60 of the 82 games following a back and a knee injury. This season back-to-back groin injuries.
Alexandra Russo-
The Rangers could surely use stronger play by Mats Zuccarello as a gift this Christmas. However, his stunted performance is partially due to Mika Zibanejad's injury, so it's not entirely his fault.
When Zuccarello is at the top of his game, he is more than capable of making great passes. His nifty moves lead to timely goals, and the team sorely misses that offensive aspect. He also provides a spark of energy to his teammates that brings zeal to every game.
This Christmas, it would be great to see Zuccarello get back to his smart plays and special offensive touch.
John Williams-
While my original thought was to ask for the New York Rangers to get a right-handed, puck-moving defenseman that they so desperately need, I am going to go with one of the team's other needs; a bottom six forward with sandpaper.
I'm not talking about a player like Tanner Glass who is a possession black hole and who is one of the extinct enforcers of the game, but a player that fits the Rangers' north-south system who is also willing to drop the gloves.
One such player is Antoine Roussel of the Stars. He is a guy who is one of their top puck possessors in terms of CF%, can put the puck in the net and enjoys sticking up for his teammates, even if it means throwing fisticuffs.
Seeing Henrik Lundqvist get knocked over like a bowling pin at open lanes night at the alley, and nobody even try to lay a finger on Cody Eakin annoyed me more than anything the team has done this year. The team needs a guy who is willing to police the game, and Roussel or a player with a similar makeup and skillset would certainly fit the bill.
More from Blue Line Station
This article originally appeared on
---
---