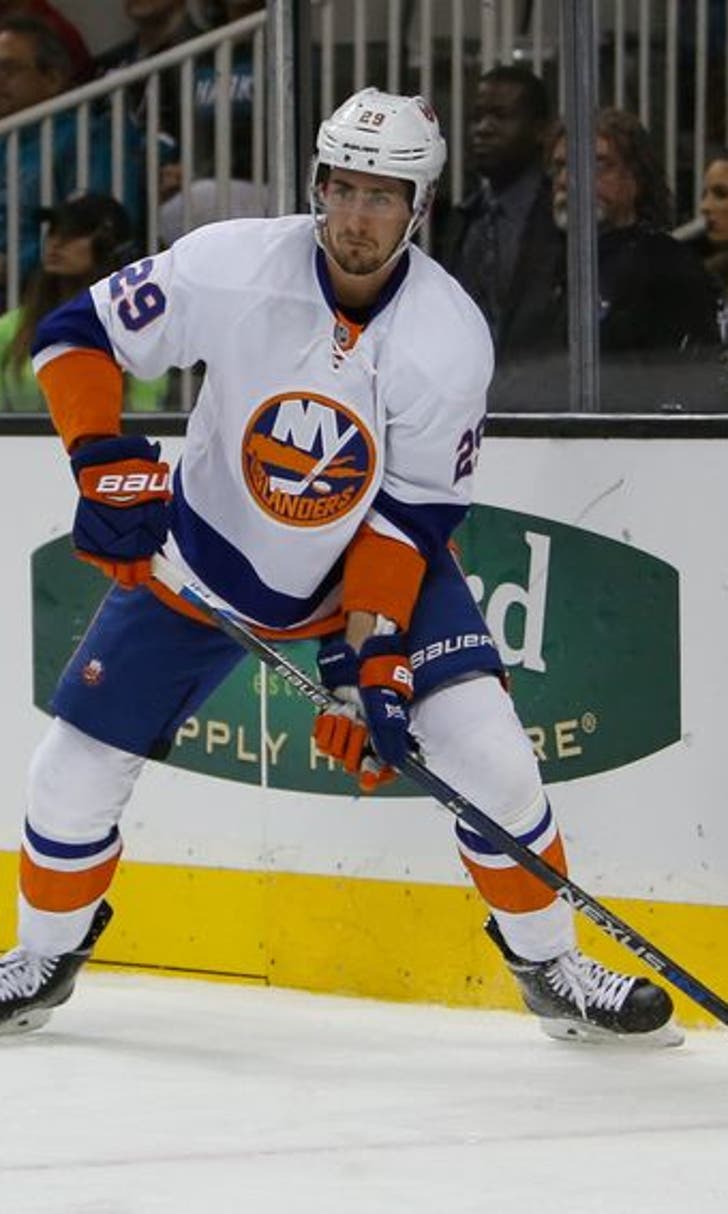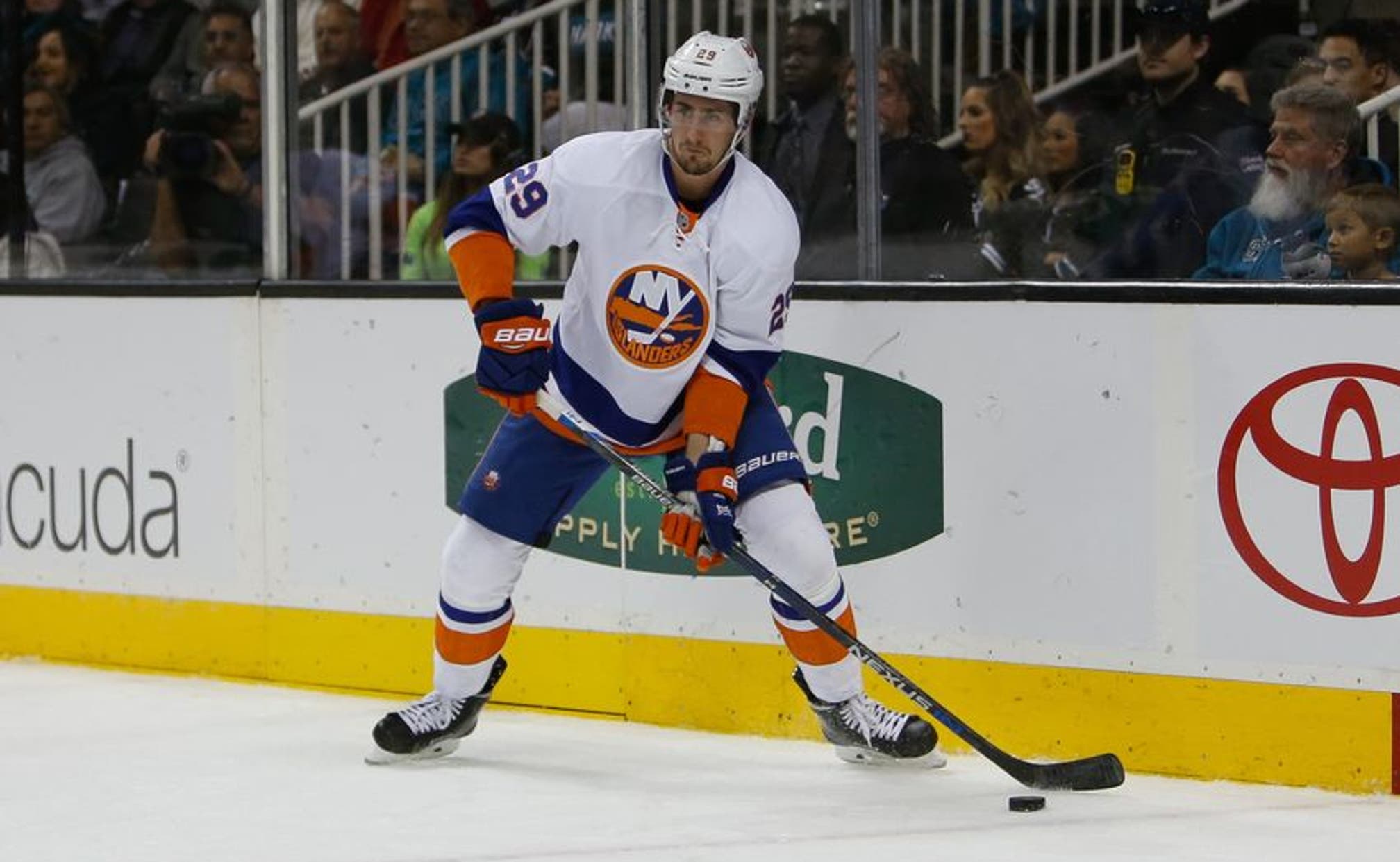 New York Islanders Winners and Losers: A Call For Sustainability
BY Fansided and Michel Anderson/FanSided via Eyes On Isles • December 18, 2016
The New York Islanders went from having their best week of the season going 5-0-1 to a week where they are now almost firmly planted at the bottom of the league.
Last week it was hard to find a loser in this bunch. The New York Islanders were rolling over the competition left, right, and center.
Shades of 2014-15 and 2015-16 were starting to poke through the figurative storm clouds. The possibility of escaping the Eastern basement and into a playoff position seemed possible!
And then this week happened. Where the Isles just couldn't seem to lose easily enough going 0-3-1. A single point out of a possible eight. Losing to the Blue Jackets, Capitals, Blackhawks, and Sabres.
Finding a winner is going to be fun. Challenge accepted!
Nov 25, 2016; San Jose, CA, USA; New York Islanders left wing Brock Nelson (29) controls the puck in the first period of the game against San Jose Sharks at SAP Center at San Jose. The San Jose Sharks defeated the New York Islanders with a score of 3-2. Mandatory Credit: Stan Szeto-USA TODAY Sports
Winner: Brock Nelson
With three points and 13 shots on net in his last five games, Brock Nelson has been able to parlay that effort into a top line position.
He now finds himself playing alongside team captain John Tavares and Josh Bailey. It's a nice place to be if your Brock Nelson.
For a while, he was centering the third and second line with random wingers at his side. Hard work and nice little shot pays off I suppose.
His 19 points on the season have him second on the team in scoring after the aforementioned John Tavares, thanks to 12 assists. It's nice to see Nelson with more helpers then goals. It somehow feels like his game has evolved slightly.
No longer the puck hog looking for that breakaway opportunity by marauding at his own blueline. we'll see how long it lasts for. But for the time being Brock Nelson is one of the few good things going for the Islanders.
Dec 16, 2016; Buffalo, NY, USA; New York Islanders goalie Jean-Francois Berube (30) makes a glove save as Buffalo Sabres center Sam Reinhart (23) looks for a rebound during the third period at KeyBank Center. Sabres beat the Islanders 3-2 in overtime. Mandatory Credit: Kevin Hoffman-USA TODAY Sports
Loser: Jean-Francois Berube
Berube gets his first action in months, puts up a good effort against the Buffalo Sabres in the process but yet, he's a loser.
It's not so much that Berube is a loser like the term you'd throw around in high school to make fun of some kid you didn't, but more so a loser for the fact that he's in lose-lose situation.
He'll get barely any playing time, this start against the Sabres being a rarity. He'll sit and rot in the press box. And then he'll hope to God that an NHL team found something they liked in those few starts.
For two year's, he's paid his dues with this franchise and he's been rewarded with being Garth Snow's pawn in his ridiculous charade to do exactly nothing.
That's what happens when you're a young player. You are submitted to the whims of the franchise that drafted you. You can win a Calder Trophy and still get traded. And when you do get traded, you can end up on a team that has two other goaltenders.
Dec 10, 2016; Columbus, OH, USA; New York Islanders center Anders Lee (27) skates with the puck against Columbus Blue Jackets defenseman Ryan Murray (27) during the first period at Nationwide Arena. Mandatory Credit: Russell LaBounty-USA TODAY Sports
Winner: Anders Lee
Here we are again an Anders Lee is still a winner for the third week in a row. It's hard to pick against the guy, he's producing extremely well. In the last four games he's got five points.
His seven goals in the last nine games are also extremely impressive.
He's learned to go back to the front of the net where he continues to do great work in. He's also had a role on the power play which is ultimately where you'd want him to deflect shots.
The problem is that Anders Lee is an extremely streaky player. For what felt like an eternity he was stuck on one goal for the season. Now he's got eight and is behind John Tavares for the team lead in goals.
The one criticism I have for Lee is that the eventual regression is nearing. He's not going to continue this pace and be the second leading scorer. He'll fall back to the median eventually, but for now the Islanders can ride out this hot streak to get back to relevancy.
Feb 17, 2015; Raleigh, NC, USA; New York Islanders assistant coach Doug Weight talks to forward John Tavares (91) during a time out against the Carolina Hurricanes at PNC Arena. The New York Islanders defeated the Carolina Hurricanes 4-1. Mandatory Credit: James Guillory-USA TODAY Sports
Loser: Power Play
It's no secret the power play is awful. The Islanders had a miserable time on the power play against the Blue Jackets on Saturday night.
The numbers don't lie; the Islanders have the worst power play in the league. They've drawn the second-fewest penalties in the league with 77, they have just 10 power play goals which is a whopping 13%.
It's not the only reason they're struggling. The defensive performance from Saturday night was embarrassing. The Isles gave up four goals in the third period alone.
Although the power play is the most glaring issue in my opinion. The Islanders clearly need to shake things up. In order to do so a coaching change would have to take place, because it has to be strategy that's the problem.
The power play has been a problem for a lifetime it feels like. Fixing the power play won't necessarily fix all the Islanders problems, but even if they were at something like 18% they would be much more competitive.
Hopefully next week we can get something a bit more 50/50. No need to win every game, but four points from a possible six would be fantastic. You know some good some bad, something that can be sustained. Cause that 5-0-1 record from last week just wasn't going to last.
More from Eyes On Isles
This article originally appeared on
---
---