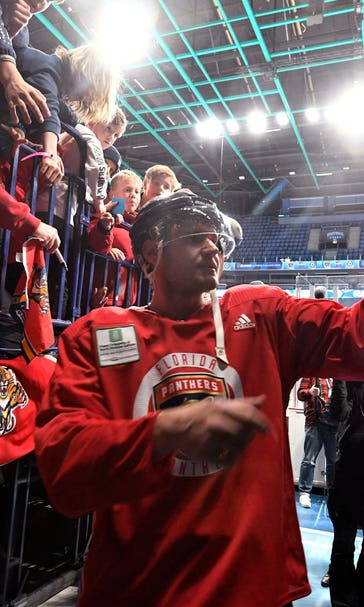 More afternoon games could boost NHL popularity in Europe
November 3, 2018
Aleksander Barkov is quick to point out the NHL is so popular in Finland that tickets to two games in Helsinki sold out in less than five minutes.
"It shows how much they love the game," the Florida Panthers captain said. "There's good reason to do that every year."
The NHL is planning just that after Commissioner Gary Bettman announced initial plans for a 2019 season-opener in Prague, two regular-season games in Stockholm and exhibitions in Germany and Switzerland. The Panthers and Winnipeg Jets played the 24th and 25th regular-season games outside North America on Thursday and Friday at a packed Hartwall Arena in the Finnish capital.
As the league sows seeds of interest in new markets like China, it is also continuing to cultivate interest in established hockey countries like Sweden, Finland and the Czech Republic. And there's a modest proposal for continuing to stoke the interest in the sport in Scandinavia and across Europe.
"One thing that I know former players have been talking about is maybe more games earlier on the weekends so they can actually watch," said Washington Capitals center Nicklas Backstrom, who is Swedish. "Prime time here is middle of the night there. To make it more popular in Europe and Sweden, I think more games in the middle of the day on the weekends would be great. That's how you can get it more popular."
A crowded sports calendar in the U.S. with the NFL and college football going on during the first half of the season makes that a challenge. Not counting the three games this season taking place in Europe, just 127 regular-season NHL games — roughly 10 percent of the full schedule — start early enough in North America that fans in places in Western and Central Europe can watch before a late evening bedtime.
Even with games on Thursday, Sunday and Monday nights to fill prime-time spots in the U.S., traditional Sunday afternoon kickoffs have helped the NFL become bigger in Europe. Games at Wembley Stadium in London feature fans in jerseys of just about every team, not just the two playing, and the influence goes beyond England.
"In Denmark, the NFL (became) quite popular like 10, 15 years ago because they started games in the afternoon, so people could start watching at dinner time and they could just keep watching a new game," Capitals center Lars Eller said. "I would welcome more afternoon games."
The "NHL on NBC" games that start at 12:30 p.m. Eastern on Sunday largely after the American football season ends fit that bill. And with more teams choosing to skip morning skates altogether, afternoon starts wouldn't throw off game-day routines to the point that there's pushback from players.
"Whenever that happens, games at 12 or 1 p.m. Eastern time, it's like 7 o'clock in Finland or (nighttime) in Europe, so people can see," Barkov said. "Of course there's a big audience there."
Bettman said he is not sure hockey can grow more in places like Sweden and Finland where there are already strong domestic leagues and a steady flow of talented players reaching the NHL.
"What we need to do is continue to work to keep it at the extraordinarily high level that it's at," he said.
Bettman and Deputy Commissioner Bill Daly brushed aside the idea of basing an NHL team in Europe, saying it would need to be a group of teams and that no one has come up with a viable plan. They said staging an outdoor game in Europe is a possibility but not something likely to happen soon.
More likely is a regular schedule of "Global Series" games across Europe. Since the NHL opened the 1997-98 season in Japan, 24 of 31 teams have played overseas. The Philadelphia Flyers, New York Islanders, Dallas Stars, Toronto Maple Leafs, Montreal Canadiens, Vegas Golden Knights and defending Stanley Cup champion Capitals are the only ones left. Probably not for long.
"We're happy to share our game," Bettman said in Helsinki. "We'd like to continue to encourage the enthusiasm, support and development that hockey gets by bringing the world's best players and the world's best league over here."
---
---