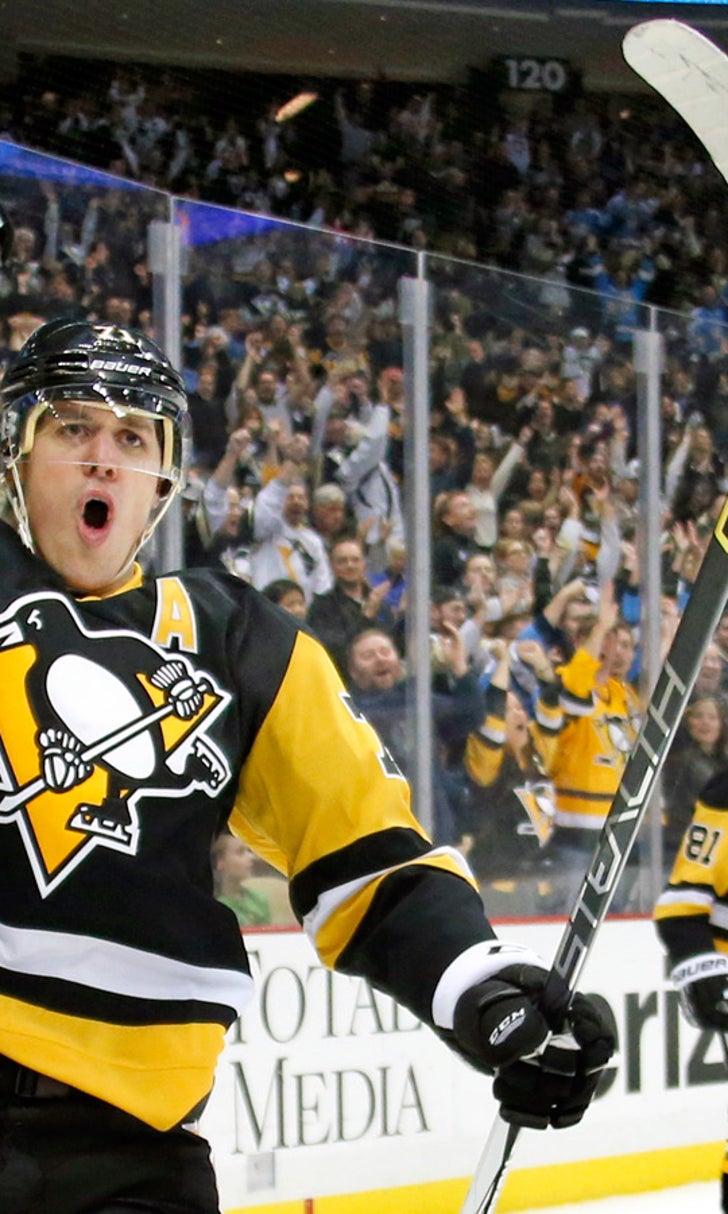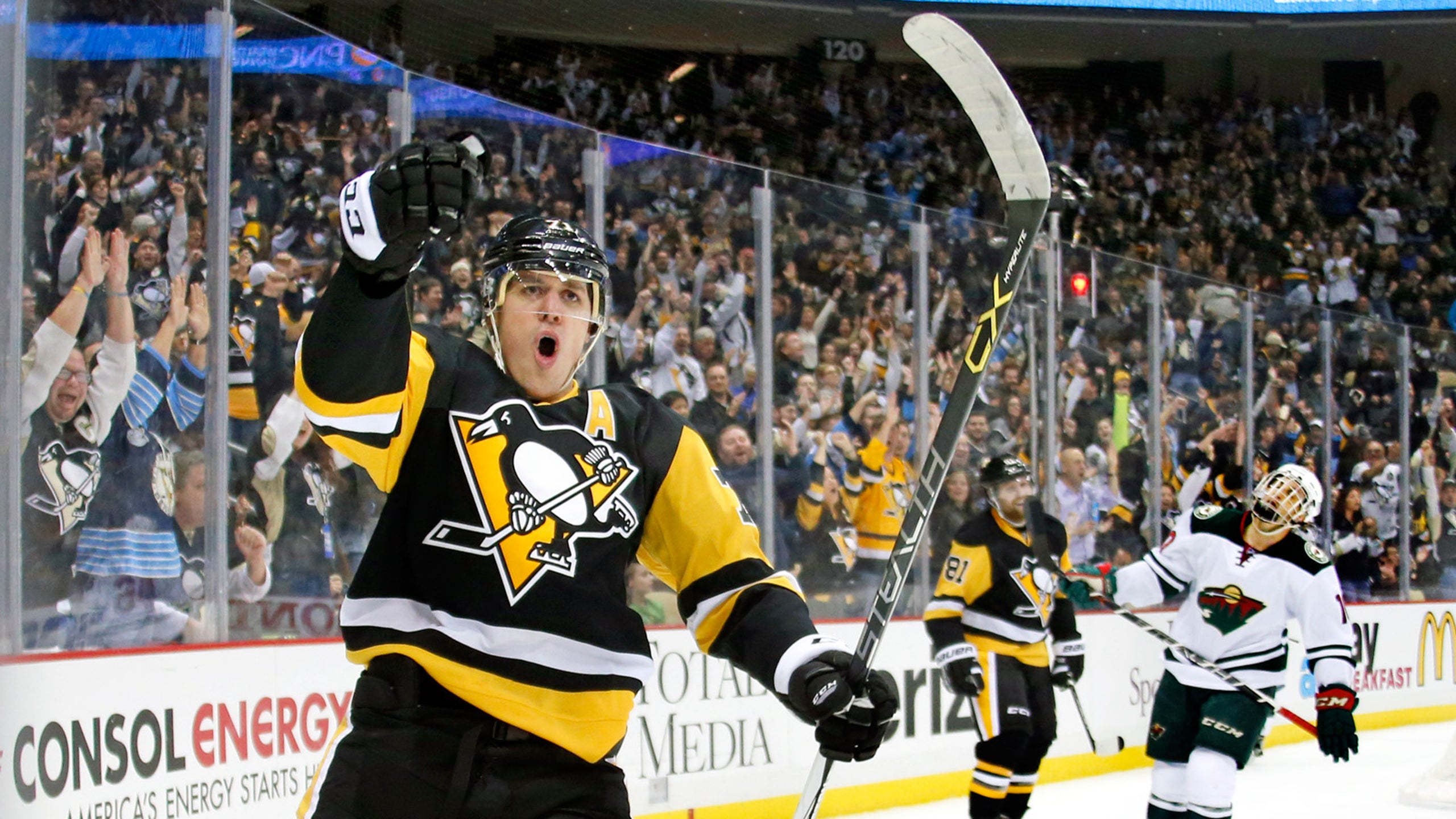 Malkin's big night pushes Penguins past Wild
BY foxsports • November 17, 2015
PITTSBURGH — Maybe Evgeni Malkin should speak his mind more often.
Three days after calling out his underperforming team during a lifeless loss to New Jersey, Malkin scored two goals and added two assists as the Penguins held off the Minnesota Wild 4-3 on Tuesday night.
"We changed momentum tonight and showed how we can play," Malkin said. "It's still not perfect but it's a little bit better and I hope we all understand what's starting to go on on the team and support each other and start winning."
David Perron and Beau Bennett also scored for Pittsburgh. Marc-Andre Fleury made 26 saves, including several late as the Penguins were forced to play with five defensemen after losing Olli Maatta to an injury in the second period.
Mikael Granlund had a goal and an assist for the Wild. Jared Spurgeon and Mikko Koivu collected power play goals for Minnesota as it nearly rallied from a three-goal deficit. Devan Dubnyk stopped 25 shots as the Wild lost in regulation for only the second time in their last nine games.
"They were all over us that first period," Minnesota defenseman Ryan Suter said. "Then, we gave up a couple power-play goals. Then, we finally started to settle in, I thought. The third period, I thought we played well, but a little too late."
The Penguins held a closed door meeting coming off a miserable stretch in which they dropped three of four, including three zombie-like periods against the Devils on Saturday. Malkin didn't hide his frustration after the 4-0 defeat, leading to a closed door meeting meant to clear the air.
Things were decidedly more promising back on home ice. Pittsburgh needed only 72 seconds to jump in front when Malkin flipped a shot from the point that smacked off Dubnyk's pads and right on to Perron's stick. Perron flipped it into the open net to give the Penguins a needed jolt.
Minnesota, off to one of the most promising starts in franchise history, withstood the early barrage and tied it on a slick wrist shot by Granlund 12:57 into the first but Bennett put the Penguins back in front late in the period with Pittsburgh's eighth power-play goal of the season, taking a feed from Malkin in the slot and zipping it by Dubnyk.
Malkin doubled Pittsburgh's lead 8:15 into the second following a bizarre sequence in which twice the Penguins got the puck behind Dubnyk only to see it settle a few inches from the goal line. Dubnyk managed to get a glove on the first attempt and saw the second swatted out of harm's way by a teammate only to have it cycled back to Malkin, whose blast from the top of the right circle raced past Dubnyk's outstretched glove.
The Wild challenged the score, claiming Dubnyk was interfered with during the play. The call stood, however, and less than three minutes later Malkin's sixth goal of the season — this one following a nifty bit of stickhandling between two Minnesota defenders — gave the Penguins a 4-1 edge and Malkin his first four-point game since March 22, 2014 and 20th of his career.
"He obviously made a ridiculous move to get in front and I was kind of ready to play a breakaway and had both guys driving the net and I didn't see it," Dubnyk said. "So obviously it was a pretty impressive play by him."
Malkin's score took some of the sting out of seeing Maatta leave the ice with the help from trainers after getting drilled from behind by Minnesota's Nino Niederreiter midway through the second period. The 21-year-old defenseman, limited to 20 games last season due to a cancer scare and shoulder surgery, slammed into an open doorway on Minnesota's bench and laid on the ice for several minutes before slowly making his way to the locker room.
"You never want to see anything like that," Niederreiter said. "I feel bad, but it's unfortunate."
The Penguins exacerbated being short-handed on the blue line by taking a series of penalties that helped the Wild get back into the game. Koivu's snap shot 2:24 into the third brought Minnesota within one but the Wild couldn't quite tie it up.
NOTES: The teams observed a moment of silence to honor those killed in the terrorist attacks in Paris last Friday, with the French national flag projected onto the ice. ... Minnesota F Zach Parise has resumed skating but remains out indefinitely with a sprained left knee. ... Both teams went 2 for 6 on the power play. ... Minnesota finishes up a four-game road trip on Thursday at Boston. ... The Penguins host Colorado on Thursday.
---
---