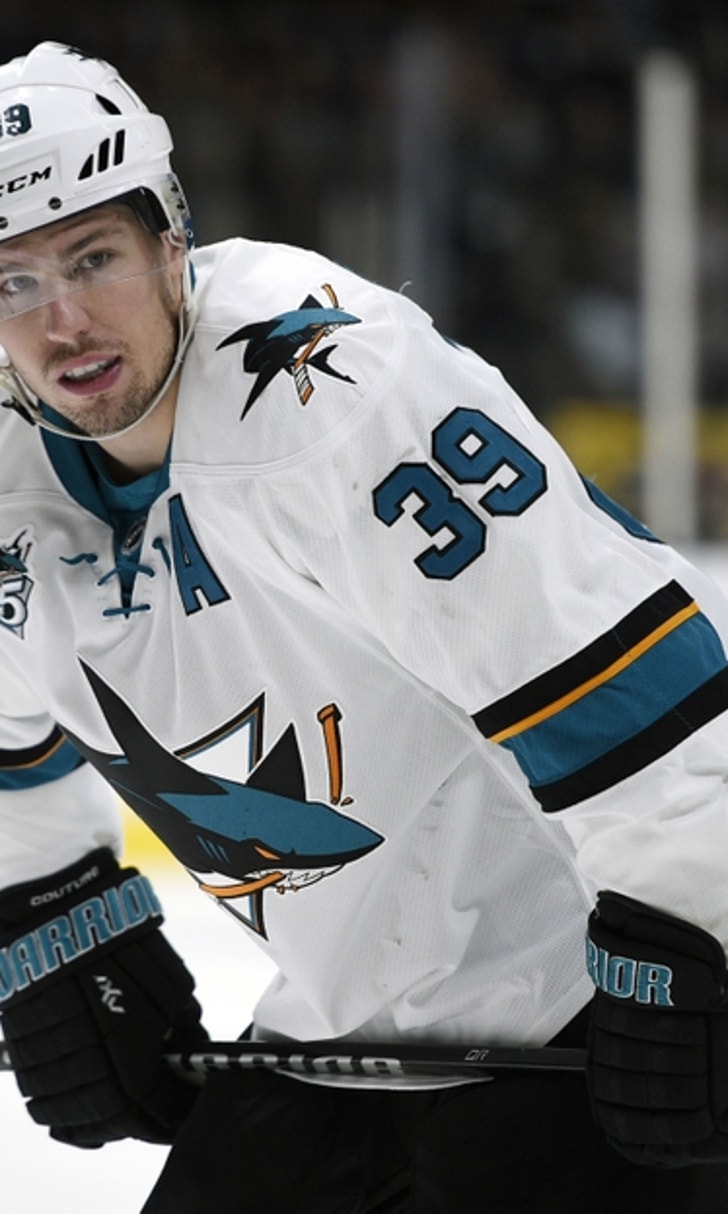 Late Rally Brings San Jose Sharks Shootout Win
BY Fansided and MJ Kasprzak/FanSided via Blades of Teal • December 14, 2016
A late rally brings the first San Jose Sharks shootout of the 2016-17 NHL season Tuesday, Dec. 13. Ontario native Logan Couture ensured it was a win over the Toronto Maple Leafs…
Through a third of the 2016-17 NHL season, there was not a single San Jose Sharks shootout. They won their first after a late rally against the host Toronto Maple Leafs Tuesday, Dec. 13.
The Dallas Stars are now the only team left without a shootout. Toronto has lost all four of its skill competitions. None of its three shooters beat San Jose's Martin Jones, while Logan Couture did get one past Fredrik Andersen. (Joe Pavelski was stopped in his team's only other shot.)
The Sharks are now officially atop the tight Pacific Division. Their six points over .500 is half a game better than the Anaheim Ducks.
The Calgary Flames and Edmonton Oilers are a game further back in the Pacific Division's final two postseason spots. The Los Angeles Kings are half a game back of them, with 30 points in 28 games and in a virtual tie for the final wild card. (The Nashville Predators own the only current tiebreak of goal differential even though they lost in overtime in the only head-to-head matchup.)
San Jose's lack of shootouts or even overtime losses (tied for fewest with one) helps. Only four teams have more regulation or overtime wins on the 2016-17 NHL season.
Gameplay
The Sharks have frittered away a few recent comebacks by allowing late goals. There was barely time to do that Tuesday as the score was tied when just 5:14 remained in regulation.
Chris Tierney started the scoring that led to the first San Jose Sharks shootout of the 2016-17 NHL season. Tom Szczerbowski-USA TODAY Sports
The Maple Leafs scored on a beautiful tip play by Zach Hyman 6:58 into the contest. He had missed time from getting his body on a Brent Burns blast earlier in the game. This time he got his stick on a shot by teammate Auston Matthews to deflect it over Jones.
Matthews scored the next goal on a power play in the second period, catching Jones cheating for a pass. San Jose began to turn the game around shortly after that but could not solve Andersen for the first 52-plus minutes.
That was when Chris Tierney laced a beautiful feed under pressure to the high slot. That might have meant nothing, but Justin Braun surprised Andersen with a wicked backhand for his first goal of the 2016-17 NHL season.
Two minutes later, Toronto committed its sixth penalty of the game. After killing off the first five despite allowing 14 shots, the penalty kill failed in a single shot four seconds in. Joe Thornton won the faceoff back to Burns who sent a shot-pass Pavelski tipped from the slot.
Joe Pavelski's late goal opened the door for a San Jose Sharks shootout win. John E. Sokolowski-USA TODAY Sports
The Maple Leafs pushed hardest in the final five-plus minutes of regulation, but Jones was superb. Both teams had chances in overtime but could not come up with a goal.
Statistical Analysis
The event summary shows the Sharks struggled to control play for the third straight game. Their terrible faceoff deficit (26-43) is only partly mitigated by fewer giveaways (12-18) and more takeaways (12-8). Their edge in hits (23-20) also usually corresponds to additional time spent defending.
However, San Jose overcame those struggles in this one. The extra attack time is visible in its edge in shots (42-31) and attempts (78-60). Toronto's lead certainly skewed the numbers some and contributed to its 21-9 edge in blocks, but some of it is also the imperfection of measuring games by stats.
Want your voice heard? Join the Blades of Teal team!
Encouraging Signs
For instance, Mikkel Boedker did not score Tuesday and was minus-1. However, the struggling forward was probably the best player on the ice for either team.
Boedker's four shots, four hits, block and takeaway in 16:19 ice time should give him and the Sharks confidence. He has been by far their biggest disappointment but also had three points in the six games prior to Tuesday. The answer to what ails them could be him discovering his offensive game and filling his expected scoring-line role.
In deference to overtime, San Jose is right back to work finding that extra goal. Just 20 hours after Tuesday's game ended, the puck drops in a visit with the Ottawa Senators.
More from Blades of Teal
This article originally appeared on
---
---