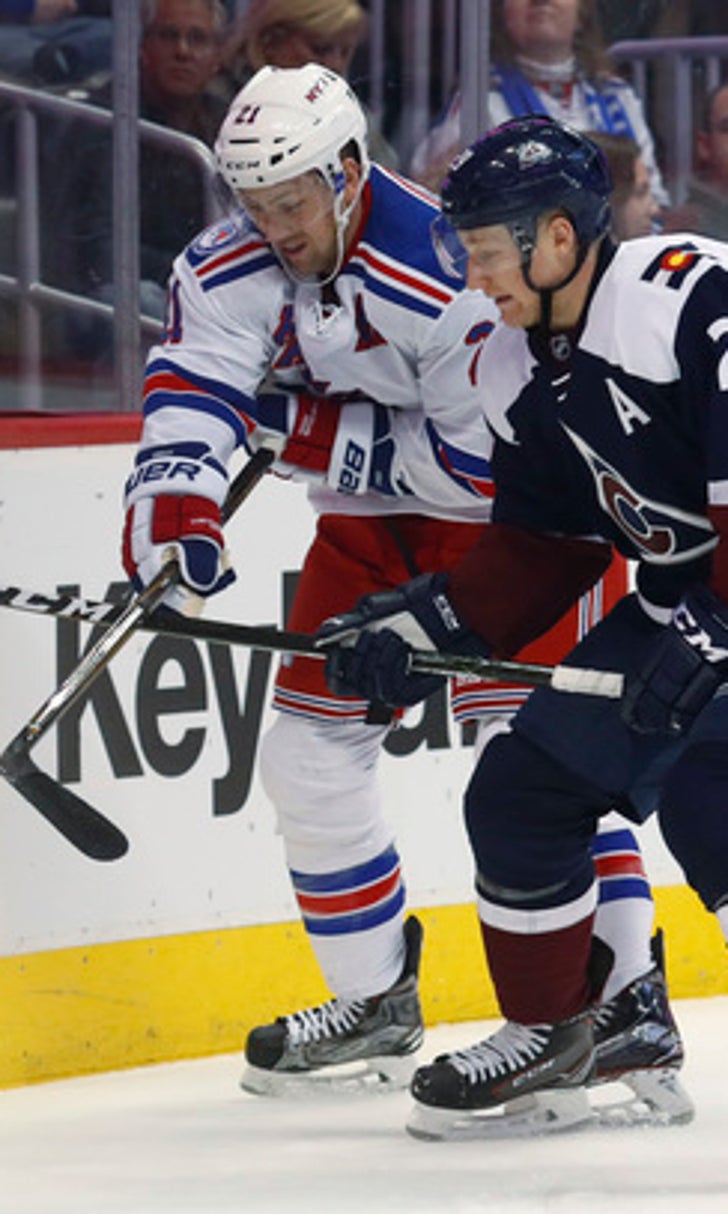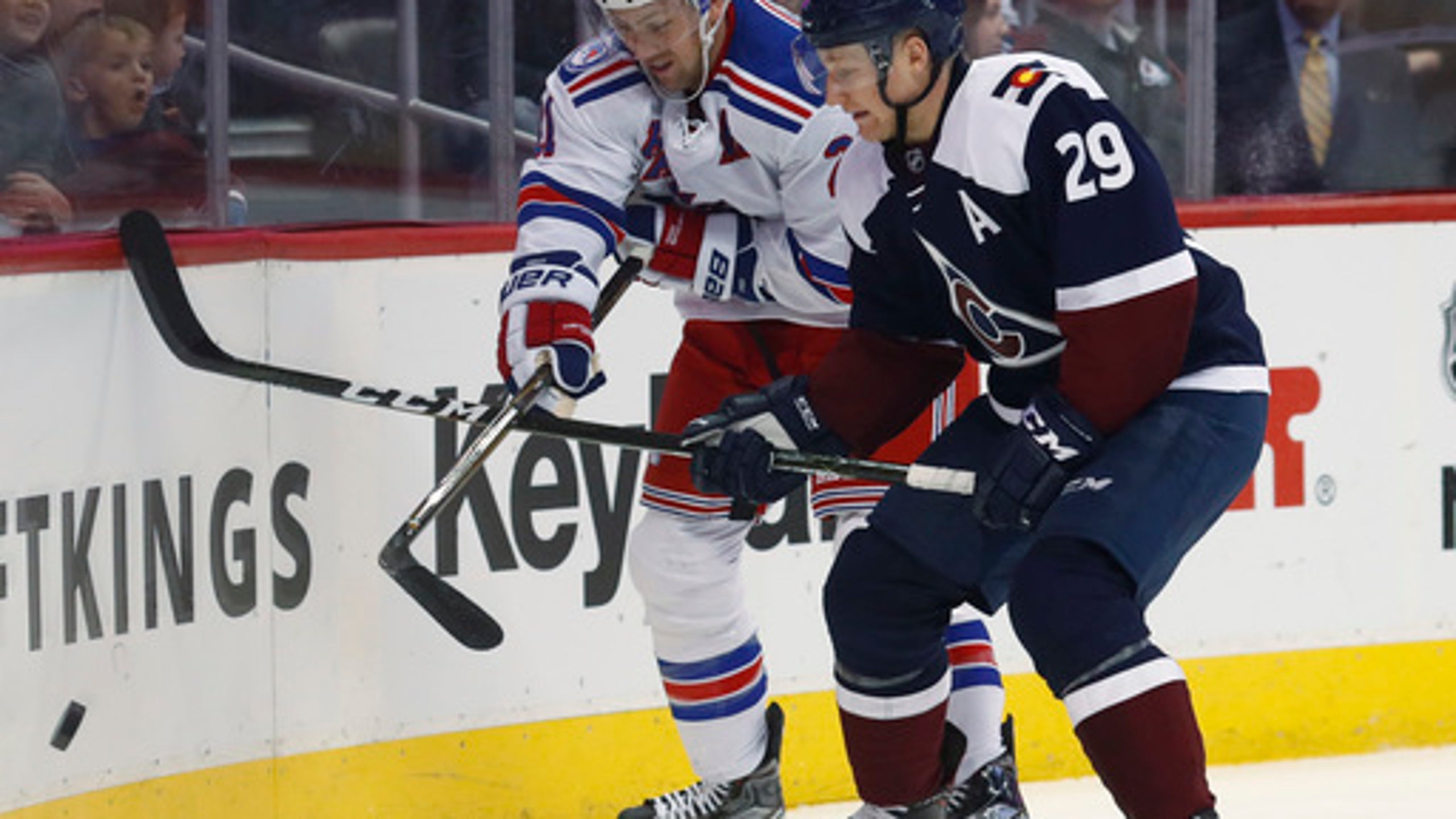 Kreider gets hat trick to lift Rangers past Avs 6-2 (Dec 31, 2016)
BY AP • January 14, 2017
DENVER (AP) Chris Kreider didn't need his stick for two of his three goals Saturday night. The puck just found his body and deflected in.
Kreider got his second career hat trick, J.T. Miller added two goals and the New York Rangers beat the Colorado Avalanche 6-2.
All three of Kreider's goals came on tip-in chances in front of the net, what he called the ''dirty area.''
''You want to get there, take the goalie's eyes away,'' Kreider said. ''A lot of times, it doesn't hit you, but it creates a chance, makes it harder on the goalie. Sometimes it hits you and drops there. Sometimes it hits you, and pretty good, and knocks you down for a couple of seconds.
''But occasionally, they glance off you and go in.''
Jimmy Vesey also scored, and Derek Stepan and Mats Zuccarello each had two assists for the Rangers, who have won three straight and nine of their last 12.
Henrik Lundqvist returned after missing two games with the flu and stopped 25 shots. He passed Dominik Hasek for most NHL wins by a European-born goalie, good for 12th on the overall career list.
''Growing up, I have posters of (Hasek) on the wall,'' Lundqvist said. ''(To) break his record - it means a lot to me, it really does.''
The Rangers won their 12th road game in their last 16 tries, while the Avalanche dropped their 10th consecutive game at the Pepsi Center.
Cody McLeod and Blake Comeau scored for Colorado, which has lost eight of nine. Calvin Pickard, starting in a fourth consecutive game in place of injured Semyon Varlamov, stopped 31 shots.
''I'm at a loss,'' Colorado center Matt Duchene said. ''I don't know what more to say. We have to play a perfect game to win a hockey game right now.''
Kreider scored twice in the first period and Miller put the Rangers ahead 3-2 9:30 into the second. Kreider deflected Stepan's shot 14:20 into the second for his third of the night and 15th of the season.
It was the second consecutive hat trick for New York. Matt Puempel scored three power-play goals in a 6-3 win at Arizona on Thursday night.
''I look at it as another two points,'' Kreider said, ''a big win on the road for us.''
The Avalanche got on the board early on with McLeod's goal 1:59 into the first. Tyson Barrie gathered Mikhail Grigorenko's faceoff win atop the circle and ripped a chance toward the net. McLeod tipped it through Lundqvist's legs for his first goal of the season.
Kreider tied it 6:09 into the first after Stepan's chance from the goal line ricocheted off him and Colorado defenseman Francois Beauchemin before going in.
Kreider's second goal of the period was initially waved off, and Ryan McDonagh was awarded a goal when he hit the back of the net moments later. Video review, however, showed that Kreider's tip-in completely crossed the line.
''There's some nights like this where pucks are going to go off you and go in,'' Rangers coach Alain Vigneault said. ''But Kreids is a player that always goes to the front of the net, always brings the puck there. ... It's nothing new. He's always been doing it, and tonight he got rewarded.''
Miller and Vesey scored in the third for New York in another laugher at the expense of the NHL's worst team.
Colorado coach Jared Bednar says he's excited to flip the calendar year.
''Obviously, we are a work in progress,'' Bednar said. ''We have a lot to work on and to keep working on.''
NOTES: Kreider has scored seven goals in his past six games. ... Defenseman Nick Holden played against the Avs for the first time since they traded him to the Rangers on June 25 for a fourth-round pick in the 2017 NHL Draft. ... Rick Nash (groin) participated in morning skate but missed his fifth consecutive game. ... Varlamov (groin) missed a fourth straight game for the Avalanche.
UP NEXT
Rangers: Host Buffalo on Tuesday night.
Avalanche: At Vancouver on Monday night.
---
---