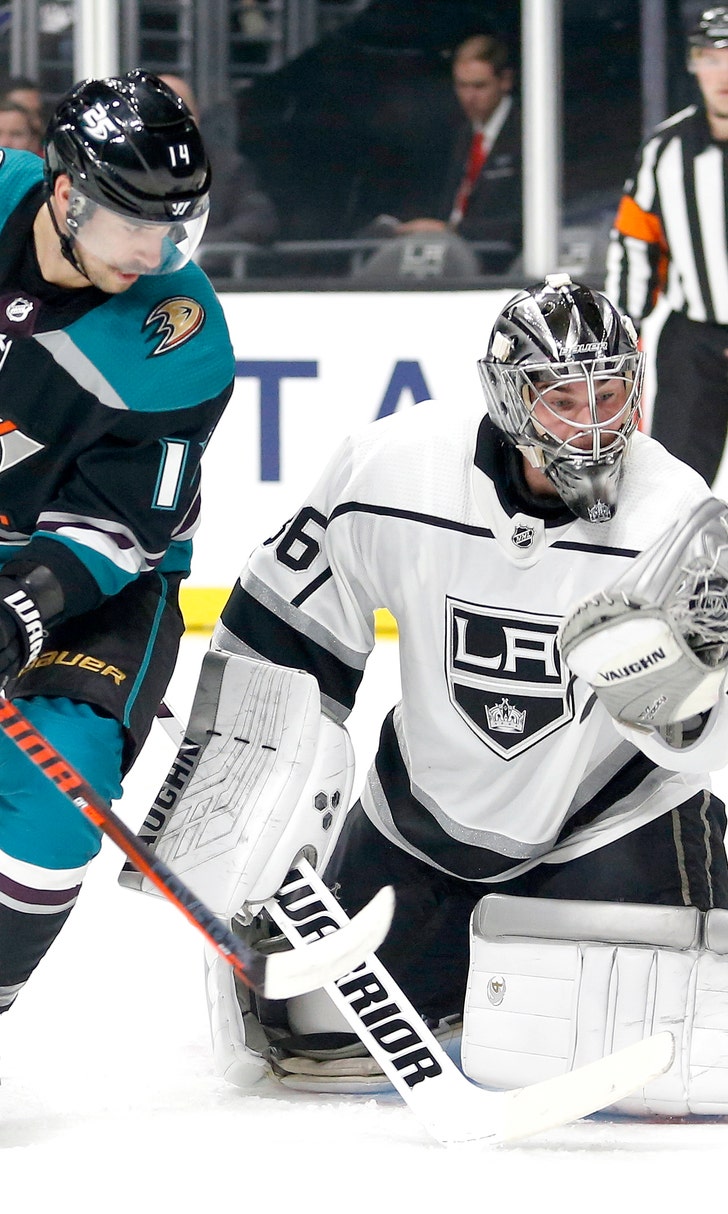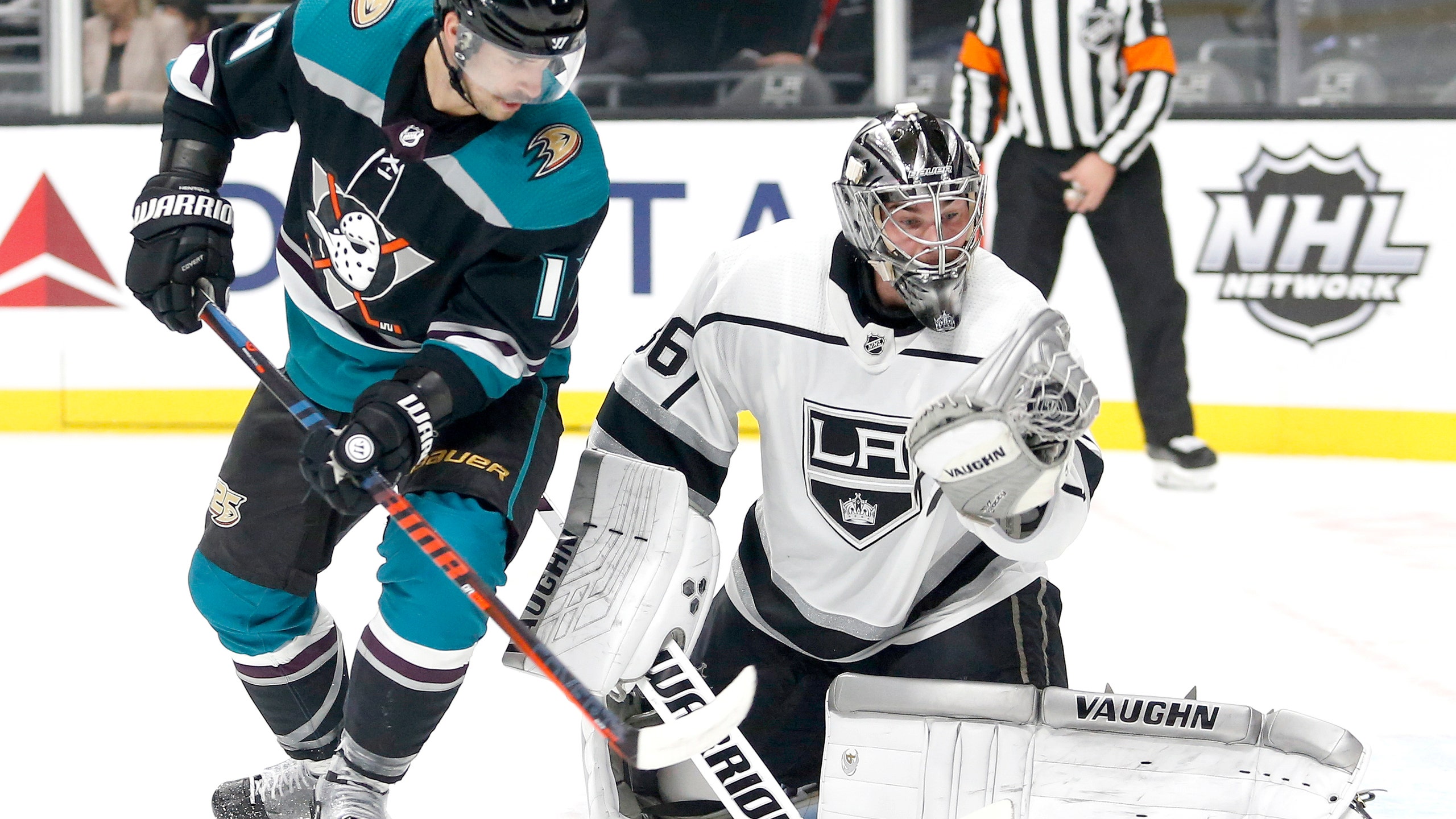 Kings rout rival Ducks 4-1 in coach Willie Desjardins' debut
November 7, 2018
LOS ANGELES (AP) — Willie Desjardins was uncertain how much impact he really had on the Los Angeles Kings in his first game behind their bench. The interim coach didn't alter the lineup from their last game under John Stevens, and he hasn't yet implemented any major strategic changes.
Whatever or whoever was behind it, the Kings showed more than enough spark to rout their closest rivals.
Ilya Kovalchuk had a goal and two assists, and the Kings opened Desjardins' tenure with a 4-1 win over the Anaheim Ducks on Tuesday night.
Jack Campbell made 30 saves and picked up his first career assist as the Kings comfortably won the first Freeway Faceoff of the season for these two struggling Southern California rivals.
Dustin Brown and Kyle Clifford scored first-period goals for the Kings as they picked right back up from Saturday's win over Columbus to earn their first back-to-back victories of the season.
Desjardins has run just one practice since getting his new job Sunday after the Kings fired Stevens early in his second season in charge. Los Angeles had slumped to the bottom of the overall NHL standings, but the Kings welcomed the new boss with a big win.
"It was good to get back," Desjardins said. "I thought the guys played hard. I thought we didn't maintain the game as well as we wanted, but the first period was a good start, and we'll build on that."
The former Vancouver coach's new players responded with plenty of the passion they often lacked under Stevens, who took the fall along with assistant coach Don Nachbaur for the Kings' 4-8-1 start. Tyler Toffoli's empty-net goal clinched LA's third win in four games following a six-game skid.
"It was a wakeup call for everybody," said Kovalchuk, who has nine points in the last four games. "We're taking responsibility for what happened, and we're responding to it. We looked in the mirror, and we all know we can do a better job."
Ryan Kesler scored and John Gibson stopped 23 shots for the injury-wracked Ducks, who have lost eight of nine and earned points in just three games during that span. While the Kings appear to be turning a corner, Anaheim is stuck.
"They pushed us, and we had no response," Kesler said. "Very disappointed in that. We got down 3-0, we had a pretty good second period, and in the third period, we really didn't muster very much."
Brown got the Kings' first goal of Desjardins' tenure when he swatted Kovalchuk's centering pass out of midair just 6½ minutes in. The goal was Brown's third in four games since spending the first 10 games of the season sidelined by a broken finger.
Clifford scored his second goal of the season later in the opening period, getting alone in front of Gibson for a backhand. Kovalchuk made it 3-0 early in the second, getting his fifth goal on a breakaway set up by a long pass from Campbell.
Kesler got the Ducks going with a deflection of Marcus Pettersson's shot later in the second, but Anaheim didn't score again.
"I didn't think we had the intensity that was required early in the hockey game," Anaheim coach Randy Carlyle said. "It took us kind of halfway through the game before we got ourselves awake. Even though we didn't play to the level we're capable of, I think it's a good start for our group."
NOTES: Campbell was Desjardins' goalie with the AHL's Texas Stars from 2012-14. ... The clubs met for the 138th time. The Kings improved to 61-51-26 in the Freeway Faceoff. ... Ducks captain Ryan Getzlaf returned to the lineup after missing one game with an upper-body injury, but Anaheim is still without forwards Corey Perry, Ondrej Kase and Nick Ritchie. ... Ducks forward Brian Gibbons got hurt in a collision with teammate Andrew Cogliano at the moment Kesler's goal entered LA's net. Gibbons bled onto the ice from his face before heading to the dressing room. He returned for the third period.
UP NEXT
Ducks: Host the Calgary Flames on Wednesday night.
Kings: Host the Minnesota Wild on Thursday night.
---
---