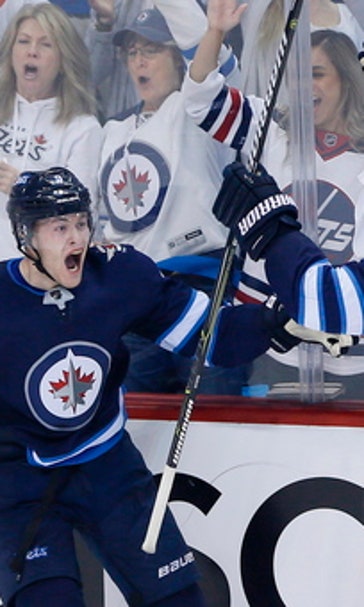 Jets beat Wild 4-1 to take 2-0 series lead
April 14, 2018
WINNIPEG, Manitoba (AP) Minnesota Wild coach Bruce Boudreau is keeping it simple.
''You've got to win four,'' Boudreau said after the Winnipeg Jets beat the Wild 4-1 on Friday night to take a 2-0 lead in the Western Conference first-round series.
''We are going home. Like other sports, you have to win one in the other team's building. Whether you get beat bad or whatever, you still have to win one and it doesn't matter if it's now, the fifth, or the seventh. We have to take care of business at home. That's all.''
Paul Stastny, Andrew Copp and Patrik Laine scored in the third period for Winnipeg. Defenseman Tyler Myers had a goal in the second period and also had an assist. Rookie Jack Roslovic, replacing injured veteran Mathieu Perreault, had two assists in the game that ended with a series of fights.
''We stuck up for each other,'' Wild center Eric Staal said. ''We're going to do our best to make this a series and compete. We're going to come home in front of our fans and be ready to play Game 3.''
Zach Parise had his second goal of the series when he deflected Mikko Koivu's shot past Connor Hellebuyck to end the goalie's shutout bid with 45 seconds left. The goal came on the power play after Jets forward Brandon Tanev was called for hooking with 59 seconds left.
''We got the win and that's all I care about, especially this time of year,''Hellebuyck said. ''The guys played so well in front of me, there's no fault.''
Hellebuyck made 16 saves. Devan Dubnyk stopped 39 shots for Minnesota.
Winnipeg won 3-2 on Wednesday night. Game 3 is Sunday in Minnesota.
''We've got to play a lot better than we have in the first two,'' Parise said. ''We got to figure out a way to get some offensive zone time. I feel like we've been playing on three-quarters of the rink for two games now. You're not going to win like that.''
The Wild had more jump early in the scoreless first period, surpassing the four-shot total they had Wednesday in the opening frame by going 5-0 by the five-minute mark. That included three shots at Hellebuyck during a power play with Myers in the box for tripping.
Dubnyk didn't have to stop a Winnipeg shot until seven minutes had passed. The Jets then turned on a switch and had outshot the visitors 13-9 when the period ended, but many were from the outside.
Winnipeg got its first power play five minutes into the second period when center Mark Scheifele was tripped by Wild defenseman Jonas Brodin, but it wasn't their shots with the man advantage that sparked the crowd. Jets defenseman Dustin Byfuglien threw two big hits nine seconds apart, the first on Mikael Granlund in front of the Winnipeg bench, the second a slam that rocked Koivu into the boards behind Hellebuyck.
''Unfortunately, I didn't get a good look,'' Hellebuyck said about the hit on Koivu. ''I'm definitely going to be looking at the replays because the crowd went nuts.''
Winnipeg only got one shot on goal on the power play, but the momentum carried on for Myers' goal that made it 1-0 at 8:41.
Myers got the puck at the point in the Wild zone, made some moves to get around forward Jason Zucker and sent a sharp-angled shot past Dubnyk on the blocker side at 8:41 of the second period for the 1-0 lead.
Myers was dinged again for roughing forward Charlie Coyle 33 seconds after his goal, but the Jets kept the pressure on with some hustle and hits. When the second period ended, Winnipeg had outshot the Wild 27-14 and led 28-18 in hits.
Stastny and Copp scored 1:42 apart, with Byfuglien sending a backhander to the front of the net that Statsny slapped in at 7:42.
Copp made it 3-0 at 9:24 when he redirected in Bryan Little's shot. Laine fired in his second goal of the series from the right circle at 17:58.
---
---