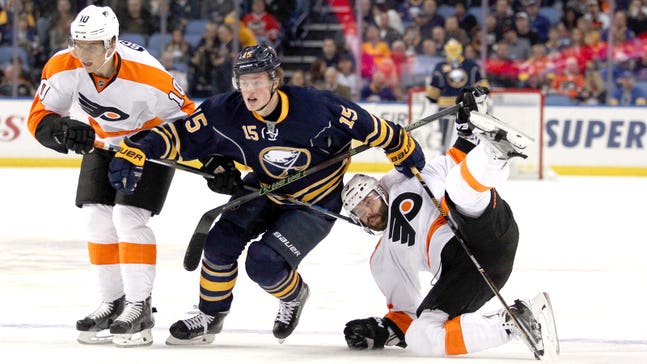 Eichel provides 'electricity' as Sabres charge past Flyers
Published
Oct. 31, 2015 2:12 a.m. EDT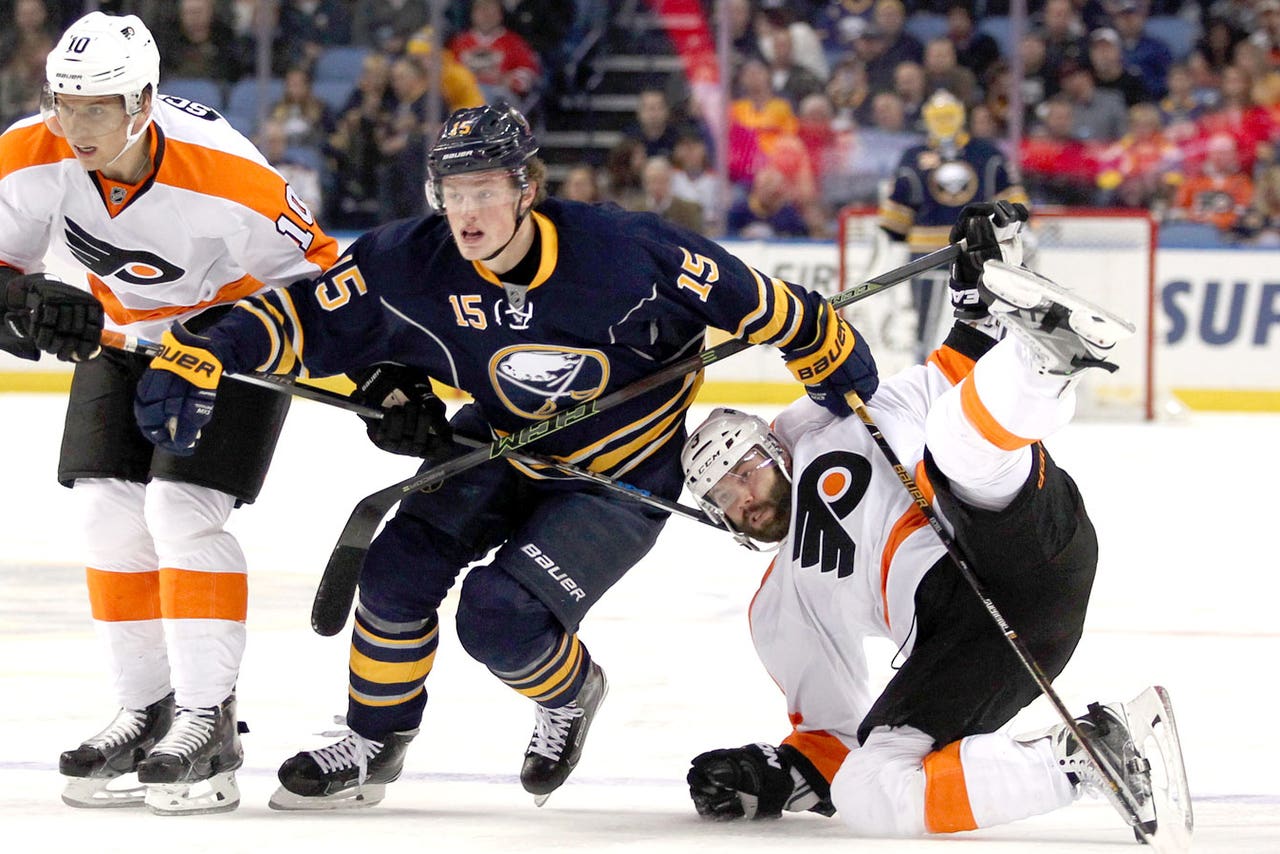 BUFFALO, N.Y. -- On a night full of superlatives, Buffalo Sabres coach Dan Bylsma knows Jack Eichel hit the high note.
Eichel's show-stopping goal late in the first period put Buffalo up to stay in a 3-1 win over the Philadelphia Flyers on Friday night.
"With the puck on his stick, there's a little bit different electricity in the air," Bylsma said. "It was almost a crescendo as he made the move to the middle of the ice."
With less than a minute to play in the opening period, Eichel showed why he's regarded as a can't-miss prospect, cutting quickly to lose Luke Schenn and skating to the slot to rifle a wrist shot past Michal Neuvirth for the rookie's fourth goal of the season.
"He dangled me there, too," Ryan O'Reilly said. "You see the maturity on a young kid like that, and that was a big goal to get us going."
O'Reilly had a goal and two assists, Nicolas Deslauriers also scored and rookie goaltender Linus Ullmark got his first NHL win while coming within 3:26 of a shutout.
"Pure happiness" is how Ullmark described the milestone. His coach used another phrase to describe the rookie's performance.
"Real timely," Bylsma said.
Mark Streit spoiled Ullmark's shutout bid, but the Flyers have lost three straight. Two of those came this week against the Sabres.
O'Reilly has four goals and nine assists through 11 games since being acquired from Colorado in the summer.
"He didn't necessarily start the way he wanted to," Bylsma said. "Before tonight's game, he was at a point a game. Don't know if I'm surprised. It's kind of as advertised."
Neuvirth, an ex-Sabre, made two of his 33 saves on the Sabres' first power play, stopping Jamie McGinn's snap shot and its rebound.
O'Reilly and Claude Giroux took coincidental minors late in the period. During the ensuing 4-on-4, Neuvirth made a strong pad save on Johan Larsson.
The Sabres doubled their advantage on a power play when Zemgus Girgensons set a screen and O'Reilly ripped a shot over Neuvirth's right shoulder.
"Girgensons had a great screen in front," O'Reilly said. "As a lefty, it's one of the high percentage shots. It's the shortest distance from my stick, so it's most likely going to get through."
Both teams were playing their third game in four nights, but the Flyers looked weary in the second. Buffalo had several power-play opportunities, including a 5-on-3.
"We haven't been able to get in any kind of a rhythm in any one of these last couple games," Flyers coach Dave Hakstol said.
Untested for most of the period, Ullmark made a sprawling stop against Wayne Simmonds with fewer than 10 seconds to play in the frame.
A charging call to Deslauriers gave the Flyers a power play early in the third, but the Sabres killed it off. Deslauriers jumped out of the box to convert a back-hand pass from O'Reilly and give Buffalo a three-goal cushion.
"He's a hell of a player," Deslauriers said of O'Reilly, who has 11 points in his last five games. "Just that pass, I didn't even need to do much."
R.J. Umberger threw a no-look pass from behind the net that Streit flicked past Ullmark to make it 3-1 late.
The Flyers threatened after pulling Neuvirth with just over 2 minutes to play, but Ullmark withstood the late rush.
"He played very well tonight," O'Reilly said. "He made some big stops at the end to seal the deal."
Josh Gorges caused a late scuffle when he hit Matt Read into the boards from behind, getting a 5-minute major and game misconduct for boarding.
NOTES: Sabres C Tyler Ennis missed his second-straight game with a lower-body injury. ... The win was Buffalo's third-straight against Philadelphia, but first at home since April 13, 2013.
---
---