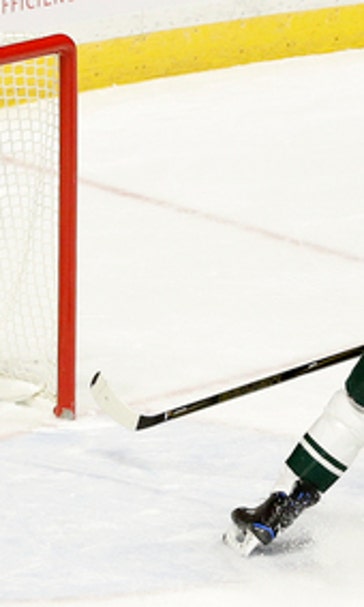 Dubnyk, Staal help Wild top Predators 5-2 for 6th straight (Dec 15, 2016)
BY AP • December 16, 2016
NASHVILLE, Tenn. (AP) The streaking Minnesota Wild can thank goalie Devan Dubnyk for saving their winning streak.
Dubnyk stopped 34 shots, Eric Staal scored twice and the Wild beat the Nashville Predators 5-2 on Thursday night for their sixth straight victory.
Dubnyk's best save came with 8:30 remaining in the third period. Moving left to right, he denied Ryan Johansen from the left faceoff dot with the Predators on a power play and Minnesota clinging to a one-goal lead.
''You just try not to stretch out too early,'' Dubnyk said. ''You kind of want to have access to your hands. You don't want to reach before he shoots even though you feel like you are behind. I was able to get over there. It felt good.''
Jonas Brodin, Charlie Coyle and Mikael Granlund also scored for Minnesota, which extended its longest winning streak of the season.
''You know they're not all Picassos, right?'' coach Bruce Boudreau said. ''I thought the two points was very important. To come out of there with that win, it probably frustrated them a little bit. We weren't at our best, but our goalie was.''
Ryan Ellis and Mike Fisher had the goals for the Predators, who have lost three of four.
''We probably played 50 to 55 minutes that we really liked,'' Nashville coach Peter Laviolette said. ''They probably had 10 chances - they got four in the last 2 minutes of the first period and three in the last 2 minutes of the second period. Not a lot more than that, but those did us in.''
Brodin scored the game's first goal at 10:20 of the opening period.
With the Wild on a power play, Granlund sent a pass to Brodin above the left circle and he beat goalie Pekka Rinne with a wrist shot high to the glove side just under the crossbar.
Minnesota had been held without a power-play goal in its last eight games.
Rinne finished with 14 saves.
Ellis tied it 1-all at 12:04 with a one-timer from near the right boards that beat Dubnyk high to the short side.
''I like our efforts in the second and third that we actually had shots to the net,'' Ellis said. ''We had some good chances and some good zone time, but it's a good team altogether. They are good right now for a reason. We have to tighten that first period up especially, but overall just a good game.''
Coyle made it 2-1 at 18:37 of the first.
Rinne got a glove on Nino Niederreiter's shot from the left side, but the rebound dropped just to the left of the goalie, where Coyle tapped it in for his team-leading 10th of the season.
Staal followed with another goal 29 seconds later.
With the puck below the goal line, Niederreiter drew a pair of Predators to him, leaving Stall all alone in the slot, where he beat Rinne with a wrist shot between the pads.
''We had a good first period and really I think set the tone and from there maybe not as sharp, but you've got to find ways to win on winning streaks different ways,'' Staal said. ''It wasn't the prettiest tonight, but we've got a solid team and a great goalie right now.''
Fisher cut the Minnesota lead to 3-2 at 8:55 of the second with a power-play goal off a pass from James Neal.
Stall and Granlund scored empty-net goals in the final minute.
NOTES: Niederreiter has points in four consecutive games. ... Coyle played in his 300th NHL game. ... Predators LW Viktor Arvidsson had an assist, extending his career-high point streak to five games. ... Nashville's power-play goal was its second in the last nine games.
UP NEXT
Wild: Return home to face Arizona on Saturday.
Predators: Host the New York Rangers on Saturday night.
---
---