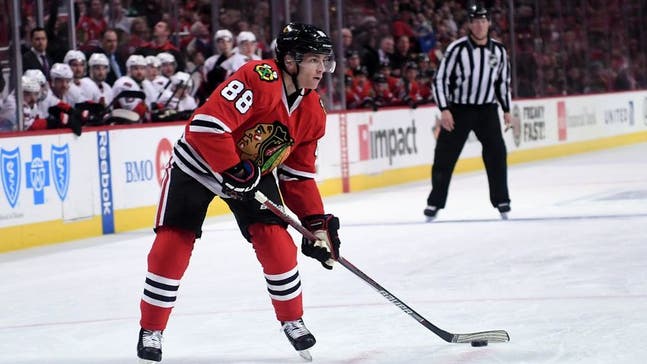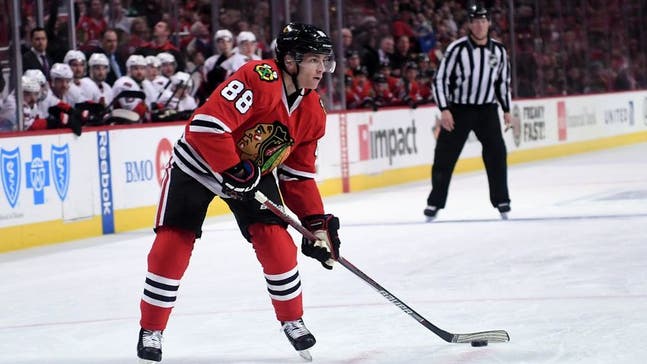 Chicago Blackhawks' Patrick Kane Tallies 700th Career NHL Point
Updated
Mar. 4, 2020 2:59 p.m. ET

Fansided, Colin Likas/FanSided via Blackhawk Up
Patrick Kane reached a scoring milestone Thursday in the Chicago Blackhawks' win against the Nashville Predators
What's 700 points good for in NHL history? Oh, just a tie for 224th on the all-time scoring list. Chicago Blackhawks winger Patrick Kane found that out Thursday.
Well, he probably didn't find out where he ranked all time in NHL points scored. But he certainly learned at some point during or after Thursday's win against the Nashville Predators that he had reached 700 points in his NHL career.
Kane achieved this milestone in a fashion befitting of as clutch an on-ice performer as he is — by scoring the eventual game-winning goal. After assisting on Jonathan Toews' goal earlier in the third period, Kane beat Pekka Rinne short side with a wrist shot to put Chicago ahead 3-2, a margin the Blackhawks would eventually win by.
Kane was moonlighting on the fourth line with Tanner Kero and Tyler Motte, and the trio broke on a 3-on-2. It's pretty hilarious Kane was replacing Jordin Tootoo, who is pretty much the on-ice polar opposite of Kane.
But anyway, Kane's two points against Nashville gave him 700 for his career and put him in some pretty good company. He tied Los Angeles Kings center Anze Kopitar and the retired Geoff Sanderson for 224th on the all-time points list.
And get this: Kopitar scored his 700th career point Dec. 22 at Nashville. The Predators must really enjoy being milestone doormats. Sanderson, for what it's worth, scored his 700th and final NHL point against the L.A. Kings in 2008 while playing for Edmonton.
Looking at the all-time points list
blackhawks
Blackhawk Up 13wChicago Blackhawks' Hockey Is Back, In Multiple Forms
More headlines around FanSided:
14w - Chicago Blackhawks Morning Links: Go Team North America14w - Chicago Blackhawks Ex-Forward Brandon Saad Has "No Regrets"14w - World Cup Of Hockey Early Reactions: Team USA In Trouble14w - Chicago Blackhawks' Early World Cup Experiences Mixed14w - World Cup Of Hockey Predictions: Winners, Crawford And MoreMore News at Blackhawk Up

Kane is obviously an amazing offensive talent. He's in his 10th NHL season and has already achieved 700 career points. He's averaging just better than a point per game for his NHL career, with 700 points in 696 career regular-season games.
I found it interesting Kopitar was the closest active player to Kane in points scored. I don't think of Kopitar as a major point producer; he's in the Toews/Patrice Bergeron mold. And those guys do score their fair share of points, but I think of all three of them in a more defensive-minded light.
But it might surprise fans how many active NHLers are still ahead of Kane on the all-time points list. Here's the group:
753 — Rick Nash, New York Rangers F
769 — Ryan Getzlaf, Anaheim Ducks F
777 — Marian Gaborik, Los Angeles Kings F
787 — Mike Ribeiro, Nashville Predators F
801 — Evgeni Malkin, Pittsburgh Penguins F
811 — Eric Staal, Minnesota Wild F
834 — Jason Spezza, Dallas Stars F
861 — Henrik Zetterberg, Detroit Red Wings F
955 — Shane Doan, Arizona Coyotes F
964 — Daniel Sedin, Vancouver Canucks F
992 — Alex Ovechkin, Washington Capitals F
993 — Henrik Sedin, Vancouver Canucks F
1,049 — Patrick Marleau, San Jose Sharks F
1,112 — Marian Hossa, Chicago Blackhawks F
1,282 — Jarome Iginla, Colorado Avalanche F
1,365 — Joe Thornton, San Jose Sharks F
1,889 — Jaromir Jagr, Florida Panthers F
Look at just the guys in the Central Division on this list. Heck, Kane isn't even close to being the Blackhawks' active leader in points. Hossa netted his 1,100th career point earlier this season.
Five of the seven Central Division teams have at least one active player with 700 or more career NHL points. That's pretty crazy.
Of course, there's guys like Ribeiro and Doan on this list who are pretty much now known for acting like fools on the ice. But they've been around the league for so long, and they were once adept at producing points. They can both still do it to some extent, but their better years are behind them — in more ways than one.
Regardless, this is really about Kane reaching a milestone in what seems like incredibly fast time. He's just past his 28th birthday, and if luck sticks with him on the ice and his skill remains, who knows how high Kane's career point total could go. He's not reaching Wayne Gretzky's 2,857, but blowing past 1,000 doesn't seem crazy by any stretch.
Ultimately, I'm sure Kane is more worried about the Blackhawks piling up points than him doing so. If his points lead to more Blackhawks points and wins, that's good news for both parties.
More from Blackhawk Up
This article originally appeared on
---
---