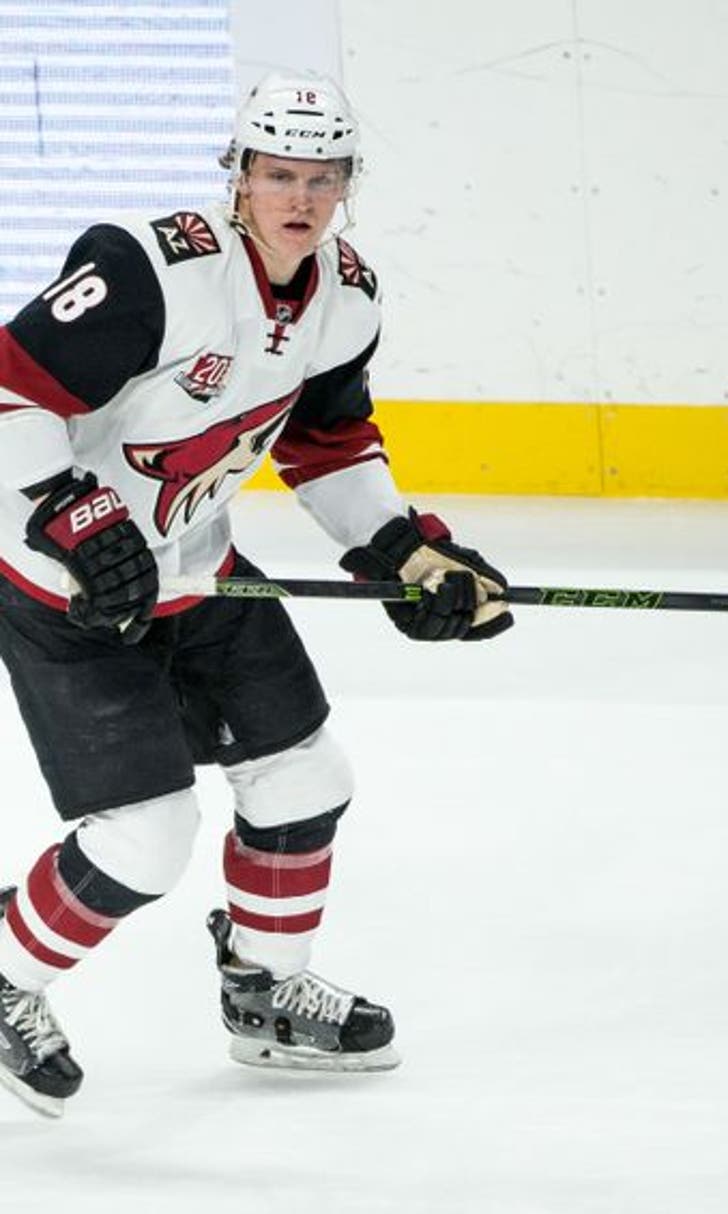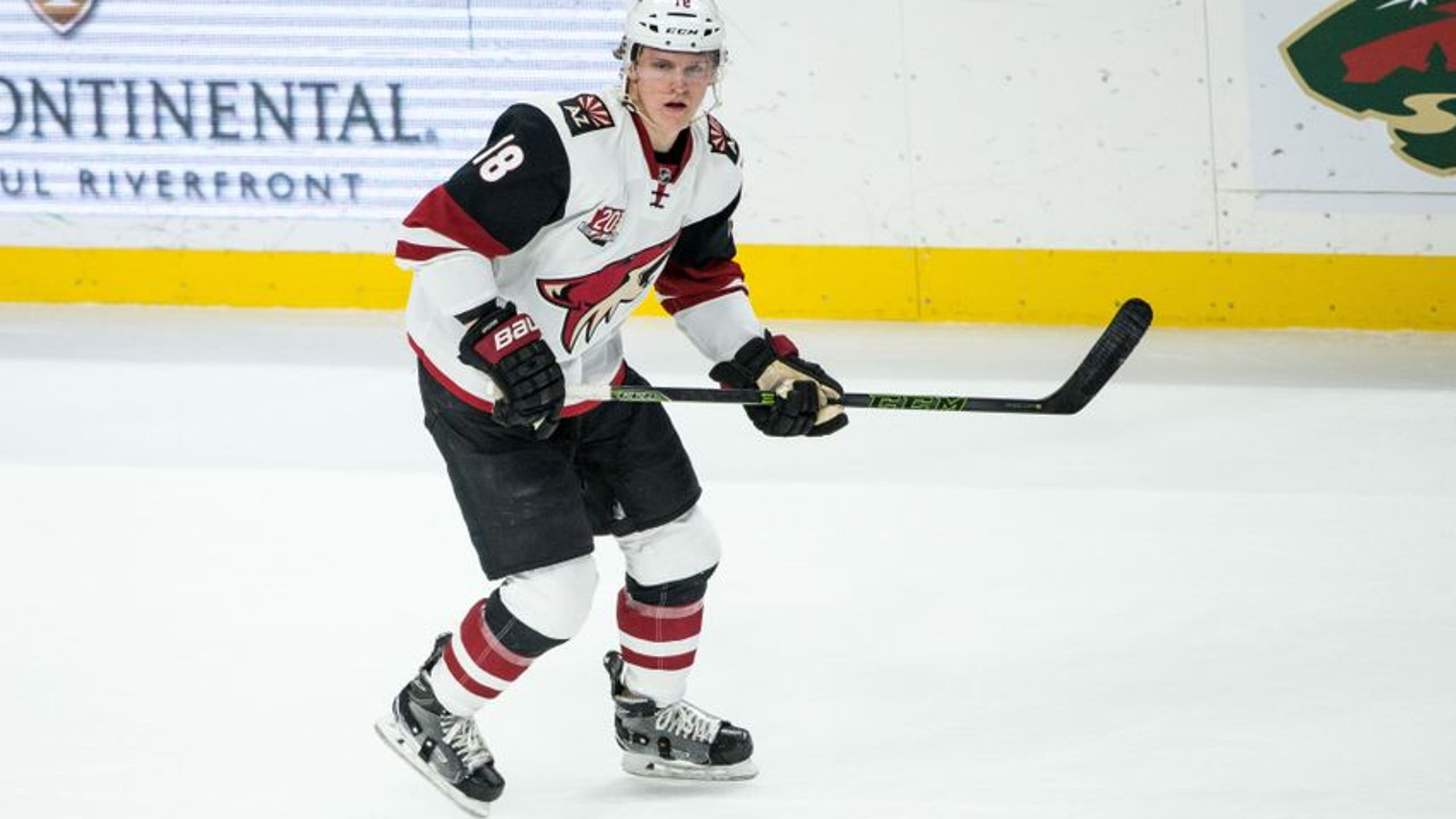 Arizona Coyotes: The Curious Case Of Christian Dvorak
BY Fansided and Jason Harrison/FanSided via Howlin' Hockey • December 26, 2016
Arizona Coyotes rookie Christian Dvorak's name hasn't come up much since the season started, and that trend happens with more than just the fans.
Arizona Coyotes rookie Christian Dvorak has been overlooked his entire career.
He graduated from second round draft pick to point scoring machine and Memorial Cup champion.
Dvorak sits in the shadow of bigger names like Dylan Strome and Clayton Keller in his own organization.
He probably has a beach ball sized chip on his shoulder.
The American born center has played in 30 games for the Yotes this season, producing 3 goals and 8 assists.
That ranks him highest on the team among rookies and, well, there have been a lot of rookies to take the ice for the Arizona Coyotes this season.
Curiously, however, Christian Dvorak has yet to earn head coach Dave Tippett's trust. Recently he hovers around 9:00 of time on ice per game, and he hasn't exceeded 11 minutes but once in the past six games.
More from Howlin' Hockey
In fact, since Arizona got shellacked by the Penguins on December 12th, Dvorak is averaging just under 10 minutes per game.
It's hard to make sense of that given the Coyotes' struggles up the middle and their position in the standings. It's not like there are better bodies to put out there ahead of Dvorak, and he could sorely use the experience going forward.
So, what's the deal with him being stapled to the bench?
The Case For Christian Dvorak
Simply put, he's expected to be a big part of the Arizona Coyotes' future and he needs to play.
The team is bad, the results are poor, and that means he should be playing even more.
Early in the season Dvorak hovered around 15 minutes per night. Now, he languishes on the bench late in games while the Yotes are playing catchup and sees very little power play time while forwards like Tobias Rieder and Shane Doan take up space on a power play unit ranked 26th in the league (14.6%).
Dvo has the skill to make plays for Arizona offensively and the pedigree to get back and do his job in the opposite end.
Want your voice heard? Join the Howlin' Hockey team!
It's a much derided stat in today's NHL, but it's worth noting that Dvorak is plus-3 on the season. He's the only player who has played more than 10 games who is in the positive.
The Case Against Christian Dvorak
If you're looking for reasons why Dave Tippett might have a short leash on Dvo, there are a few.
For starters, he is the worst possession player on the team.
Dvorak's 5v5 Corsi For percentage is an appalling 39.70%. Yikes.
On top of that, though he has dressed in 30 games this season, the 20-year-old has put up a mere 23 shots on goal.
Basically, Dvo is far too precious with the puck when he has an opportunity to shoot and doesn't otherwise drive play in a positive direction.
He's also not exactly an All-Star in the face-off dot.
Each of those issues could be chalked up to youth. Perhaps he defers so much because he is a rookie, and we all know that face-off prowess is typically an earned and learned skill in the NHL.
The Curious Case of Christian Dvorak
In summary, Dvo's possession numbers are atrocious but few goals go into Mike Smith's net when he's on the ice.
He needs to shoot more and could provide a spark on the power play if given an opportunity.
After lighting up junior hockey, Dvorak has more than earned his stay on the Arizona Coyotes.
In fact, I would argue that he's earned more than that.
Tipp, John Chayka, and the rest of management need to step back from win now mode and put both eyes towards the future.
It only helps the team grow if players like Dvorak, Anthony DeAngelo, Jakob Chychrun, and Lawson Crouse are playing heavier minutes than veterans who may not be here for long.
The results might be ugly, but I'd argue they are already about as ugly as they can get.
Let the kid(s) play.
Put him in situations where he can spark the team offensively.
It's early days, but nothing I've seen dampens my hope for the ceiling of Christian Dvorak.
---
---