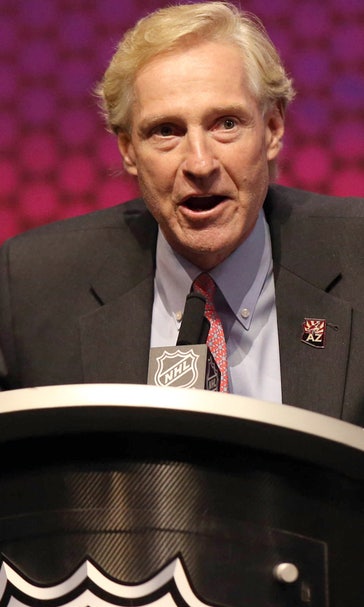 Arizona Coyotes fire GM Maloney after 9 seasons
April 11, 2016

The Arizona Coyotes fired general manager Don Maloney on Monday.
The team said an interim general manager wouldn't be named at this time and that the search for a new GM will begin immediately.
"On behalf of our ownership group and the entire Arizona Coyotes organization, I would like to sincerely thank Don for all of his hard work and the many contributions he made to our organization during his tenure," Coyotes President and CEO Anthony LeBlanc said in a statement. "The Coyotes had some success with Don, but we believe a change in leadership is needed in order to move our franchise forward in a new direction."
Maloney spent the past nine seasons as executive vice president and GM. The Coyotes made the playoffs from 2010-12, but have now missed four consecutive postseasons. Arizona went 35-39-8 this season and finished fourth in the Pacific Division.
Maloney leaves the organization with several high-profile prospects and young players, including rookie forwards Max Domi and Anthony Duclair.
Dave Tippett has two years remaining on his contract as coach and is expected to be retained.
Maloney had one of the most difficult jobs in sports, leading a team operating under the financial restraints of being owned by the NHL for four seasons. Maloney handled it better than expected, bringing in gritty, low-salaried players who fit Tippett's defensive style of hockey.
The Coyotes lost in the first round of the playoffs in 2010 and 2011, but rallied fans across the Valley of the Sun with an unexpected run to the 2012 Western Conference finals.
A new ownership group, led by Anthony LeBlanc and George Gosbee, stuck with Maloney after buying the team in 2013 and kept him as GM after Andrew Barroway bought 51 percent of the team in 2014.
The Coyotes have struggled with injuries to key players, particularly goalie Mike Smith, and have not finished higher than fourth in the Pacific Division the past four seasons.
Maloney orchestrated a rebuilding phase for the franchise last season, trading away several core players and their large contracts to give the team financial flexibility and the younger players in the system a chance to blossom.
Arizona lost out on a huge opportunity when it fell to third in last year's NHL draft lottery despite having the league's second-worst record the year before, costing it a chance to draft Connor McDavid or Jack Eichel. The Coyotes still managed to get a good player in center Dylan Strome, but he did not make the team out of training camp and was sent to Erie of the OHL.
Arizona got off to a strong start this season behind Domi and Duclair, who gave the team a much-needed boost of energy and speed. But injuries again plagued the Coyotes -- Smith was out for an extended time -- and inconsistent play knocked them out of playoff contention for the fourth straight year despite earning 22 more points than last season.
---
---