National Football League
National Football League
Why Tom Brady can't, shouldn't and won't win the MVP (blame Joe Montana)
Published
Dec. 15, 2016 5:26 p.m. ET

In a rare NFL year without a slam-dunk MVP candidate, an unorthodox question is being posed in the race for most valuable player: Could you give the award to someone who missed one-quarter of his team's season?

That someone, obviously, is Tom Brady, who missed New England's first four games of 2016 because of his involvement in Deflategate and has come back playing some of the best football of his life. Can he steal the MVP despite his early-season absence? Is there even any precedent for it?

The only way to look forward is to look back, specifically at the 59-year history of the AP's NFL MVP award, the 46 men who've won it (nine have won multiple MVPs) and the 61 overall recipients (there have been two ties). And when you do, you find one incontrovertible fact: No one has ever missed as many games as Tom Brady and still been named NFL MVP.

MVPs just don't miss many games. Only nine of the 61 winners haven't played a full season. In the past 12 years, the respective MVPs have combined to miss one game. Since the NFL expanded to 16 games in 1978, MVPs have missed a total of 12 games over 38 seasons, meaning an MVP is on the field in 98 percent of his games. Tom Brady will have played 75 percent, at most.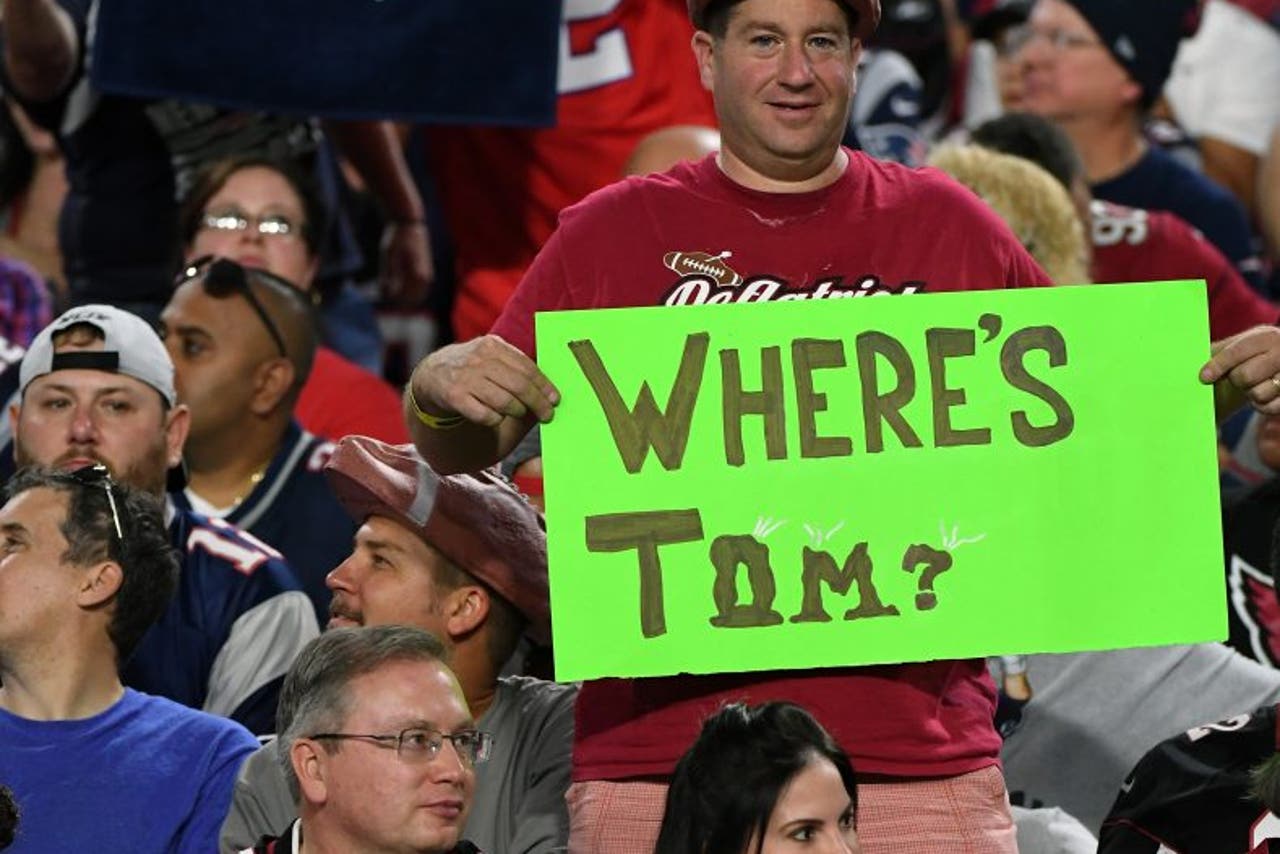 GLENDALE, AZ - SEPTEMBER 11: A fan holds a sign referencing the four-game suspension of quarterback Tom Brady of the New England Patriots during the NFL game between the Patriots and the Arizona Cardinals at University of Phoenix Stadium on September 11, 2016 in Glendale, Arizona. New England won 23-21. (Photo by Ethan Miller/Getty Images)


Go back even further, to when the league had 12- then 14-game schedules. That's 21 more seasons and 21 more MVPS and just three more games missed. Overall, NFL MVPs have played in 869 of 884 possible games, missing just 15 overall. If Brady and his four missed games were to win the MVP, he'd account for 21 percent of all games missed by MVP award winners.

Of the nine winners who missed games, four were out for a single Sunday (Aaron Rodgers, 2011; Thurman Thomas, 1991; Joe Montana, 1990; Y.A. Tittle, 1963). Four more were out for two games (Steve McNair, 2003; Marshall Faulk, 2000; Emmitt Smith, 1993; Larry Brown, 1972).

The one-game guys missed negligible time. Forget about them. Those who missed two games tended to put up totals (not averages) that led the league. They had the numbers of players who played every game that year -- the only way you'd know they'd missed time is if you'd looked to find out. In his MVP year, Faulk set the NFL record for most touchdowns and yards from scrimmage in a single season. Smith, who famously held out those first two games of 1993, came back to win the league's rushing title and led the NFL in yards per attempt, yards per game and yards from scrimmage. And Larry Brown led the NFL in rushing yards per game and was just the fifth man in history to average more than  100 yards per game. McNair is a different story. There's been much debate on whether he deserved to split that season's award with Peyton Manning. I love Steve McNair, but Manning had the best season of his young career and probably deserved it outright -- though, to be fair, McNair had his best season, too.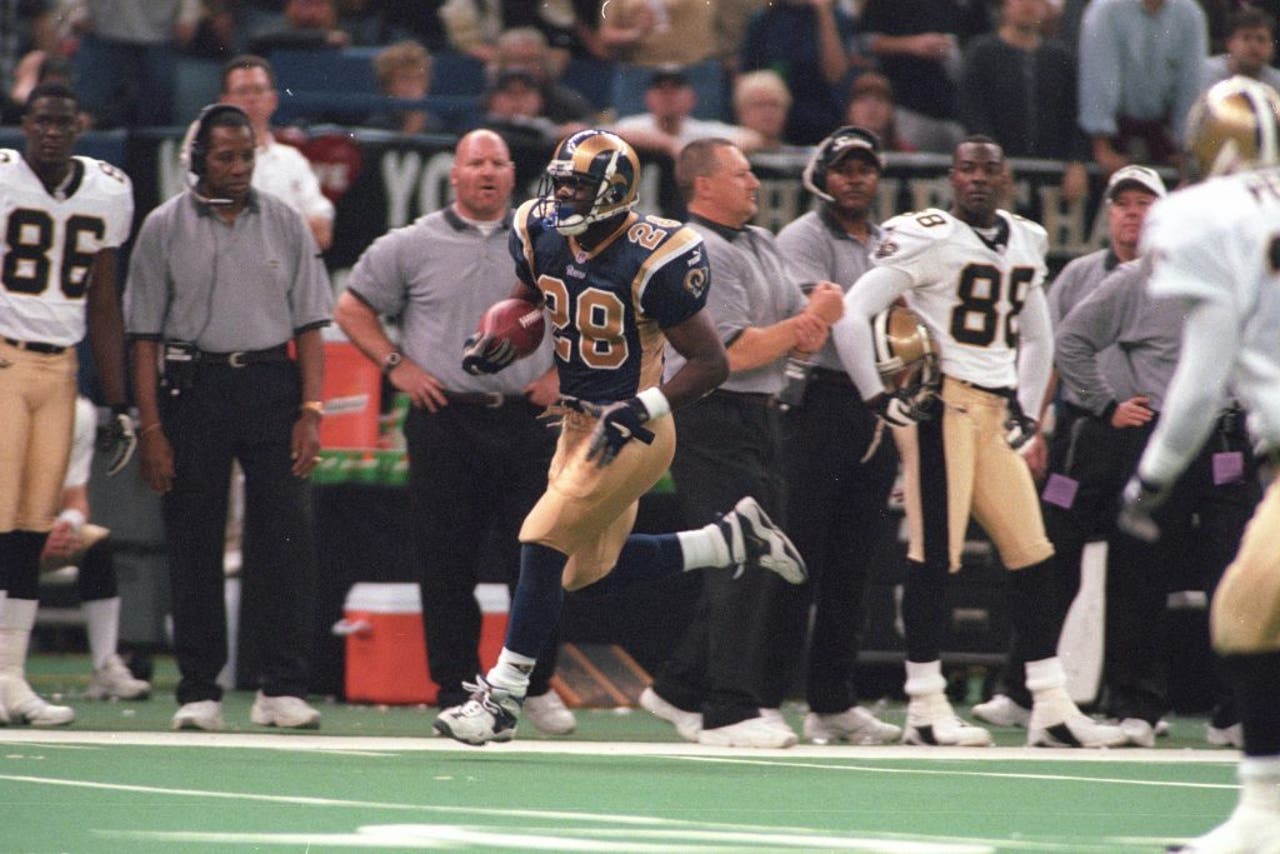 NEW ORLEANS, LA - DECEMBER 30: Running back Marshall Faulk #28 of the St. Louis Rams runs upfield against the New Orleans Saints in the 2000 NFC Wild Card Game at the Superdome on December 30, 2000 in New Orleans, Louisiana. The Saints defeated the Rams 31-28. (Photo by Joseph Patronite/Getty Images)


That's eight MVPS who missed one or two games. There's still one left and he's the only comparison we have for Tom Brady. It's Joe Montana and his 1989 season, when he won MVP after missing three games throughout the season with various injuries. The 49ers QB, who just happens to be Brady's hero, is the only NFL player in history to win MVP while missing three games. Brady is looking to become the first to do it after missing four. Does Montana's path clear the way for Brady, too?

Nope. In 1989, Montana broke a 43-year-old NFL record in passer rating with a 112.4, in a time when passer ratings over 100 were rare. He was clearly, by far, the best quarterback in the league. Montana's '89 was, simply, historic. Only four men since the AFL/NFL merger had ever had a triple-digit passer rating, and Dan Marino's record-setting 1984 season was the only where one of those other QBs went over 105. His team was the best in the league, going 14-2, scoring the most points and giving up the third-least points. (It's irrelevant to MVP voting, but just to show how scorching the Niners were that year, they outscored their three playoff opponents by exactly 100 points -- 126-26 -- something only one other team did the entire NFL season.)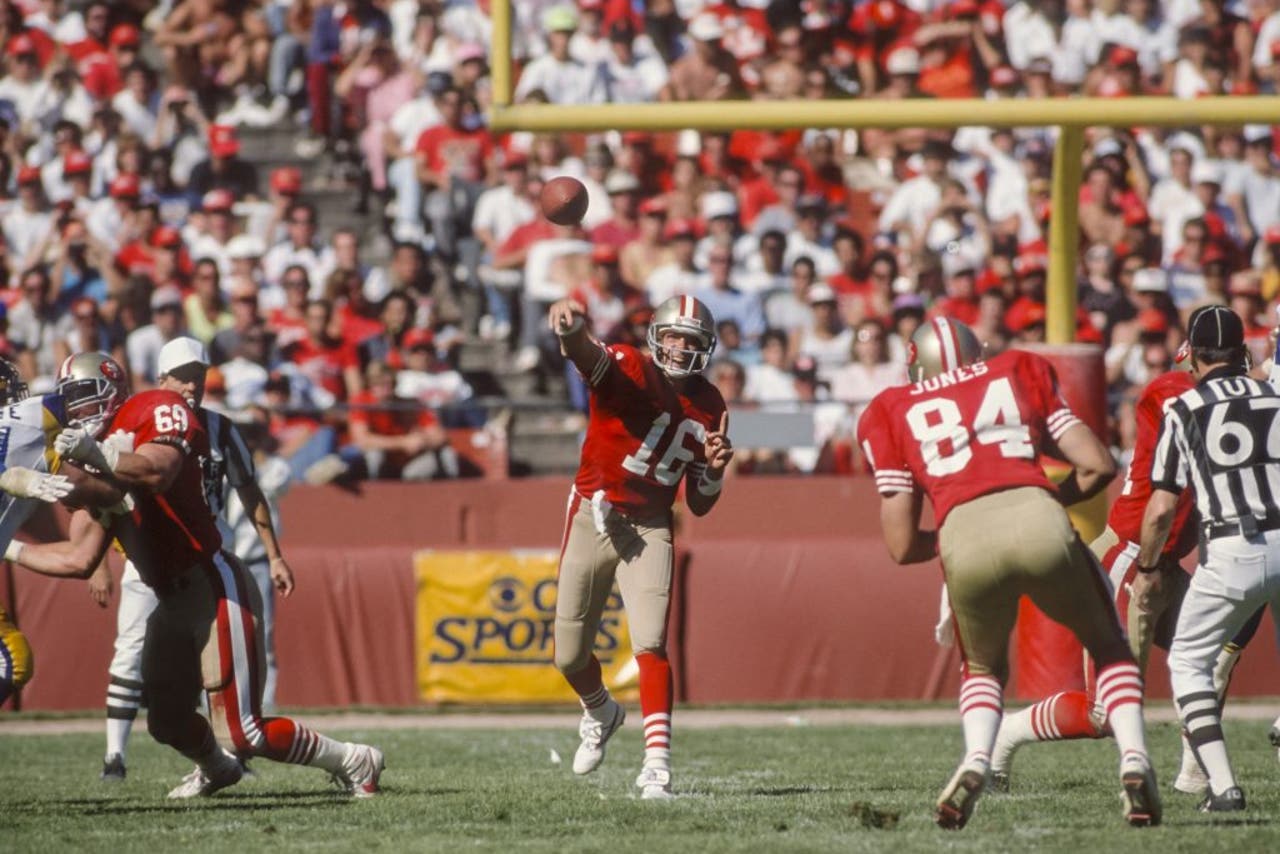 Montana had a 70.2 completion rate, second in modern NFL history at the time and still somehow in the league of QB protection and short passing is eighth in NFL history, Just three other men had gone over 65 percent before that. Montana, of course, was running Bill Walsh's West Coast offense (although Walsh was gone in 1989 -- George Seifert was in his first season) which focuses on shorter, higher-percentage passing, but if you're going to ding Montana for that, then you have to punish Brady for playing on a Bill Belichick team, too, right?

The distance Montana put between him and the other quarterbacks is the reason Brady can't win. Montana was a lot better, enough to overcome missing three games. Brady has been a little better, not nearly enough to cover for the four games he missed. Maybe being the best over 12 games will always lose to maybe being the best after 16.

What Montana, Faulk, Smith and the others have shown is that playing 16 games isn't necessarily a requirement for being the most valuable player in the league, but not playing 16 games makes it next to impossible to catch up with the guys who do. And that's why the only way Brady can win is if he goes full Montana and, after a wild three-week stretch to end the season, comes out on top of every other quarterback by a wide margin.

It's not going to happen. Brady's leads are in the categories you'd expect -- ones that value quality, not quantity. The problem is that Brady's quality is excellent but not epic. Montana's was both. Here's a list of the league rankings of the two quarterbacks, Montana with his 13 games in 2016 and Brady, still at eight, in 2016. The averaged totals might change a little, but expect Brady to move up in both yards and touchdowns. Still, it's all but impossible he makes it into the top 10 of the former and it'll be very tough to crack the top five of the former.


Screen Shot 2016-12-15 at 2.14.26 PM


Brady can only hope to match Montana in four categories and is unlikely to catch him in the two others. The biggest obstacle though: Even if Brady averages 400 yards, four TDs and zero interceptions over the next three weeks, his biggest argument is going to be that he had the best QB rating (which is of minimal value unless you Bob Beamon it) and that he had a wicked high TD-to-INT ratio, just like Nick Foles did in 2013.

At this point though, Brady leads Matt Ryan in QB rating by 0.4 points. Montana broke an all-time NFL record by eight times that much and was ahead of his next-closest competitor that year by 20.3 points (Montana was at 112.4 and Boomer Esiason finished with 92.1. Brady currently has a rating of 113.6, better than Ryan's 113.2. Yeah, I know QB rating isn't a great, or even very good, stat. But until the NFL metric community can think of something better -- and they won't -- voters will be looking at the number for guidance.)

Weirdly, not only did Montana win in 1989 but he dominated the voting, getting 62 out of 70 votes. That was the highest percentage of the vote in a 41-year stretch from O.J.'s 1973 MVP (74 of 78 votes) and Peyton's 2004 award (49 of 50 votes). At that point though, it kind of felt like giving Martin Scorsese the Oscar for The Departed -- a make-up for errors of year's past. Couple in the fact that Montana had never won before and you get even more impetus to give him the award. Tommy Boy has two.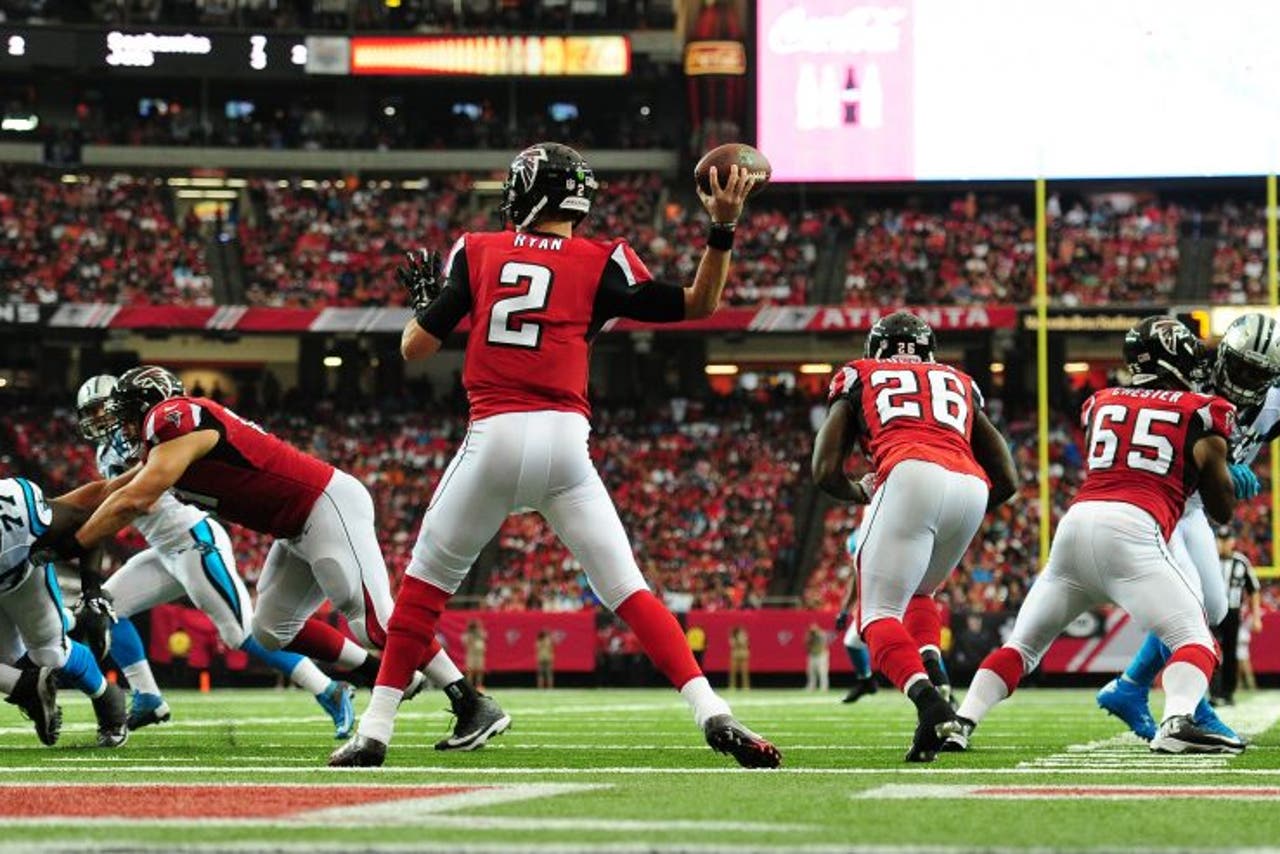 If you're going to miss multiple games and win MVP, you have to do it by getting  your numbers in line with the guys who played a full season, something Le'Veon Bell is doing in Pittsburgh after he missed the first three games of the year. By New Year's Day, you'll look at Bell and never know he missed 19 percent of the Steelers' season. He likely won't have MVP numbers, but he'll get an OPOY look (as Brady should).

We can battle the semantics of what an MVP is all year if we want. To me, it means what it says. To others, it refers to the best player. That's why, putting aside the numbers, it's impossible for me to believe Brady could be the most valuable player to his team when he missed four full games of the season. It's hard to be valuable when you're not allowed in the building.

The only reason we're having this discussion is because it's about Tom Brady. The idea of giving him the MVP as sort of a Roger Goodell protest vote would be a bit of delicious irony but kind of crappy to the newbie candidates who genuinely deserve the look. Don't think this is about Brady (cough, WEEI listeners, cough): Imagine if he and Matt Ryan switched places this year, with Ryan putting up good numbers after a four-game suspension and Brady tearing up the league after starting in Week 1. Brady would be the overwhelming MVP candidate right now and Ryan, with the numbers Brady has now, wouldn't even be considered.

He missed four games, after all, and no one has ever earned the league's highest honor after doing that.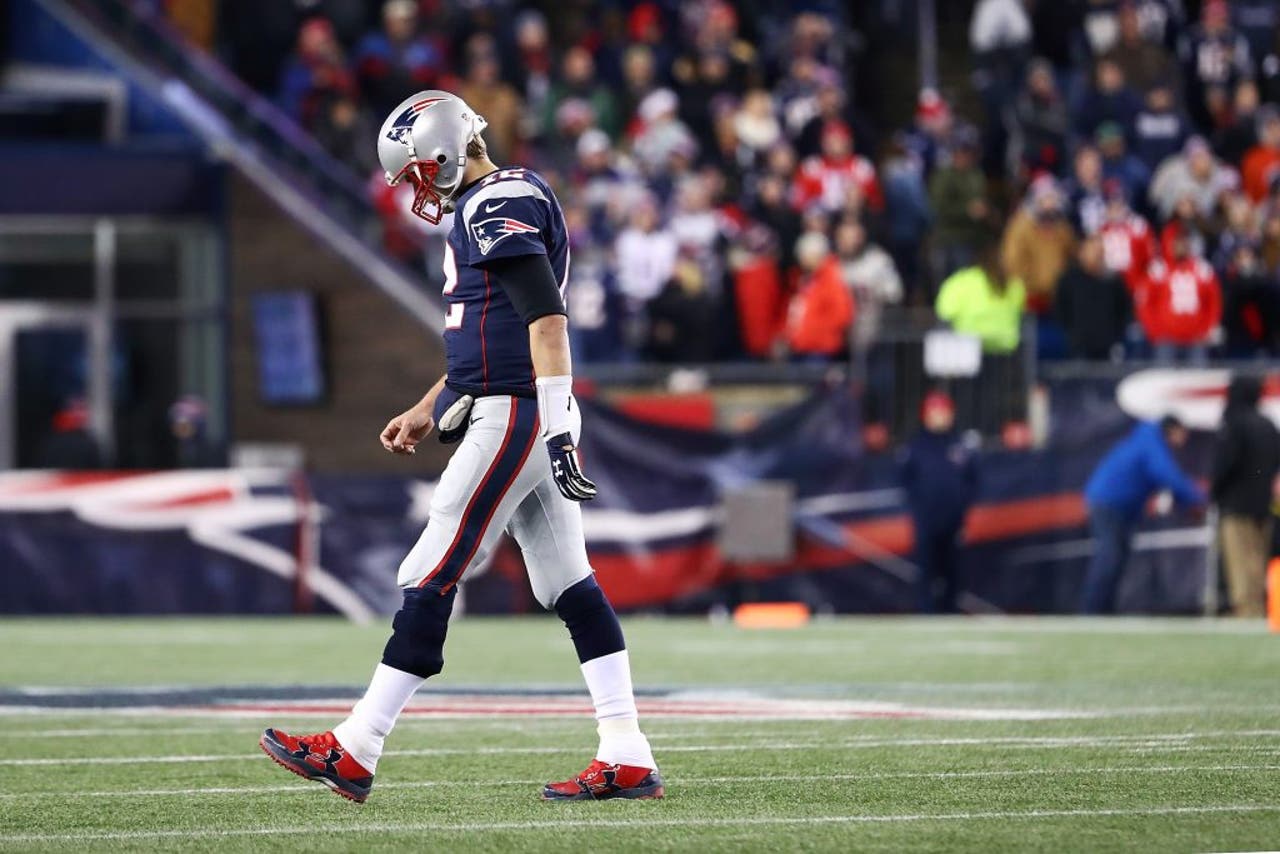 ---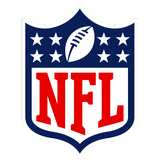 Get more from National Football League
Follow your favorites to get information about games, news and more
---