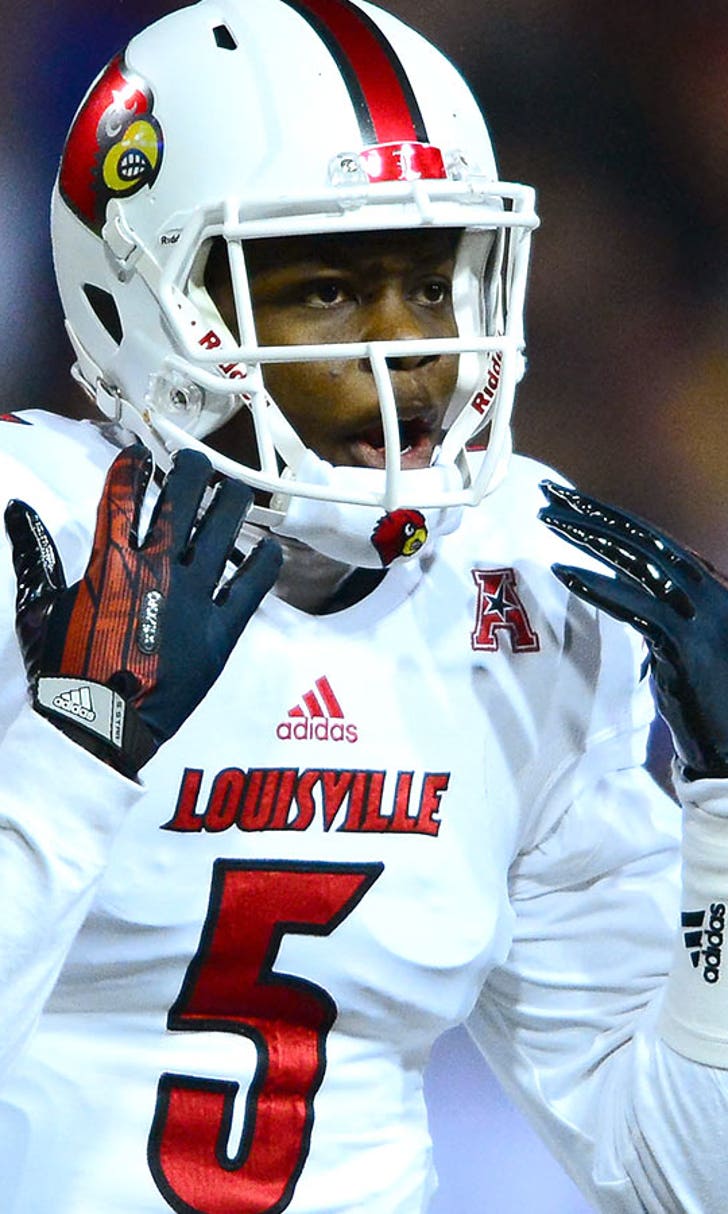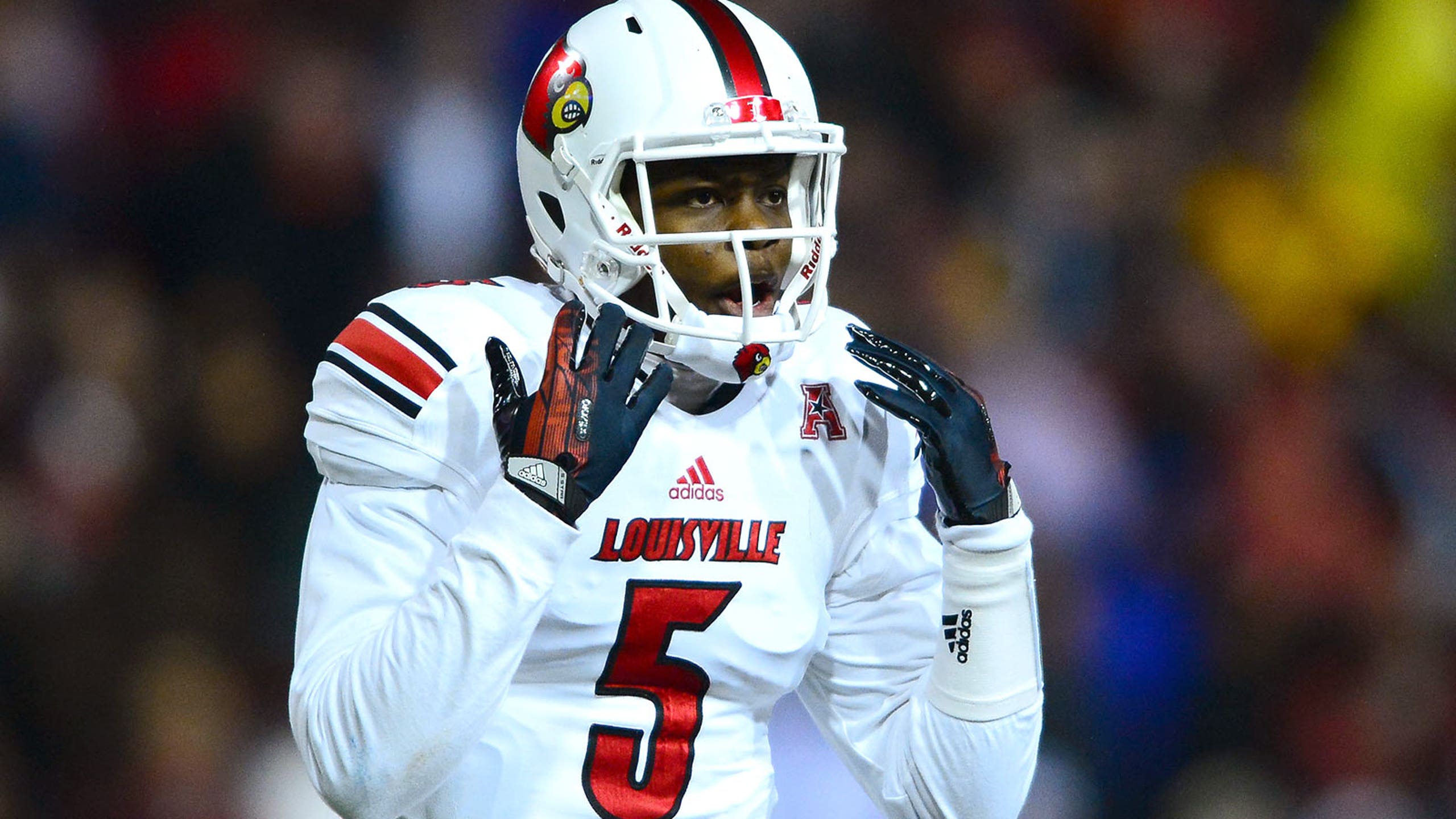 Schrager's Mock Draft 2.0: All the early entries are here
BY Peter Schrager • January 15, 2014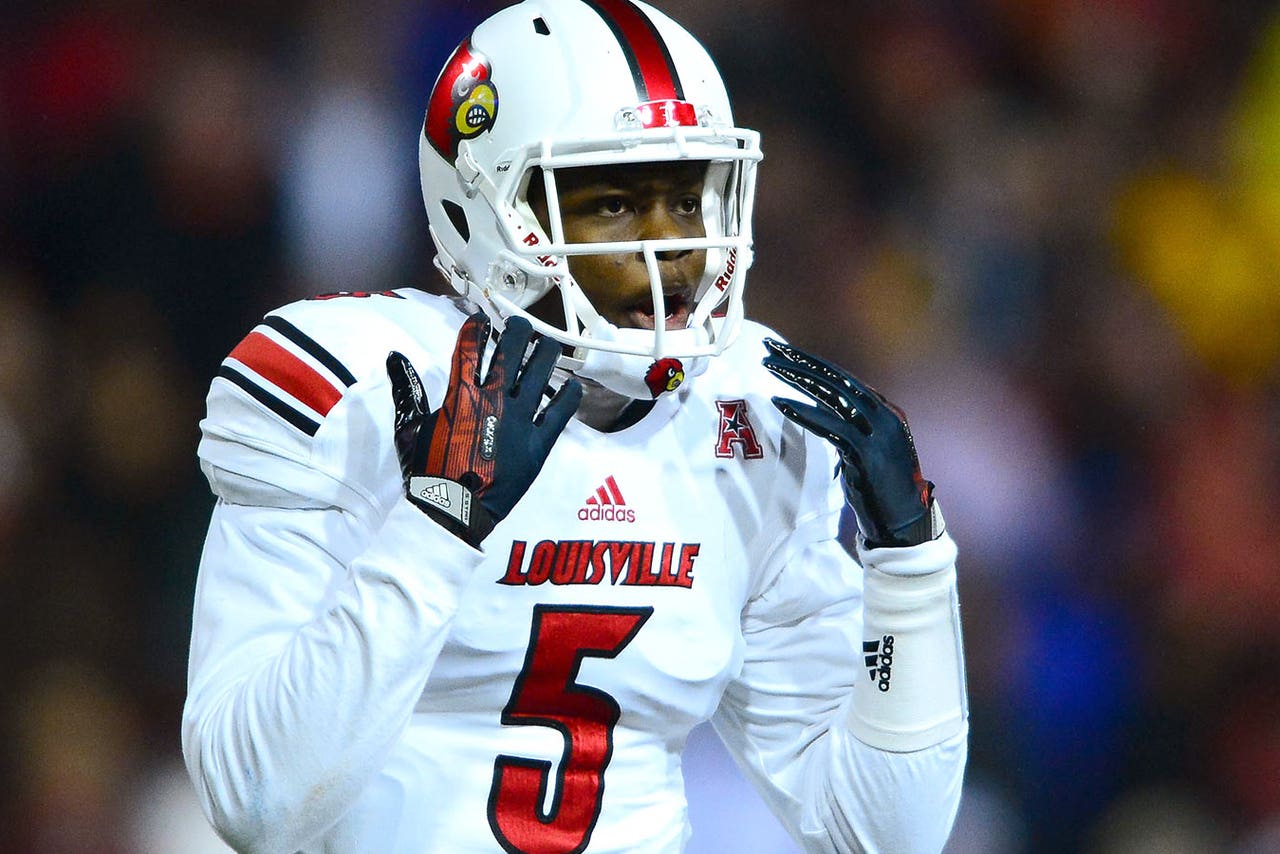 It's still far too early to put out an accurate mock draft with any sort of conviction. I know that.
Between now and the start of the NFL Draft on May 8, many things will happen. Coaching staffs are still being hired. Free agency hasn't started. The combine hasn't happened. We haven't had a single pro day. All of this and more will shake up the first round over the next four-plus months.
So, why bother?
Because we love them. They're fun. Here's my second mock of many to come.
Some notes to keep in mind:
1. Beware of the high-rising quarterback du jour. I have nothing against Blake Bortles, the UCF quarterback who's been rising on every other mock draft board the past few weeks. I just don't see him as the No. 1 overall pick that others do at this point. I'm not even certain he's a first-rounder. Last year at this time, the guy was Syracuse's Ryan Nassib. Everyone loved Nassib in the months leading up to the draft, but there was a problem: Thirty-two NFL teams passed on him. Though the mock drafts and draftniks were convinced he was the guy, 32 GMs were not and he didn't get selected until the fourth round. Bortles could go first overall — we'll have a better idea just where he's projecting at the combine — but at the moment, I'm not sold. Yet.
2. Free agency and coaching hires will matter significantly, not to mention GM vacancies still yet to be filled.
3. Seventeen underclassmen running backs have declared for the draft. I don't have any going in the first round.
(Note: The draft order used here is based on the final NFL standings with teams' projected final strengths of schedule as tiebreakers. The final four picks will be determined by playoff finish.)
1. Houston Texans: Teddy Bridgewater, QB, Louisville: I still think Bridgewater's the guy for Houston. He comes from a pro-style offense under offensive coordinator Shawn Watson at Louisville (now a coach at Texas) and can contribute as the starter right away. Some question his size and arm strength, but I think he'll put those worries away during the combine and pro day workout process. Pair him with the schooling of head coach Bill O'Brien and Houston could be relevant again next season.
2. St. Louis Rams (from Washington Redskins): Jake Matthews, OT, Texas A&M: Robert Griffin III has turned out to be the gift that somehow keeps giving for the Rams. They've got Washington's No. 2 overall pick this year and I've heard they'd be open to swapping it for two first-round selections (one in a future year) if a team is captivated by Jadeveon Clowney. If St. Louis sits still with the pick, I think Matthews, a franchise tackle, is the guy. With edge pass rushers Chris Long and Robert Quinn up front already, I'd expect the Rams to go offensive line instead of the All-World talent in Clowney.
3. Jacksonville Jaguars: Jadeveon Clowney, DE, South Carolina: As one source told me a few weeks back, "Is he a risk? Maybe. Is it a bigger risk to pass on him? Yes." The Jaguars are in rebuilding mode, especially on the defensive side of the ball. Though I think Bridgewater would be the guy if he slipped to No. 3, I think GM Dave Caldwell and defensive-minded head coach Gus Bradley scoop up Clowney if he's still on the board.
4. Cleveland Browns: Johnny Manziel, QB, Texas A&M: If there's any fan base in the NFL who needs a spark and a reason to be excited, it's that of the Browns. After another mess of a season and another coach getting fired, I wouldn't be shocked to see CEO Joe Banner, GM Mike Lombardi, and whoever they hire as the head coach to make a big splash and ride the Johnny Football train. I've heard multiple scouts express serious concerns about his arm strength and durability, even leading me to watch specific drives during the Missouri and LSU games. But I still think he's a top-10 guy. Cleveland's the spot.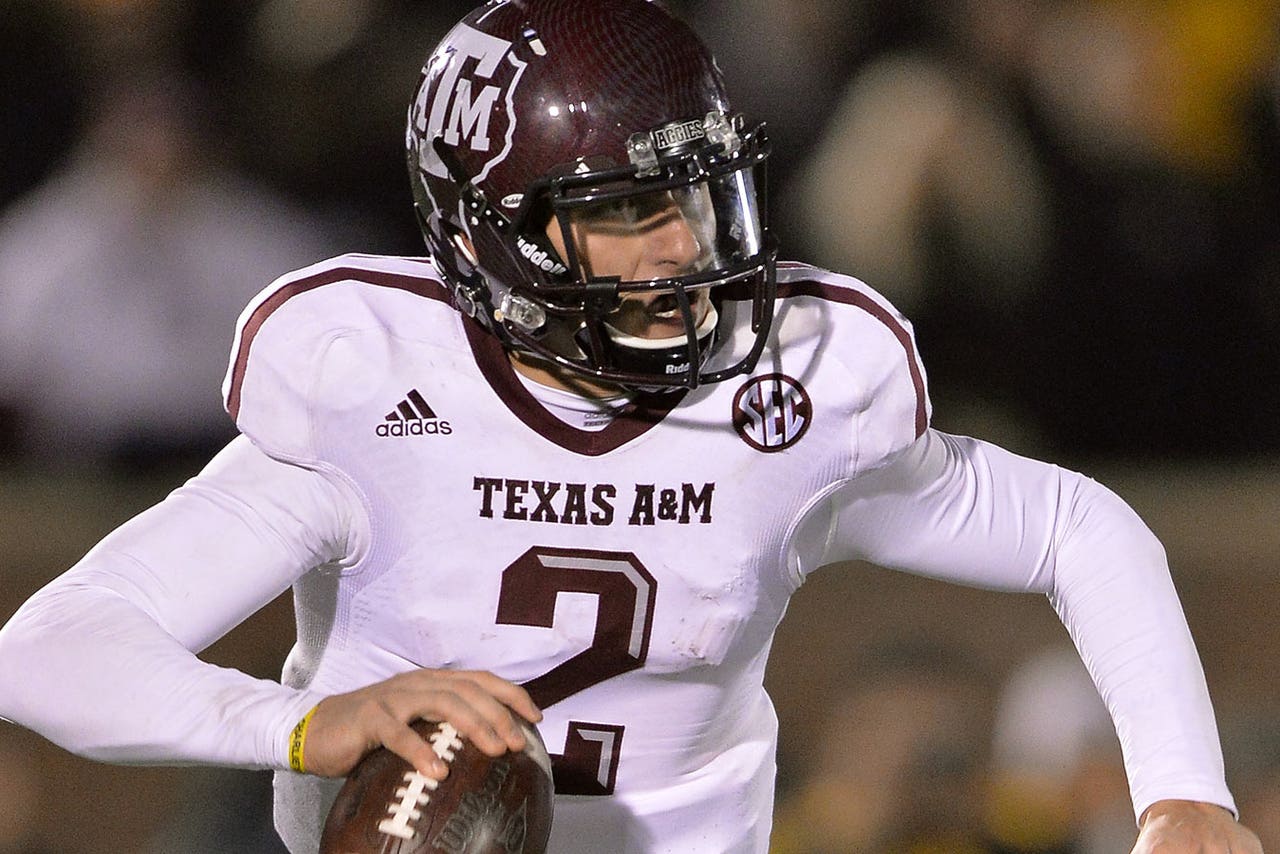 How will Johnny Football look in a Browns uniform?

5. Oakland Raiders: Sammy Watkins, WR, Clemson: Once upon a time, the Raiders were known for their deep threats at receiver. It's been a while. Watkins is the total package at wideout — big enough to take a hit, fast enough to take the lid off, and blessed with great hands and smarts.
6. Atlanta Falcons: Anthony Barr, LB, UCLA: Barr does it all. Think Von Miller Part II. The Falcons have offensive-line needs, of course, but a game-changer on defense that can get to the quarterback on a consistent basis may be the higher priority. There was zero pressure on opposing quarterbacks in 2013.
7. Tampa Bay Buccaneers: Greg Robinson, OT, Auburn: The Buccaneers have a trio of big names on the offensive line, but they haven't had Carl Nicks, Davin Joseph, and Donald Penn all healthy and on the field at the same time. Add another talented name to the group and hope for the best. I think QB Mike Glennon showed enough in 2013 to be the guy in 2014, but I'm not new OC Jeff Tedford. If it's Glennon or someone else (I don't see them drafting a rookie), another talented offensive lineman would be invaluable.
8. Minnesota Vikings: Derek Carr, QB, Fresno State: Twelve years ago, Carr's older brother David was the first pick of the NFL Draft. I think Derek will go to the Vikings at No. 8. I know he didn't light up the USC defense in his bowl game and I know there's a lot more Internet love for UCF quarterback Blake Bortles at the moment. But Carr should excel at the Senior Bowl and impress in his workouts. He's still the third quarterback off my board.
9. Buffalo Bills: Eric Ebron, TE, North Carolina: Could Ebron really go in the top 10? Why not? Doug Marrone and coordinator Nathaniel Hackett's offense is still a work in progress, the offensive line had a good year, and Ebron's been compared to Jimmy Graham. One of Ebron's former UNC teammates who's now playing in the NFL told me he's got the potential to be an NFL game-changer. The tape doesn't lie, either.
10. Detroit Lions: Darqueze Dennard, CB, Michigan State: Another year, and another draft in which I'll peg a cornerback going to the Lions. This one makes a lot of sense. Dennard's a local guy out of East Lansing, a Thorpe Award winner and has the physicality to match up with the likes of Alshon Jeffery, Jordy Nelson and Brandon Marshall in the NFC North. Jim Caldwell's an offensive-minded head coach, but you can't ignore the defensive backfield that's been seemingly made up of Scotch tape and high hopes the past few years.
11. Tennessee Titans: Blake Bortles, QB, Central Florida: I'm still not sure about Bortles. I've seen him all over the place on other mock drafts and speaking to scouts, they're all over the board, too. One source of mine told me to watch the South Florida tape. I did. It's not a ringing endorsement. His footwork's a mess and his arm strength leaves a lot to be desired. But . . . and there's always a but . . . there are flashes. If Ken Whisenhunt wants to groom a rookie quarterback, this may be the guy. If not, Bortles could slip to the second round. I could be wrong, though, as many have him going first overall to Houston. I need to see more.
Blake Bortles shouldn't go in the top 10 picks.
12. New York Giants: Cyrus Kouandjio, OT, Alabama: Other Alabama players may get more press and media attention, but Kouandjio is a talented tackle. The Giants took Justin Pugh in the first round last year. They've got Will Beatty on a big contract, too. I still think they go offensive line with the 12th pick. If needed, Pugh can move inside to guard. He had a solid rookie season, but the unit as a whole did not. Eli Manning had arguably his worst season of his career in 2013. Much of that had to do with the lack of pass protection up front.
13. St. Louis Rams: Ra'Shede Hageman, DT, Minnesota: In a conversation in December, one NFL scout compared Hageman's mix of physical build and athleticism to J.J. Watt's. High praise. The Rams already have one of the top young defenses in the league. Adding another run-stuffer who can also get to the quarterback is necessary in a division that features two of the NFL's power running teams.
14. Chicago Bears: Louis Nix, DT, Notre Dame: Injuries to starters and key reserves crippled the Bears' defensive line down the stretch and made them one of the worst rush defenses in the league. They add some depth with a player who was once a top high-school recruit at his position. Nix is coming off an injury of his own, but should be more than ready to go come the start of training camp.
15. Pittsburgh Steelers: Justin Gilbert, CB, Oklahoma State: Ike Taylor, Troy Polamalu and Ryan Clark can't play forever, though all three had very solid seasons in 2013. Gilbert's a lock-down corner who adds a bit on special teams. He could end up being a combine workout warrior, too. I currently have him listed as the No. 2 corner in this draft, but he could be No. 1 by May.
16. Baltimore Ravens: Mike Evans, WR, Texas A&M: The Ravens, as thin as any team outside the Jets at wide receiver, would have this pick's envelope in to Commissioner Goodell before the clock even starts. Some scouts like Evans almost as much as Watkins and every time I watch Texas A&M tape, it's Evans — not Manziel — who pops off the screen. He's 6-foot-5, 225 pounds and can fill the stat sheet.
17. Dallas Cowboys: Khalil Mack, OLB, Buffalo: A top-20 pick out of the University of Buffalo? Yes. Mack is college football's all-time leader in forced fumbles and can flat out get to the quarterback. He has a bit of a past and that could haunt him in the interview process, but his talent is top-10 worthy. The Dallas pass rush left a lot to be desired in 2013. Let Mack learn from DeMarcus Ware.
18. New York Jets: Xavier Su'a Filo, OG, UCLA: Jets fans may cringe at the thought of a big offensive guard being the pick over a wide receiver, but the Jets' interior offensive line is in as much need as the wideout spot. I've seen Su'a Filo, the 305-pound road-paver slotted as a third- or fourth-round pick on some lists. Nonsense. If he's not the top offensive guard in this draft, he's right up there as No. 2, a bit behind Stanford's David Yankey. The man can run block. Toss on the tape. I can't get enough.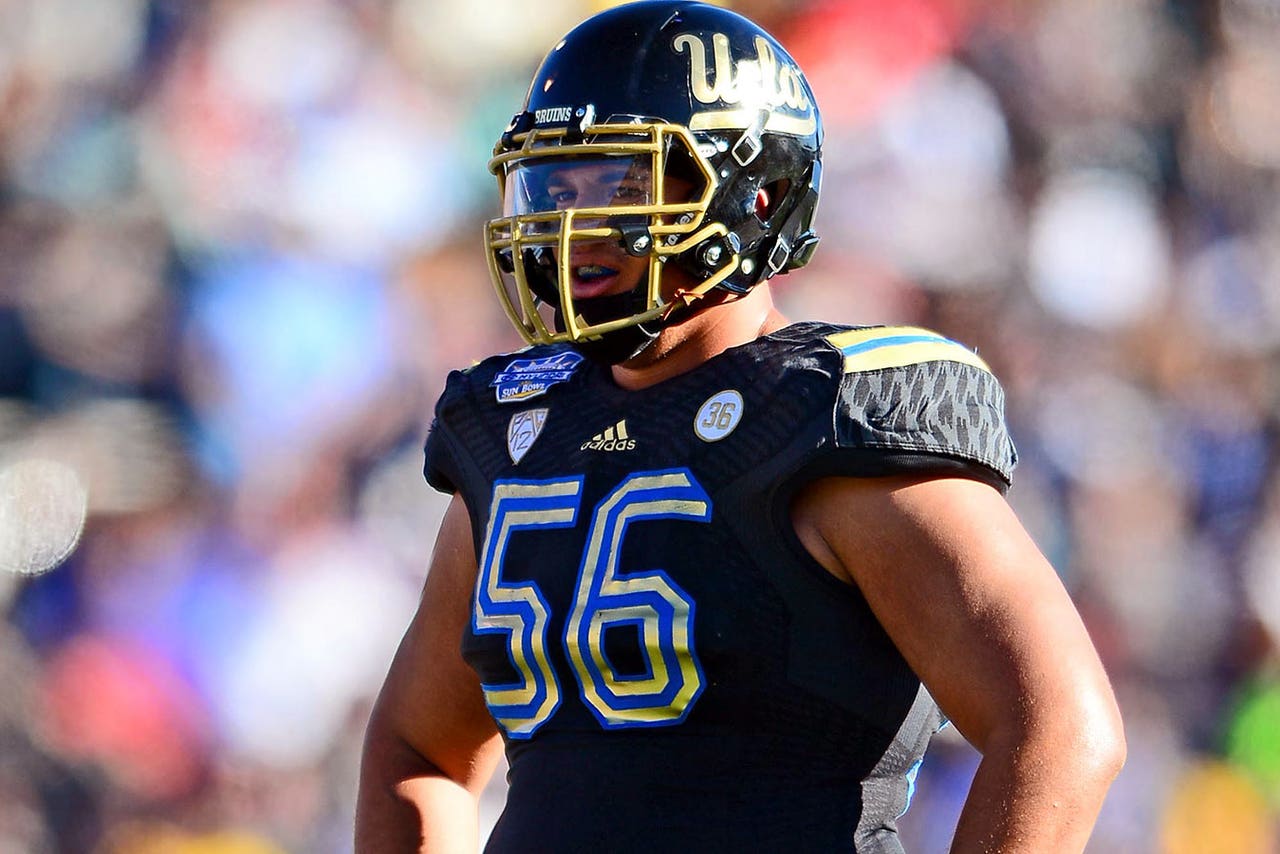 UCLA's Xavier Su'a-Filo is definitely the real deal.
19. Miami Dolphins: Taylor Lewan, OT, Michigan: You may have heard, but the Dolphins had some issues both on and off the field with their offensive line last season. Out of Michigan like their former left tackle Jake Long, Lewan is a tough, hard-nosed player who can play right away. He played very well versus Ohio State. Quarterback Ryan Tannehill could use a guy he can rely on.
20. Arizona Cardinals: Zack Martin, OT, Notre Dame: A big boy who could play either tackle or guard, Martin started a school-record 52 games for the Fighting Irish over the course of four years. A two-time captain who can protect the pass and also create holes in the run game, Martin's a good fit for Bruce Arians' offense.
21. Green Bay Packers: Ryan Shazier, OLB, Ohio State: The Packers were so depleted by injury at outside linebacker this season that they had defensive end Datone Jones taking key snaps in their playoff loss to the 49ers. Nick Perry has struggled to stay on the field and be the complement to Clay Matthews on the outside. Adding some depth with Shazier, a 6-2, 230-pound pass-rush specialist, could be the move.
22. Philadelphia Eagles: Calvin Pryor, FS, Louisville: Though Charlie Strong's other big prospect, Bridgewater, will get the bulk of the media attention, I think Pryor's a first-round pick, as well. The Eagles' defensive backfield played a lot better than many expected in 2014, but there's room for upgrades all over. Pryor had 69 tackles, three interceptions, and was all over the field for Louisville in 2013.
23. Kansas City Chiefs: Marqise Lee, WR, USC: Lee's been compared to everyone from Steve Smith to Torry Holt. How's that for some high expectations? Blessed with superb hands and fluid movement, he'll be a functional pro, despite his less-than-breathtaking measureables (6 foot, 185 pounds). As a sophomore, Lee had 1,721 receiving yards and scored 14 touchdowns. His dip in production his junior year was a result of subpar play at the quarterback position. I don't see it as any sort of red flag.
24. Cincinnati Bengals: David Yankey, OG, Stanford: A two-time All-American, Yankey would beef up an already incredibly talented offensive line in Cincinnati. One of the top pulling guards in all of college football, he'll make a rather seamless transition to the AFC North. Tyler Gaffney ran for 1,709 yards in 2013. Most of that came running right behind Yankey.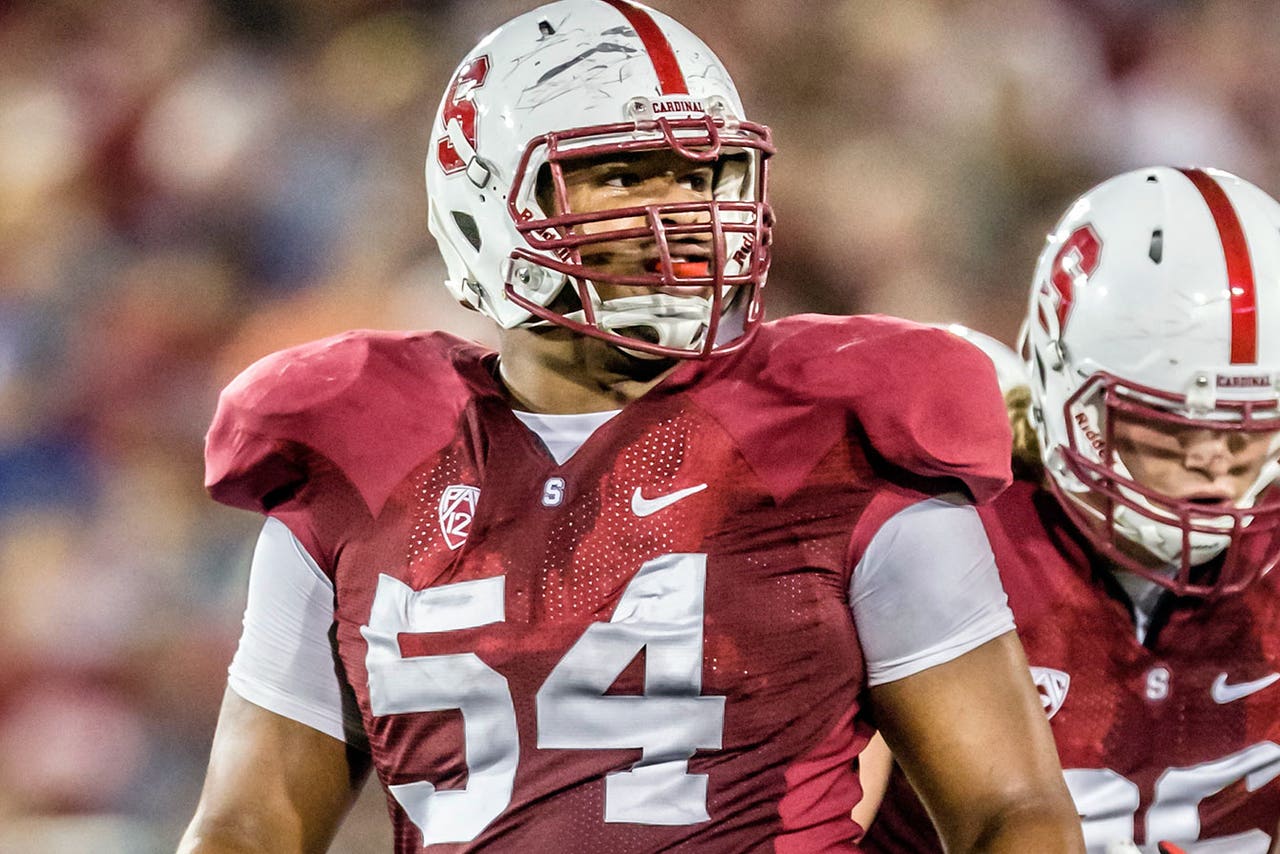 Another year, another big offensive lineman from Stanford.
25. San Diego Chargers: Timmy Jernigan, DT/DE, Florida State: Jernigan's name popped up late in the season and he solidified his place as a Day 1 or 2 prospect in the BCS Championship Game in January. At 6-2, 290-300 pounds, he's got the size to play either inside or outside in defensive coordinator John Pagano's 3-4 scheme. He finished with 63 tackles and 4.5 sacks in 2013. He's rather light on his feet. Lots of potential to work with. A good pickup at 25th overall.
26. Cleveland Browns (from Indianapolis): C.J. Mosley, LB, Alabama: Several rookie inside linebackers have made immediate impacts in their first seasons the past two years. Mosley should have no problem making a transition to the pros. The next in a long line of Alabama linebackers to go in the first round, he could be a solid fit in Cleveland, learning from D'Qwell Jackson.
27. New Orleans Saints: Kelvin Benjamin, WR, Florida State: The dirty secret about the Saints this season was their wide receivers' inability to break free from big, physical defensive backs. Watch both Seattle tapes and the Eagles playoff game. Kenny Stills was a nice addition to the corps in 2013; Kelvin Benjamin could be a bona fide game-breaker at the next level. A nice pickup at 27.
28. Carolina Panthers: Bradley Roby, CB, Ohio State: Captain Munnerlyn is a free agent and though Melvin White played nobly down the stretch, cornerback is an area where the Panthers could improve. Roby's got all the natural talent in the world. He needs to show he can do it on a consistent basis. Though I know many scouts who aren't enamored with the way he played this season, I believe he ends up as a first-round prospect.
29. New England Patriots: Kyle Van Noy, OLB, BYU: Van Noy had a much better 2012 than 2013, but the 6-3, 245-pound pass rusher has drawn comparisons to Clay Matthews. Though he's got a bit of a past, Van Noy has righted the ship up at BYU and can play either on the outside or inside. A versatile linebacker for the Patriots' D. Bill Belichick can never have enough.
30. San Francisco 49ers: Jason Verrett, CB, TCU: The 49ers corners have done a superb job this season, despite a nagging hamstring injury for Carlos Rogers. Tramaine Brock and Tarell Brown proved they could be starters in this league. Verrett adds some depth to one of the NFL's best defensive backfields.
31. Denver Broncos: Ha'Sean Clinton Dix, FS, Alabama: "Ha Ha" is a 6-1, 215-pound roaming free safety from the Nick Saban school of hard knocks. Dix is fluid in his footwork and can level the boom in the open field. Denver's defensive backfield has gotten by this season, but it's by no means the deepest part of the roster. Nice addition at No. 31 overall.
32. Seattle Seahawks: Kony Ealy, DE, Missouri: Mizzou has become a bit of a defensive line factory in recent years with Aldon Smith, Ziggy Hood, and Sheldon Richardson all going in the first round. Ealy's the next in line. A 6-5, 280-pound force on the edge, he could be a sound addition to a defense already loaded across the board.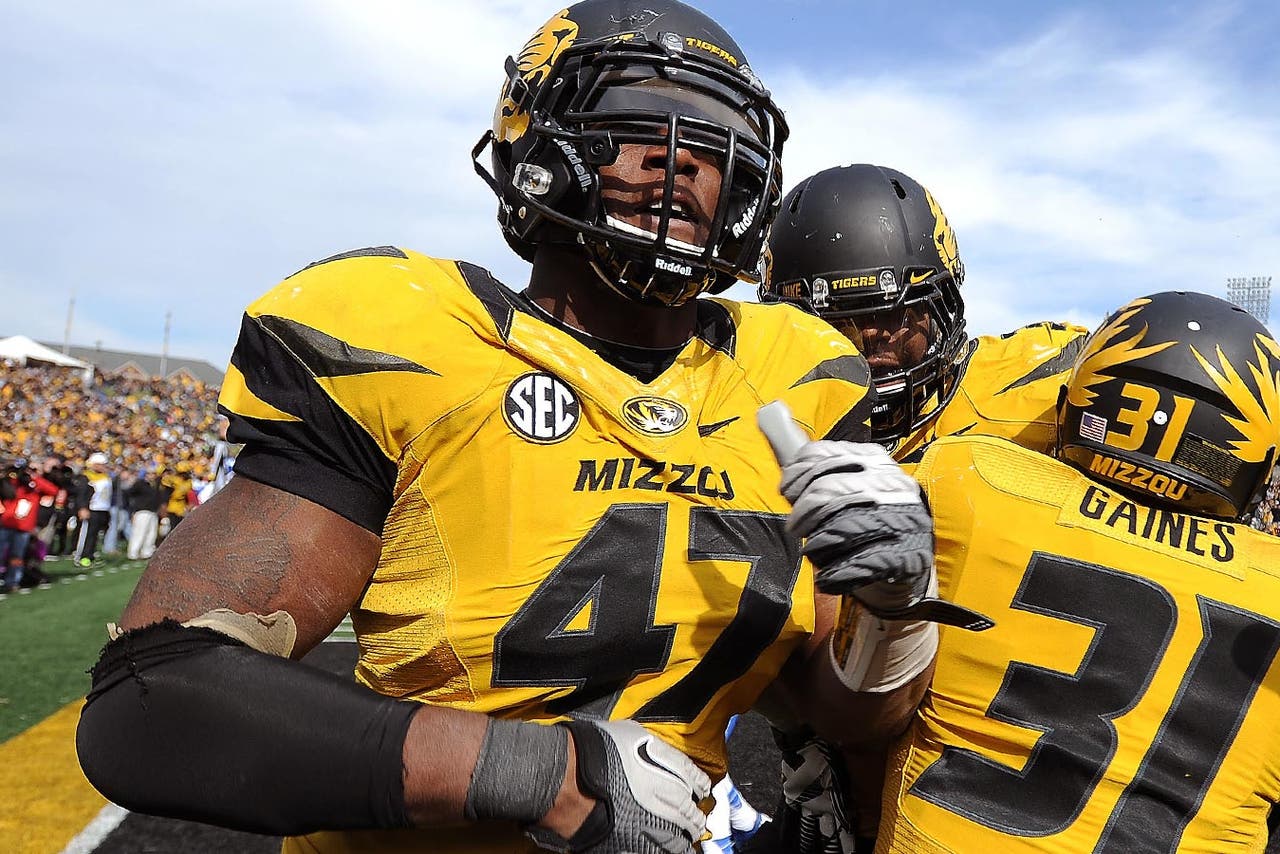 Kony Ealy can add another weapon to a fierce Seahawks defense.
---
---