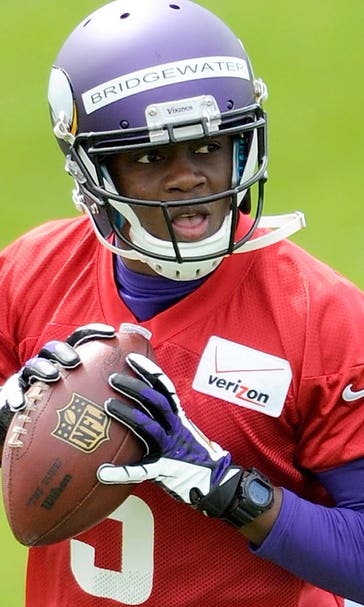 Rookie minicamp roundup: Bridgewater hits the ground running
May 19, 2014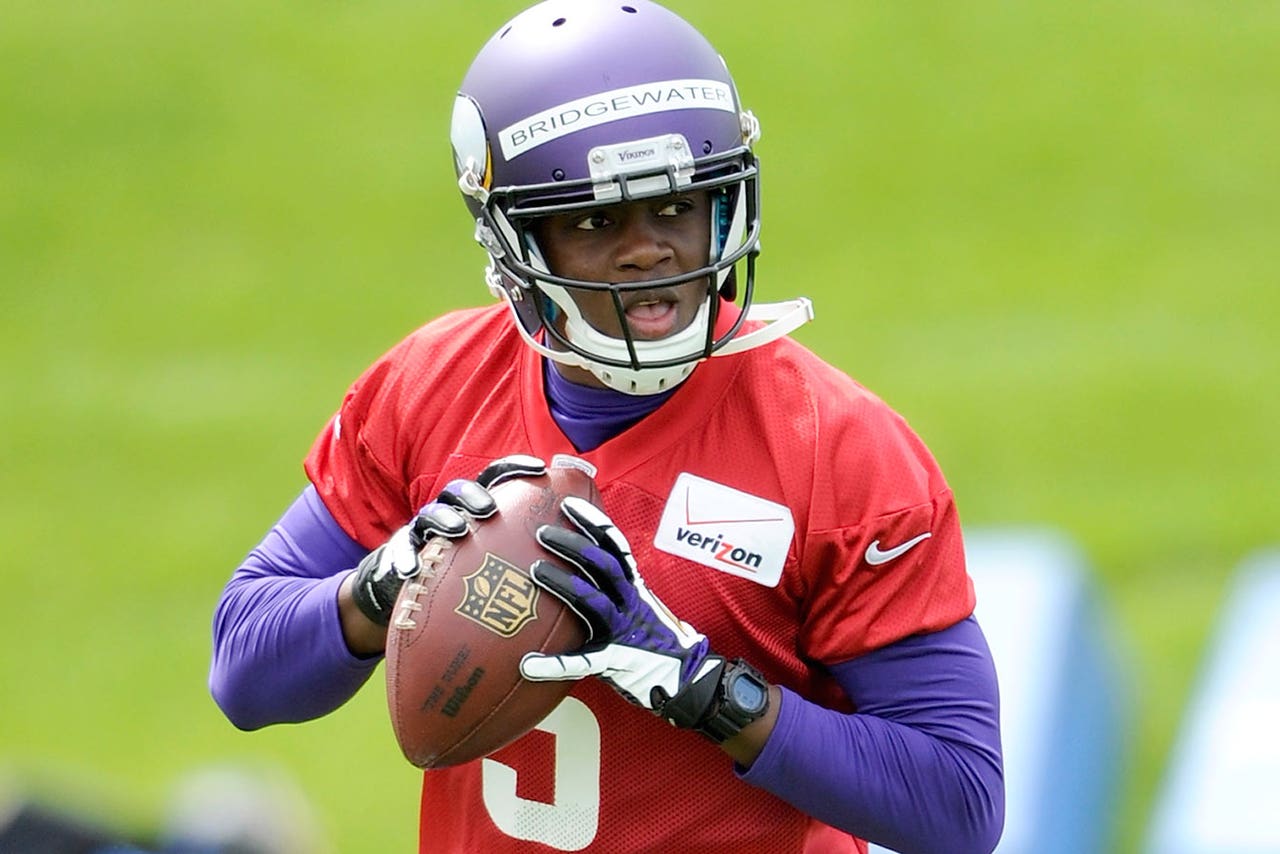 Rookies got started on making a positive first impression over the weekend.
Goals for each team may vary for the two- and three-day workouts, but the training period is primarily used to get players up to speed by the time camp rolls around in July.
While players began to learn new concepts and the pace of an NFL practice, some rookies stood out among the pack.
Digging through the weekend's pile of transcripts, news and notes revealed those players as coaches and coordinators got their first on-field looks at the rookies.
Teddy Bridgewater is coming along quickly
Instead of returning to his hometown after being selected No. 32 overall last week, the Vikings rookie quarterback stayed in Minnesota and got to work.
Bridgewater's attention to detail and alertness is what stood out to first-year head coach Mike Zimmer.
"One of things I noticed about him, even when we were out there with the rookies after the Phase II, they would call a play and they were just running one route and he would recall the whole play to himself, basically, "Zimmer said, according to a Vikings.com transcript. "Just so he gets all of the terminology, so he would get the terminology down, the whole thing. I was impressed with that part of what he did, just how bad he wants to learn. It's not like, "Hey, I'm throwing an out now." He would say the whole formation, the whole play, what it's on and just repeat it as he goes. That was impressive."
Though Bridgewater is currently slated as the No. 3 quarterback on the team's depth chart behind veterans Matt Cassel and Christian Ponder, Zimmer noted that he would receive first-team reps.
Quarterbacks coach Scott Turner, son of offensive coordinator Norv Turner, has been looking to fine-tune Bridgewater's footwork and shorten his release.
Bucs add a quartet of offensive weapons
It wasn't only former Texas A&M wide receiver Mike Evans who caught Lovie Smith's eye over the weekend.
While tight end Austin Seferian-Jenkins continues to rehab from a foot injury that ailed him during the draft process, there is great hope he could eventually snap Tampa Bay's drought of 29 years without a Pro Bowl tight end. At 6-foot-5, 262 pounds, the second-round pick possesses a rare combination of size and speed to give opposing defenders a matchup problem.
Running back Charles Sims will bring another element to the Bucs' passing game, according to Smith.
"He has excellent hands, great quickness, different dimension, has a little bit more size and little bit more height than some of our guys, but you can't have too many good running backs," Smith said via team transcript.
Running backs coach Tim Spencer, who held the same position in Chicago during Smith's tenure there, did his research on Sims during the Senior Bowl. Spencer, who has a knack for spotting underrated talents like Matt Forte, tipped Smith off about the 6-foot, 200-pound running back from West Virginia. He'll be a strong change of pace from Doug Martin, who remains the feature back in Tampa.
Another receiver who could have an impact is former Wyoming wideout Robert Herron. Though Herron worked on some punt-return duties, he could offer quarterback Josh McCown a reliable option in the slot.
Rex Ryan believes Calvin Pryor could be a fan favorite in no time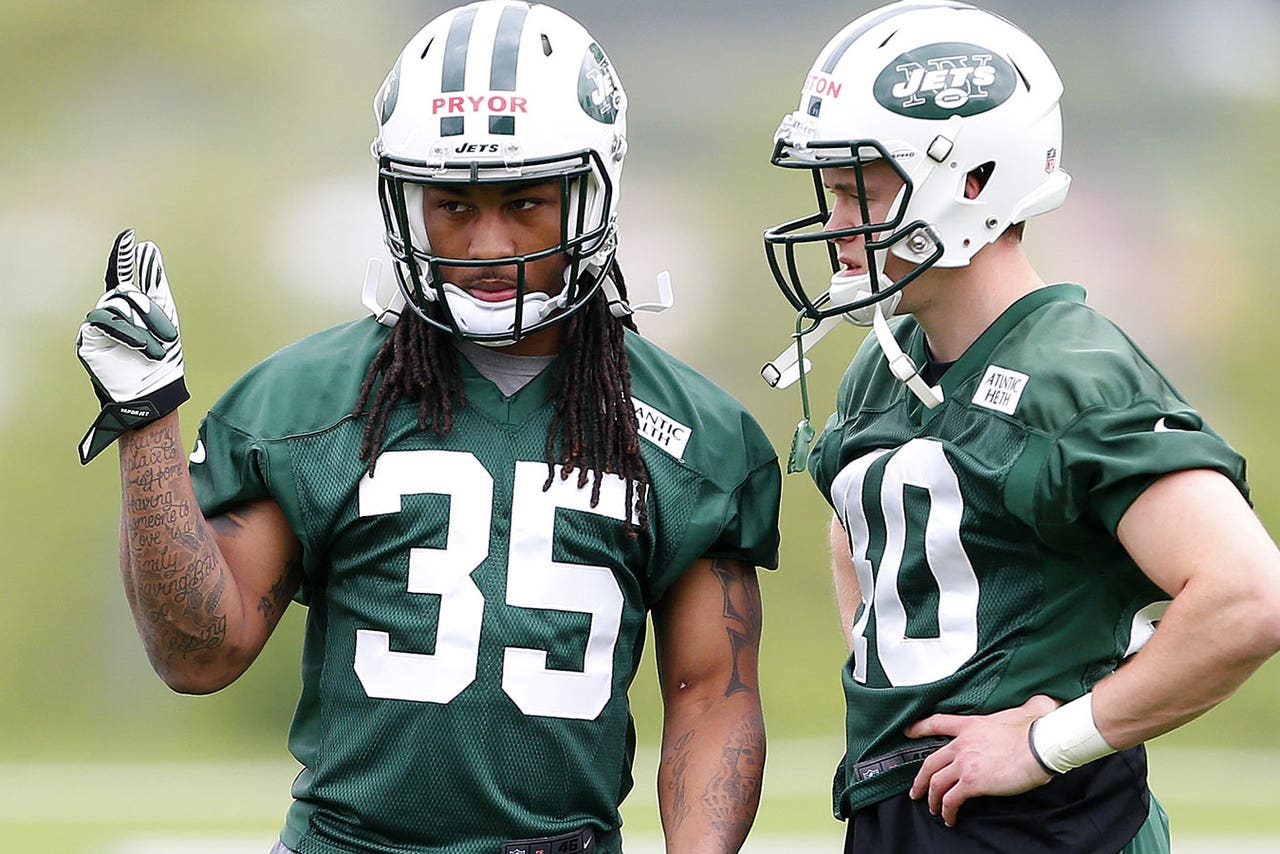 Calvin Pryor was the first safety selected in the 2014 NFL Draft.
Ryan takes great pride in assembling a hard-hitting, tempo-setting defense, and he found a mainstay in former Louisville safety Calvin Pryor. The 5-foot-11, 207-pound safety isn't afraid to do some trash talking on the field and backs it up with his play.
"That's the main reason I don't wear a mouthpiece," Pryor said, via Daryl Slater of the Newark Star-Ledger. "When you're out there, able to talk trash and get in guys' heads, it affects their game a little bit. So that's the main reason I do it."
It's only a matter of time before Pryor, a first-round pick, unseats either Dawan Landry or Antonio Allen in the secondary, a move that will be a welcomed sight for the Gang Green faithful.
"There's going to be a lot of jerseys sold with Pryor's name on the back because I have a funny feeling he's going to become one of the more popular Jets as this thing gets going," Ryan said. "Smart, instinctive and is on top of it. It's rare that it comes easy, and you can see it in there. The way he communicates, just everything. He has really been everything that we've wanted and then some. Really been impressed with him. I think he'd be probably the No. 1 guy that jumps out at me (from rookie mini camp so far)."
Did the Redskins strike gold in the fifth round?
The Redskins certainly aren't lacking for playmakers at wide receiver, but Tulane product Ryan Grant is quite the surprise.
"He plays like a 10-year veteran already," said first-year head coach Jay Gruden of the 6-foot, 199-pounder via the team's transcript. "He's very smooth. He understands route concepts. He understand depths and how important they are and how to set people up. … Easy in and out of breaks, effortlessly. He had a couple drops, (but he was) a little nervous I'm sure. Very, very excited to have Ryan (with) that ability, and like I said, when we drafted him, the ability to be able move him around outside and inside I think is a huge benefit for us and him. He's going to be a very good football player."
Eagles WR Jordan Matthews fits right in
From the moment the Eagles traded up 12 spots to draft Vanderbilt's Jordan Matthews at No. 42 overall, the 6-foot-3 wide receiver said there wouldn't be any pressure on him to replace DeSean Jackson.
The all-time SEC leader in career receptions (262) and yards (3,759) gives the Eagles size over the middle, while veterans Jeremy Maclin and Riley Cooper will hold things down on the outside. Matthews' mentality seems to be a seamless fit in Kelly's innovative system.
"I feel like I'm the most competitive guy ever," Matthews said via ESPN.com's Andy Jasner. "I like to compete in everything I do. I'm gonna try to eat healthier than you, go out and practice harder than you, try to stretch longer than you. That's just who I am.
"In the NFL, everybody works hard, but I just try to give myself the extra edge."
Sammy Watkins could play a factor on special teams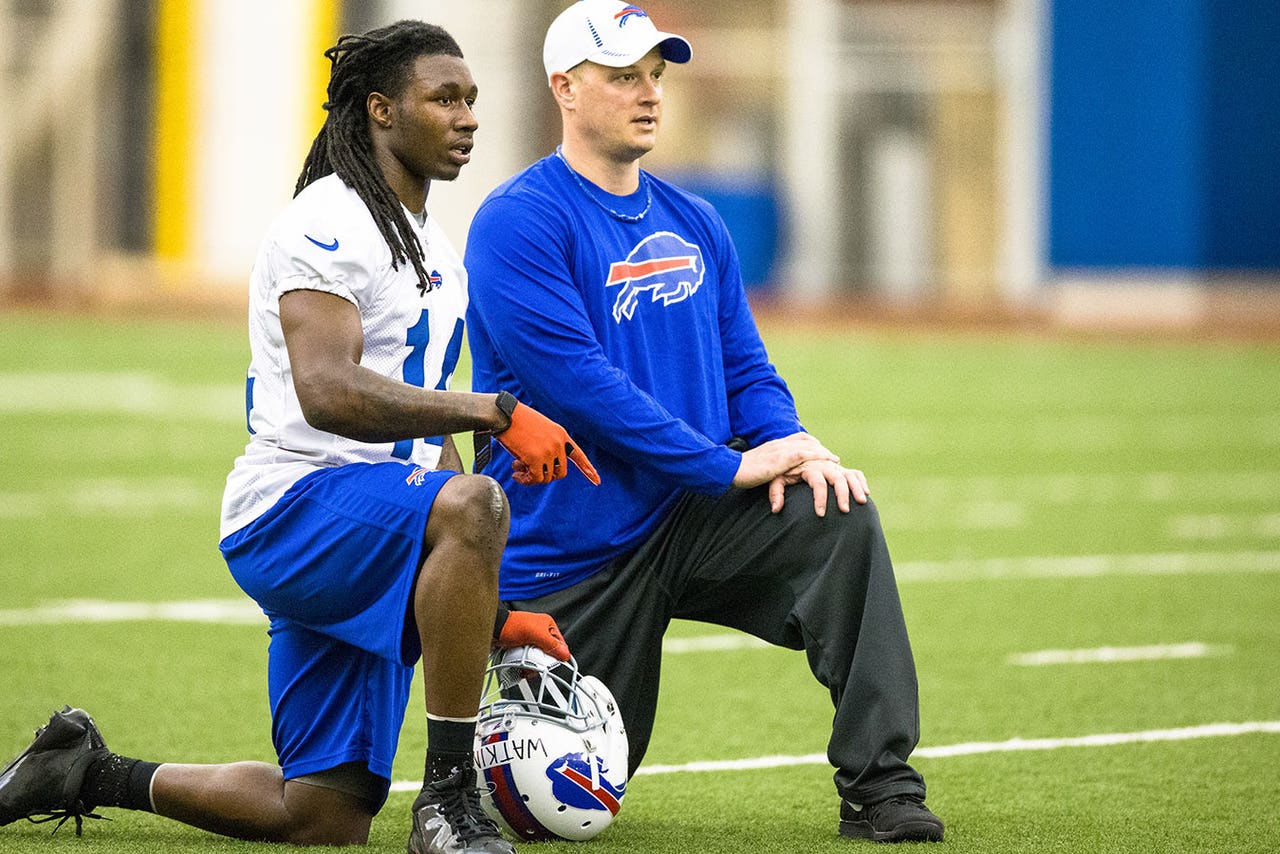 Sammy Watkins was used sparingly as a punt returner at Clemson.
The Bills' expectations for Watkins could include some punt- and kick-return duties. Though the team has a lot invested in the No. 4 overall pick, Watkins could immediately help a deficient return game that ranked 29th in both average yards per punt and kick return attempts in 2013. Last year's return specialists included Jim Leonhard, Leodis McKelvin and Marcus Easley, each of whom failed to score on a return attempt. Watkins would likely be a home run threat every time he touches the ball.
Head coach Doug Marrone noted that Watkins also looked "smooth" coming in and out of his breaks and has a natural feel for the game.
Johnny Manziel humbled by draft day
Twenty-one teams, including the Browns, passed up Manziel on draft day. Cleveland's rookie quarterback is intent on earning his role with the team and doesn't want anything given to him.
"Getting passed up 21 times is never fun  -- and obviously some of those teams weren't going to take quarterbacks  -- but still, it's even humbling to be the second quarterback off the board," Manziel said, via Cleveland.com's Mary Kay Cabot. "So for them to come in and say that, I don't think I need to be humbled. I realize where I'm at in this organization and what I need to be doing, and that's all I'm really focused on."
Regardless of whether Manziel is truly the backup behind veteran quarterback Brian Hoyer, his day and time is sure to come.
"Success came early, but things never came easy, whether it seemed that way or whatever the case was, I had to work extremely hard to get to where I was and overcome a lot,'' Manziel said. "For people to think my path was just to come in and play as a redshirt freshman and not have struggles, for me it was tough. It was a long road.''
Jaguars fans show up in droves
It's a new era in Jacksonville, and it's not just rookie quarterback Blake Bortles that has the fans excited. More than 6,200 fans were in attendance for the final day of the two-day rookie minicamp, which is 4,000 more than any previous turnout in Jacksonville history.
Colt Lyerla makes his case
Former Oregon tight end Colt Lyerla couldn't escape his troubled past and went undrafted last week. The Packers, who have a glaring hole at tight end, offered the talented rookie a tryout over the weekend.
"We did a lot of work on Colt," Packers GM Ted Thompson said Saturday, via ESPN.com's Rob Demovsky. "He's a very talented athlete. We interviewed him at the combine. We went through all those procedures, talked to a lot of people. He's a young man that made some mistakes, and we feel like he was worth bringing in and taking a look at."
A decision on Lyerla's future has yet to be made, but he could find a place in the league if he can stay focused.
Jadeveon Clowney working with Mike Vrabel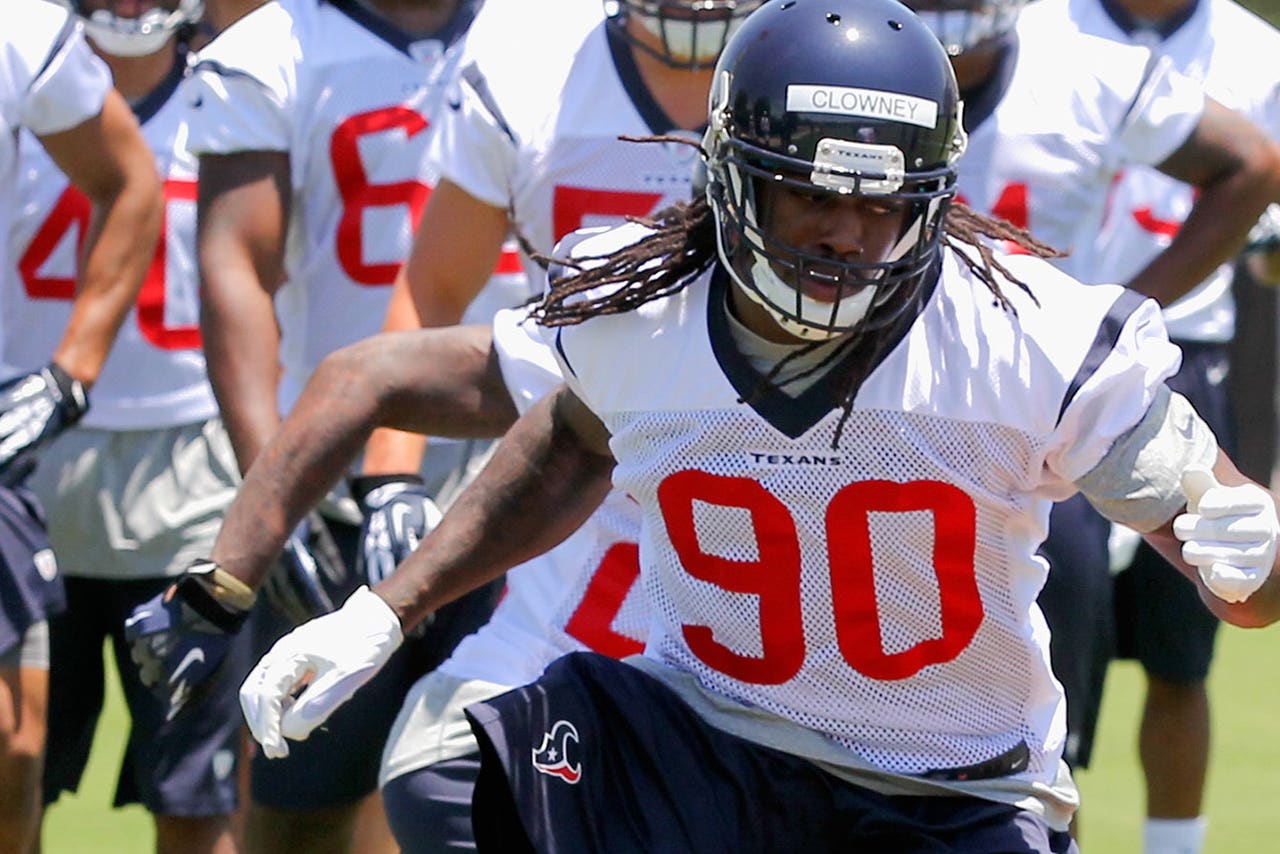 Jadeveon Clowney was selected No. 1 overall in the 2014 NFL Draft.

Less than three years ago, Mike Vrabel was suiting up on Sundays. Now the 38-year-old Texans linebackers coach could play an integral role in No. 1 overall pick Jadeveon Clowney's development.
While Clowney spent his time at South Carolina rushing the passer as a traditional defensive end, the 6-foot-5, 266-pounder is making the transition to outside linebacker in Romeo Crennel's 3-4 base defense.
"He's been there and done it, and I'm glad to learn from him," Clowney said about Vrabel, via the Houston Chronicle's John McClain. "He's a good coach. He's trying to teach us a lot. He wants us to learn the playbook and see what we've got.
"I study the playbook every night and during the daytime. Any off time I have, I'm in the playbook. It's a slow process. I'm just trying to learn my responsibilities and keep getting better."
Did the Bears find Forte's backup?
Though running backs have been devalued during the draft, they're still as important as ever on the field. One of this year's most productive incoming rookies is former Arizona running back Ka'Deem Carey.
A slow time in the 40-yard dash could have caused Carey to slide into the fourth round, but the Bears are more than happy with what they have in the do-it-all running back.
"I don't know about the scouts and how they evaluated Ka'Deem," offensive coordinator Aaron Kromer said, via Bears.com's Larry Mayer. "But I'm glad I watched the tape before I found out he ran a 4.7 because I didn't see a 4.7 on tape-or whatever it is he ran as a final 40. He's quick, and he can get from Point A to Point B in a hurry.'
"Maybe in the long distance he might get caught by someone faster. But we're more concerned about gaining 4 or 5 yards, or 20 yards, than we are about him busting a touchdown that you see three times a year. We feel very good about him being productive with his quickness and his physical play."
---
---