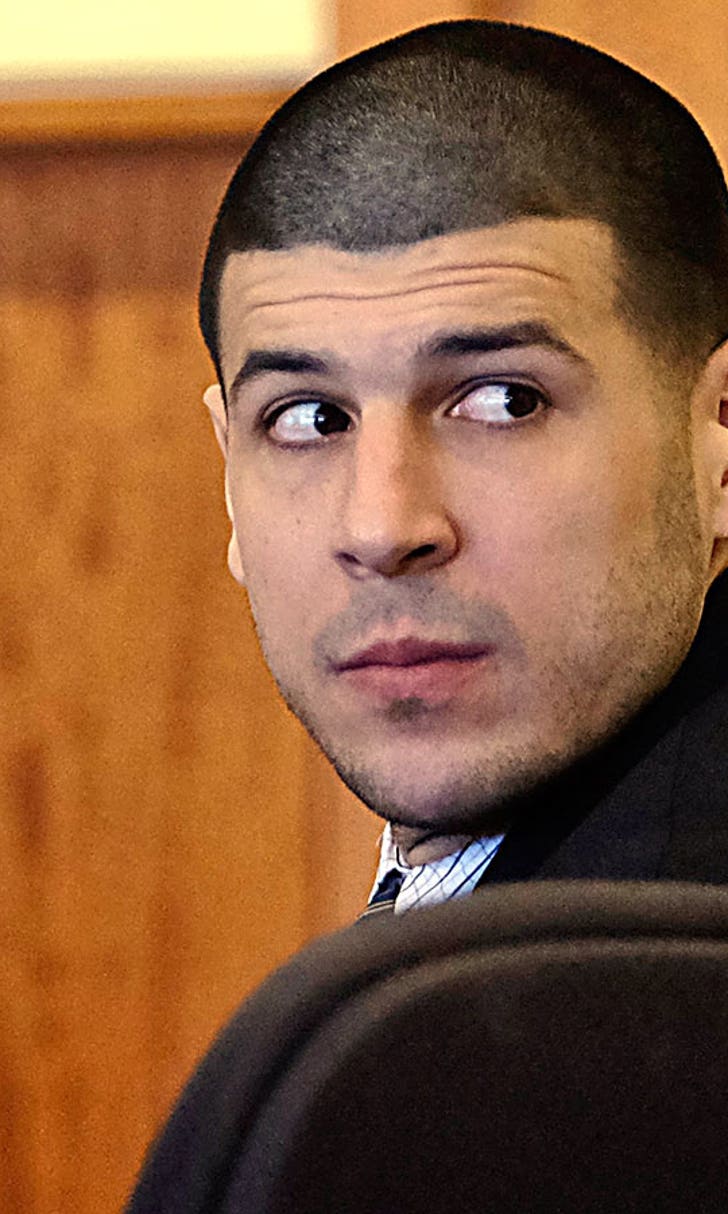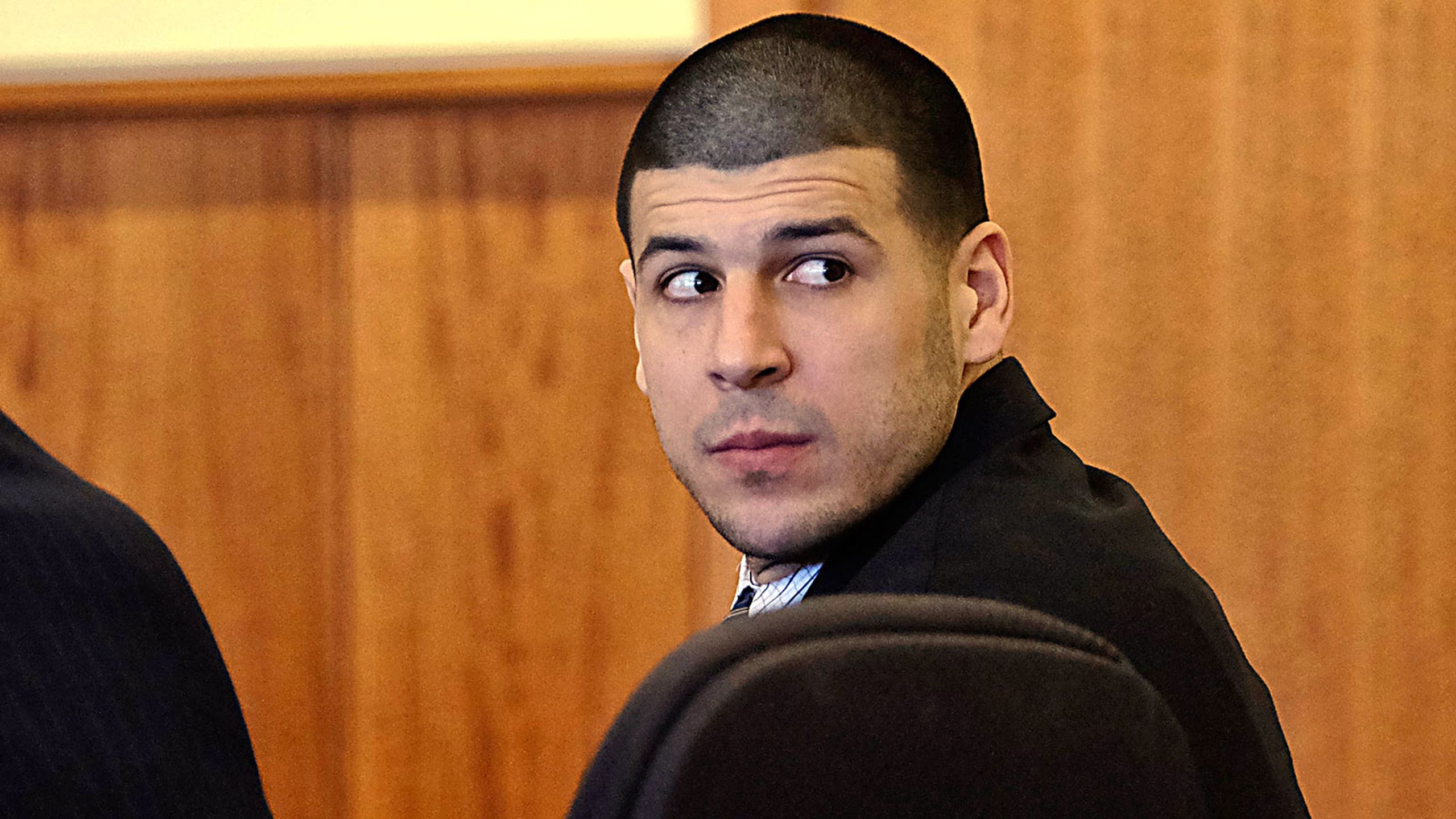 Potential Aaron Hernandez jurors receive 15-page questionnaire
BY foxsports • January 13, 2015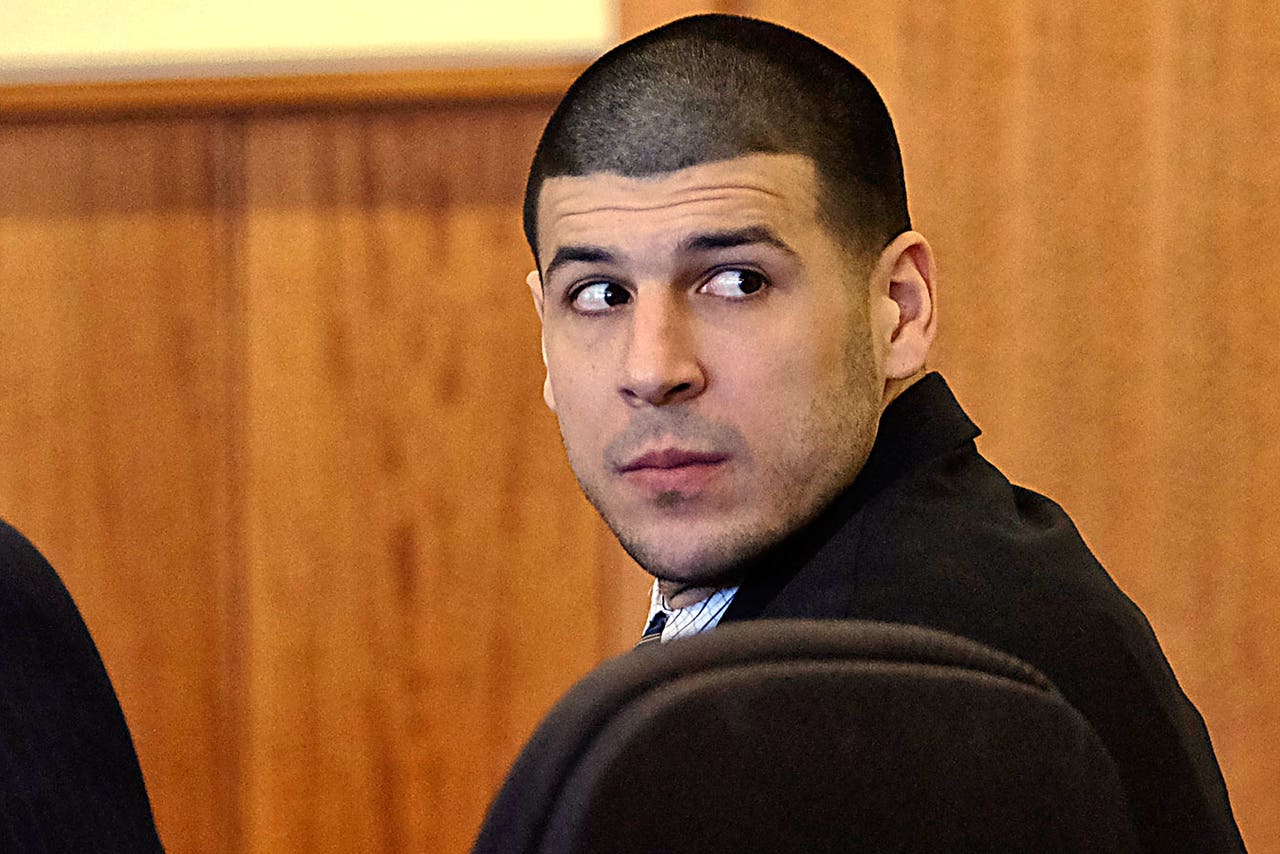 FALL RIVER, Mass. – The 1,055 men and women who comprised the ranks of potential jurors in Aaron Hernandez's upcoming murder trial were asked whether they would hold it against the former football star if he didn't testify, whether they think he might be guilty because he has tattoos and whether race would play a role in their deliberations.
They were also asked whether they are fans of the New England Patriots, whether they've ever attended one of the team's games and whether the fact that Hernandez played in the NFL would influence their thinking.
Hernandez, who is Hispanic, is accused of murdering Odin Lloyd, an African American, on June 17, 2013.
Prospective jurors were also asked whether they have any opinions about the high-profile case, whether they own guns and whether they know Hernandez – the former star tight end for the Patriots – or Lloyd.
Their answers on the 15-page questionnaire given to every prospective juror – obtained by FOX Sports from the Bristol Superior Court Clerk's Office -- now go to the prosecutors, who will try to prove that Hernandez is guilty of murdering Lloyd; and to defense attorneys, who will try to clear him of that crime as well as two firearms charges.
On Wednesday, the attorneys on both sides will huddle behind closed doors to consider the questionnaires. They will appear before Judge E. Susan Garsh on Thursday, where each side can argue to strike potential jurors for what is known as "good cause" – in other words, that one of more of their answers make it clear they cannot be trusted to consider the case fairly and impartially.
The questions – 51 in all – covered basic legal principles and also details specific to the case.
For instance, the prospective jurors were asked whether they understand fundamental constitutional principles, such as the fact that every defendant is presumed to be innocent until proven guilty, and that it is up to prosecutors to prove guilt – not for the person charged to prove innocence.
They were also asked if they thought the Hispanic Hernandez was more likely to be guilty than members of another ethnic group, or whether the fact his fiancée, with whom he has a child, is African American would affect their ability to "render a fair and just verdict?"
And they were asked whether the fact that there may be testimony about marijuana use would affect their judgment.
Prosecutors, Hernandez and his attorneys appeared with the judge before nine separate groups of potential jurors over the past three days – each one lasting about 15 minutes in a ritual that was part history lesson, part acknowledgement of the world of 2015.
For instance, Judge Garsh thanked the potential jurors for their service and talked about the importance of their role with a quote from Thomas Jefferson: "I consider trial by jury as the only anchor ever yet imagined by man, by which a government can be held to the principles of its constitution."
But she also admonished them not to talk to anyone about the case – and made it clear she didn't just mean face-to-face discussions or telephone communications: The potential jurors were not allowed to tweet, blog, e-mail or post anything on Facebook related to the case.
The predominantly white men and women who have been called to the courthouse will eventually be whittled to a jury of 18 – six of them will ultimately be designated as alternates – who will be tasked with deciding guilt or exoneration in the highly anticipated prosecution of Hernandez in the 2013 killing of Odin Lloyd.
Hernandez faces one count of first-degree murder and two weapons charges in Lloyd's killing.
Judge Garsh reminded the jurors that the mere existence of charges is not proof of guilt.
"An indictment is simply a piece of paper used to inform the defendant of the charges against him," she said. "It is not evidence of anything."
At each session, the attorneys and Hernandez departed the room and the jurors set about filling out the second, extensive questionnaire crafted specifically for this case with input from both sides.
Following Thursday's hearing, where Garsh will consider requests to dismiss jurors for cause, Friday will see the beginning of individual voir dire. During that process, the judge will speak individually with prospective jurors. At the end of that process with each person, the judge will declare that he or she either is or is not found to be a "fair and impartial" juror.
At that point, each side will have the ability to toss out the person without giving any reason – something that will continue until each side has exhausted 18 dismissals known as "peremptory" challenges and there are 18 certified jurors remaining.
That process is expected to last into next week. Once testimony begins, it has been estimated that the trial may last six to 10 weeks.
The case is being watched closely, and the judge earlier issued an order to prohibit anyone entering the courtroom wearing any Patriots, NFL or other team logos.
Hernandez, 25, has been accused of masterminding the murder of Lloyd, who was gunned down in a secluded field less than a mile from the player's home.
Lloyd, a 27-year-old semi-professional football player, was dating the sister of Hernandez's fiancee, Shayanna Jenkins.
---
---