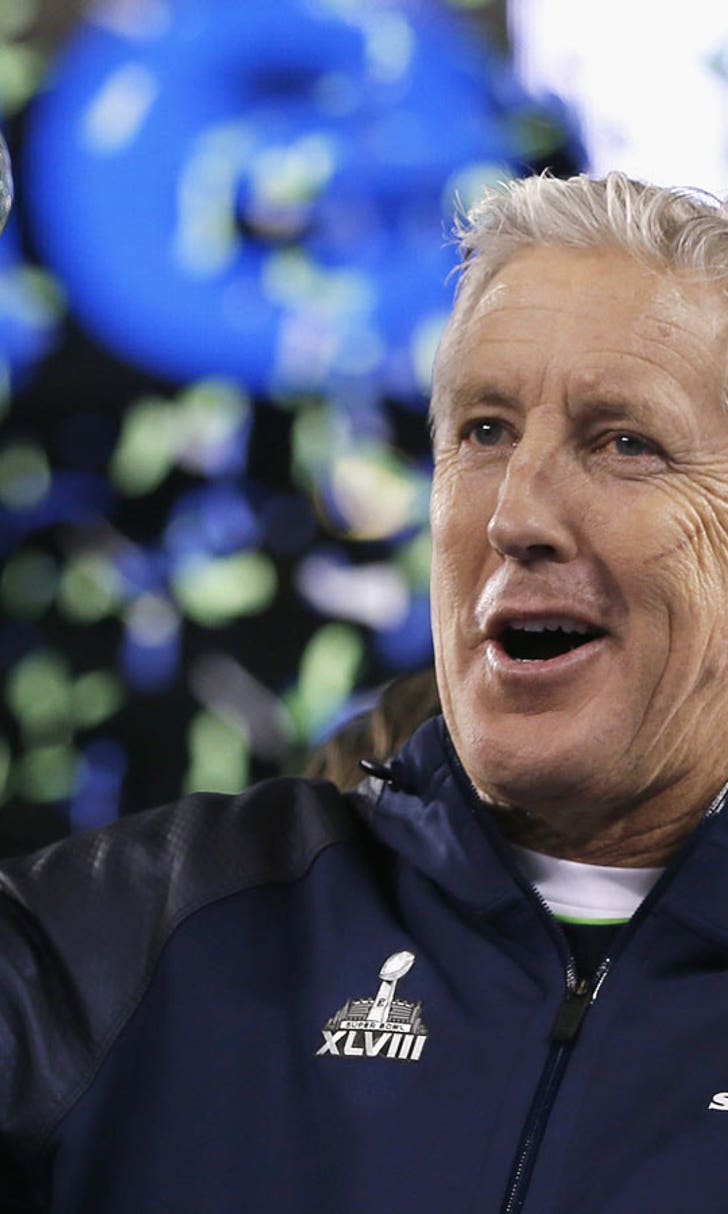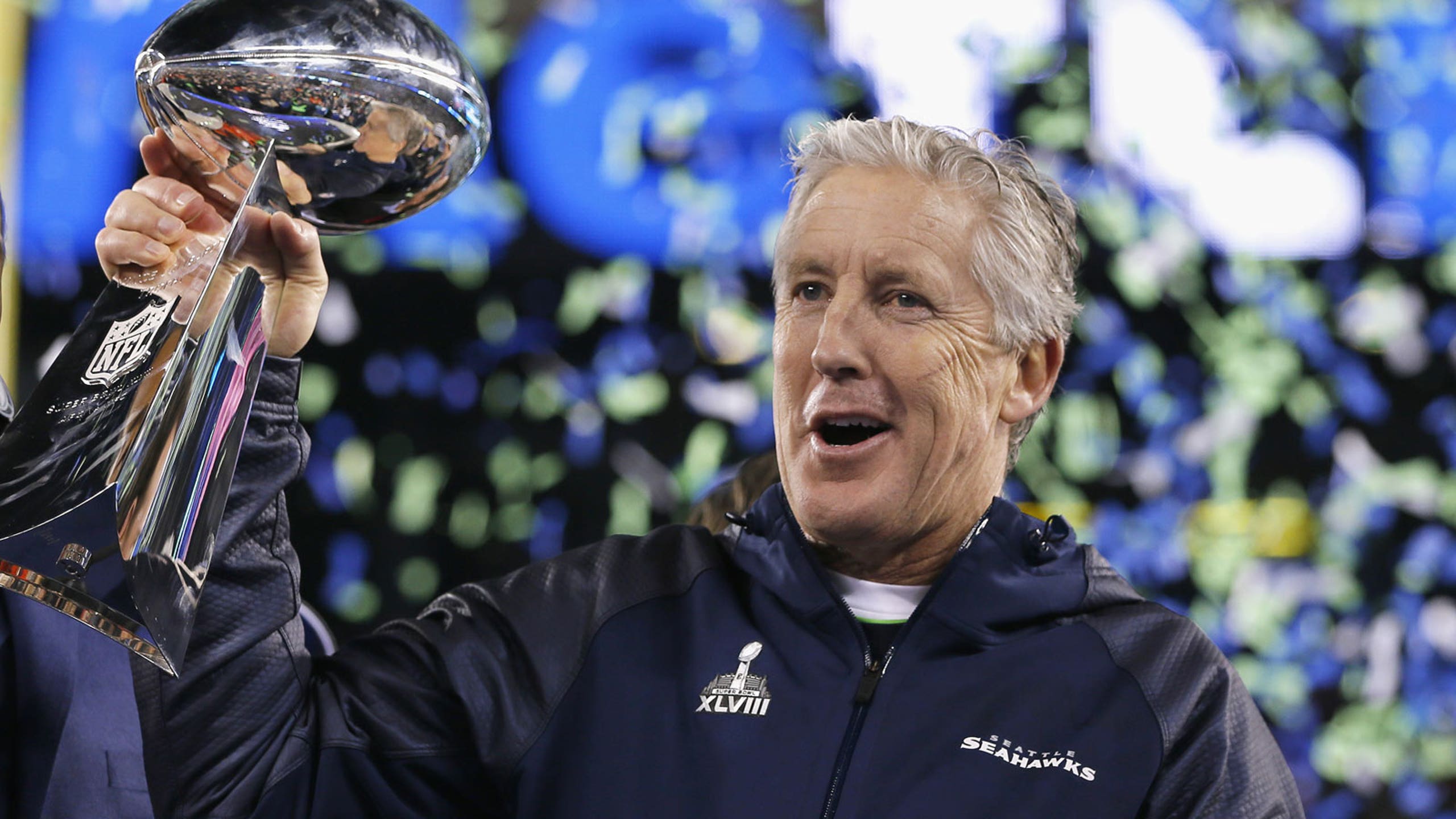 Pete Carroll's coaching redemption complete with Seahawks' title
BY foxsports • February 3, 2014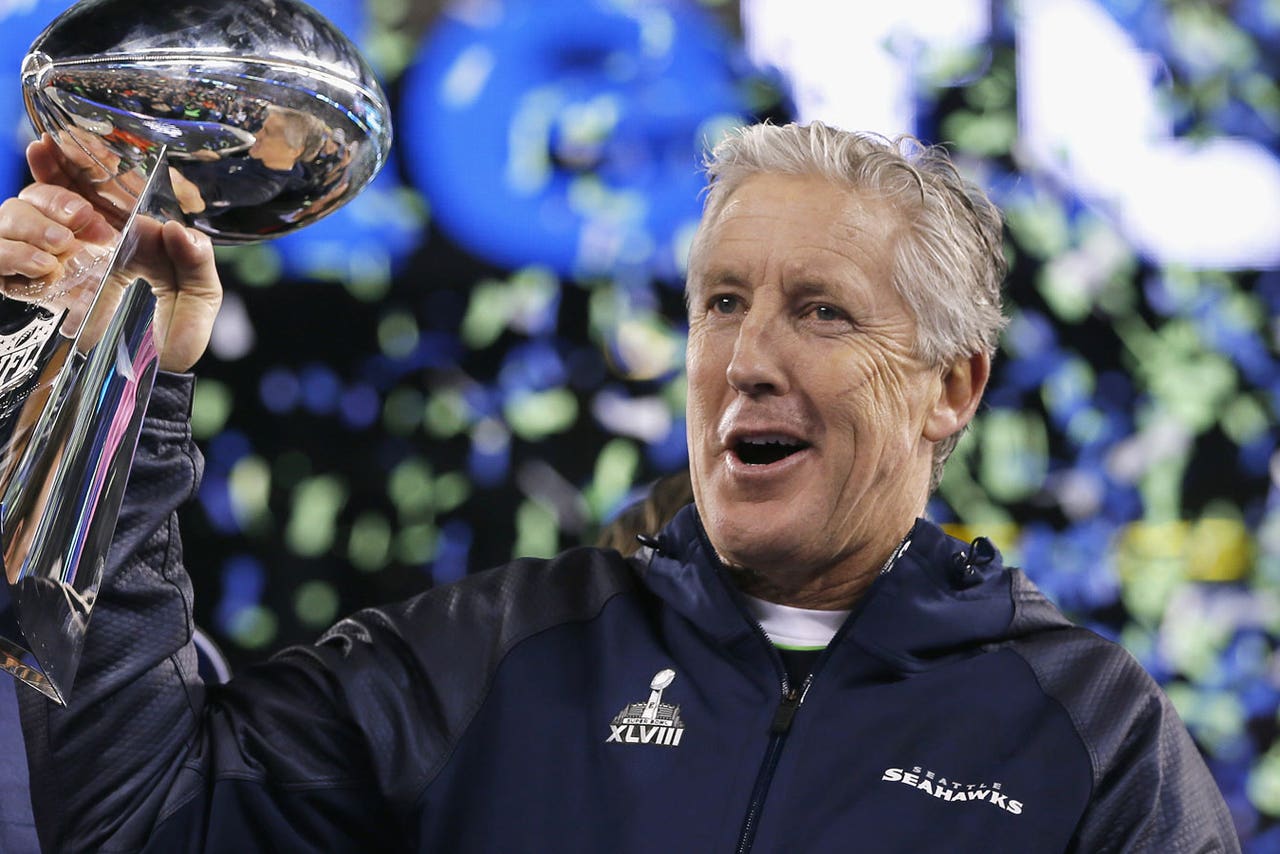 All week, we were treated to legacy talk -- most notably, what impact winning or losing had on Peyton Manning's.
Win, and he is The GOAT.
Lose, and he is The Duck incapable of winning big games
Except Sunday's Super Butt Kicking was not about Peyton, no matter how much sports talking is devoted to convincing y'all otherwise. He is a great quarterback, probably top 10 of all time, who had a bad game.
OK, Super Bowl XLVIII was a remarkably awful game.
There were a lot of variables involved in this 43-8 blowout that Peyton had zero control over and thereby need not necessarily reflect on his legacy. Start with Seattle's defense just junk-punching this game from the jump, Denver's offensive line taking on water, Percy Harvin, punting-white flagging John Fox and, yes, Seahawks coach Pete Carroll.
I daresay mostly Pete Carroll.
This is his defense, his cast of characters, a team crafted in his image, coached in his way. And this was his moment where his redemption became permanent and final and delicious.
"For him to do it on his own terms," Seahawks defensive coordinator Dan Quinn noted, "absolutely matters."
Why I like Carroll and this victory is because he represents everyone who has been told their way is fatally flawed, their failure is final, that they are not good enough, that they have to conform, fit in, be like everybody else -- more hard-ass footbally, more pretty, or whatever more that takes for them.
This is not simply about him, this is about proving his way has validity too. And you are damn right that matters to him.
The lesson in Pete Carroll is how closely he studied his failure. He gleaned from his worst moments what needed tweaking and what absolutely had to stay because that was his truth. So he kept his smile, his laid-back attitude, his love of players, his unwillingness to lose his s--- on them. And this works.
"Because it's real," Seahawks general manager John Schneider said, "€œbecause it's not fake, because it's not from a book. It is him and who he is."
What his players believe is Carroll's failure helped him see value in them. They are misfits, really, guys who fell in the draft or were not drafted all. Their roster is filled with too(s) — too short, too mouthy, too young, too inexperienced. And in this, Seahawks wide receiver Doug Baldwin believes, Carroll saw a little bit of himself.
"He applies the chips," Baldwin said.
Carroll has his fingerprints on just about everything that worked so well for Seattle on Sunday. He stayed with Harvin long after most, keeping the receiver on this roster despite a hip injury that sidelined him all season. And when Carroll had to make a decision, he went to Harvin.
PC: We need a decision.
PH: Don't give up on me.
PC: OK, then you're on our playoff roster.
This is not to be confused with getting walked on, or being soft, which is usually viewed as a byproduct of being a players coach. He has come-to-Jesuses with his players, had one after yet another PED bust in May and with Sherman after his post-NFC Championship Game interview. But they are conversations, and he makes it clear he is being a stand for their greatness.
This is Carroll's legacy. Because if anybody's legacy changed on Sunday, it was his.  
---
---