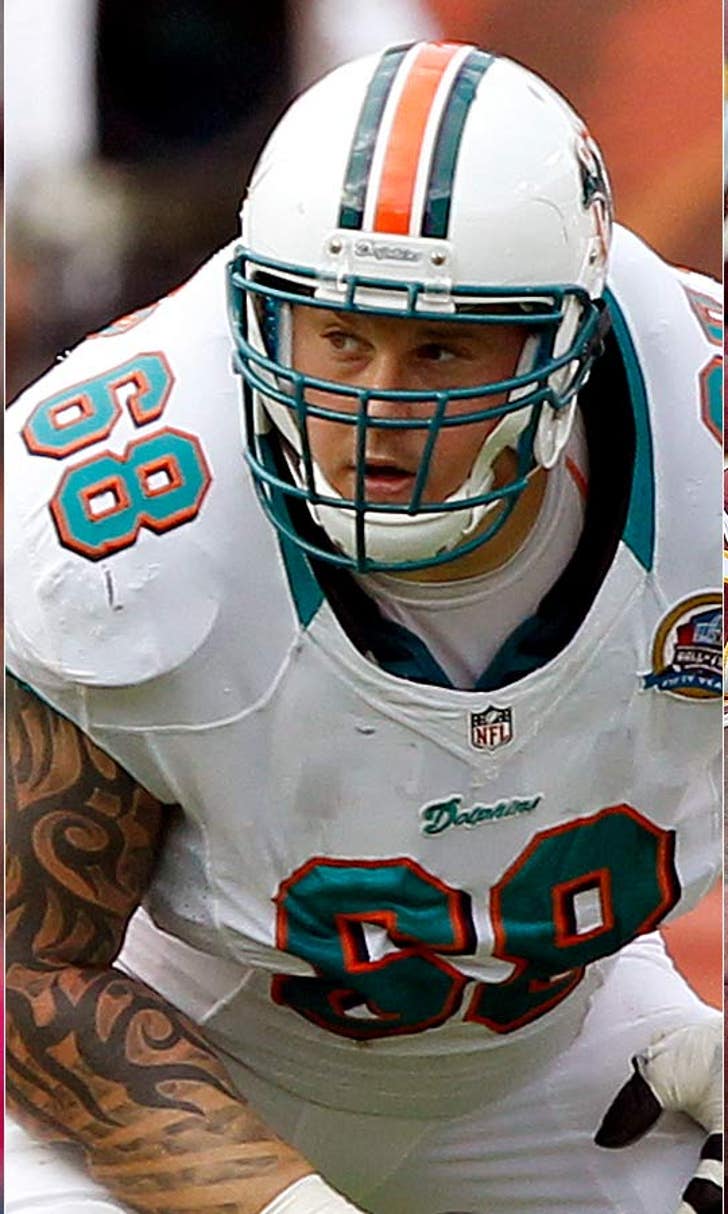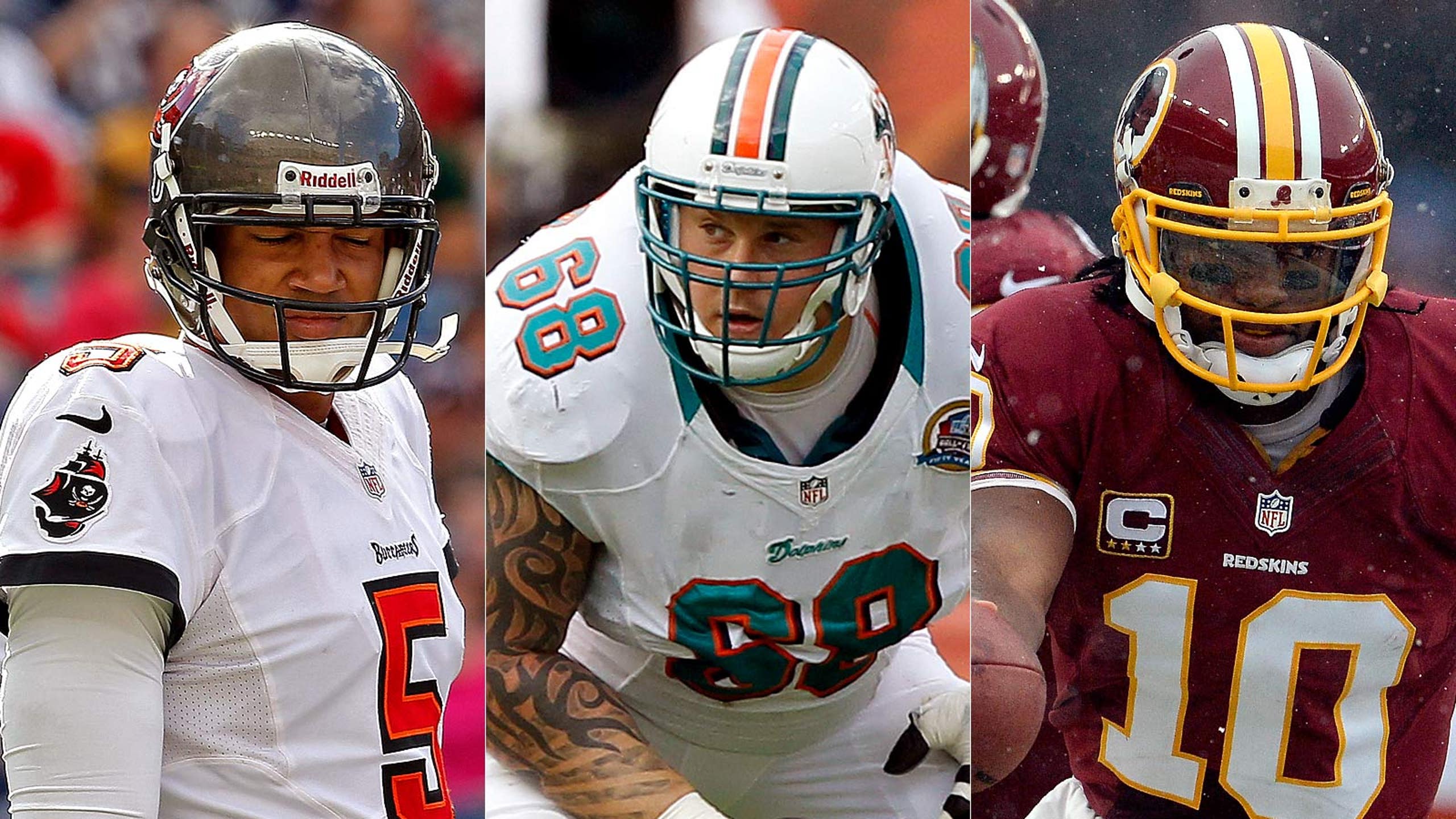 NFL Week 15 Cheat Sheet: Controversy seems to be recipe for wins
BY foxsports • December 12, 2013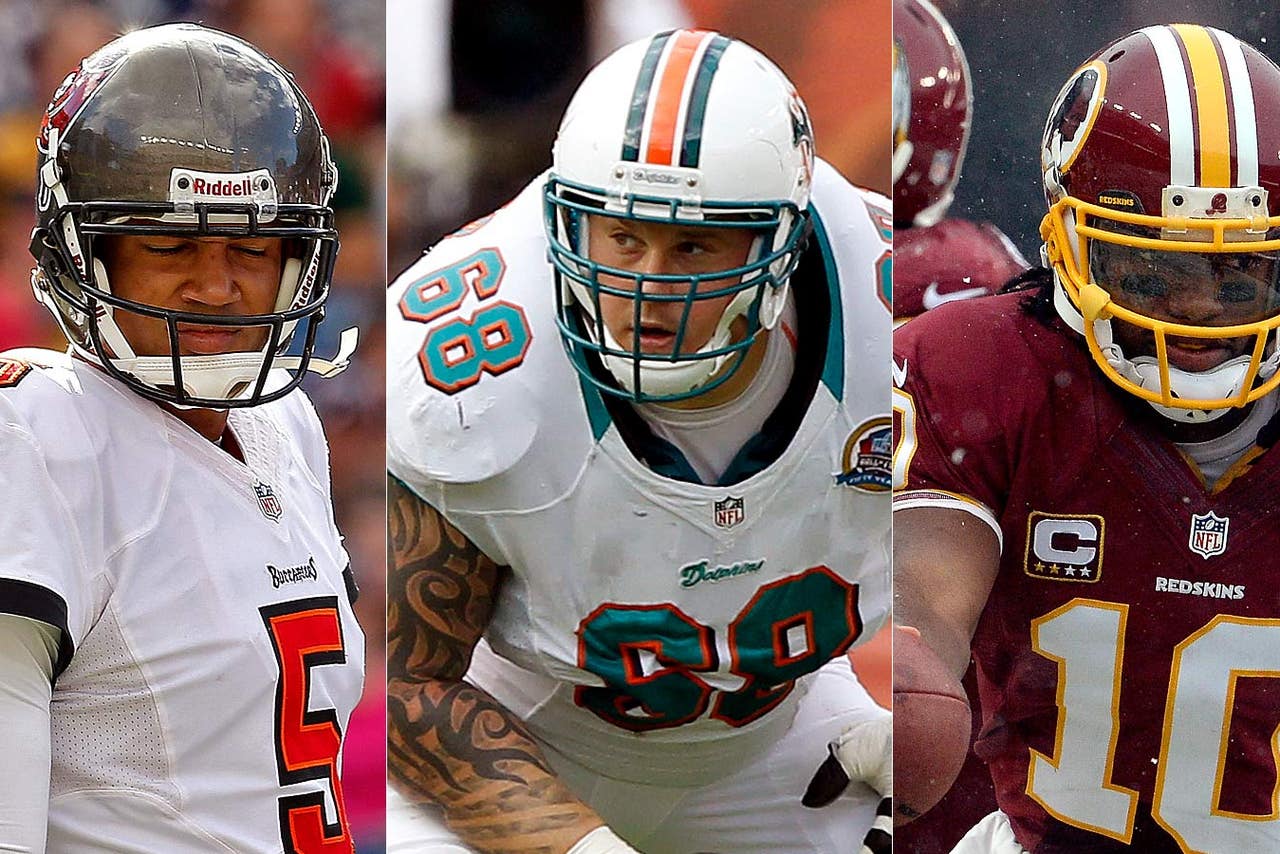 One of the great myths of the world is that conflict shatters an NFL team. You hear it on sports talk radio and on all the television shows where there are too many minutes and not enough topics. When things are getting hectic off the field, the results will be disastrous on it. Makes sense on paper. But is it true?
How have the Tampa Bay Buccaneers played since the Josh Freeman fiasco supposedly divided the locker room in two? The Jaguars started 0-8 and there was talk of them losing to Alabama. How's that team look now?
And who can forget the Miami Dolphins. Every major cable news and sports show dissected the intricacies of the Dolphins locker room on a daily basis less than two months ago. And guess what? They've won four out of their six games since Jonathan Martin left the team.
Maybe controversy does rip a team apart. Just not in the state of Florida.
The Peter Schrager Podcast: It's never too early to talk NFL Draft and when you've got both Charles Davis and Daniel Jeremiah for a two-hour, two-part NFL Draft Bonanza episode, you might call that an early Christmas for NFL Draft nuts. The three of us go all in on the 2014 Draft class, as well as discussing each other's favorite sleeper picks and all-time hits and misses. Jeremiah, a former NFL scout, says Reggie Bush is the highest rated player he ever scouted out of college. Davis, the lead College Football analyst on Fox, says he's not sure Louisville quarterback Teddy Bridgewater is a Top Ten talent, but he's probably going to be selected in that range, anyway. It's everything you want if you're already looking towards the second weekend in May. Listen to both parts here:
Now, on to the picks. I didn't fare well last week. I blame the snow. And that I was in New Orleans. No one wins there. Not even me.
Week 14 Record: 9-7
Overall Record: 123-82-1
Thursday night
San Diego (6-7) at Denver (11-2): Eli Manning and Ben Roethlisberger may have the Super Bowl rings, but if I were to pick the 2004 Draft Class QB who's had the best 2013 season, it is Philip Rivers. The Chargers defense, much maligned early in the season, has just given up 31 points over the last two games. But Peyton's not losing this one. Not at home, and certainly not in primetime.
The Pick: Broncos 34, Chargers 24
The Result: Chargers 27, Broncos 20
Sunday
Remember that whole controversy thing? And how teams are supposed to collapse once conflict "€œrips"€ a team apart? Washington, with Kirk Cousins under center, will prove it wrong -- again. I was in Washington earlier this week. This team, whether you believe it or not based on last week's effort, is going to give its very best on Sunday. They're not leaving Atlanta losers. As for RG3, he'll be there. And don't forget who will be Active on Sunday: Rex Daniel Grossman III.
The Pick: Redskins 31, Falcons 27
Chicago (7-6) at Cleveland (4-9): I loved the effort out of the Browns last Sunday, and think they'll finish the game this week. Jason Campbell's got a little pride, and after his brief, nondescript stint in Chicago, he's got a little something to prove. Bears have two quarterbacks to be excited about with Jay Cutler returning to the starting lineup and the Josh McCown more than able to fill in. What am I most excited about here? Watching Josh Gordon and Alshon Jeffery. Who knew they'd be two of the best wide receivers in the league this year?
The Pick: Browns 23, Bears 21
Houston (2-11) at Indianapolis (8-5): The Texans are losers of 11 straight and the Colts are pretty much locked into that fourth playoff spot in the AFC. Don't expect either team to put together its best game of the season. I do think Indianapolis will get the job done at home.
The Pick: Colts 27, Texans 23
New England (10-3) at Miami (7-6): I should stop doubting Bill Belichick and Tom Brady. But I don't think enough is being made about the injury suffered on Sunday versus Cleveland. The loss of Rob Gronkowski could end up playing a far greater role in the AFC playoffs than any January snow flurries or gloves in Peyton Manning's life. The Patriots have found ways to win without Jerod Mayo, Vince Wilfork, Aqib Talib, Aaron Hernandez, Wes Welker, and Danny Woodhead this year. Losing Gronk, after what he's done the past seven weeks seems like the one hit they won't be able to overcome. I like the desperate Dolphins in this one. Ryan Tannehill wins another big one, though no one will talk about it on Monday. Fine with him.
The Pick: Dolphins 24, Patriots 20
Philadelphia (8-5) at Minnesota (3-9): Josh Freeman's not expected to take any snaps on Sunday. He's being paid $2 million by the Vikings this year, and he's played in one game for the team. Someday, they'll make a documentary on his 2013 season called "The Best Gig Ever." As for Philadelphia, the Eagles are rolling. This one won't be easy in the Metrodome, but I can't see Minnesota's D stopping Chippah's offense.
The Pick: Eagles 34, Vikings 17
Seattle (11-2) at New York Giants (5-8): One of these teams I expect to see play at MetLife Stadium in February -- and I don't mean the home team.
The Pick: Seahawks 30, Giants 16
San Francisco (9-4) at Tampa Bay (4-9): Is there a more underappreciated player than Tampa Bay linebacker Lavonte David? The diminutive tackle machine made a play in Sunday's win over the Bills that I'll never forget. CJ Spiller, arguably the league's fastest man and biggest open field threat, had one man to beat. It was David. Who won the battle? The latter. He won't get the fans' votes and the networks don't air enough Bucs games, but keep an eye on him this weekend. I like Tampa in the biggest upset of the week, and I like David -- not NaVorro Bowman or Patrick Willis -- to be the best linebacker in this game.
The Pick: Buccaneers 24, 49ers 20
Buffalo (4-9) at Jacksonville (4-9): Want to watch the most entertaining young team in the league? Look no further than the Jags. After starting the year 0-8, the Jaguars have rattled off victories in four of their last five, winning their last three. Two months ago, there were ridiculous sports radio debates on whether the Alabama Crimson Tide could give the Jaguars a game. The Jags are 4-9. They've got Buffalo, Tennessee, and Indianapolis up ahead. Write it down. They're going 7-9.
Kansas City (10-3) at Oakland (4-9): I did an interview earlier this week and said the Raiders could give the Chiefs a real scare this weekend. Well, I just watched the Chiefs-Redskins tape. I take it all back. Kansas City's offense is downright simmering. Even in their three losses leading up to the game, Alex Smith was playing well. I've never seen him so confident, so focused, and so wildly successful. Everyone's written off Kansas City after the two Denver losses, but this team's got the goods. Watch out.
The Pick: Chiefs 34, Raiders 20
New York Jets (6-7) at Carolina (9-4): The Panthers were up 6-0 early in last week's battle with the Saints before things got out of hand. Once Drew Brees got going, there was no looking back. Carolina's likely going to have to win in either New Orleans or Seattle if they hope to make it to the Super Bowl this year. I have my doubts they can do it. But I know they can hammer the Jets at home.
The Pick: Panthers 44, Jets 17
Green Bay (6-6) at Dallas (7-6): The Cowboys used to always give Brett Favre fits. He'd win everywhere else then come to Big D and get slammed. Like clockwork. Every year. Well, Matt Flynn is not Brett Favre and this Cowboys defense isn't starring Charles Haley, Jim Jeffcoat, or Ken Norton, Jr. But I like Tony Romo to get the best of the Packers in this one.
The Pick: Cowboys 34, Packers 23
Arizona (8-5) at Tennessee (5-8): The Titans have lost seven of their last nine games and the defense has fallen apart in recent weeks. I'm not sure if Mike Munchak and his staff are playing for their jobs, but I do know that a loss to Arizona wouldn't help them. Carson Palmer and the Cardinals have the playoffs on their mind. Remember, Palmer tore up his knee in the first quarter of his only career playoff game versus Pittsburgh. The Cards can smell January football. They're not slipping up in Nashville.
The Pick: Cardinals 31, Titans 23
New Orleans (10-3) at St. Louis (5-8): The last time the Saints traveled to St. Louis, a winless Rams team put a whooping on Drew Brees' gang in 2011. The Edward R. Jones Dome is one place where the Saints offense isn't the Saints offense. The Rams will keep it close, but New Orleans will find a way in the end.
The Pick: Saints 27, Rams 23
Cincinnati (9-4) at Pittsburgh (5-8): Andy Dalton still has his doubters, but I think I'm in -- until he drops another game on the road. Then I'm off. But I'm not fickle at all. The Bengals are playing good football, but imagine just how great they'd look if Geno Atkins was still in the lineup. I like the Bengals. Good Andy -- not Bad Andy -- shows up and wins in Pittsburgh on Sunday night.
The Pick: Bengals 23, Steelers 17
Monday night
Baltimore (7-6) at Detroit (7-6): The defending champion Ravens have had eight games decided by three points or fewer this season. Calvin Johnson usually saves his best for the big stage, but we're talking about Joe Flacco in a big road game. There are few quarterbacks I'd rather have. Lions fans, hide your eyes. I'm taking the Ravens on a last-second Justin Tucker field goal.
The Pick: Ravens 23, Lions 21
---
---