National Football League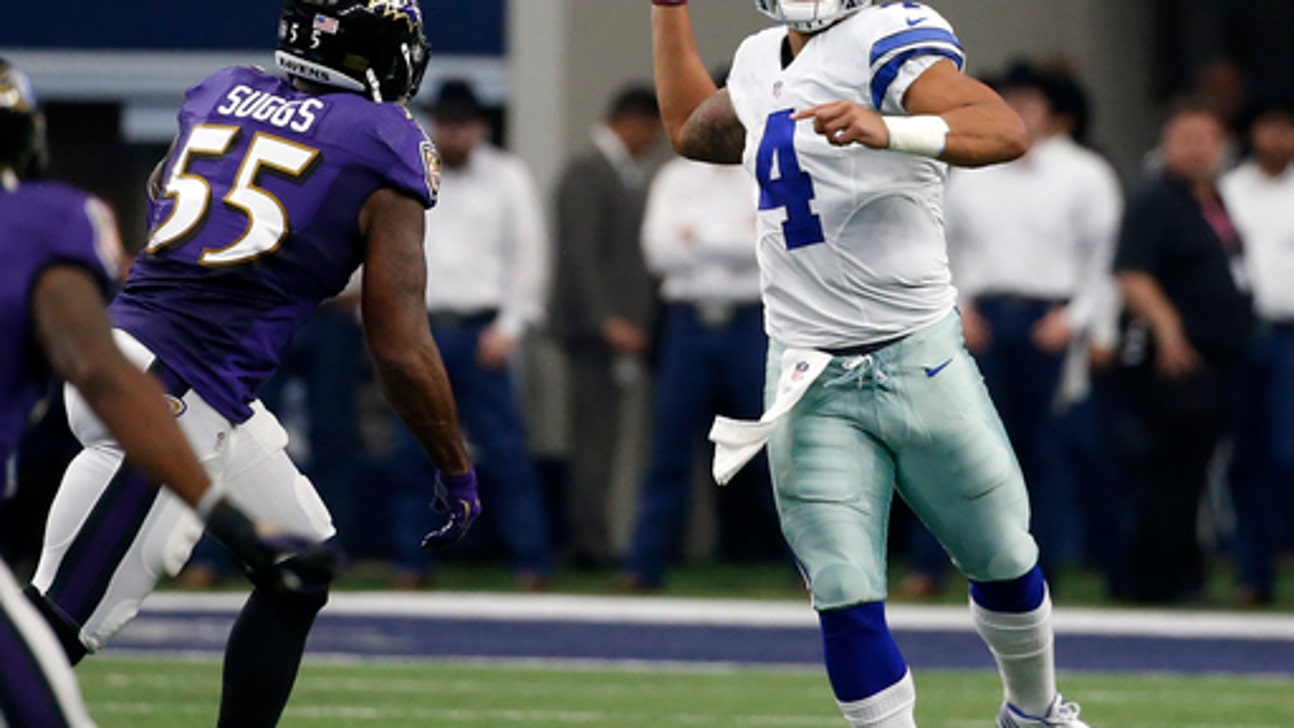 National Football League
NFL-best Cowboys keep winning with healthy Romo as backup
Published
Nov. 21, 2016 2:11 p.m. ET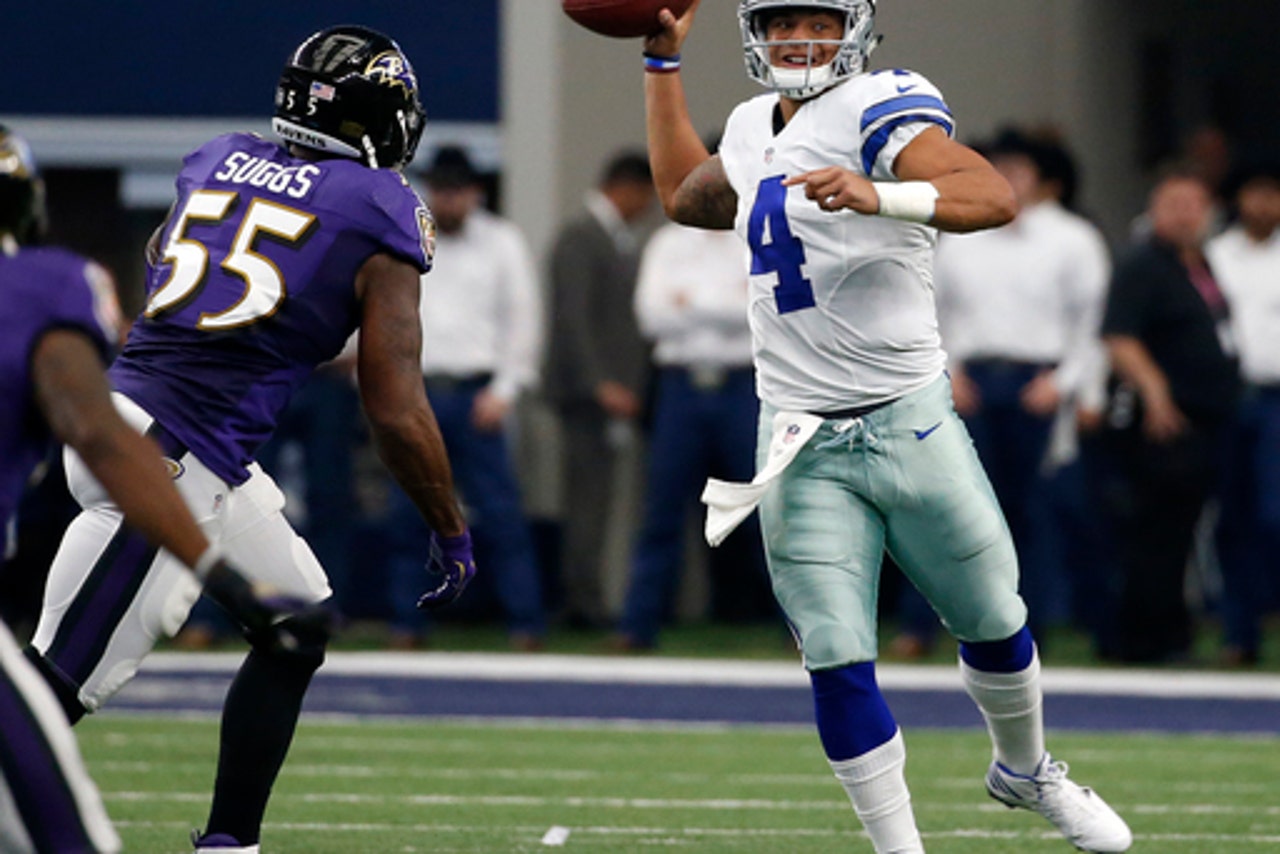 ARLINGTON, Texas (AP) Tony Romo dressed quickly at his locker, pausing only briefly to tell reporters he wasn't talking after his first game as Dallas' backup quarterback in 10 years.
A few feet away, a mass of reporters surrounded NFL rushing leader Ezekiel Elliott, one of two rookies in the Dallas backfield. The other, of course, is quarterback Dak Prescott, who has the Cowboys atop the NFL after stepping in for the injured Romo.
A franchise regular-season record ninth straight victory for the Cowboys (9-1) was also a milestone of sorts for the lingering question of Romo's status.
The 36-year-old is healthy now after being active for the first time since last Thanksgiving. And Dallas won without him again, beating Baltimore 27-17 on Sunday with Prescott overcoming a shaky start that surely had some wondering if he was more wary than he would care to admit about the presence of his new backup, healed from his preseason back injury.
Now Prescott gets his first quick turn to Thanksgiving and a rematch with Washington, where he got his first career win in Week 2 after an opening loss to the New York Giants.
''He's got that way to really work through where he is and what he's doing,'' owner and general manager Jerry Jones said. ''There's no doubt he is having fun. Then he recognizes opportunity. I've never heard him one time when I've talked to him, not start off by saying what a great opportunity it is just to get to be here and play.''
It was a little strange for many to see No. 9 going through pregame drills with the backups, and wearing a baseball cap along with an earpiece to follow the calls during the game. Don't count Prescott among the many.
''It's really no different,'' Prescott said after throwing for three touchdowns in his second career - and second straight - 300-yard game. ''He is as helpful as he has always been. The only thing different is he is in uniform.''
Prescott has the second-most consecutive wins for a rookie quarterback in the Super Bowl era behind Ben Roethlisberger, who won 13 straight in 2004 and led the Steelers to the AFC championship game.
And he joined Hall of Famer Dan Marino (Miami, 1983) and Russell Wilson (Seattle, 2012) as the only first-year QBs since 1970 with multiple touchdown passes in five consecutive games.
As the accomplishments accumulate, it gets easier for tight end Jason Witten to answer the question of watching Romo, his friend and teammate for all of his 14 seasons in the NFL, get relegated to secondary status a year after the Cowboys went 1-11 without him.
Romo has spoken on the subject only once since breaking a bone in his back in a preseason game at Seattle - a five-minute statement that conceded the job to Prescott last week. He hasn't answered questions, and isn't showing any signs that he will as long as he's not playing.
''At this point, it's just part of the process of getting back,'' Witten said. ''I thought he did a phenomenal job in his talk Tuesday and allowed our team to move forward without any distraction.''
It's an interesting situation for Jones as well because he gave Romo the first $100 million contract in franchise history - a six-year, $108 million deal signed in 2013.
Romo has a $20 million salary cap figure this season that goes up to about $25 million next season. The Cowboys can save about $5 million under the cap by cutting him, but Jones said last week there was ''no consideration'' of Romo playing elsewhere.
''Even though he wasn't ready to play, he's been saying he would not in any way disrupt the success that we've got going in any way possible,'' Jones said. ''On the other hand, Tony wants - and we want him, I want him - to be ready to go in a nanosecond when it's called for. That's what he is prepared to do.''
As for whether the questions about Romo can fade now that he's been in uniform as the backup without playing, Prescott said he has his doubts.
''I'm sure y'all will figure out a way to ask me about it,'' he said.
---
For more NFL coverage: http://www.pro32.ap.org and http://www.twitter.com/AP-NFL
---
Follow Schuyler Dixon on Twitter at https://twitter.com/apschuyler
---
---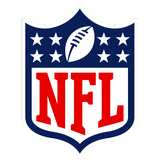 Get more from National Football League
Follow your favorites to get information about games, news and more
---