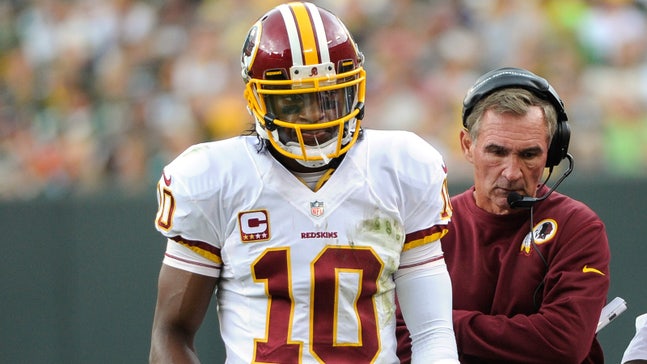 Mike Shanahan: RGIII's struggles can't be blamed on injuries
Published
May. 22, 2015 2:50 p.m. ET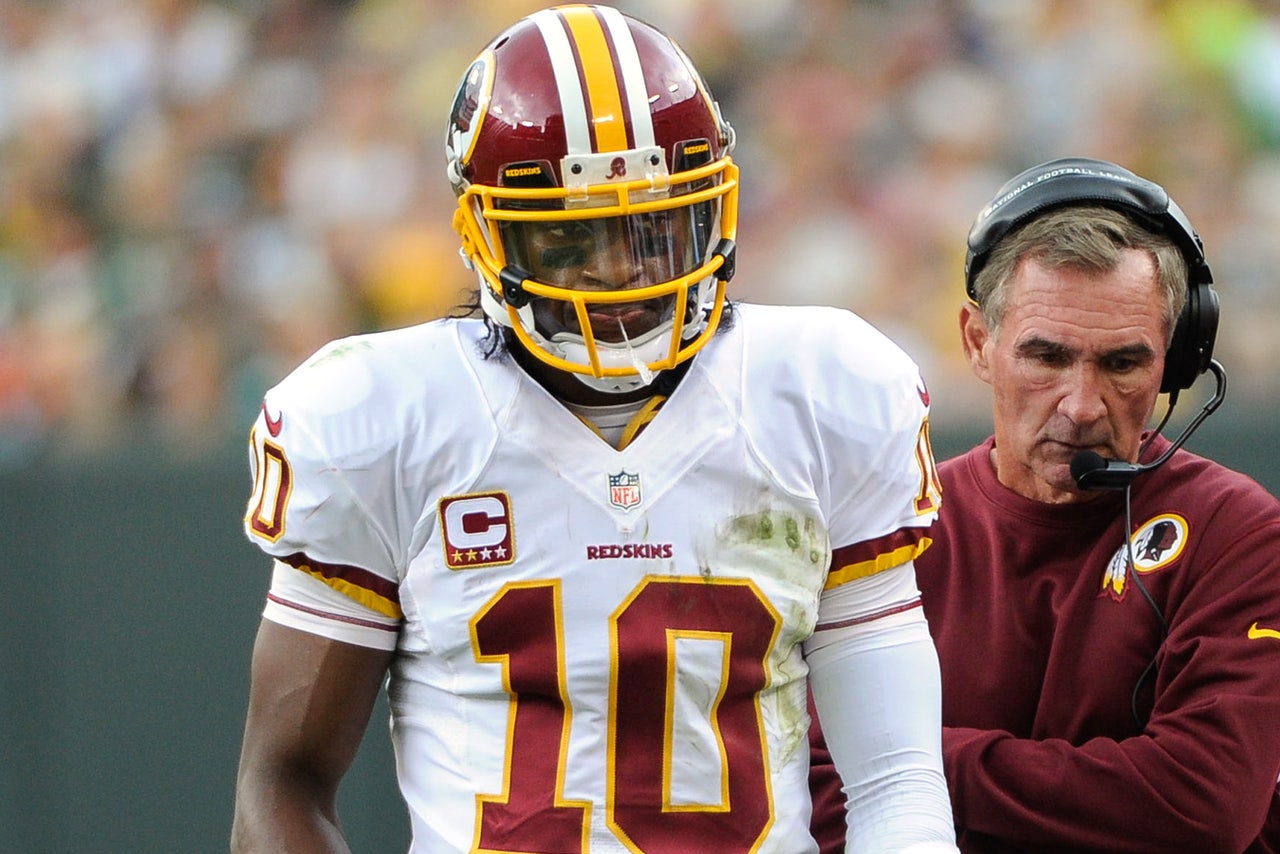 Washington Redskins quarterback Robert Griffin III struggled in 2014. After missing nearly two months of the season with a dislocated ankle, he returned to his starting role only to later be benched for Colt McCoy. Some people have used his injury as an excuse for his poor play, but his former coach who drafted him, Mike Shanahan, refused to lay the blame on Griffin's health.
"I don't think getting hurt has anything to do with it" Shanahan said of RG3 on the Grant and Danny Show on 106.7 The Fan. "In college he didn't have a route tree, didn't have a playbook. That does take some time. … If you take a QB like that you must run the kind of system that allows them to be successful … I really believe Robert thought he was more of a drop back quarterback. He hasn't done things the NFL asks you to do. It does take some growing pains. You better really work on it inside and out."
When things were going well during his rookie season, no one got more out of Griffin than Shanahan. In his rookie season, after Shanahan trade up in the 2012 NFL Draft to select him, Griffin completed 65.6 percent of his passes with a 20:5 touchdown to interception ratio. He also added 826 rushing yards and seven rushing touchdowns.
Shanahan discussed the differences he had with Redskins owner Dan Snyder when it came to best utilizing Griffin's skill set.
"The only thing that he (Snyder) felt very strongly about was Robert not running the football in 2012, which is understandable, especially with some of the shots he was taking," Shanahan said. "I thought that for us to have the type of success, that we needed Robert to run that style of offense. But we had to teach him how to slide and not take shots."
Shanahan is not willing to rule out Griffin developing into a premier quarterback in the NFL just yet, but he acknowledges that it's going to take a lot more work than Griffin has put in to date.
"Robert's got a lot of ability. He's a charismatic guy, he's got mobility, he's got arm strength. He's a very bright guy," Shanahan said. "But he hasn't done things that the NFL asks you to do and it does take some growing pains to go through that."
Although head coach Jay Gruden has said that Griffin will enter OTAs as the starting quarterback, that statement seems ceremonial. Shanahan believes that the best player will eventually start in Week 1.
"At least in my opinion, nobody is the unquestioned starter regardless of what position you play," Shanahan said. "You've got to go out there and prove every year that you're the best guy at what you do. You're teammates know very quickly. You as a head coach, if you start somebody regardless of what position it is, and the players understand maybe you're not playing the bets player, you lose that football team very quickly."
In Shanahan's estimation, that player might be current backup quarterback Kirk Cousins.
"I think Kirk Cousins will be a big-time player for a lot of years in the National Football League," Shanahan said. "I've seen first hand what he can do and once he gets a team with a little balance he'll have a very successful NFL career."
Griffin will hold down the starting gig for now, but it's safe to say he is on a short leash heading into OTAs, minicamp and training camp. There is added pressure for Gruden to turn things around in his second year on the job, and name recognition and salary won't play any role in his final decision.
(h/t CBS DC)
Photo Credit: Benny Sieu/USA TODAY Sports
---
---