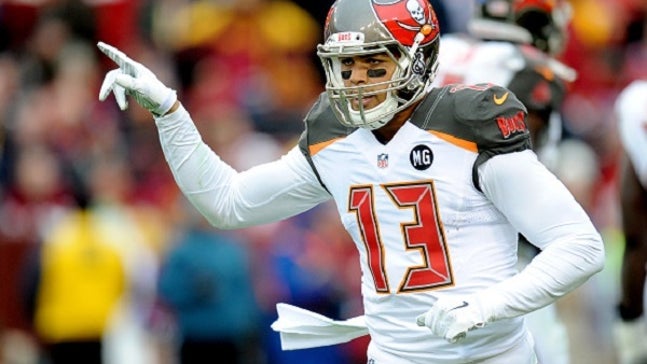 Mike Evans liked Jameis Winston more than Marcus Mariota
Published
May. 6, 2015 12:27 a.m. EDT

By Gordon Dixon
Leading up to the NFL Draft, the question of whether the Buccaneers would select Jameis Winston or Marcus Mariota with the No. 1 overall pick was one that was often asked. Last Thursday, Tampa Bay made Winston the choice, leaving Mariota to be available for the Titans, who drafted him second overall
Many experts and pundits feel Winston is the more NFL-ready quarterback, while Mariota is seen more as a project. Whether Tampa Bay made the right choice likely won't be known for a few years. However, Buccaneers wide receiver Mike Evans is backing the team's decision to go with Winston.
"Out of him and Mariota, I liked Winston more," Evans said via the Tampa Bay Times. "He doesn't run as much. With that being said, I think he'll come in and do well for us. He can sit in the pocket and deliver the ball. That's more opportunities for the receiver."
"I did my time with a mobile quarterback and that was fun," Evans said. "It was fun, it got me more opportunities for more balls on scramble rules and stuff like that. But in this league, it's tough to scramble. I think Jameis will be fine."
More opportunities for the receiver is certainly a good thing in Tampa Bay, where Winston will have the luxury of throwing to Evans and Vincent Jackson. Evans burst onto the scene as a rookie with 68 catches for 1,051 yards and 12 touchdowns in 2014 while Jackson has posted six 1,000-yard receiving seasons over his career.
At Texas A&M, Evans was on the receiving end of passes from Johnny Manziel, who was quite adept at scrambling and improvising, as is Mariota. That said, in the NFL, Evans prefers a drop-back quarterback more, which is what Winston is.
More from Larry Brown Sports:
---
---