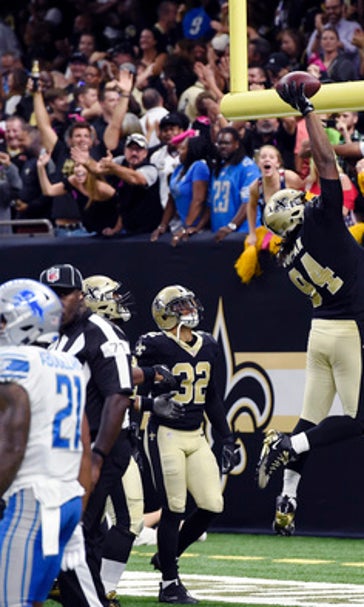 Lions go into bye with mistake-filled setback against Saints
October 16, 2017

ALLEN PARK, Mich. (AP) The Detroit Lions made so many mistakes at New Orleans they ruined a chance to go into a bye week with a win that would have put them in a tie atop the NFC North.
Matthew Stafford had five turnovers , three of which the Saints returned for scores, and Detroit gave up more than 200 yards to running backs in a 52-38 loss Sunday.
Detroit hadn't given up that many points since 2007, when it allowed the Philadelphia Eagles to score 56 points in a lopsided victory.
''I'm as much concerned with the turnovers that we had that cost us points as anything,'' Lions coach Jim Caldwell said Monday. ''It's really the yards on the ground, obviously, we're concerned about.''
Mark Ingram ran for 114 yards and Alvin Kamara had 75 yards rushing, both more than doubling their previous season highs. New Orleans' running backs also combined for 48 yards receiving.
Drew Brees threw two touchdown passes to help the Saints surge ahead 45-10 midway through the fourth quarter before Detroit rallied to give itself an opportunity to pull off quite a comeback.
The Lions scored 28 straight points to pull within seven only to have one of 16 deflected passes turn into a third defensive TD for the Saints, helping them seal the wild win.
''Just got to find a way to get it through,'' Stafford said.
The quarterback was referring to throwing passes around or over defenders, but he could have said the same about the Lions' injury situation.
''We are banged up,'' Stafford said. ''We got to have guys find a way to get back healthy as soon as possible.''
Stafford played with an injured right ankle for a second straight week and should benefit from the team's bye week before competing again Oct. 29 at home against Pittsburgh. He also appeared to hurt his ribs, but Caldwell didn't have to give an update and chose not to for reporters.
''You'll have to wait a week whenever the report comes back out again and we're obligated to give one,'' Caldwell said.
Golden Tate, who had a 45-yard TD reception at New Orleans, left the game with a shoulder injury. Safety Glover Quin was knocked out of the game with a head injury in the second half.
Offensive tackle Greg Robinson limped off the field in the third quarter with an ailing ankle. Offensive tackle Rick Wagner was in and out of the game with an ankle injury.
And guard T.J. Lang was scratched from the lineup a little more than 90 minutes before the game began because of a back injury.
''I've been dealing with back injuries the last couple of weeks,'' Lang said. ''I took a hit in Minnesota and it's kind of been on and off. It was just bad timing. I was warming up for the game and getting loose and I had a setback.''
Caldwell sounded and looked relieved he doesn't have to put a team on the field for nearly two weeks, saying there's no doubt the timing is good.
''If we were playing a Thursday game it'd be really tough,'' he said. ''If we were playing a Sunday game, it might be even fairly tough.''
Left tackle Taylor Decker, who had shoulder surgery in the offseason, is eligible to practice this week. Decker declined comment Monday and Caldwell said a decision hadn't been made yet regarding his return.
The Lions desperately need Decker to return to bolster a unit that has allowed Stafford to get sacked 17 times the past three weeks.
''It comes down to just playing your technique and making sure you don't get bored doing the right thing over and over and over again,'' guard Graham Glasgow said. ''It takes a lot of self-discipline and it also takes some grit.''
---
For more NFL coverage: http://www.pro32.ap.org and http://www.twitter.com/AP-NFL
---
---