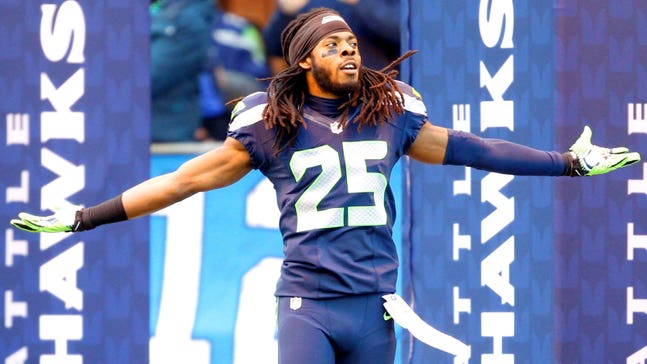 Judging by Twitter, Richard Sherman made an impression on folks
Updated
Mar. 4, 2020 1:00 p.m. ET

If you weren't familiar with the name Richard Sherman before late Sunday evening, you are now.
And with the Super Bowl, arguably the world's largest annual sporting spectacle, coming in two weeks to the New York metropolitan area, the indisputible media capital of the planet ... well, look out. The Seattle Seahawks defender is about to attract a crowd.
Sherman's antics in the closing moments of the NFC Championship Game against the San Francisco 49ers --  the patronizing pat of Michael Crabtree's backside and the choke sign aimed at the Niners' bench -- set off immediate fireworks on Twitter, social media's bastion of instant (over)reaction.
And then his interviews ramped up public reaction ten-fold.
Here's a sampling of tweets, including a spirited defense of Sherman by an NFL player, a MLB pitcher bringing the heat and a few thoughts from media types about to descend upon New York for a fresh dose on outlandlishness:
Richard Sherman=great player=fantastic play=memorable interview. But, anyone else hoping he gives up 5 TD's in the Super Bowl? #justasking?

— Matt Lauer (@MLauer) January 20, 2014
---
---