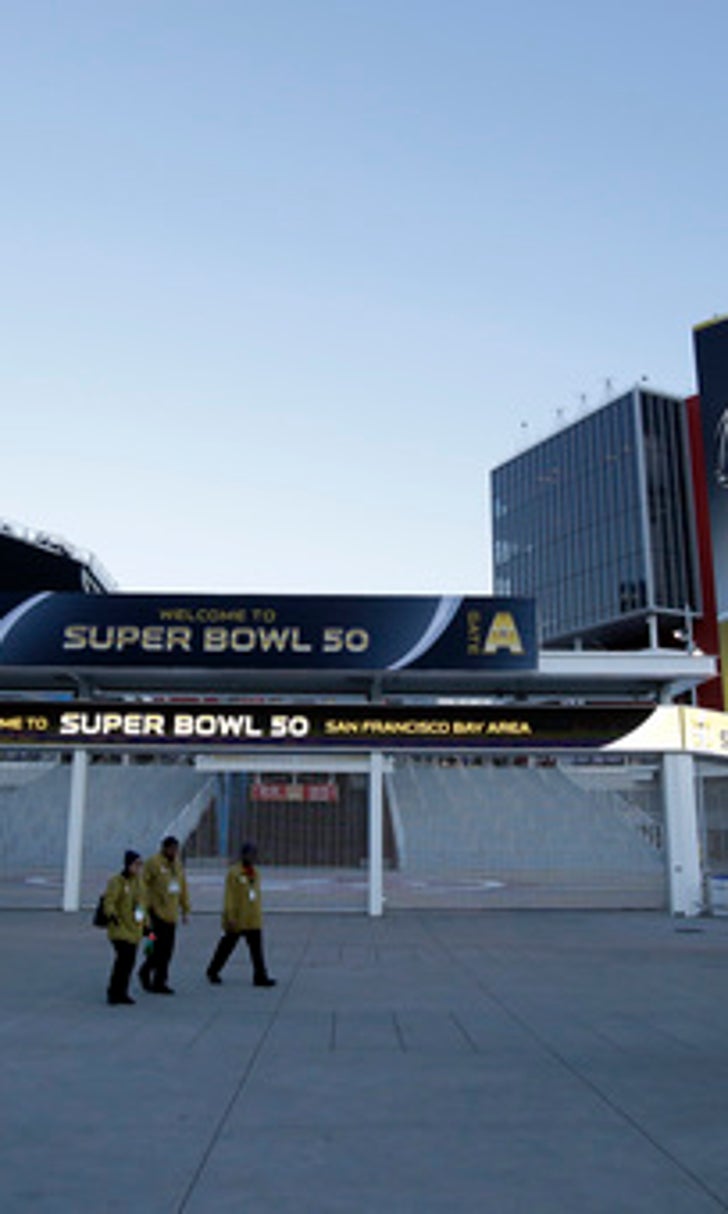 Fan gets suite sleepover at Levi's night before game
BY foxsports • February 4, 2016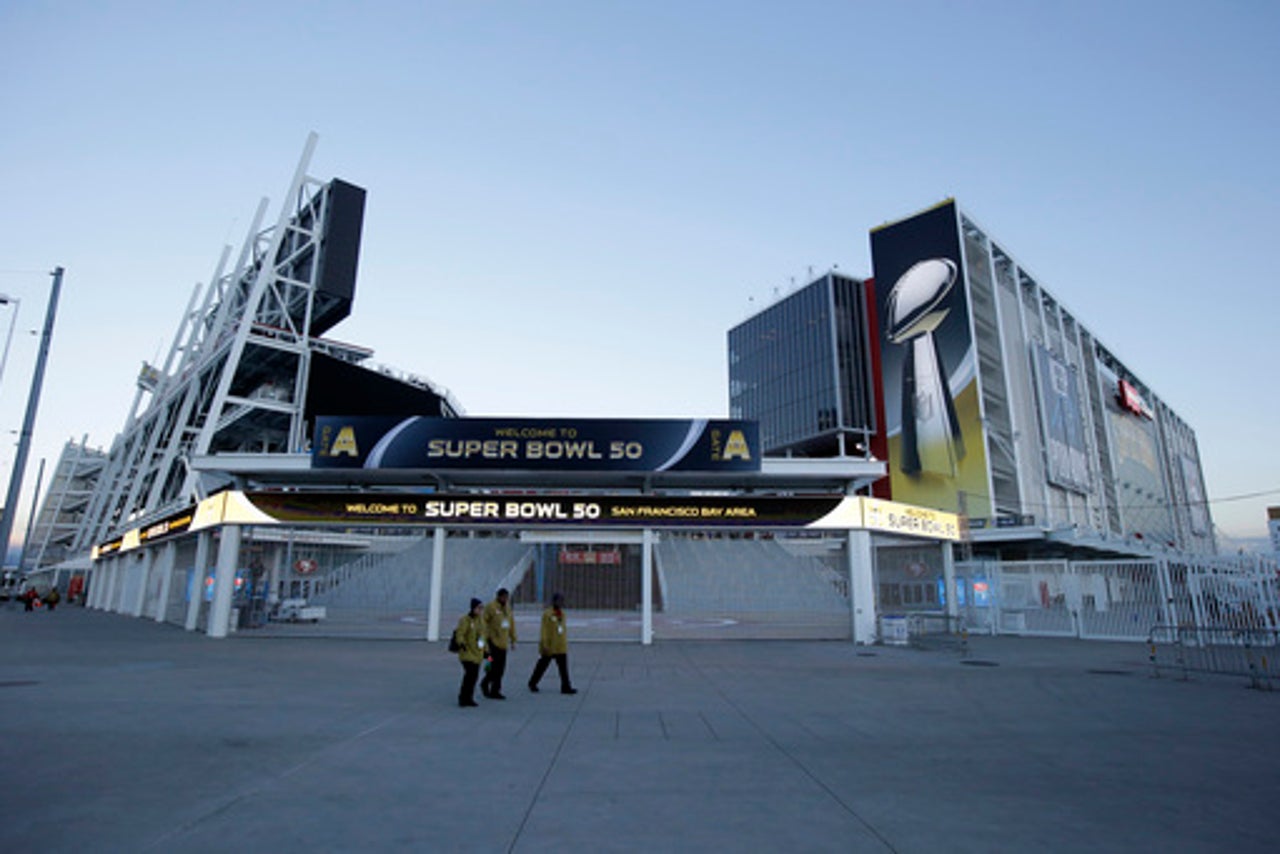 SAN FRANCISCO (AP) One suite at Levi's Stadium is going to get a little extra use on Super Bowl weekend.
Kristen Williams of Eagle River, Alaska, won a special prize from Marriott that will allow her and three friends to spend the night before the Super Bowl in the suite.
These will be the first fans ever to sleep over in a Super Bowl stadium and they will be the first fans in the stadium Sunday. Williams will get to stay and watch the game from the stands with her husband and parents.
The suite will then be converted from a bedroom to a game-day suite to accommodate Bill Craigle from Mechanicsville, New York, who won a prize that allows him to bring 49 guests to the game on an all-expense paid trip.
HALL OF FAME TALK: One of the most interesting finalists in this year's Hall of Fame voting is receiver Terrell Owens.
With the second-most yards receiving at 15,934, along with 1,078 catches and 156 total touchdowns, Owens has Hall of Fame numbers.
But he had several run-ins with teammates and coaches and often wore out his welcome in a career that had him play for five teams in his final eight seasons.
Steve Mariucci spent six years coaching Owens in San Francisco, and said there's no doubt Owens is a Hall of Famer, even if he had to suspend him for one game in 2000 for celebrating a touchdown on the Cowboys' logo.
''I would never say we were better without him,'' Mariucci said. ''Maybe we'd have had a different harmony in the locker room, but on the field we needed that guy. He was very productive. After that suspension, for the next year and a half he was the best receiver in the league. He played angry and was great.''
Former NFL cornerback Eric Davis, who matched up against Owens in his career, said he finds the debate about T.O.'s Hall of Fame credentials silly.
''It's not the hall of nice guys, it's not the hall of good interviews, it's not the hall of this guy was always there when I needed him as a teammate. You get a gold jacket for putting it down on the field.''
BITTER RIVALS: LaDainian Tomlinson spent most of his 11-year career with the Chargers despising the Raiders. So the idea that the Raiders could someday move to San Diego if the Chargers go to Los Angeles is one he finds quite troubling.
''That doesn't sound right to me to call them the San Diego Raiders,'' Tomlinson said. ''It just really doesn't sound right. I can't imagine it happening.''
While Tomlinson has bitter feelings toward the Raiders, they brought out the best in him. His 2,055 yards rushing and 26 total touchdowns for his career against Oakland are more than twice as many as any other player has.
''I knew I had to put my best performances against the Raiders because they were our rivals,'' he said. ''It was always just a little bit extra. It did help that I already hated them.''
HAT'S OFF TO PRICEY KEEPSAKE: One of the more unique and very limited items from Super Bowl 50 may be a $2,500 black leather ball cap with gold on the underside of the brim.
What makes it so special? A gold pin on the black leather hat.
Buffalo Bills quarterback Tyrod Taylor, who helped introduce the hat Wednesday, said the New Era Cap brings an outfit together.
''It's definitely something that fits the theme out here. ... Super Bowl 50 with the gold theme, that's been going on all year,'' he said. ''The gold piece definitely brings out the hat.''
New Era has been introducing a different cap each day of Super Bowl week. People started getting tickets Tuesday to reserve the pricey hat, and 30 of the 50 produced were claimed by Thursday morning - a day after it became available.
COLDPLAY PLAYING IT SAFE: Being from England, the members of Coldplay fully admit they're not well-versed in American football. Playing halftime of Super Bowl 50, they're smart enough not to pick a winner either.
Coldplay's bass player Will Champion is Scottish, as is Panthers kicker Graham Gano.
''So we feel a certain affinity with the Scots, so I think we'll go Panthers,'' Champion said.
Lead singer Chris Martin quickly interjected.
''To be clear, that's the Denver Panthers that we definitely are rooting for,'' Martin said. ''So put that in your paper.''
---
Online:
AP NFL website: www.pro32.ap.org and www.twitter.com/AP-NFL
---
---