Buzz: Cooley dishes on Haynesworth
BY Sam Gardner • October 29, 2013
Albert Haynesworth was a great defensive tackle during his first seven years in the NFL, particularly his final two seasons in Tennessee, 2007 and 2008, when he was selected to the Pro Bowl.
Haynesworth's play on the Titans D-line earned him a seven-year, $100 million contract from the Washington Redskins in 2009 that included a reported $41 million guaranteed. But then after one lackluster season with Washington — during which he beefed with defensive coordinator Greg Blache — a strange thing happened: Haynesworth just kind of disappeared.
OK, not totally. Haynesworth showed up to camp out of shape in 2010 and failed a couple conditioning tests, then played in just eight games before being suspended for the final month of the season.
The Patriots traded next to nothing for Haynesworth in 2011 before releasing him midway through the season, with just two tackles to his name. The Bucs then picked him up off waivers — a last-ditch effort at getting something, anything out of the maligned former star — and then released him after the season was over. Haynesworth hasn't played since.
That $100 million contract Haynesworth signed has been regarded by many as one of the worst in NFL history, and his decline was as rapid as it was stunning. But according to one former teammate, Haynesworth's fall from grace may not have been an accident at all, but rather, a fraudulent ploy on the part of a guy who felt no need to earn his paycheck.
Former Redskins tight end Chris Cooley got to talking about Haynesworth on his radio show on ESPN 980 in Washington, D.C., last week and, via DC Sports Bog, Cooley accused Haynesworth of trying to get released once his contract had been signed.
"His goal was to come here, make a large signing bonus, and then get released and not have to do any of the work," Cooley said. "He didn't care about the back end of that contract, he didn't care about making all of that money. His idea was, you paid me for what I did in the past, and my goal is to be released as soon as possible and basically take $33 million from you for absolutely nothing."
Cooley said that Haynesworth's intentions were no secret in the locker room, either.
"He also indicated to many players on the team that his new goal was to get released as soon as possible, sign another maybe $10, 12 million contract — that's verbatim — go somewhere, play for a year and probably get released, and keep that money too," Cooley said.
"I mean, if it was a player on this team currently, I would not discuss this on the air. But being the player that he was, and the guy that he was around here, this was open [knowledge] among many players in this locker room: that his goal was basically to take money."
Cooley then closed by saying the Redskins' signing of Haynesworth was a "terrible decision" and called Haynesworth a "horrible person" — which is probably not a stretch when talking about a guy who stomped on another player's face during a game.
But what do you think? Was Haynesworth within his rights to take his guaranteed dough and run — especially given the dangers that the game of football present — or did he owe it to the Redskins to earn the money they paid him?
Now, for some links:
• IndyCar driver JR Hildebrand thwarted an attempted robbery after realizing that the suspect's gun was fake.
• Dallas Stars goalie Jack Campbell is honoring JFK on his mask 50 years after the former president's assassination.
• Shaq stumped for Chris Christie in a recent TV ad:
• Houston football coach Tony Levine pranked his players with a fake jersey reveal for Thursday night's Halloween game:
• A Barry University soccer player nails the self-pass and bicycle kick goal:
• Oregon quarterback Marcus Mariota reportedly talked a referee out of calling a late hit on a UCLA player.
• Golden Tate apologized for his showboating during Monday night's win over St. Louis.
• Cast members from Jackass have the Missouri kicker's back after his crucial missed field goal in Saturday's game:
• Via The Big Lead, the Rams and Seahawks held a Ric Flair strut-off Monday night: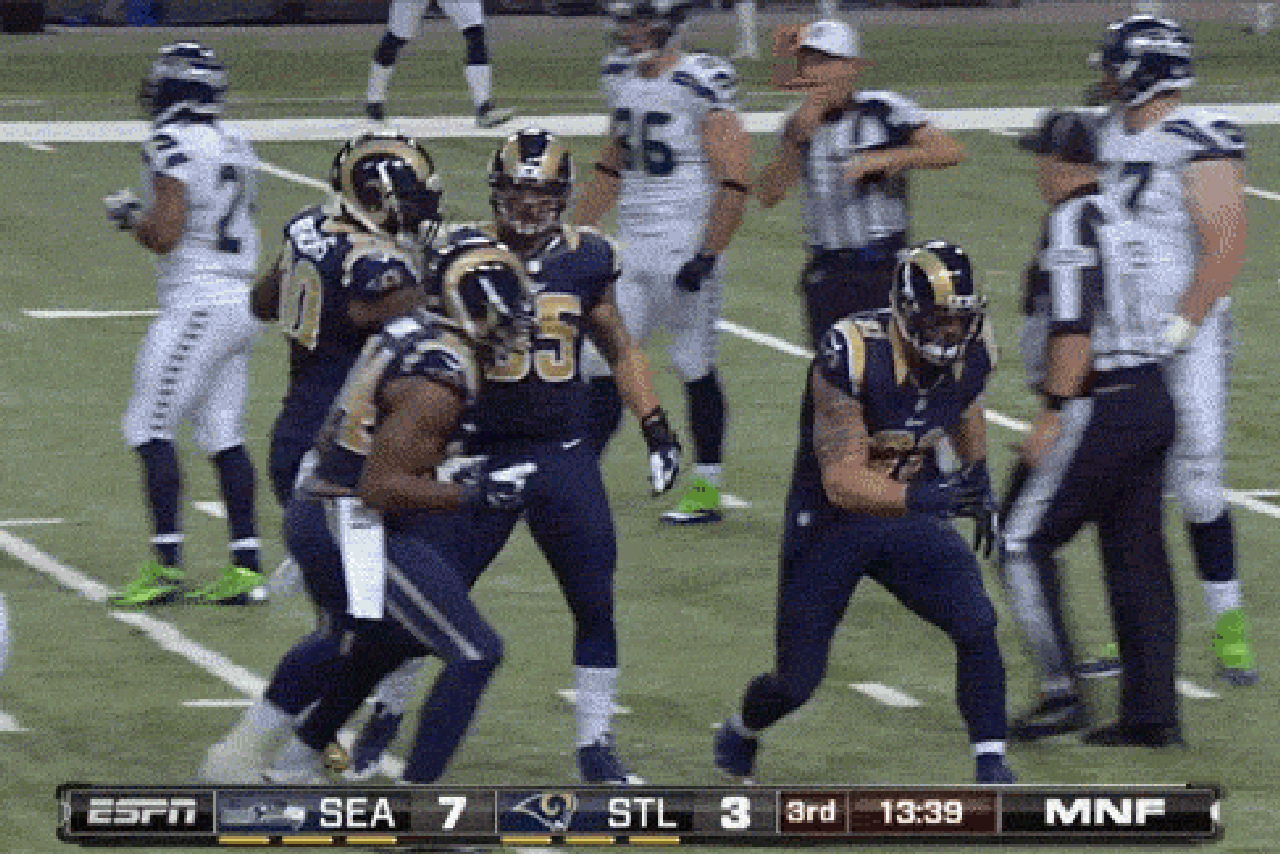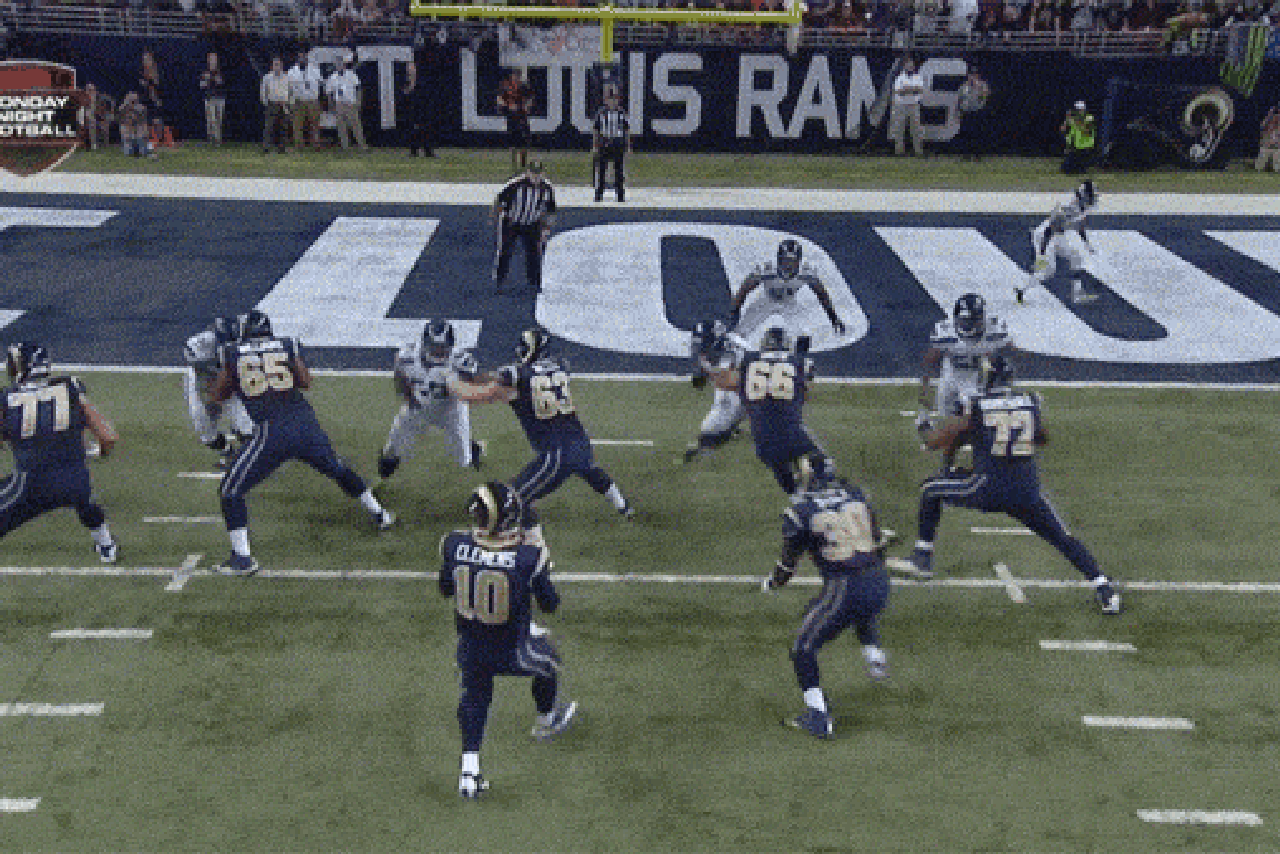 • Nicki Minaj is down with Villanova hoops:
• Marcin Gortat says he flew more than 25 people from Poland to Phoenix for Wednesday's "Polish Night" at the Suns game. One problem — Gortat just got traded to the Wizards.
• LaTroy Hawkins reportedly helped subdue an unruly passenger on a flight to South America.
• Flipper Anderson's son, a wide receiver at Utah, was glad Calvin Johnson came up just short of breaking his dad's single-game receiving record:
• Matt Stafford was mic'd up for the Lions' game-winning drive:
• Via Deadspin, Tavon Austin really tried hard to sell a penalty against the Seahawks: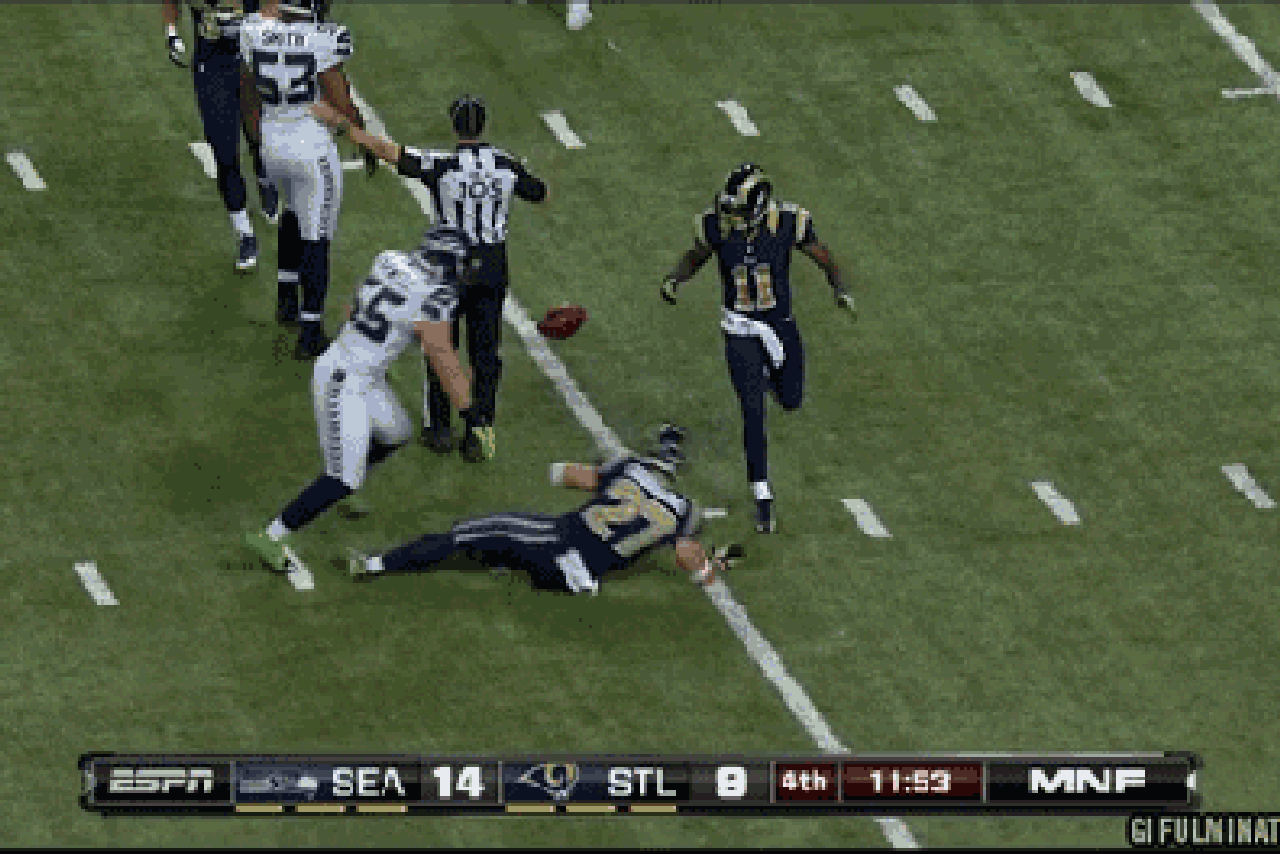 • Free-agent running back Beanie Wells reportedly tore his Achilles while working out for the Ravens.
• Kelvin Taylor — son of Fred Taylor — will get the start for Florida on Saturday against Georgia.
• Seems McKayla Maroney has been working on her "not impressed" face for a while:
• USF's offense is struggling:
Stat that will get national traction: 7 games in, #USF has 6 offensive touchdowns. Opposing defenses have scored 7 TDs against Bulls.

— Joey Johnston (@JJohnstonTBO) October 26, 2013
• The crowd at the Rams game was sparse Monday night. Was there something else going on in St. Louis?:
---
---