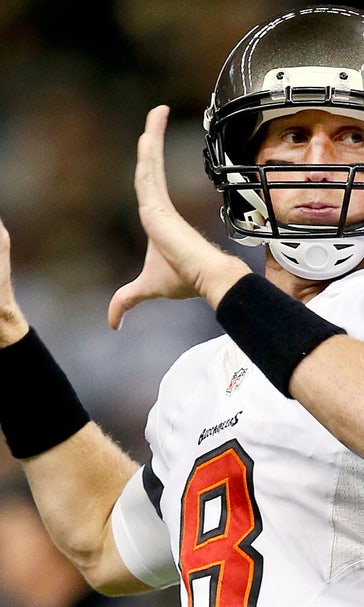 Bucs sold on Glennon being long-term answer at quarterback
BY Alex Marvez • May 21, 2014
To prove he was Tampa Bay's future at quarterback, Mike Glennon had to prove himself in the present.
Glennon's status as the team's long-term answer at the position was cast in doubt when the Buccaneers signed free agent Josh McCown in March and head coach Lovie Smith instantly named him the new starter. Smith's decision not to stage an open quarterback competition was particularly surprising considering Glennon threw for 2,608 yards with 19 touchdowns and nine interceptions during his 2013 rookie campaign.
Glennon immediately became the subject of pre-draft trade rumors, especially because the Buccaneers were undergoing a radical offseason roster makeover that has included the release of star cornerback Darrelle Revis. The Buccaneers, though, became fully sold on Glennon in April after he excelled at Tampa Bay's first Smith-coached volunteer minicamp.
"We looked at all the tape of last year," new Buccaneers general manager Jason Licht told co-host Bill Polian and I Tuesday night on SiriusXM NFL Radio. "Having him in the building and going through that first minicamp with him and seeing how he was in meetings and interacted with the team -- and more importantly how he was on the field -- just secured our feelings of how we evaluated him and felt about him.
"That really helped with our draft strategy."
The Buccaneers didn't select a quarterback earlier this month and instead have two NFL journeymen (Mike Kafka and Alex Tanney) as well as undrafted college free agent Brett Smith from the University of Wyoming competing for a third-string spot.
The 34-year-old McCown, who was signed away from Chicago with a two-year, $10 million contract, is now considered a bridge quarterback until Glennon is ready to assume the starting spot.
Licht said he and Smith agree upon three traits they want in a quarterback -- toughness, intelligence and accuracy with arm strength "maybe a distant fourth." Glennon fit the bill, Licht said.
"Mike showed during this process that he had those three things and scored very high marks," Licht said. "He's a little bit of an unassuming type of guy, but the players around the building really look up to him and do follow him.
"That's what it came down to."
More of the Jason Licht interview can be heard here.
---
---