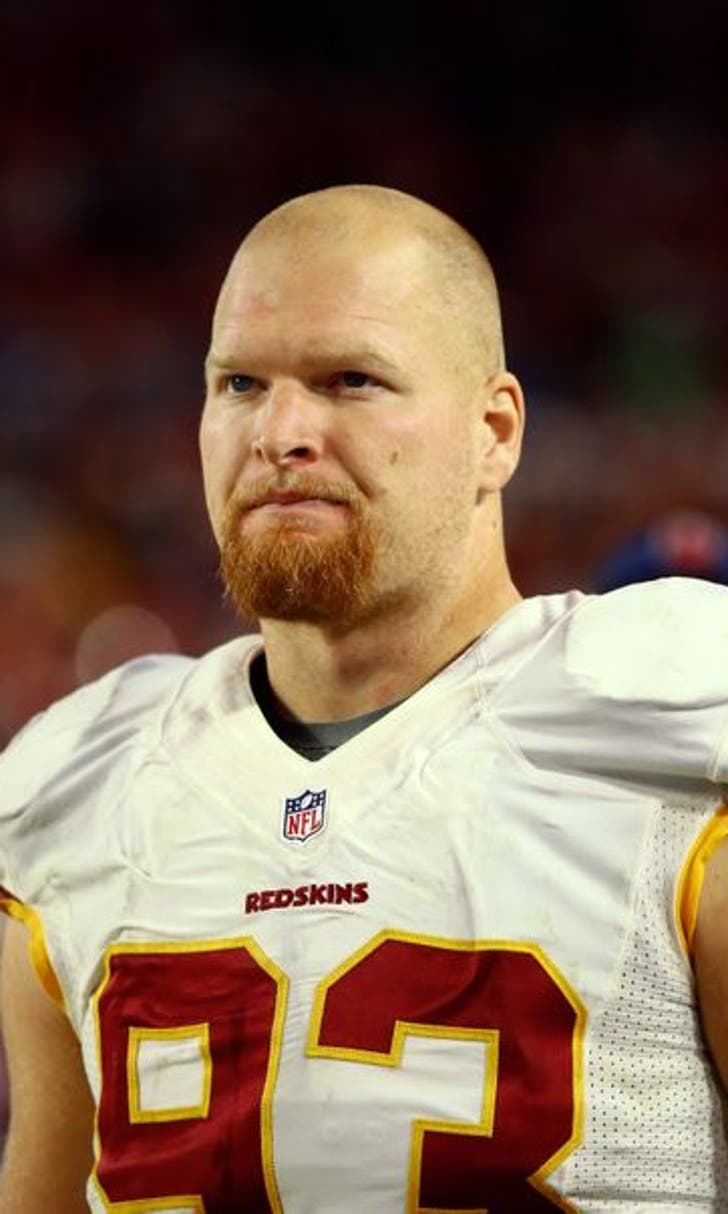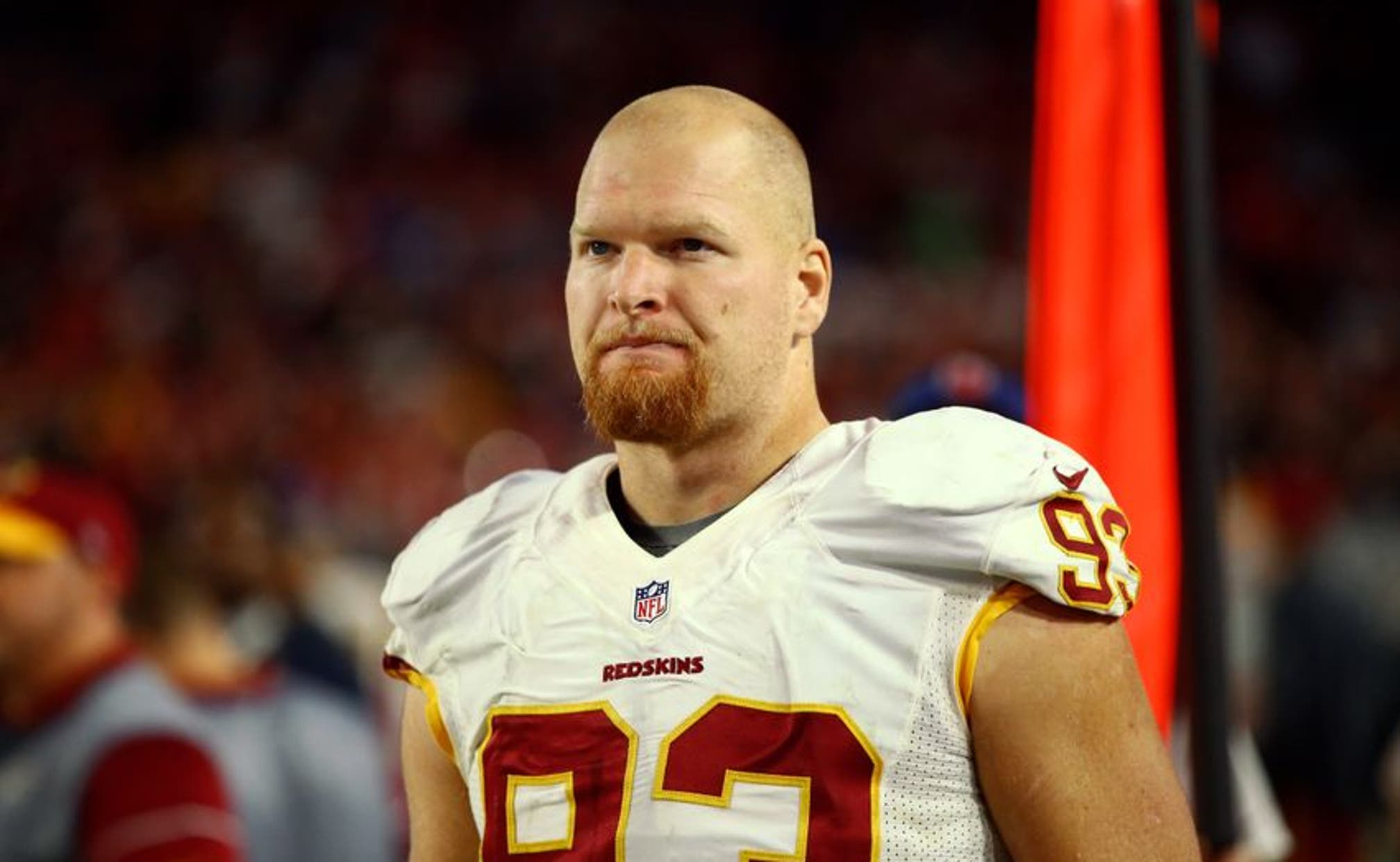 5 Bold Predictions For Washington Redskins vs. Carolina Panthers NFL Week 15
BY Fansided and Jacob Camenker/FanSided via Riggo's Rag • December 19, 2016
Dec 4, 2016; Glendale, AZ, USA; Washington Redskins defensive end Trent Murphy (93) against the Arizona Cardinals at University of Phoenix Stadium. The Cardinals defeated the Redskins 31-23. Mandatory Credit: Mark J. Rebilas-USA TODAY Sports
The Washington Redskins and the Carolina Panthers are getting ready to face off in a prime-time battle. Here are some bold predictions from the contest.
This is the biggest game of the season for the Washington Redskins by far. The team has a chance to control their own destiny in regards to the playoffs from here on out.
Want your voice heard? Join the Riggo's Rag team!
Thanks to the Dallas Cowboys' win over the Tampa Bay Buccaneers on Sunday Night Football, the Redskins can move into the sixth seed in the NFC with a win. If that were to happen, they would have extra motivation to win their last two games and sneak into the postseason as the final Wild Card team.
That said, they will be battling the Carolina Panthers who are playing for pride at this point. The Panthers have gone 5-8 a year after making the Super Bowl. They cannot make the playoffs this year, so every game here on out is their last chance to prove themselves.
With that in mind, here is a look at some bold predictions for what could happen during the Redskins-Panthers game.
Dec 4, 2016; Glendale, AZ, USA; Washington Redskins linebacker Mason Foster (54) against the Arizona Cardinals at University of Phoenix Stadium. The Cardinals defeated the Redskins 31-23. Mandatory Credit: Mark J. Rebilas-USA TODAY Sports
5. Mason Foster Totals 15 Tackles
The Redskins are going to be very shorthanded at the linebacker position. It is already confirmed that they will be without rookie star Su'a Cravens, and veteran leader Will Compton is also doubtful with a knee injury. As a result, the team will have to rely on their lone remaining starter in Mason Foster.
More from Riggo's Rag
Foster has had a good season for the Redskins. He has been a strong run defender and a tackling machine. Though he struggles a bit in coverage at times, he can still get the job done on certain occasions.
On Monday, I would expect Foster to play a huge chunk of the defensive snaps. He could see the field almost 90 percent of the time if the game goes the Redskins way. Because of this, it is definitely possible that Foster could rack up a lot of tackles. Joe Barry probably has him prepared to play a huge role, and Foster will be ready.
At the end of the day, 15 tackles seems like a possibility for Foster. He will need to play well enough in coverage to post these types of numbers, but it seems likely that he will be ready to go in this key matchup.
Dec 11, 2016; Philadelphia, PA, USA; Washington Redskins wide receiver DeSean Jackson (11) catches a pass en route to scoring a touchdown as Philadelphia Eagles cornerback Leodis McKelvin (21) defends in the third quarter at Lincoln Financial Field. Washington defeated Philadelphia 27-22. Mandatory Credit: James Lang-USA TODAY Sports
4. DeSean Jackson Has 60+ Yard Touchdown Reception
In the past month, DeSean Jackson has really emerged as a deep threat once again. He struggled out of the gate to start the season, but he and Kirk Cousins have gotten on the same page in recent weeks. Jackson has caught multiple long passes and he should have a chance to do that once again versus the Panthers.
The Panthers have a couple of rookie corners entrenched as the starters, and neither has seen a player that has the game-breaking speed that Jackson possesses. It seems likely that one of them will get burnt at some point during the game, and Jackson will capitalize.
So, why predict a 60-plus yard touchdown? Well, because Jackson is on the verge of tying a legend for most 60+ yard touchdown receptions of all-time (per CSN's Rich Tandler).
If Jackson can pull this off, it will be an impressive feat and it will also give the team a chance to win. Definitely keep an eye on Jackson as he could have a huge day against the poor Panthers secondary.
Dec 4, 2016; Glendale, AZ, USA; Washington Redskins quarterback Kirk Cousins (8) looks to pass during the first half against the Arizona Cardinals at University of Phoenix Stadium. Mandatory Credit: Matt Kartozian-USA TODAY Sports
3. Kirk Cousins Completes 70 Percent Of Passes, Throws For 300 Yards, 3 Touchdowns
As mentioned in the DeSean Jackson prediction, the weakest part of the Panthers defense is their secondary. They used to have a talented group led by Josh Norman, but the team now is extremely young and inexperienced. That is the type of group that Kirk Cousins could feast on.
Cousins has been absolutely stellar since a rough first month of the season. The second year starter has proven to be the franchise quarterback for the Redskins and he has really helped to spark their postseason runs. His torrid pace since the bye week has propelled the team to new heights and it could help them to win a game if they make the postseason.
On Monday night, Cousins will get another chance to showcase himself on the national stage. He will likely be tasked with throwing the ball a great amount, and he should find a lot of success. Cousins should be able to throw for three touchdowns against the Panthers defense, and should do it at an impressive clip. A 70 percent completion rate should be expected of him in this contest.
Of course, this is likely to be a competitive game, so Cousins will likely be able to rack up some yardage. He should break the 300 yard mark and put another great performance on his resume. Cousins is likely to make a great deal of money this offseason, and he could point at this game as one of his best.
Dec 4, 2016; Glendale, AZ, USA; Washington Redskins running back Robert Kelley (32) is tackled by Arizona Cardinals defensive tackle Frostee Rucker (92) at University of Phoenix Stadium. The Cardinals defeated the Redskins 31-23. Mandatory Credit: Mark J. Rebilas-USA TODAY Sports
2. Rob Kelley Runs For 20 Yards, Outgained By Chris Thompson
Though the Panthers have a weak secondary this year, their front seven has continued to be pretty strong. They have a great group of linebackers led by Luke Kuechly, who is finally healthy. On the defensive line, they have a terrific group of defensive tackles who are capable of stopping any of the best running backs in the league.
With that said, this game is going to be a tough one for Rob Kelley. The undrafted rookie has been a surprise contributor this season, but he will likely have issues against the Carolina front. Kelley's main strength is his physicality, and he often uses his strength to break through defenses. However, that same physicality is the strength of the Carolina front, and they will likely outperform Kelley in this contest.
I expect that the Panthers will not allow a lot of rushing yards, and I think that Kelley is going to suffer as a result. He will likely record 20 or less yards and could cede a lot of snaps to Chris Thompson. Thompson, a shifty change-of-pace guy, will have a better chance of finding space in the Panthers defense and he may be able to sneak through the holes.
Overall, the Redskins need to get some production out of their running game to avoid becoming one dimensional. In all likelihood, Kelley will be stymied solely because his style will not work against the Panthers defense.
Dec 4, 2016; Glendale, AZ, USA; Washington Redskins defensive end Trent Murphy (93) sacks Arizona Cardinals quarterback Carson Palmer (3) in the second half at University of Phoenix Stadium. The Cardinals defeated the Redskins 31-23. Mandatory Credit: Mark J. Rebilas-USA TODAY Sports
1. Trent Murphy Records 3 Sacks
The Panthers offense has significantly regressed this past season due to some issues that they have had at the receiver and offensive tackle positions. The Redskins are poised to exploit the weakness of their offensive tackles, and Trent Murphy may be the guy with the best chance to do it.
Murphy has had a breakout season in his third year out of Stanford, and he could have a chance to put together a stellar performance. Mike Remmers and Chris Scott are the starters at each tackle position, and neither has dealt well with the edge rush this season. Remmers in particular has struggled in the past, and notably had issues against Von Miller during the Super Bowl.
Murphy will bring a unique blend of strength and athleticism to the Redskins edge rush, and that could cause problems for Remmers in particular. If he can push back the subpar left tackle into Cam Newton, he should be able to get a few sacks. It will be tough to bring down the mobile Newton, but Murphy still will have a chance to put up a huge stat line.
---
---