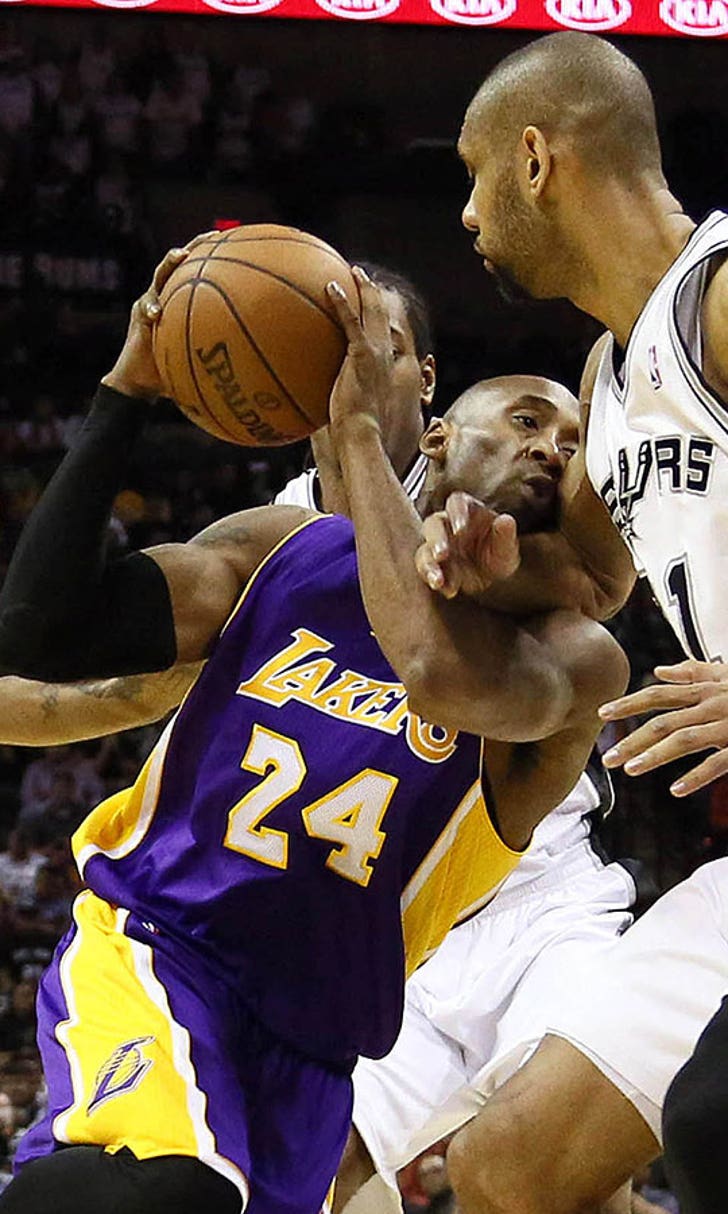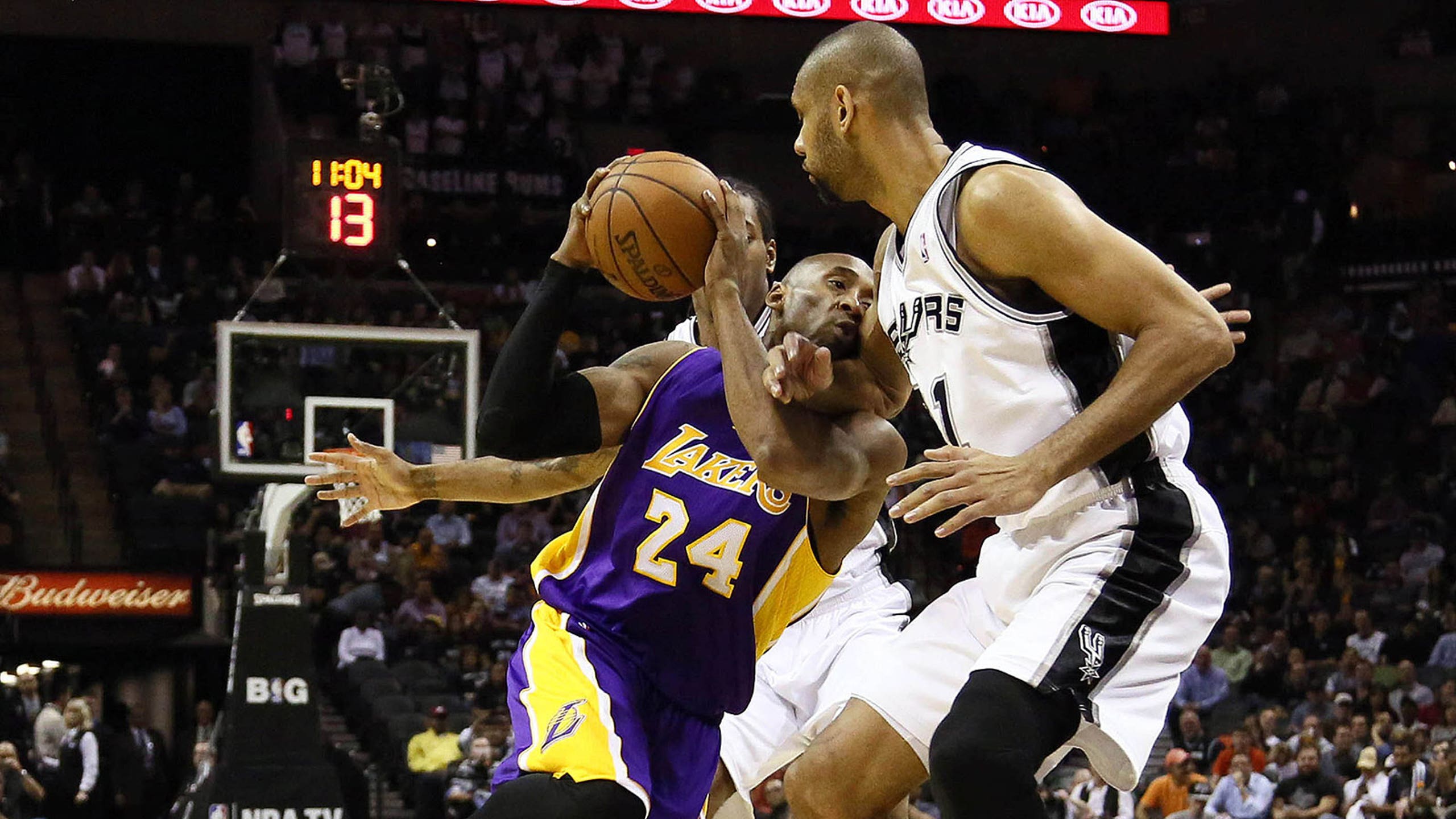 Why Abdul-Jabbar says Duncan, not Kobe, has had the 'better' career
BY Jeff Caplan • February 2, 2016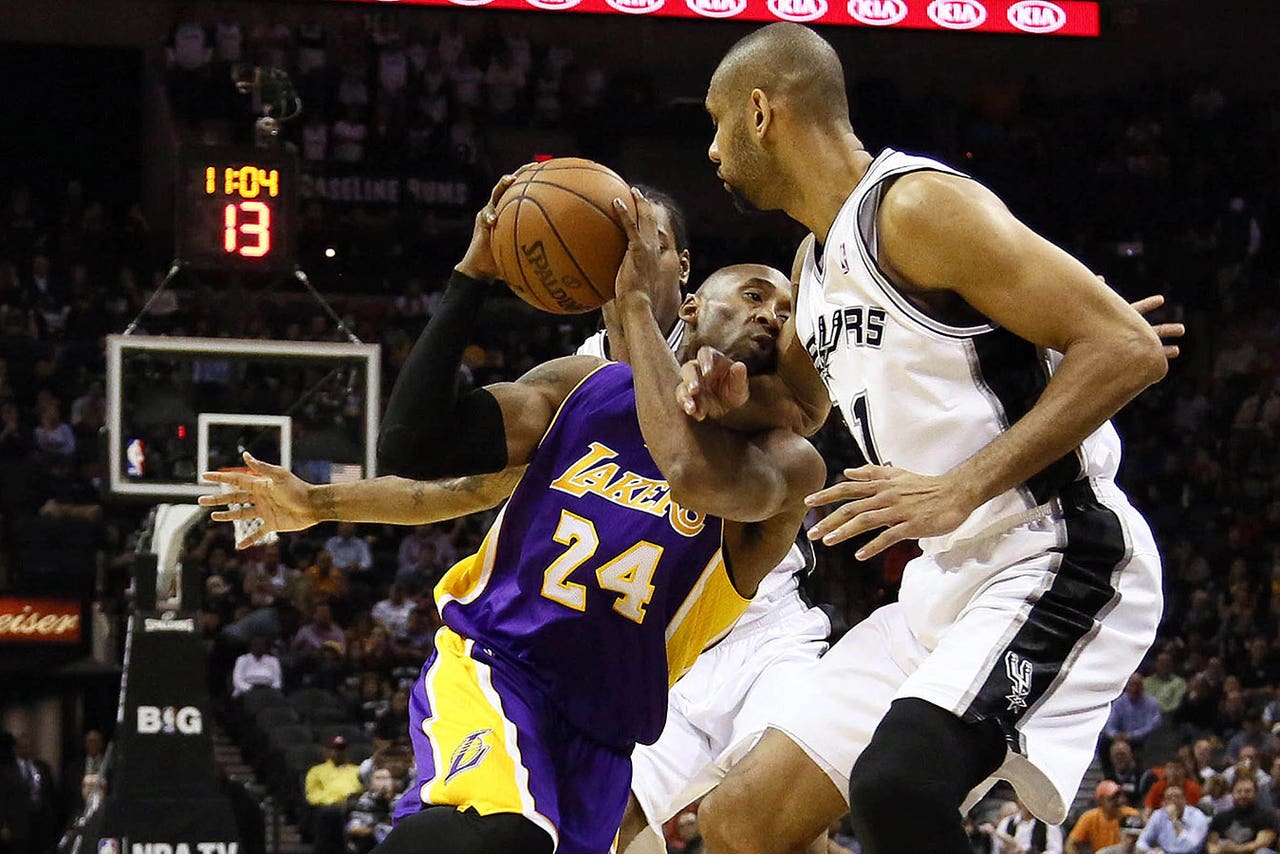 This is why sports exists, so we debate questions that might not have a right or wrong answer, but are never short on opinions. Los Angeles Lakers legend Kareem Abdul-Jabbar chimed in with one of his own when asked recently if Kobe Bryant or Tim Duncan has had the better career.
Abdul-Jabbar's short answer: Duncan.
Abdul-Jabbar, in a long-winding sit-down interview with host Tyler Cowen as part of the "Conversations with Tyler," series at George Mason University, took questions from audience members at the end of the discussion. That's when he was asked Kobe or Timmy?
Here's his full answer:
Abdul-Jabbar is right about the consistent winning Duncan has experienced with the Spurs, who have had the good fortune of retaining Tony Parker and Manu Ginobili at below-market salaries, as well as keeping the front office-coach of general manager R.C. Buford and Gregg Popovich.
(In the video below, fast forward to the 1:14.24 mark.)
The Spurs have consistently surrounded Duncan and the Big Three with players who fit their selfless team culture. As Duncan has aged, the Spurs transformed their style and actually were one of the leaders of today's ball-movement, 3-point offensive style so many teams employ.
Bryant has had peaks and valleys with the Lakers, including the breakup he forced with Shaquille O'Neal after winning three consecutive NBA titles, and the divorce from the Lakers he nearly set in motion in 2007, only to call it off.
Both players have won five championships. Bryant, who is third on the NBA's all-time scoring list, isn't going to get a sixth, we know that. Abdul-Jabbar was right about Bryant's body, too, it is worn down beyond repair. He needs a championship-caliber team around him to win, and he simply doesn't have it. In fact, this Lakers team could go down as the worst in franchise history.
Meanwhile, the ageless Duncan, who changed his eating and conditioning habits several years ago to ward off Father Time the best he could (he's missed four consecutive games with a sore right knee), has a legitimate chance to win a sixth title this season -- at the ripe-old age of 40. A big reason for that as well was his willingness to take pay cuts as he got older to help the team navigate the salary cap. Bryant took the money. He is earning $25 million this season compared to the $5.25 the Spurs are paying Duncan.
The better career? Well, there might not be a right or wrong answer. But let the opinions flow.
---
---