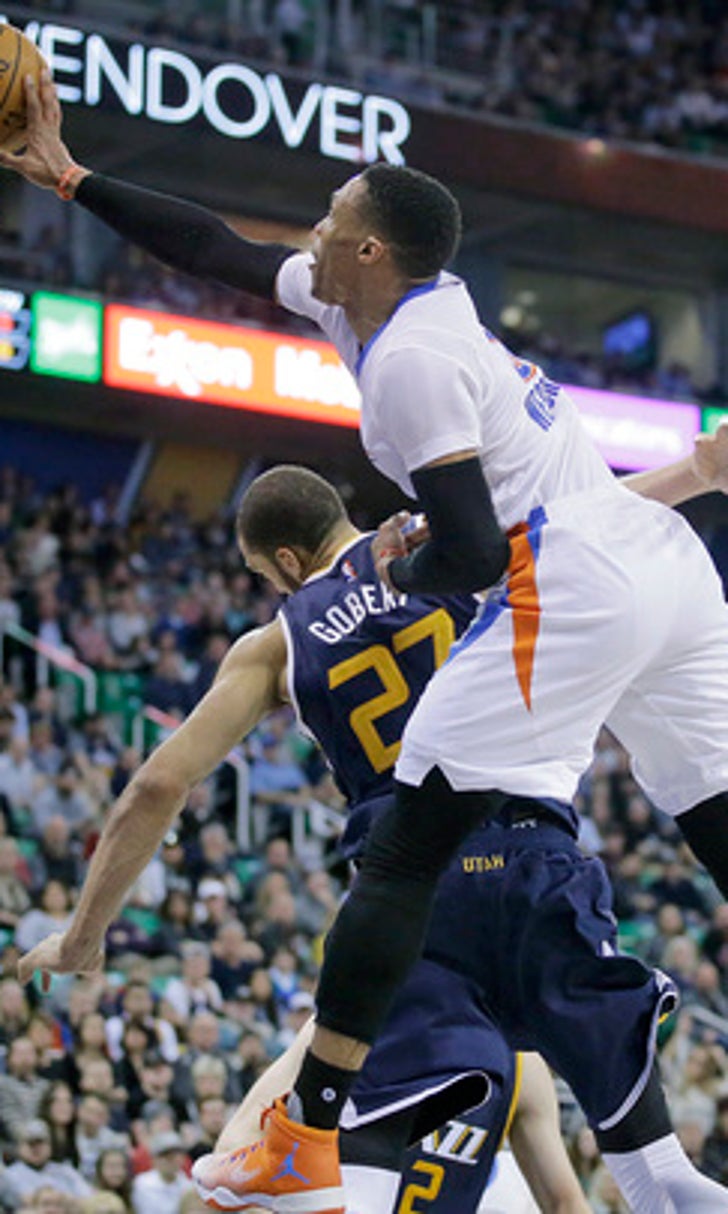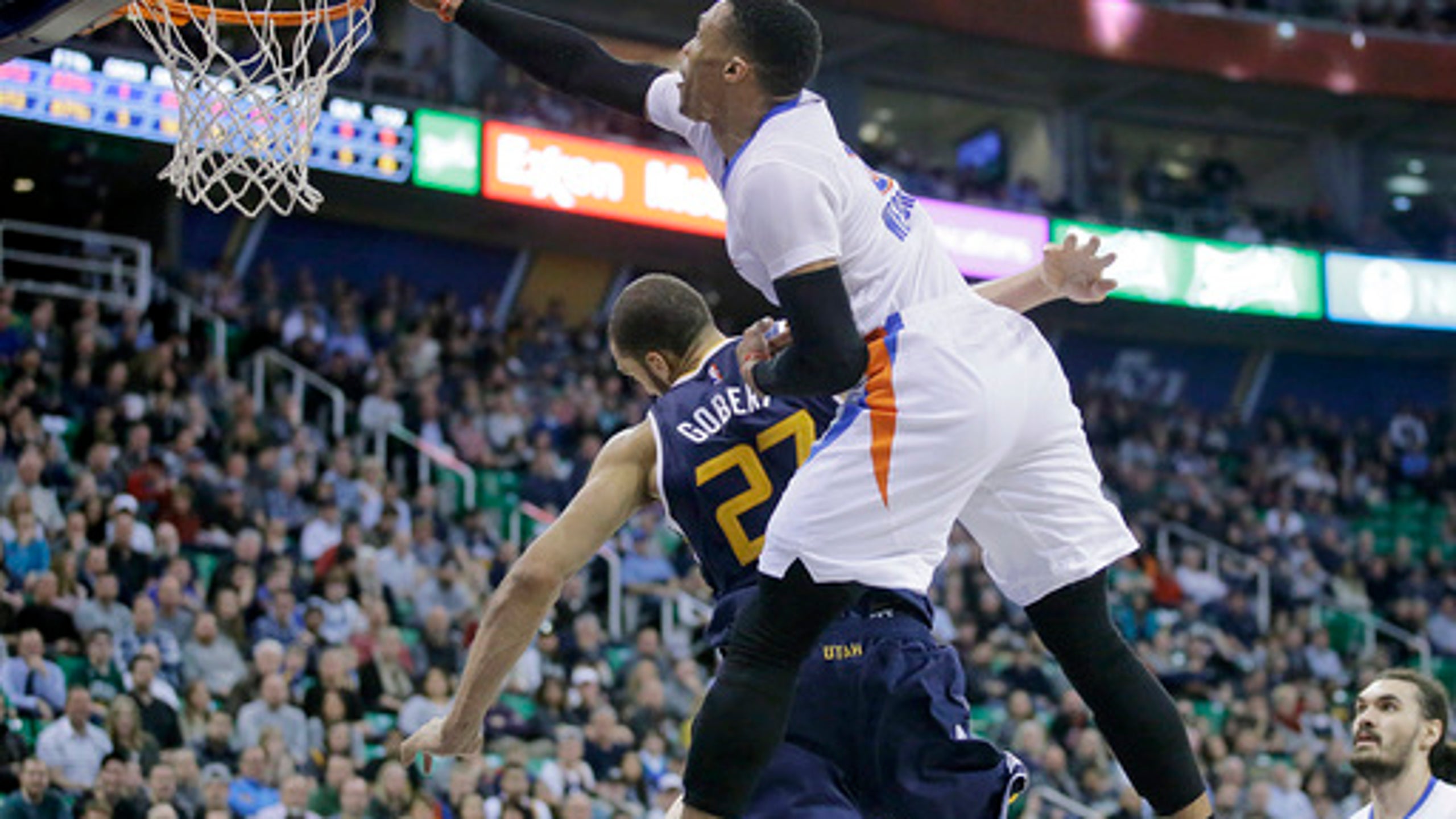 Westbrook hits game-winner as Thunder beat Jazz 97-95 (Jan 23, 2017)
BY AP • January 24, 2017
SALT LAKE CITY (AP) Russell Westbrook sure looked like an All-Star starter.
Westbrook hit a pull-up jumper with 1.4 seconds left, and the Oklahoma City Thunder stopped Utah's six-game win streak with a 97-95 victory over the Jazz on Monday night.
''I didn't want to take the shot too early,'' Westbrook said. ''I was open early, but kind of waited. I wanted to knock some time off the clock.
''Coach made the decision to bring it up the floor and that was good for us. Got the shot I wanted.''
Westbrook lost out to Stephen Curry and James Harden in the race for the starting guards for the Western Conference for the Feb. 19 game in New Orleans. In his first game since the All-Star lineups were announced on Thursday, it was business as usual.
Westbrook took over down the stretch and scored 11 of the Thunder's final 13 points after going cold in the third quarter. He finished with 38 points, 10 rebounds and 10 assists for his 22nd triple-double of the season and No. 59 for his career, tying Larry Bird for fifth on the career list.
''I don't think he even made a shot in the third quarter,'' Thunder coach Billy Donovan said. ''He was doing other things. I thought that he gave great effort defensively.
''No one is going to stay hot an entire game like he was. I give him a lot of credit for just having a great level of belief and trust in himself and confidence and belief in the way he plays.''
Alec Burks missed the final shot for the Jazz as time expired.
Victor Oladipo scored 18 for Oklahoma City.
Gordon Hayward led Utah with 17 points.
The Thunder took a 56-53 lead into halftime after Westbrook dominated the second. The dynamic point guard scored 14 in the quarter to give him 22 at the break.
''He's gonna have makes and misses,'' Jazz coach Quin Snyder said. ''It's tough to take everything away from him. You're up and he's at the rim. Too far back and he's shooting a 3. There was a couple times maybe we could have contested a little better, but that's easier said than done.''
TIP-INS
Thunder: C Steven Adams returned from a two-game absence due to a concussion. ... Reserve Enes Kanter scored 14 against his former team. ... The Thunder are 2 1/2 games behind the Jazz for the fifth spot in the West. ... Rudy Gobert was one rebound shy of his 31st consecutive 10-plus rebound game.
Jazz: Hall of Fame coach Jerry Sloan sat with his Hall of Fame point guard John Stockton during the game. ... Utah is in the midst of a six-games-in-nine-days stretch and Snyder thought his team looked drained Monday. ... The Jazz led by as many as nine in the fourth quarter. ... Rudy Gobert was one rebound shy of his 31st consecutive 10-plus rebound game.
STAYING PUT
The Jazz announced Monday that ownership of the team and Vivint SmartHome Arena has been transferred from Gail Miller to a legacy trust in a move that ensures the team will remain in the family for generations. Miller said the primary reason for the transfer is to make sure the team stays in the state.
HOOD UPDATE
Rodney Hood missed his fourth consecutive game with a right knee hyperextension and bone bruise.
''The original timeline was two to four weeks and, as far as I know, he's on track with that,'' Snyder said. ''He's been in getting treatment and starting to do some work on the court. They're doing all the different measurements and balance tests and all those things.
''He's making good progress. But I don't know if that means we're going to see him later this week or next week. There's another phase there to clear him for some more competitive stuff ... and see how he's feeling. But right now he's feeling good.''
UP NEXT
Thunder: Travel to face All-Star starter Anthony Davis and the New Orleans Pelicans on Wednesday.
Jazz: Visit the Denver Nuggets on Tuesday night.
---
---