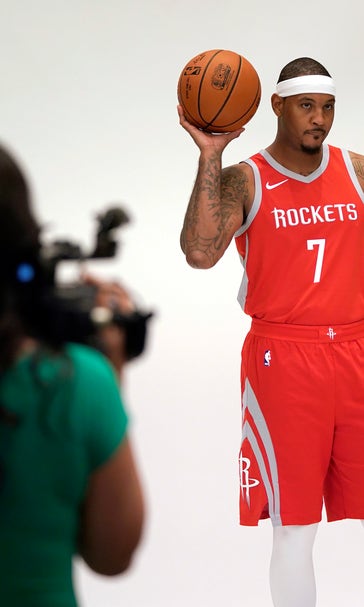 Rockets hope 'Melo can help them to 1st title since 1995
September 24, 2018
HOUSTON (AP) — Houston Rockets owner Tilman Fertitta didn't waste any time telling Carmelo Anthony why he wanted him on his team.
"I'll tell you exactly what I told him," Fertitta said Monday. "'We couldn't win a championship without you last year. And if we win a championship with you this year you're going to be the guy that got us over there. So, it's all up to you.'"
Anthony, who joined the Rockets this offseason after one disappointing season in Oklahoma City, chuckled when asked about that phone call. He was vacationing in South Africa with his family when the phone rang, and Fertitta delivered the message.
"He put a lot of pressure on me," Anthony said. "I'm not even going to lie."
Anthony signed a one-year, $2.4 million deal with the Rockets in August after he was traded from the Thunder to the Atlanta Hawks in July before the Hawks released him.
Fertitta and the rest of the Rockets believe that the 10-time All-Star could be the piece that will help them win their first NBA title since capturing back-to-back championships in 1994-95. But there are questions about how Anthony will fit in with a team that stars last year's MVP James Harden and fellow star Chris Paul.
His tenure in Oklahoma City seemed to start going wrong before it even got started. He became a meme after the Thunder's media day last year when he was asked about how he'd feel about coming off the bench and he responded with: "Who, me?"
He laughed about that exchange Monday but he and coach Mike D'Antoni skirted questions about exactly what his role would be in Houston.
"All the questions of coming off the bench, I don't even want to answer those questions," Anthony said. "At the end of the day whatever I have to do to help this team win a championship then that's what's going to be done."
Harden and Paul both seem thrilled to have the 34-year-old Anthony on their team. Harden had a simple answer when asked why he thought Anthony would be successful in Houston after struggling to fit in elsewhere.
"He's playing alongside me and Chris," Harden said.
General manager Daryl Morey has admired Anthony for years and tried to land him in the past before finally convincing him to join the Rockets this year. He believes Anthony will be a good fit in Houston.
"Even if in recent past maybe they've had some bumpy roads where the fit maybe hasn't been good. We feel like our players, Chris Paul and James Harden and our coaching staff can really get the most out of guys with talent," Morey said. "We really look for players who they have talent in other places that maybe people aren't appreciating but will work better when they're here."
Anthony averaged a career-low 16.2 points in 78 games last season for the Thunder. The third overall pick in the 2003 draft has averaged 24.1 points, 6.5 rebounds and 3 assists in a 15-year career that also included stints with the Denver Nuggets and the New York Knicks, but many feel he has never lived up to his potential.
Though Anthony tries not to let those who doubt him bring him down he did admit that the excitement everyone from Ferttita on down expressed when he signed with the team made him feel good.
"I think everybody loves that feeling. We all need that feeling," Anthony said. "We all need that validation of the hard work that we put in people see that and people recognize that and people to want you to be a part of what they've got going on. And also, they want to be part of what you have going on, too."
After plenty of ups and downs over the past few years, the veteran wants to put the past behind him and is only looking ahead to how he can help this team get over the hump.
"I look at this as almost a clean slate for me and like a fresh start to get out there and have a new team, live in a new city, embrace new fans and also have fun playing basketball again," Anthony said.
---
---