National Basketball Association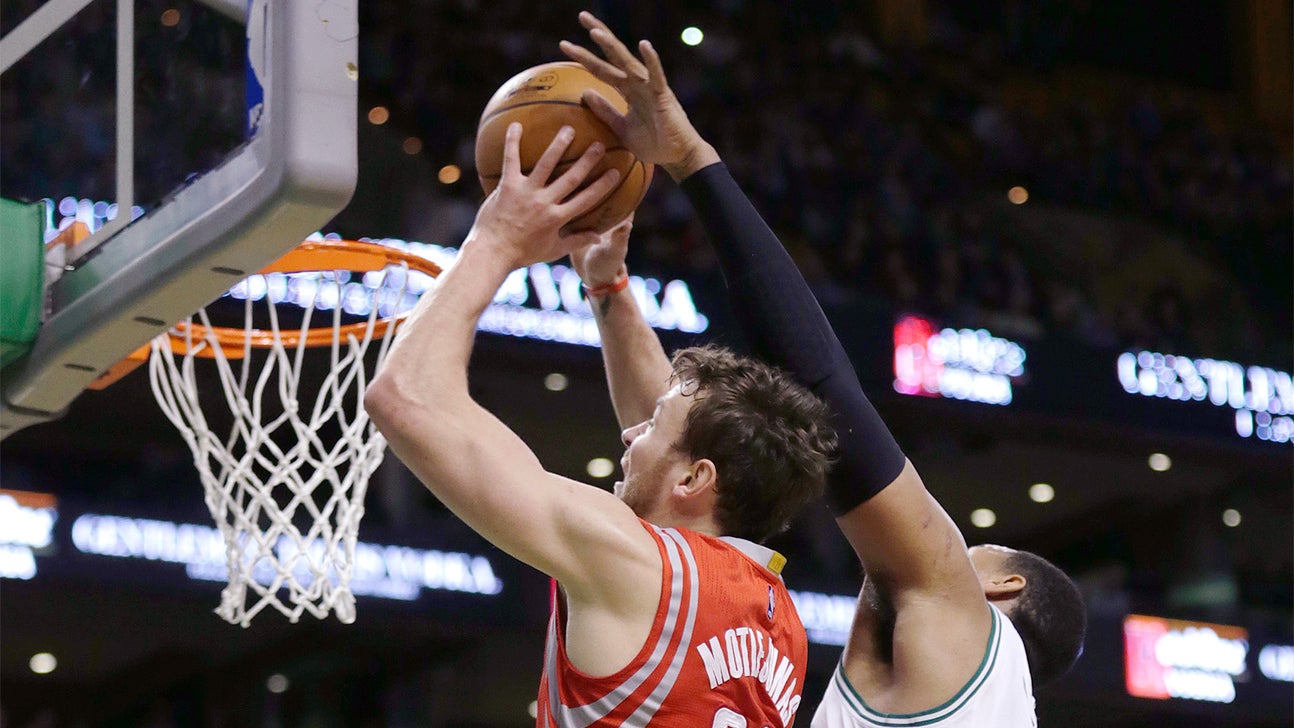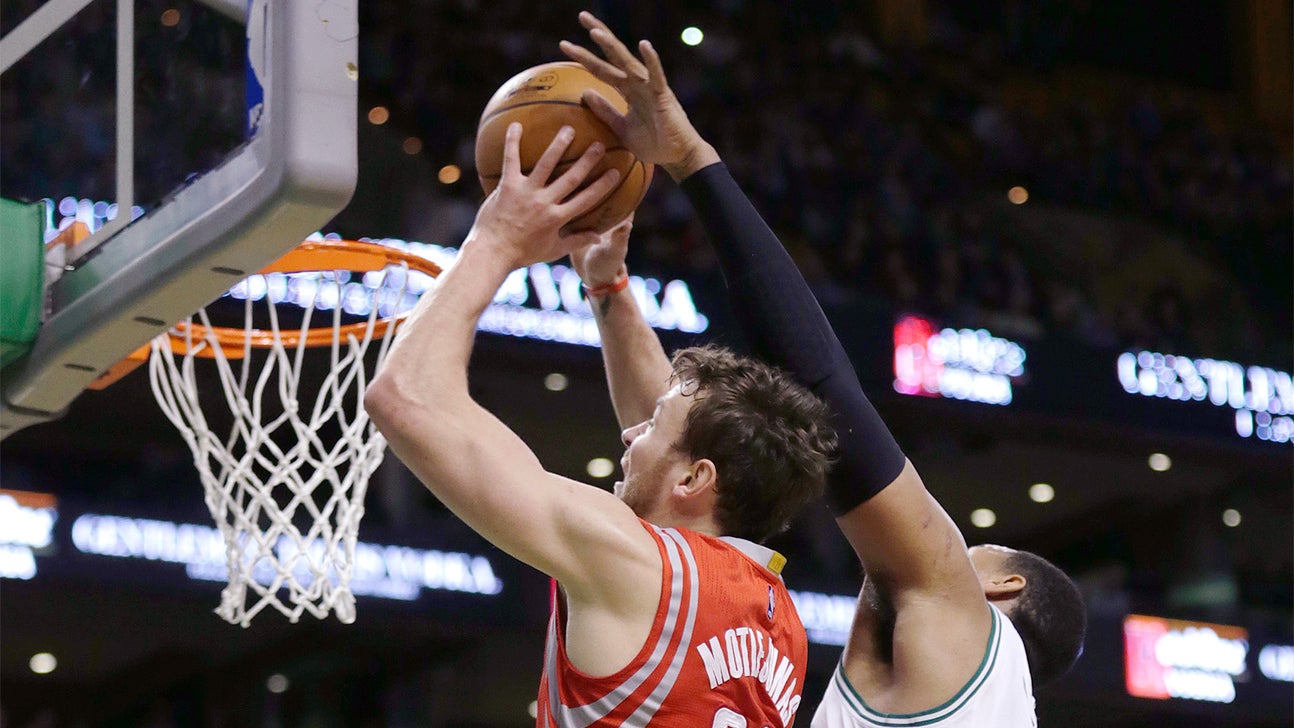 National Basketball Association
Motiejunas scores 26 to help Rockets top Celtics for 4th win in row
Published
Jan. 30, 2015 10:34 p.m. ET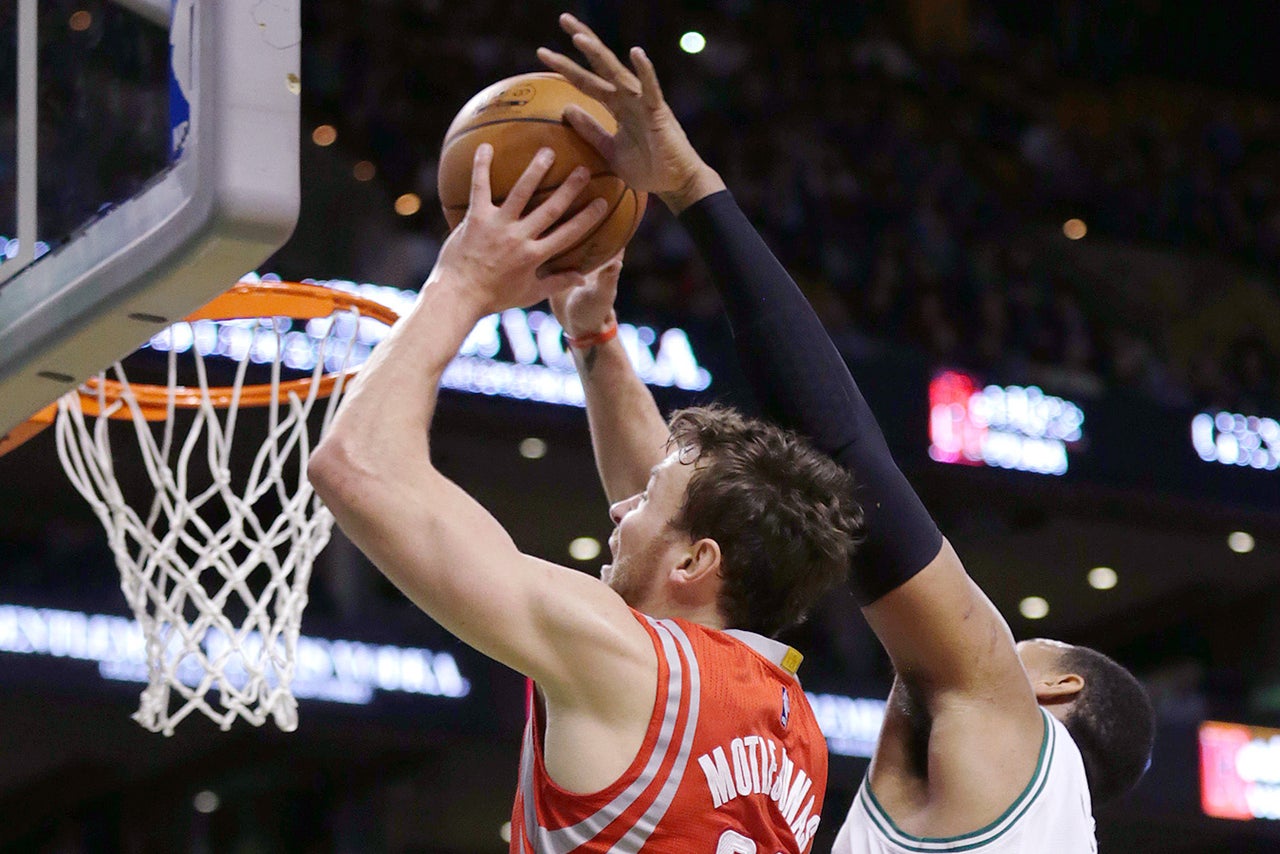 Donatas Motiejunas wasn't thinking about a new career high when he took an alley-oop from James Harden and hit a layup as he fell to the floor late in the fourth quarter. Preserving a Houston Rockets victory was foremost on his mind.
The big man scored 10 of his 26 points in the fourth quarter, as the Rockets withstood a strong comeback by the Boston Celtics to win 93-87 on Friday night.
"I just try and win the game. That's most important to me," said Motiejunas, who added 12 rebounds to the highest point total of his career. His basket extended the Rockets' lead back to five and enabled them to hold on for their fourth straight win.
"His size, first and foremost, was a problem. You could see that right out of the gate," said Celtics coach Brad Stevens, whose team overcame an 18-point deficit at halftime by holding the Rockets to 4-for-20 shooting in the third quarter.
"We played hideous offensive basketball for 27 minutes," Rockets head coach Kevin McHale said. "We played beautiful basketball for the first 21 minutes of the game and then, for whatever reason, I told the guys we just completely changed how we played."
Harden, the NBA's leading scorer, had 14 points on just 4-for-21 shooting.
"We stopped doing things that were working. I definitely slowed things up, especially in the second half," he said. "I'll take the blame for it."
Terrance Smith had 15 points and 10 rebounds for the Rockets, who have won three in a row while star Dwight Howard recuperates from swelling in his right knee. Corey Brewer added 10 for Houston.
Marcus Thornton and Brandon Bass each had 17 for the Celtics. Bass' two free throws before the alley oop capped a 6-0 Celtics run and cut the lead to 82-79.
Tayshaun Prince had 13 points and Avery Bradley added 10.
TIP-INS
Rockets: The team has not put a timetable on Howard's return. `'We won't have Dwight for a while, I'm sure, so we're going to just go out there and play," McHale said. ... The game was played 21 years to the day the Celtics retired McHale's number. On his return to snowy Boston: `'The streets get smaller, baby, I'll tell you that." ... Harden had a four-point play in the first quarter, knocking down a 3-pointer over Marcus Smart and hitting the subsequent foul shot. The Rockets 17-7 road record tops the Western Conference.
Celtics: Fell to 4-20 against teams .500 or better ... Smart has improved his 3-point shooting each month. He shot the 3 at a 43 percent clip in January.
FOOTBALL SUNDAY - BASKETBALL TODAY
Chants of "Drew" came from the crowd when former Patriots All-Pro quarterback Drew Bledsoe was shown on the scoreboard. Bledsoe famously lost his starting job to Tom Brady after suffering an injury during the 2001 season. Brady has been the starter ever since.
NOTHING TO PROVE
The Rockets' Josh Smith has Saturday's game against the Pistons on his calendar. The Pistons waived the veteran on Dec. 22. "I don't have anything to prove. I think I've proven everything on the body of work on being in the league. I just want to get a win," he said.
TOUGH D
Brad Stevens credited his team with playing tough defense on Harden. Harden said Smart defensively is "pretty good. He made a lot of good plays."
UP NEXT
Rockets: At Detroit on Saturday.
Celtics: Host Miami on Sunday.
---
---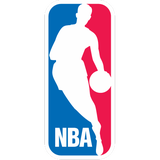 Get more from National Basketball Association
Follow your favorites to get information about games, news and more
---