Lonzo Ball tells Chris Broussard why his shooting form isn't an issue
BY Andrew Lynch • March 29, 2017
Lonzo Ball had a busy day with FOX Sports on Wednesday.

First, the former UCLA standout and potential No. 1 overall NBA Draft pick joined Undisputed to break down why he's not concerned about his father, LaVar, putting a target on his back. Then, he and LaVar sat down with Colin Cowherd on The Herd to discuss Lonzo's business prospects as an NBA player. 

Finally, Lonzo chopped it up with Chris Broussard on the In The Zone basketball podcast as they talked Lakers, whether he'll sign with an agent, what shoe brand he plans to represent on the court, and much more — including why he won't change his unorthodox shooting form.


CHRIS: "Your shot is different. It's accurate, but it's very different. How did you get that form?"
LONZO: "I've been shooting like that a long time. I honestly don't know how it got like that, but I've just been working on it and perfecting it as much as I can so it's comfortable for me, and I just keep using it."
CHRIS: "Did your dad or any coaches ever try to change it?"
LONZO: "Nah, I remember starting off, my dad taught me to shoot regular. So I guess I just got it over there by myself. And he said if it feels comfortable, just leave it like that."
CHRIS: "Now when I look at it — it looks like, as far as, like, taking people off the dribble and pulling up for a mid-range jumper, it could be a hindrance in that regard. Is it a challenge at all, swinging across your body when you're taking somebody off the dribble?"
LONZO: "No. You know, I know that's easier to get my shot off, going off the dribble, especially going right. So it's not [that it's] hard to change, it's just if I'm open, it's easier to shoot my way."


Earlier this month, LaVar joined Undisputed to explain the origins of Lonzo's unorthodox form:

"At first I had him shooting on the right side like [a normal form]. As we were playing older players, he started dribbling to the left because everyone was fading him to the right, so then he had to go to the left. So when he would go to the left hard, the only way he could get it off was [his current form].
"I've got three boys, and they all shoot the heck out of the ball. But check this out. Not one of them have the same form. Because I've always told them to perfect their form and you're good ... If you've got raggedy form and you can put it in the basket, you're a great shooter."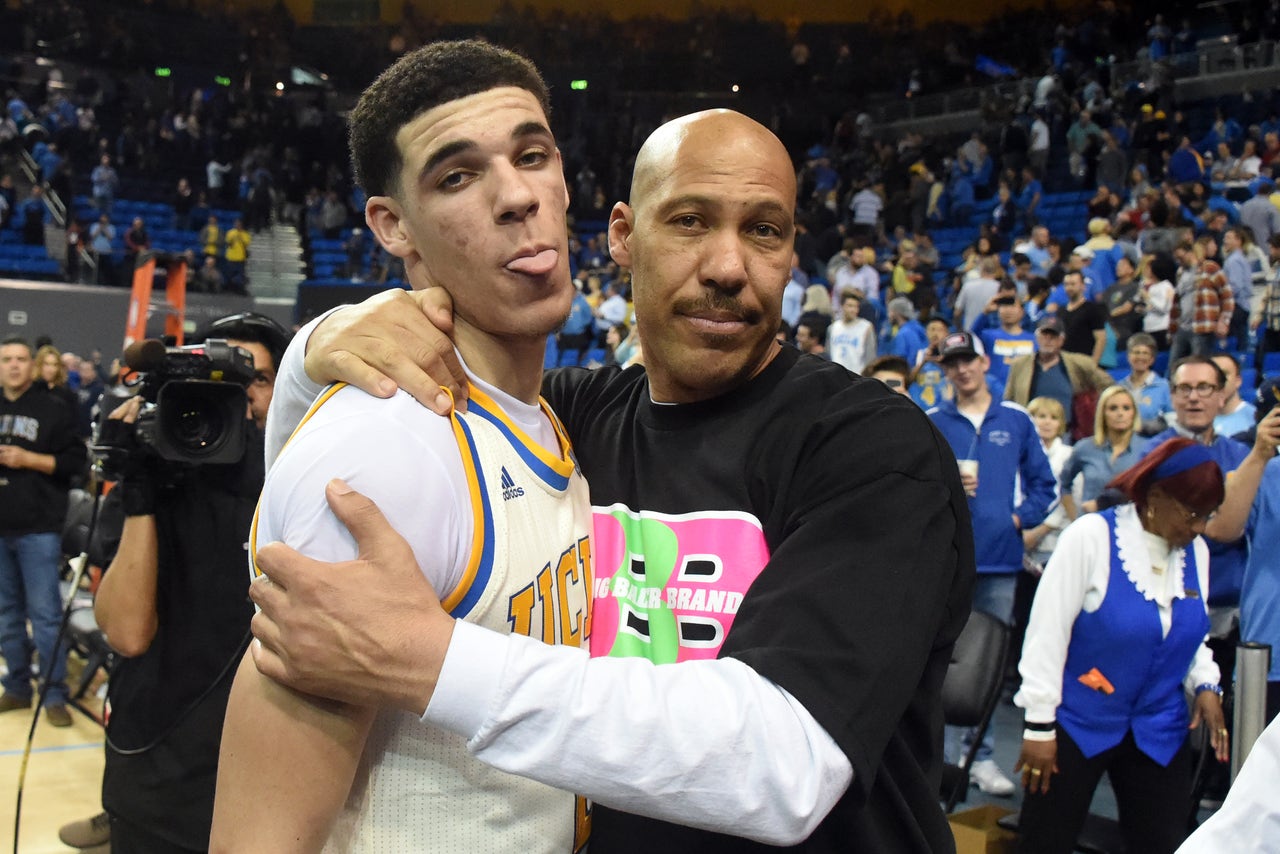 As for LaVar's comments that Lonzo is better than the likes of Stephen Curry and LeBron James, the younger Ball told Broussard he hasn't been challenged by opponents for his father's bravado: "I thought it would, but nothing's happened. They just go out and play, I just go out and play."

Lonzo went on to back up his dad's take that LaVar could beat Michael Jordan one-on-one — but with a twist.

LONZO: "That's my dad, so I'm going to say yes."
CHRIS: "Could he beat you one-on-one?"
LONZO: "No. The only way he can beat me one-on-one is if he cheats."
---
---