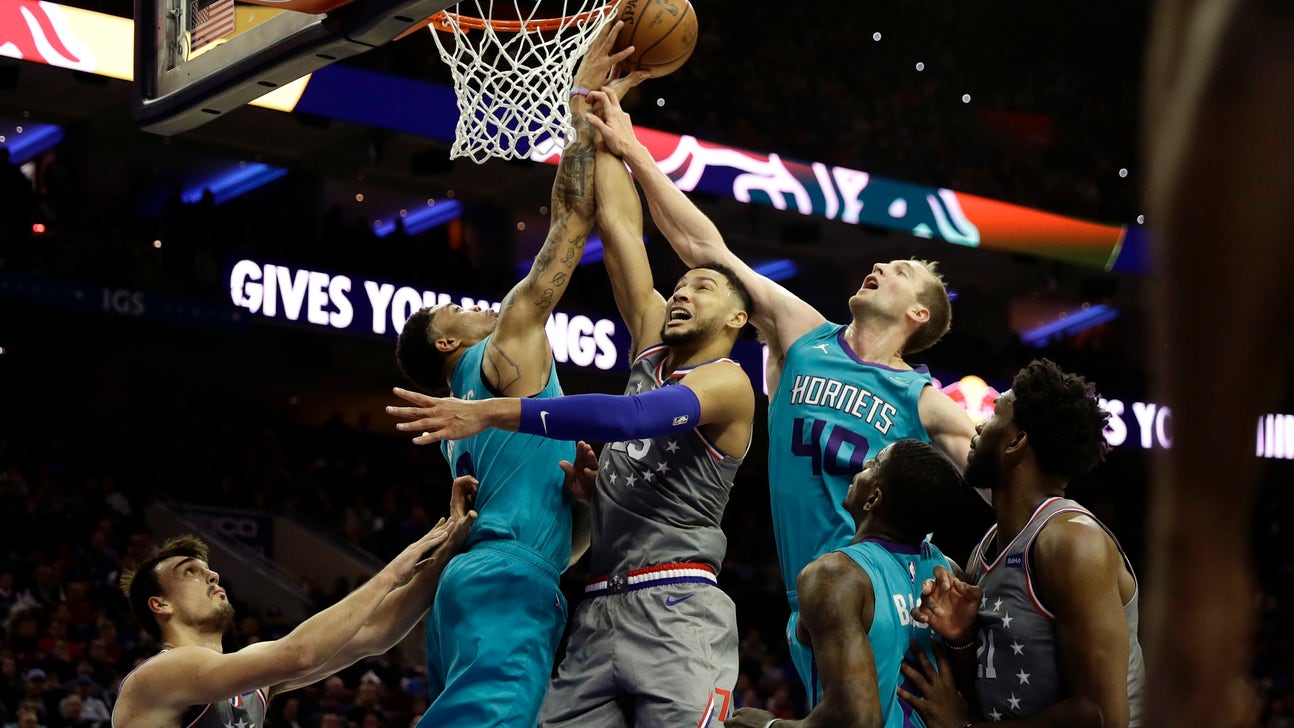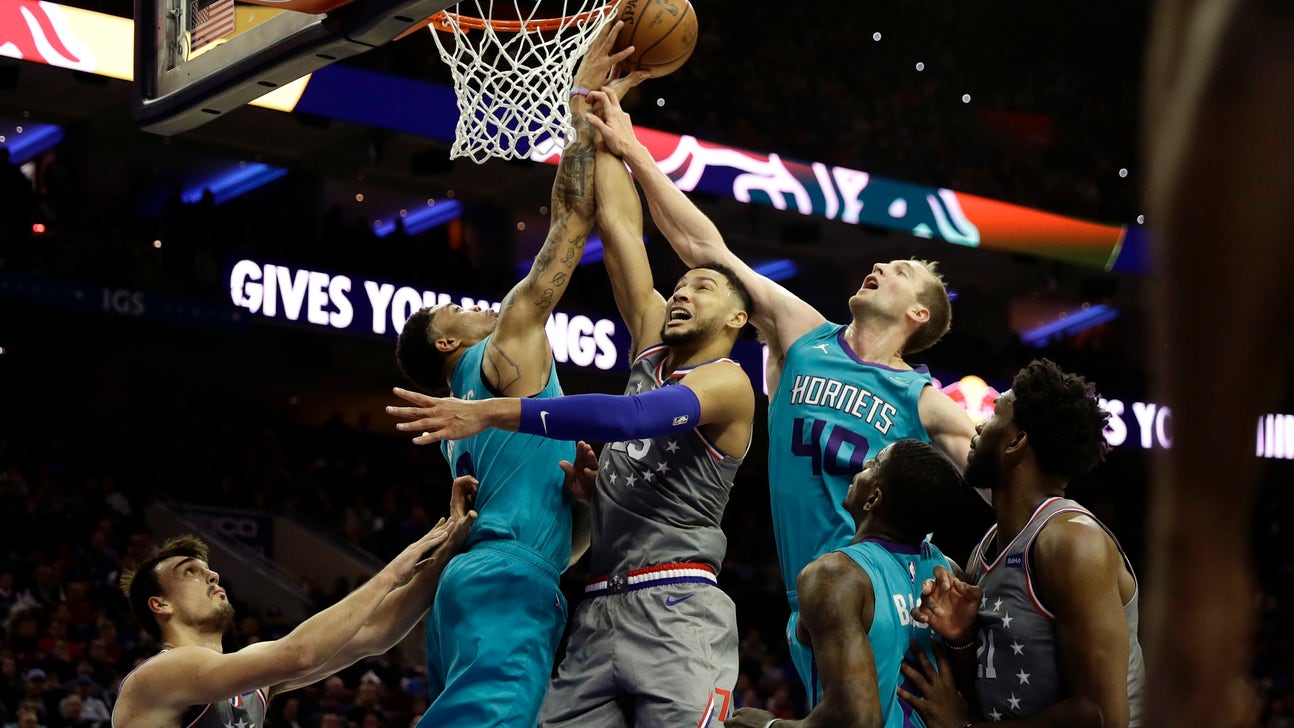 Joel Embiid has 42 points, 18 rebounds in 76ers' OT win
Updated
Mar. 4, 2020 9:37 p.m. ET
PHILADELPHIA (AP) — Joel Embiid scored 16 of his 42 points in the fourth quarter to help the Philadelphia 76ers beat the Charlotte Hornets 133-132 in overtime Friday night.
The Hornets fought back from a 21-point deficit and led by five with 1:18 remaining in regulation before the Sixers forced extra time.
Kemba Walker scored 19 of his 30 points in the fourth quarter for the Hornets.
Embiid also had 18 rebounds, and hit a tying 3 with 34.4 seconds to go. The Hornets committed a shot-clock violation with time winding down in regulation, missing an opportunity.
Ben Simmons had 22 points, 13 assists and eight rebounds for the 76ers.
MIAMI (AP) — Victor Oladipo had 22 points and 10 assists, Bojan Bogdanovic put Indiana ahead to stay on a 3-pointer with just under a minute remaining and the Pacers beat Miami.
Domantas Sabonis and Darren Collison each scored 17 points, and Bogdanovic had 16 to help the Pacers snap a two-game slide. The Pacers outscored Miami 16-2 in the final 3:31.
Kelly Olynyk led the Heat with 20 points, but missed most of the fourth quarter with an injury. The Heat were again without Dwyane Wade, who's excused while he and wife Gabrielle Union-Wade continue celebrating the birth earlier this week of their daughter.
SALT LAKE CITY (AP) — Joe Ingles matched his career high with 27 points and added a season-high seven assists to help Utah beat Boston in Gordon Hayward's return to Utah.
Hayward had 13 points and seven assists in his first game back in Utah since leaving the Jazz in free agency after the 2016-17 season. He broke his left ankle last season in the opener.
Donovan Mitchell added 21 points for Utah, Jae Crowder had 20, and Rudy Gobert finished with 17 points and 15 rebounds. Terry Rozier scored 22 points for Boston, and Jayson Tatum had 21.
ORLANDO, Fla. (AP) — Nikola Vucevic had 21 points and 14 rebounds and D.J. Augustin came up with big plays in the final two minutes to help Orlando beat Washington.
Augustin had six points, an assist and a steal after Washington cut a 25-point deficit to one at 106-105 with 2:30 remaining. Aaron Gordon added 20 points for Orlando, Evan Fournier and rookie Mo Bamba had 15 points each, and Augustin finished with 11.
Bradley Beal led the Wizards with 27 points. Washington fell to 2-9.
ATLANTA (AP) — Andre Drummond had 23 points and 11 rebounds, Stanley Johnson added a season-high 22 points and Detroit beat Atlanta.
In a game that was essentially decided in the first quarter, the Pistons were so dominant that they scored 74 points and led by 23 at halftime with Blake Griffin, the NBA's fifth-leading scorer, 0 for 2 from the field. Drummond's double-double was the 300th of his career, most in the league since his rookie season of 2012-13. Jeremy Lin had 19 points for Atlanta.
DENVER (AP) — Caris LeVert hit a floater in the lane with 0.3 seconds left and Brooklyn scored the last six points to beat Denver.
The Nets overcame a big bounce-back night from Denver's Nikola Jokic to win their third straight. Jokic had a season-high 37 points and tied his career best with 21 rebounds.
D'Angelo Russell led the Nets with 23 points.
KINGS 121, TIMBERWOLVES 110
SACRAMENTO, Calif. (AP) — Willie Cauley-Stein had 25 points, Nemanja Bjelica scored eight in a row during a big run late in the third quarter and Sacramento beat slumping Minnesota to spoil a huge game for Karl-Anthony Towns.
De'Aaron Fox added 16 points and 10 assists for the Kings. Iman Shumpert scored 17 and Bjelica finished with 14 points and eight rebounds.
Sacramento led by 15 early in the fourth quarter but had to hold off a late surge to end a three-game losing streak to the Timberwolves.
Towns had 39 points and 19 rebounds. Derrick Rose added 21 points, five assists and six rebounds. Minnesota is 0-8 on the road.
---
---