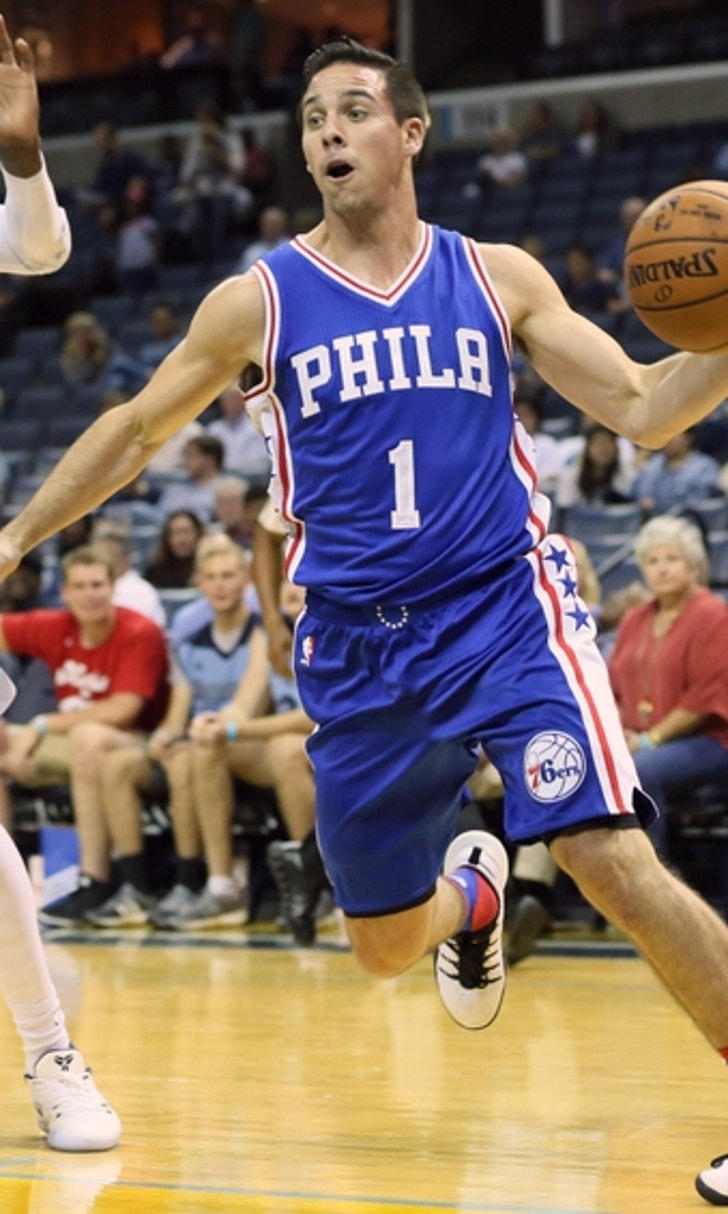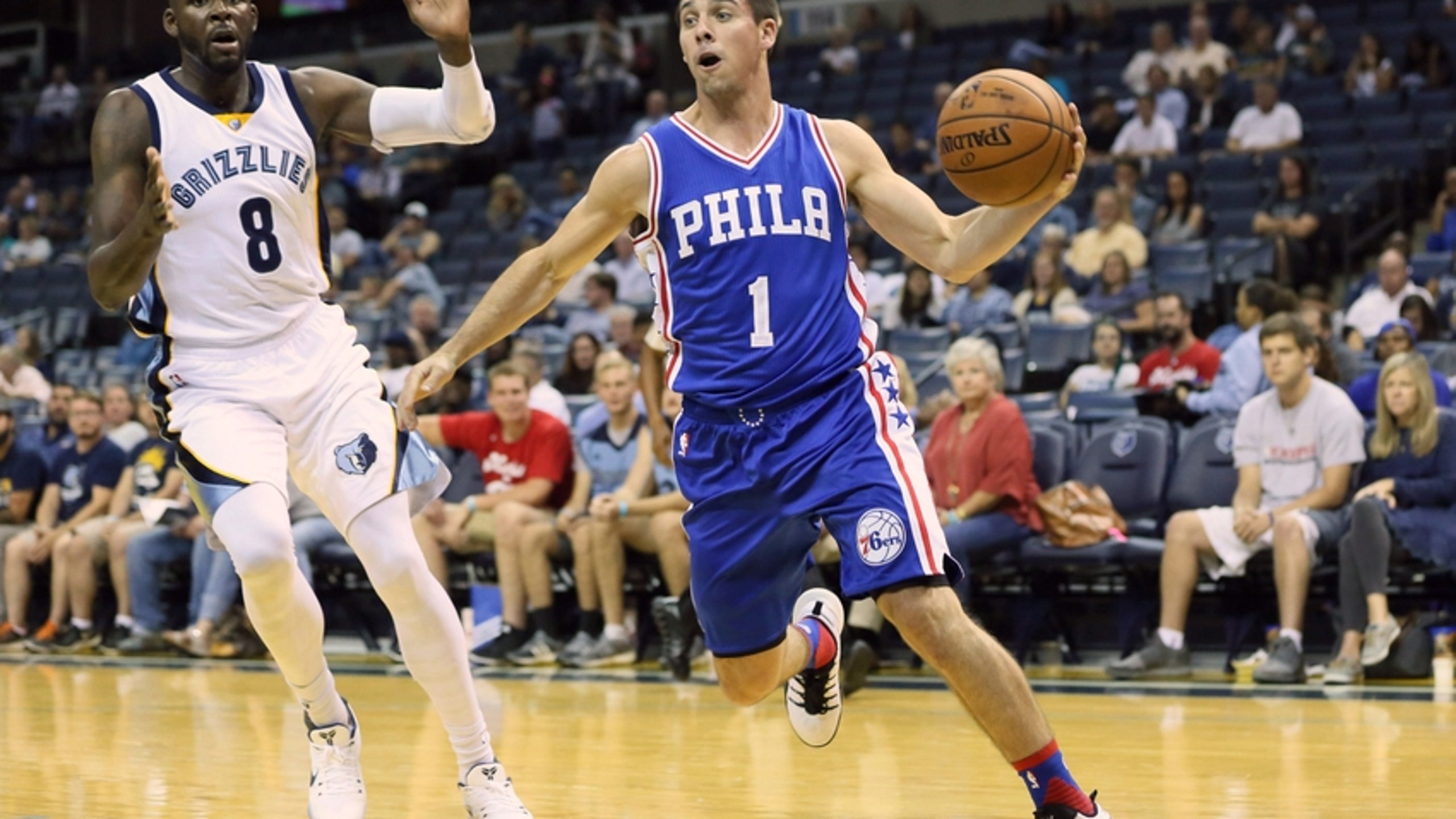 Jerryd Bayless' Injury Could Benefit T.J. McConnell
BY Fansided and Pete Sawan/FanSided via The Sixer Sense • December 16, 2016
With Jerryd Bayless out for the season, Philadelphia 76ers' point guard T.J. McConnell can solidify his spot of the team's roster.
News broke yesterday that Philadelphia 76ers' point guard Jerryd Bayless is now out for the season after undergoing wrist surgery. The injury itself was aggravated by after Bayless took a few nasty falls in his season debut against the Miami Heat and later in a game against the Memphis Grizzlies. It's always unfortunate when guys go down, especially in Bayless' case where you only get to see him play a few games.
But now that he's on the shelf, point guard T.J. McConnell can really make his mark as a backup on the Sixers for years to come. T.J. has been seen as an afterthought for most of the season. He came into this season as the backup to point guard Sergio Rodriguez. Surprisingly, even with an exceptional rookie campaign, expectations for him this season have been pretty low.
More from The Sixer Sense
That all began to change after Sunday's game against the Detroit Pistons. Sunday night's explosive performance brought T.J. McConnell back into backcourt prominence as he nearly posted his first career triple double. The floor general posted 12 points, a career high 10 rebounds, and 9 assists. He was one Robert Covington layup away from posting the milestone in his only start of the season.
With this performance, it got Sixers fans thinking — Is T.J. McConnell in the Sixers' future plans? Well, with the recent news of Jerryd Bayless, T.J. may be sticking around for a little longer. That doesn't mean he just do the same old thing. McConnell is going to have to step his game up if he wants to secure his spot on the team.
In the short term, T.J. is going to have to use this opportunity to show management that he's more than just an undrafted free agent. He needs to come into the rest of this season with the same mentality that he did last year. McConnell works best when the game comes to him. If he starts to try and for things, that's when the turnovers begin to rack up.
This season, McConnell is average 19.2 minutes per game. That's slightly less than last year at 19.8 minutes per game. In those 19.2 minutes he has taken less shots, yet his field goal percentage has gone from 47 percent last year to 43 percent this year. That can be traced back to his lack of a 3-point shot and the fact that defenders realize that he does not finish at the rim. He is going to have to open up opportunities for himself by becoming an even better passer.
Now, that seems counterintuitive. How could you get better offensively if you're not taking the shots? The reality here is that T.J. doesn't need to be the main scoring option on offense. If anything, it would make more sense for him to continue to get others involved. He'll get his if his teammates are getting theirs. Similar to what his buddy Nik Stauskas has been doing, if you get others involve and avoid taking bad shots, you will start to become a more efficient scorer.
So, in order to achieve this, T.J. McConnell needs to continue to get others involved. His assists per game have been around the same as last year's average at 4.6 assists per game. With presumably more playing time, McConnell should be getting more opportunities to dish the rock. With that as an asset of his, McConnell can open up opportunities for guys like Joel Embiid down low or Robert Covington at the top of the key. Eventually, that should translate into a more potent offensive game for McConnell.
On the defensive side of the ball, T.J. has been just as good as last year. Currently, T.J. is 4th in the league in steal percentage at 3.4 percent. This is an improvement on last year's numbers at 2.9 percent. So, at least on that side of the ball, McConnell is showing that grit that made Sixers fans fall in love with him. In the grand scheme of things, that will earn him brownie points with both the fans and the coaching staff.
In the long run, T.J. McConnell's game should translate similar former Sixer Ish Smith's game. Both guys play with a lot of heart and have this edge to them that most guys in the league just don't possess. Both guys are very streaky and can make mistakes if they start forcing the issue. But they both make up for those mistakes on the defensive side of the ball. In order for T.J. to maintain his spot on the Sixers, he would need to limit those mistakes while also provide that added boost on defense.
Most likely, T.J. McConnell will be fighting for a spot on an NBA roster for the rest of his playing days in Philly. His brand of ball is definitely an asset if molded properly. Bayless' situation may have been the rekindling that T.J. needs in order to keep his spot long term. While he might not have the flashiest style of play, T.J. plays the game the way most coaches want guys to play it.
For T.J. McConnell, it's going to be important that he avoids making mistakes that coaches find repulsive. Being careless with the ball and taking unwarranted shots would be the death of T.J.'s playing days in Philly. There is definitely a spot in the league for a guy like him. Hopefully he's able to make that spot right here in the 215.
---
---