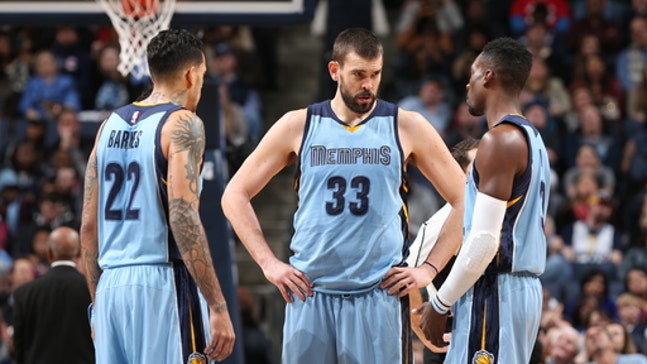 If the Grizzlies make the playoffs, they'll make NBA history
Published
Mar. 15, 2016 11:25 a.m. ET

The Grizzlies have been decimated by injuries this season, but somewhat incredibly, they've managed to stay consistent enough to where they've remained firmly in the playoff mix. 
Memphis is currently sitting at fifth place in the Western Conference standings, and has a seven-game lead on the ninth-place Jazz with 15 games left in the rregular season.
Should they hold on to a playoff spot as expected, the Grizzlies would be the first team to ever make the postseason that's suited up so many different players.
Of the 17 players on @memgrizz's roster, only 4 (Allen/Barnes/Green/Martin) are currently healthy AND have been w/team since training camp.

— Ross Wooden (@RossWooden) March 14, 2016
Based on our own research, @memgrizz (25 players) would be 1st team ever to make NBA playoffs in a season where 24+ players logged minutes.

— Ross Wooden (@RossWooden) March 14, 2016
It is of course possible that Memphis goes on a crazy slide to end the season, as evidenced by Monday night's 49-point loss to the Rockets where someone named Briante Weber started and played 35 minutes. And, even if the Grizzlies do make the playoffs, they're going to get crushed by the Clippers or the Thunder in what would almost certainly be a four-game sweep.
But the fact that they've been able to keep it together with so many different players is a testament to the coaching staff, as well as to the guys who have been able to step in and contribute in place of the team's missing key starters.
---
---