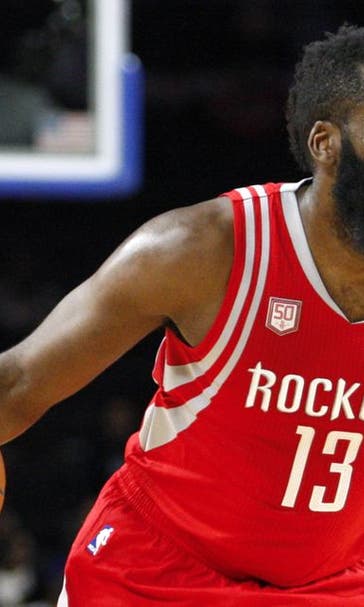 Houston Rockets: 5 Reasons They Could Be Western Dark Horses
December 14, 2016

Fansided, Gerald Bourguet/FanSided via Hoops Habit
The Houston Rockets are playing great basketball right now, but could their offense-heavy approach actually make them contenders? Here are five reasons that might be the case.
Nov 21, 2016; Auburn Hills, MI, USA; Houston Rockets guard James Harden (13) dribbles the ball against the Detroit Pistons during the first quarter at The Palace of Auburn Hills. Mandatory Credit: Raj Mehta-USA TODAY Sports
The Houston Rockets have been hard to peg over the last few years, flitting between legitimate Western contender and early exit disappointment, enjoyable viewing experience and unbearable to watch, and well-rounded play to one-sided offense centered on three-point lust.
Perhaps that's what happens when the last few years have included James Harden's rise and fall in the public eye from MVP candidate to defensive scapegoat. Maybe that trip to the Western Conference Finals in 2015 set unreasonable expectations, especially when they were followed by all those Hack-A-Shaqs on Dwight Howard, the immediate regression of Houston's supporting cast and and first round playoff exit.
Over the summer, general manager Daryl Morey made the bold decision to embrace the identity of this team and its star player, ignoring the skeptics and investing in free agents that would bolster an already potent offense.
He was forsaking the defensive end a bit, letting Howard walk and hoping third-year center Clint Capela could shoulder the load, but it was an all-in move capped off by the hiring of head coach Mike D'Antoni.
The funny thing is, through the first 25 games of the season, it's worked like gangbusters for a team that many predicted would have to battle for a playoff spot at all.
So far in 2016-17, the Rockets stand at fourth in the Western Conference standings with an 18-7 record; they rank fourth in offensive rating at 110.8 points per 100 possessions; they've successfully integrated their new free agents Ryan Anderson and Eric Gordon; and Harden and Mike D have redeemed themselves as an MVP and Coach of the Year frontrunner, respectively.
Currently on a seven-game win streak, these sky Rockets are in flight. The question is, will they continue to sustain this trajectory and find any playoff delight? The Golden State Warriors and San Antonio Spurs are still the upper class in the West, but here's why Houston might need to be included in that conversation very soon.
Dec 7, 2016; Houston, TX, USA; Houston Rockets guard James Harden (13) celebrates with forward Sam Dekker (7) during Los Angeles Lakers time out in the second half at Toyota Center. The Houston Rockets won 134 to 95. Mandatory Credit: Thomas B. Shea-USA TODAY Sports
5. Developing Youth
One of the chief concerns for the Rockets heading into 2016-17 was the power forward position and how it would affect the team's bench. Ryan Anderson was clearly the team's best 4, but he'd made his money over the last few years as a sixth man. How would the Rockets play this one out?
Houston didn't flinch, starting Anderson all 25 games. Though he's only averaging 12.8 points and 5.6 rebounds in 30.8 minutes per game, he's shooting 39.4 percent from three-point range and brings floor spacing to an offense that thrives on the open lanes it provides for James Harden.
Just as beneficial: the team's frontcourt youngsters stepping up their contributions, and that extends far beyond starting center Clint Capela.
It's mostly been Houston's selections from the 2015 NBA Draft class rising to the occasion with Anderson in the starting five. After being limited to just three games in his rookie season because of a back injury, Sam Dekker has made the most of his chance to prove his worth as the 18th overall pick.
Though his numbers — 6.8 points and 3.8 rebounds in 18.6 minutes per game — don't leap off the page, Dekker has been extremely efficient in D'Antoni's rotation, shooting 50.7 percent from the floor and 38.2 percent from downtown. He may also be wanted for the murder of Enes Kanter:
In what is basically his rookie season, Dekker is averaging more minutes off the bench than any Rockets player not named Eric Gordon. They've come to rely on his steady shooting hand and his surprisingly solid defense, plus his ability to play the 3 or the 4 in small-ball lineups helps Houston maintain its versatility no matter who else is on the floor.
There's also Montrezl Harrell, the 32nd overall pick from 2015. He's only averaging 6.4 points and 3.1 boards in 13.1 minutes per game, but when he's been in the game, he's shown flashes of being a future contributor.
Harrell is only 6'8″, but has the size to play the 4 and the brute strength to play the 5 in smaller lineups. He's an animated dunker and brings bursts of pure energy whenever he checks in. Though he was one of the older rookies of his draft class, he still has plenty of room for growth at age 22.
Neither one is a go-to backup just yet, but for the time being, they're holding down the fort and providing plenty of encouraging signs they can be a part of this team's long-term future.
Dec 12, 2016; Houston, TX, USA; Houston Rockets guard Eric Gordon (10) shoots the ball as Brooklyn Nets guard Caris LeVert (22) defends during the second quarter at Toyota Center. Mandatory Credit: Troy Taormina-USA TODAY Sports
4. Gordon's Resurgence
Eric Gordon may not be putting Lou Williams-esque scoring numbers off the bench, but he might be the frontrunner for Sixth Man of the Year regardless. While Lou Will is wasting away on a Lakers squad that's come hurtling back down to earth, Gordon is thriving for a Rockets team that suddenly finds itself fourth in the Western Conference standings.
Averaging 17.3 points and 2.6 assists in 30.8 minutes per game, Gordon is more than living up to the four-year, $53 million contract he received over the summer. He's shooting 44.2 percent from the field, but his blistering 43.9 percent shooting from downtown — on 8.2 three-point attempts per game, no less — has made him a tremendous asset to Houston's second unit.
Gordon ranks second among all qualifying reserves in scoring (behind only Lou Williams), averaging 18.1 points per game in his 17 appearances off the bench, and he also leads all substitutes in three-pointers made, making him an idyllic fit for this three-point heavy offense.
For perhaps the first time in his career, he's managed to combine high scoring numbers with efficiency, and just as importantly, he's staying healthy.
Knock on wood, but Gordon hasn't missed a single game for the Rockets in 2016-17 after missing 37, 21, 18, 40 and 73 games over his five seasons in NOLA. He's reached at least 20 points in eight games, and during Houston's ongoing seven-game win streak, he's averaging 20.7 points per game.
Most people thought Gordon was washed from the tail-end of his New Orleans Pelicans days, but in a sixth man role for Mike D'Antoni's Rockets, he's experiencing a mid-career resurgence that's helped the Rockets thrive whenever Harden needs a breather.
Nov 12, 2016; Houston, TX, USA; Houston Rockets forward Ryan Anderson (3) pulls up for a jump shot against the San Antonio Spurs during the third quarter at Toyota Center. Mandatory Credit: Erik Williams-USA TODAY Sports
3. Three-Point Prowess
No secrets here, but the Houston Rockets' offense still loves its three-pointers under Mike D. The Rox lead the league in three-pointers attempted (37.4 per game) and made (14.2 per game), ranking just ahead of the Cleveland Cavaliers in both categories at 33.8 attempted per game and 13.5 makes per game.
To put those numbers in perspective, when Houston set the record for the most made three-pointers in a single season in 2014-15 (a record since broken by the Golden State Warriors in 2015-16), they converted 11.4 of their 32.7 attempts per game. This year, they're making nearly three more per game, and taking nearly five more per game.
The Rockets aren't just leading all NBA teams in those categories because they're chucking the long ball at a historic rate though, since they rank sixth in three-point percentage as well (37.4 percent). We're only 25 games into the season, but as of right now the Rockets are on pace to shatter the NBA record for most three-pointers made and attempted in a season.
From Gordon to RyNo to Dekker to Patrick Beverley to Trevor Ariza, the Rockets have a plethora of three-point threats to spread the floor. Those five players are all shooting better than 37 percent from downtown, and ironically enough, it's Harden who's dragging the team average down at 34.8 percent on a whopping 8.4 attempts per game.
Luckily, the Beard is the master facilitator of it all, with his passes accounting for 5.0 made three-pointers per game for the Rockets, even if they aren't outright assists according to NBA.com. All six players are shooting at least 38 percent on catch-and-shoot threes, and if you exclude Ariza, the other five are shooting at least 40 percent.
With D'Antoni in control and Harden at the helm, the Rockets are perhaps the most dangerous three-point offense in the NBA's current pace-and-space era.
Dec 10, 2016; Houston, TX, USA; Houston Rockets guard Patrick Beverley (2) celebrates a made three-point basket during the fourth quarter against the Dallas Mavericks at Toyota Center. Mandatory Credit: Erik Williams-USA TODAY Sports
2. The Return Of Beverley
Making Harden the team's full-time point guard (if he wasn't already) was a smart move for Mike D, but having a perfect complementary guard like Patrick Beverley at the 1 doesn't get enough credit. Now that he's healthy and back on the floor, the Rockets look like a dangerous team again.
In the 13 games since Bev returned from his knee rehabilitation, Houston is 12-2. Though he's only averaging 7.4 points per game, they come with a well-rounded 5.4 rebounds and 4.5 assists, not to mention 40.4 percent shooting from three-point range.
When the Rockets tried to find a big-name point guard (Ty Lawson) to pair alongside Harden in the backcourt, they faltered. But with a healthy Beverley there to cover Harden's lapses on the defensive end, facilitate as a secondary playmaker and knock down the catch-and-shoot looks afforded by Harden's exemplary court vision, Houston's backcourt is at its most dangerous.
There's also the defensive impact to consider. In the 11 games Houston played without its starting point guard, the Rox posted a 6-5 record and a defensive rating of 105.4, ranking them 22nd in the NBA. In the 14 games since, that number has improved 104.9, ranked them 17th, with a 12-2 record attached.
The offensive end has seen a similar boost, with Houston jumping from an offensive rating of 107.5 without Beverley (ranked seventh) to 113.4 points per 100 possessions with him (fourth).
Simply put, this is a different team with Beverley on the floor, and by not employing a point guard who needs the ball to be effective, the Rockets can enjoy a pit bull who will defend, move the ball, knock down open looks, and do everything necessary to win despite a lesser role in the backcourt.
Nov 27, 2016; Portland, OR, USA; Houston Rockets guard James Harden (13) drives to the basket on Portland Trail Blazers center Mason Plumlee (24) during the first quarter of the game at the Moda Center at the Rose Quarter. Mandatory Credit: Steve Dykes-USA TODAY Sports
1. The Beard + Mustache = Winning
The Houston Rockets look like they have the complementary pieces to string together another playoff run a la 2015, but make no mistake about it: This is still the James Harden Show, and it's never been better.
Averaging 28.1 points, 11.6 assists and 7.7 assists per game, Harden would be the player we'd be fawning over as the second coming of Oscar Robertson if not for Russell Westbrook literally averaging a triple-double.
As it turns out, pairing the Beard with the Pringles mustache has made for one hell of combination.
Though he's only shooting 43.8 percent from the field and 34.8 percent from long range, Harden is without question one of NBA's leading MVP candidates through the first quarter of the season. His 5.6 turnovers per game have to be taken with a grain of salt, since the Beard is also leading the league in assists and ranks second in assist percentage at a whopping 51.1 percent.
Harden also leads the league in total points accounted for (56.2 per game), just barely ahead of the NBA's scoring leader, Russell Westbrook (56.0 points accounted for per game).
More from Hoops Habit
With so many three-point shooters flanking him, he can not only facilitate and feed open shooters on the wing by zipping those unstoppable cross-court passes of his, but he's also been able to get to the line a career-high 10.4 times per game, feasting on all those open lanes to drive to rack.
Harden's defense is always a talking point, but he's been better after serious regression in 2015-16. Or at least, the offense has been so prolific with him on the floor that even if the defense is better with him resting, the team is still a net positive with him on the court, compared to a net negative with him off it.
Mike D has not only reminded us that he's still a good coach when his roster includes a quality ball handler/distributor and plenty of perimeter shooters, but he's also unleashed Harden in a way we've never seen before. Make no mistake about it — Harden is the Steve Nash that D'Antoni sorely missed in New York and Los Angeles.
D'Antoni has harnessed the best parts of Harden's court vision and scoring ability, allowing the Rockets to mix an offense-first player with an offense-first coach while adding two offense-first free agents at the same time. Defense wins championships, but it's seriously starting to look like the Rockets want to challenge that timeless adage.
Houston will be hard-pressed to win a title unless everything goes their way and the defense is somewhat mediocre, but for the time being, the Rockets are one of the hottest teams in basketball. With the return of Mike D and the overnight change in public perception of James Harden, they're quite possibly the NBA's best story through the season's opening months too.
---
---