Houston Rockets
Houston Rockets
Harden, Rockets to face stumbling Heat (Jan 17, 2017)
Published
Jan. 16, 2017 6:34 p.m. ET

MIAMI -- James Harden is bringing his MVP candidacy to South Beach ... for one night only.
Harden and his Houston Rockets visit the Miami Heat on Tuesday night in a battle between two teams heading in opposite directions.
Miami (11-30) will finish out the season as it must, but there are no realistic thoughts of playoffs. Heat executives are looking at the 2017 NBA Draft as well as any possible trades that could help them regroup for the future.
The Heat are 1-10 in its past 11 games and owns the second-worst record in the NBA.
Houston (32-11) is currently the No. 3 seed in the Western Conference, and Harden is trying to chase down former teammate Russell Westbrook of the Oklahoma City Thunder in the MVP race.
At a sneaker-launch party last month, the bearded Harden nominated himself for MVP, as per a report in Sports Illustrated.
"The Beard," Harden reportedly said when asked who should be the MVP. "Look at our record -- obviously historic numbers ... just my performance overall."
Harden had 22 points, 11 rebounds and 11 assists on Sunday night as the Rockets snapped a two-game losing streak by beating the host Brooklyn Nets 137-112.
It was Harden's 12th triple-double of the season, and it terminated Houston's first losing streak, small as it was.
The Rockets were "held" to 105 points in each of those two losses, and that counts as a slump with this potent offense. And after matching a season high with 74 first-half points at Brooklyn, Houston arrives in Miami to face a team similar to the Nets.
After all, the Nets have the worst record in the league, and Miami is next-to-last.
True, Houston lost six of its past seven games in Miami. But that wasn't this Heat team.
This Miami team is just 5-13 at home this season, including 2-5 against the Western Conference.
The Heat, though, aren't giving up, at least not publicly. They feel they can still make a run for a playoff spot in the watered-down Eastern Conference, no matter how unlikely that sounds.
"None of us are feeling sorry for ourselves," Heat coach Erik Spoelstra told various media outlets. "I'm learning a lot. The guys are getting better. They are not making any excuses."
This will be the Heat's first home game since Jan. 1. Miami should be well-rested after a three-day layoff and this will start a four-game homestand.
The Heat are missing several players, including the expected absences of guard Josh Richardson (foot) and backup center Willie Reed (sternum). Forwards Justice Winslow (shoulder), Chris Bosh (blood clots) and Josh McRoberts (foot) are all out for the season.
Due to the amount of injuries, the team was allowed by the league to sign a 16th player, and that is expected to be 6-8 forward Okaro White, a former Florida State standout. White was cut by the Heat in the preseason but was averaging 18.0 points and 8.9 rebounds for Miami's NBA Development League team.
Houston is healthy other than 6-10 starting center Chris Capela, who is out due to a foot injury.
With Capela out, 6-8, 240-pound power forward Montrezl Harrell made four straight starts and is averaging 12.3 points during that span. Rockets coach Mike D'Antoni never minds going smaller with his lineup.
Harrell, a 22-year-old who played his college ball at Louisville, was Houston's second-round pick in 2015.
Houston has five players other than Harden who have already attempted more than 100 three-pointers this season, led by Eric Gordon (40.9 percent), Ryan Anderson (40.1 percent) and Patrick Beverley (38.9 percent). Also in that group are Trevor Ariza (37.6 percent) and Sam Dekker (34.0 percent).
Anderson and Gordon are Rockets newcomers this season, arriving as free agents.
Houston has made four straight playoff berths, but it was eliminated in five games in each of the past two years by the Golden State Warriors.
With shot-blocking center Dwight Howard gone as a free agent and with the offensive-minded D'Antoni brought in to coach the team, Houston is a scoring machine. Defense is an afterthought except for role players such as Capela and Beverley.
Only the Warriors score more than the 114.9 points averaged by Houston. Miami scores 98.3 points, which makes the Heat the second-worst offensive team in the league.
---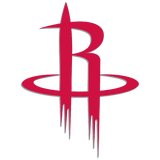 Get more from Houston Rockets
Follow your favorites to get information about games, news and more
---