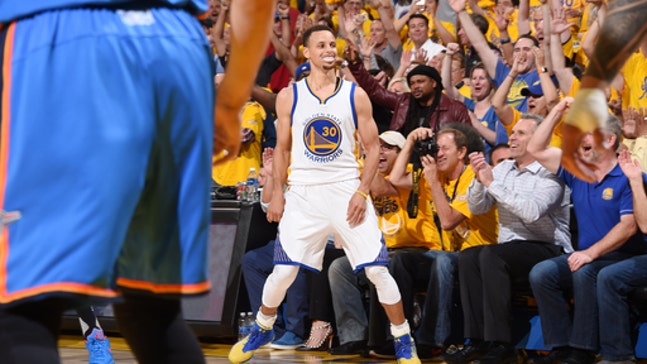 Curry dazzles again, Warriors even series with Thunder 1-1
Published
May. 19, 2016 2:17 a.m. ET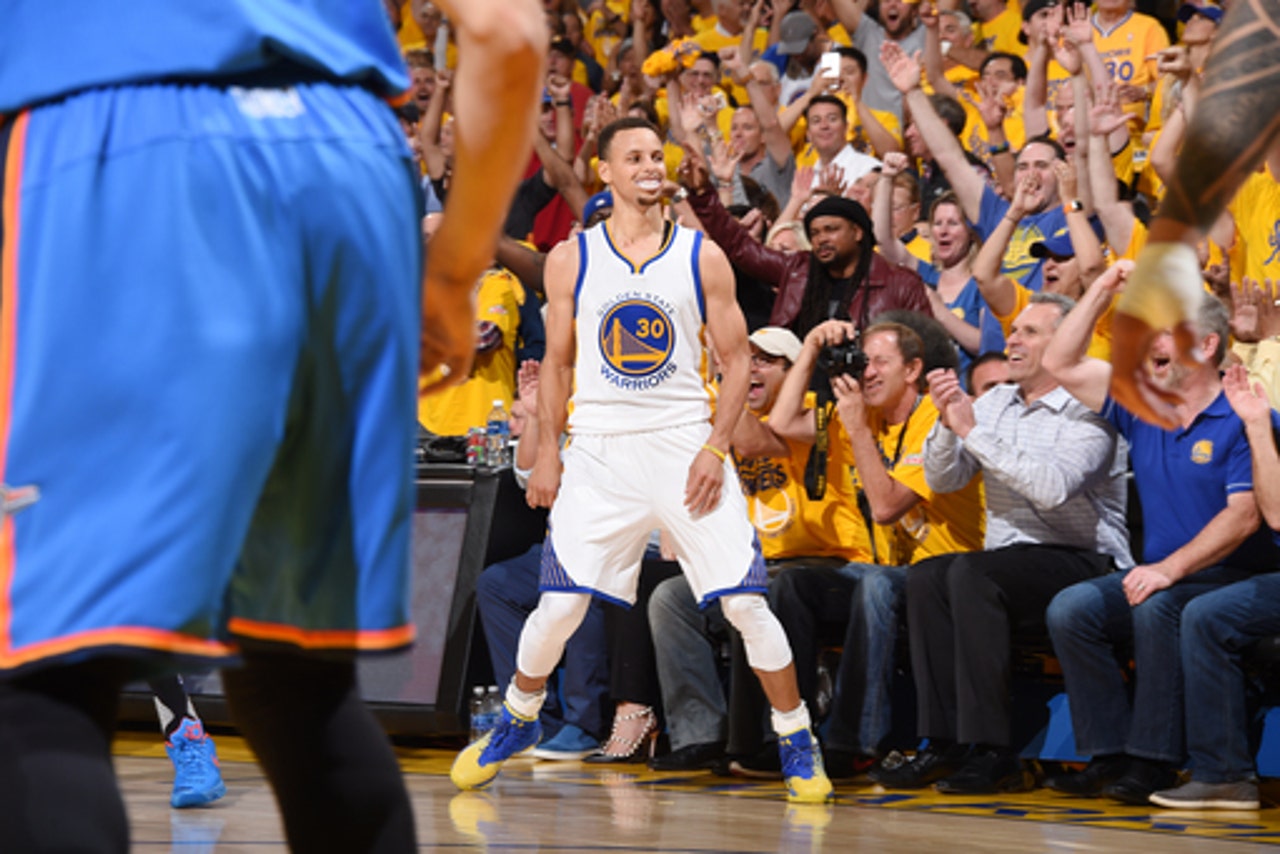 OAKLAND, Calif. (AP) Once Stephen Curry finally gathered himself and got up following a scary first-quarter dive into the stands, everybody inside Oracle Area could take a breath, sit back and watch the MVP put on a spectacular shooting show.
Curry scored 15 straight points in less than 2 minutes during one dazzling third-quarter stretch, and the Golden State Warriors beat the Oklahoma City Thunder 118-91 on Wednesday night to even the Western Conference finals at one game apiece.
''Business as usual. This is what he does,'' coach Steve Kerr said, before being asked how he feels during such a Curry onslaught and responding with a chuckle: ''I feel great joy. It's true.''
The MVP scored 28 points, making 5 of 8 3-pointers and shooting 9 for 15 overall, while Klay Thompson added 15 points in a balanced performance by the defending champions to bounce back from just their third defeat all season at Oracle Arena in the series opener two nights earlier.
''We responded all year long whether it was a bad loss or a sloppy win,'' Thompson said. ''We come back sharp the next game, and it's a testament to everybody on this team.''
Kevin Durant scored 29 points but just six after halftime. Russell Westbrook had 16 points and 12 assists for the Thunder, who were outrebounded for the first time in five meetings with the Warriors this season.
''They were sending three guys. I was trying to make the right pass,'' Durant said. ''Maybe I've just got to shoot over three people.''
Game 3 is Sunday night in Oklahoma City.
Durant provided a big assist during Curry's flurry. He fouled the superstar point guard on a 3-point attempt with 6:33 to go in the third, then swatted his hand in disgust at the call and received a technical - a costly four-point play. While Durant hit a fadeaway jumper moments later, Curry answered by knocking down consecutive long shots, one a 3, to make it 76-59 with 5:47 to go in the third.
NBA Finals MVP Andre Iguodala brought some timely pizazz off the bench. He missed his first five field-goal tries before a beautiful double-clutch, no-look layup in the final minute of the first half and then another basket the next time down that put the Warriors up 57-49 at halftime. He wound up with 14 points for his fourth double-digit scoring performance of the postseason.
Festus Ezeli scored 12 points for his first game in double digits these playoffs, Marreese Speights had 13 points off the bench, and Golden State didn't falter after halftime the way it did two nights earlier in losing Game 1 108-102. The Warriors built a 20-point lead late in the third and kept pushing.
It was a stark contrast from Monday, when Golden State allowed 38 third-quarter and was held to playoff lows of 42 second-half points and 14 in the fourth quarter. Oklahoma City's 14-point comeback in Game 1 was the largest against the Warriors this postseason.
Curry said he couldn't wait for another chance after dropping the series opener for the first time since 2013. Then, he took out any remaining frustrations from Monday's loss on the Thunder.
Even if the do-everything point guard gave the entire building a gasp when he went diving into the stands at the 2:54 mark of the first quarter before slowly finding his way up in one piece. Curry was sidelined by ankle and knee injuries during the first two rounds of the playoffs.
''They were certainly very, very lively on both ends of the floor,'' Thunder coach Billy Donovan said. ''We let Curry get loose a few times.''
Golden State is 12-0 in games after a loss this season and 3-0 in the postseason. So far, Portland is the only team to beat the Warriors twice.
MORE HONORS
Golden State was named ''Sports Team of the year'' and owner Joe Lacob ''Sports Executive of the Year'' at the Ninth Annual Sports Business Awards in New York.
TIP-INS
Thunder: After shooting 8 of 17 on 3s in Game 1, the Thunder were 7 for 23 from long range. ... Oklahoma City outrebounded the Warriors 158-118 in the three regular-season games and 52-44 in Monday's Game 1 before the Warriors' 45-36 edge Wednesday. ... C Steven Adams took a hard hit to the groin with 6:08 left in the second quarter but was OK.
Warriors: Golden State hit 6 of 12 3s in the first quarter, three each from Curry, Draymond Green and Thompson, but the Warriors missed the three they shot in the second period. ... Iguodala and Thompson each reached 1,000 career points in the postseason. ... Thompson had his streak snapped of eight straight playoff games scoring 20 or more points. It was the longest such run for the Warriors since Tim Hardaway did so in 12 consecutive playoff games in 1991 and `92.
---
---