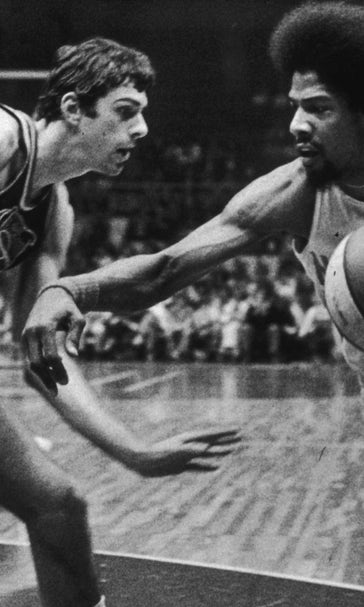 40 years later, Julius Erving says 'the ABA still lives within the NBA'
May 13, 2016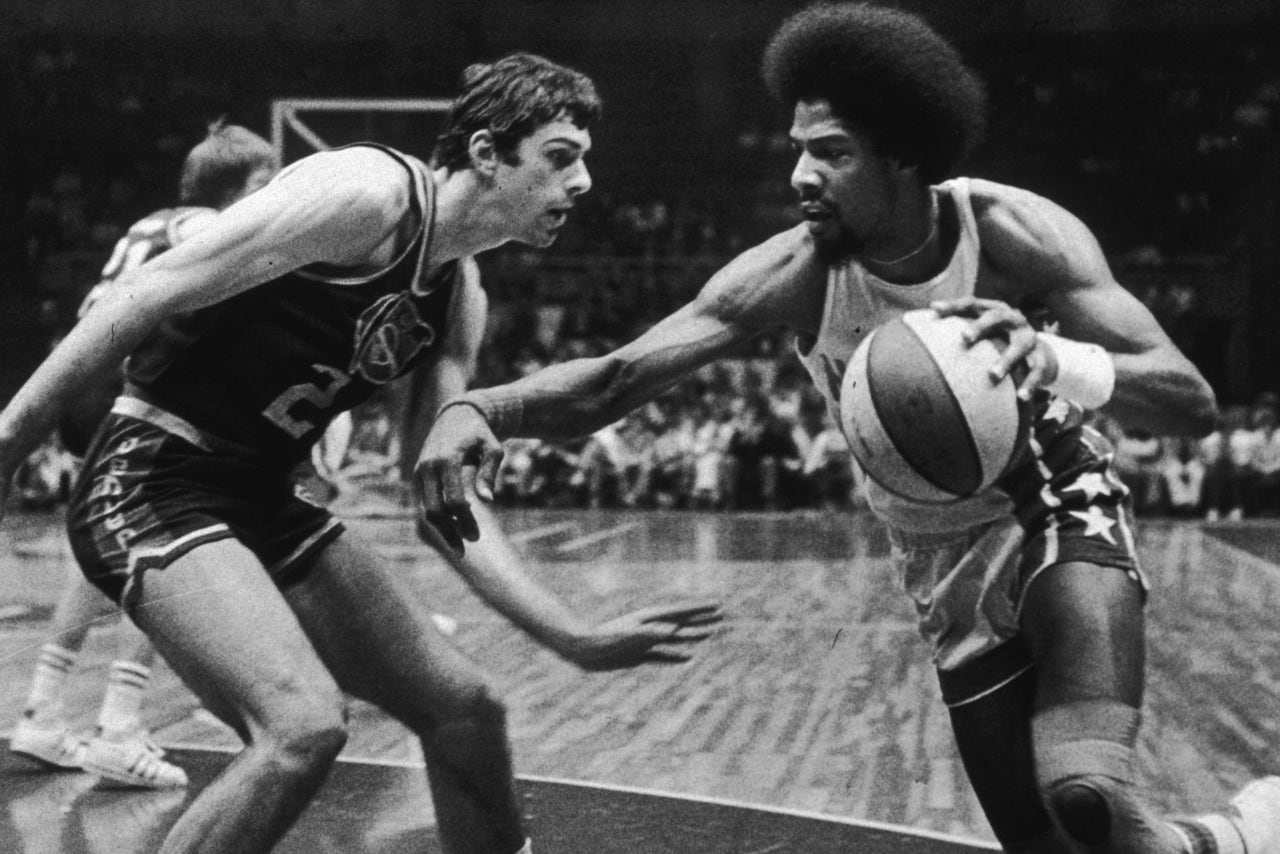 There are two active players in the NBA who were born when the ABA played its final game on May 13, 1976, and neither Tim Duncan nor Andre Miller were old enough when it happened to remember it. Yet, there isn't a single player in the league today who hasn't been influenced in one way or another by the NBA's outlaw little brother.
Whether it's the growing popularity of the 3-pointer or the rise of the slam dunk or something as simple as the use of a third referee, the ABA's fingerprints are all over the current iteration of the game of basketball. And as arguably the best player to grace the league during its nine-year run, Julius Erving has more appreciation than most for the impact the ABA had and continues to have.
"It's been a long evolution over the last 40 years," the Hall of Famer told FOX Sports in a recent phone interview, "but the ABA still lives within the NBA, no question about it."
In the spring of 1976, the death of the ABA was beginning to feel imminent. There had been talks about a merger with the NBA before, but this time it felt like the end was truly near. Prior to the start of the season, the ABA featured 10 teams, but the Baltimore Claws folded during the preseason, and by the beginning of December, the San Diego Sails and Utah Stars had done the same.
Reduced to seven teams, the ABA's future didn't appear especially bright, but when Erving's New York Nets and the Larry Brown-coached Denver Nuggets met in the ABA Finals, the league's long-term prospectus was the last thing on the players' minds.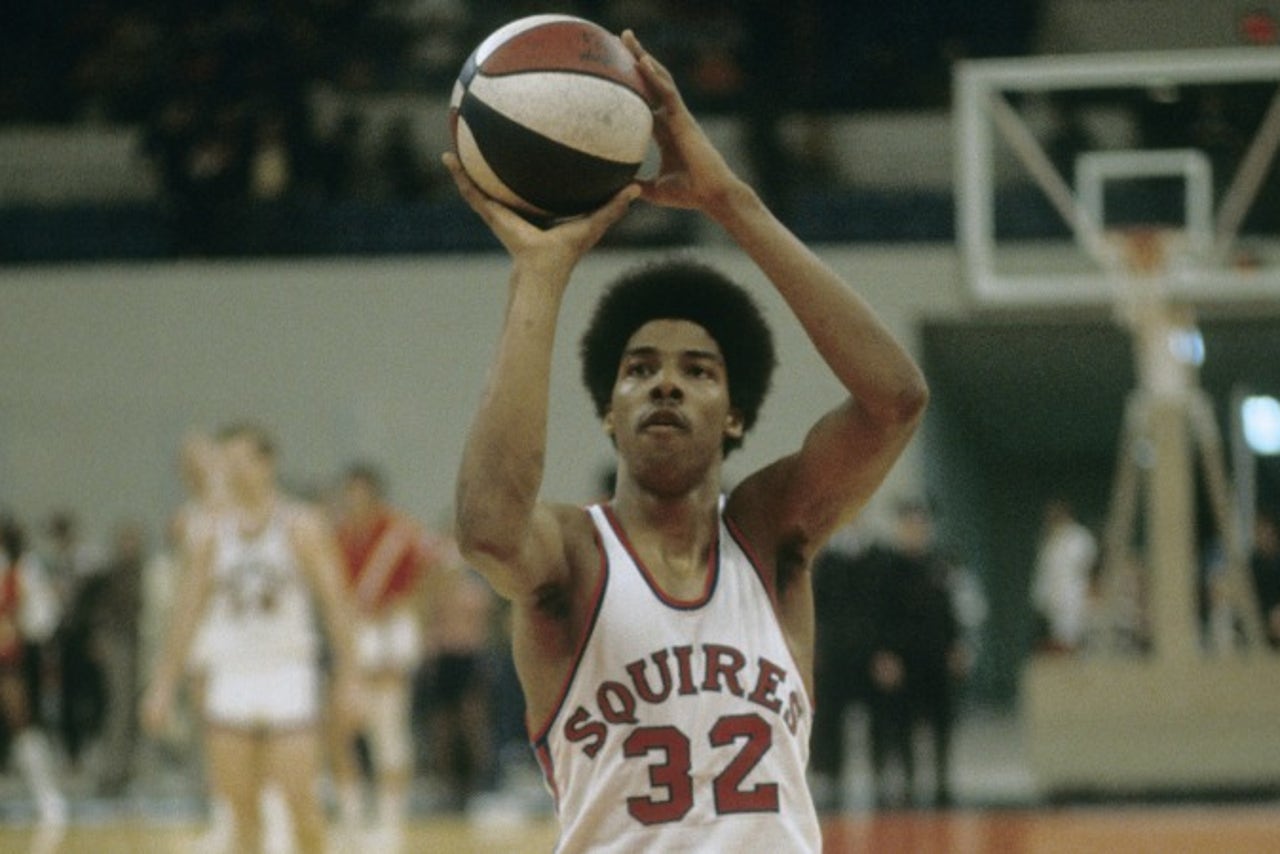 "We were pretty focused on reclaiming the championship," recalled Erving, who left UMass after his junior year to sign with the Virginia Squires in 1971. "We had won in '74 and got knocked out by St. Louis in '75, so we were content fulfilling what our goals were for the season. We knew that Denver team with David Thompson and Dan Issel and Bobby Jones, they had dominated us throughout the season, so we had our hands full with that and weren't really worried about the politics."
For Erving, the league MVP in each of the ABA's final three seasons, that focus showed. In Game 1, Erving scored 45 points on 17-of-25 shooting, including a 21-foot jumper at the buzzer in a 120-118 Nets win. He followed that with 48 points and 14 rebounds in a Game 2 loss on the road.
"I don't think it's been done too often in a playoff series, when you're the underdog going into the other team's building and putting together two games like that," Erving said of his start to the series. "I don't care whether it's ABA, NBA, WNBA, what have you. I don't think that has been duplicated too often. Guys have good games and have big games, but to have 20 points more (than your season average) against, basically, the best defensive player in the league? I think it was just a gift from God that weekend."
The Nets rebounded with a win at home in Game 3, but at halftime of that game, the future of the league took another blow. In a mid-game address, league commissioner Dave DeBusschere announced that the Squires, who had used five coaches during the season, would not be back for the 1976-77 season after failing to make several payments to both their players and the league.
In that same press conference DeBusschere also approved the Spirits of St. Louis' move to Salt Lake City, but acknowledged that it would be "difficult, if not impossible" for the league to continue with six teams. However, the teams played on regardless, and behind 34 points and 15 rebounds from Erving in Game 4, the Nets took a 3-1 series lead with a 121-112 win at Nassau Coliseum.
New York couldn't put away the Nuggets in Game 5 in Denver, however, and when the teams returned to Long Island for Game 6, the home team knew it couldn't afford for the series to go seven. So after entering the locker room down 58-45, Erving challenged his teammates to make the most of the second half.
"We were really fearful of going back to Denver," Erving said of McNichols Arena, where the Nets had gone 0-7 during the regular season. "We had talked about it pregame and we talked about it at halftime. It just wasn't going to happen if we went back to Denver. So much of it was, 'We've got to win this game, got to find a way,' and I think (John) Williamson was one of the keys."
With 5:07 left in the third quarter, the Denver lead had grown to 22, but Erving scored 18 of his 31 points in the period to keep the Nets in it, and Williamson scored 16 of his 28 points in the fourth quarter, including a run of 11 straight that cut the lead to 96-92 with just over eight minutes to go. By the 1:46 mark, it was New York that had taken a four-point lead, and the Nets ultimately held on for a 112-106 title-sealing victory.
"He came out and really started calling for the ball and hitting shots," Erving said of Williamson, at the time a third-year shooting guard out of New Mexico State. "My game ramped up to another level, too, and suddenly it was like five of us playing against one. We were all playing against David Thompson."
It was a championship performance by both Erving (who averaged 37 points and 14 rebounds for the series) and the Nets that got the entire city's attention, despite the constant specter of the NBA's Knicks.
"There were enough good plays, and enough moments and enough drama associated with it, and even though we were in the shadow of the Knicks, we became the toast of New York," Erving said. "The Knicks had their two championship years, and now that was matched by the Nets, and we were right on the heels of them having won in '70 and '73.
"It was a very big deal," Erving continued. "We were acknowledged by Sports Illustrated, Sport Magazine, the whole thing ... and it was a very good moment, a great time in life. At age 26, I really felt as though I was sitting on top of the basketball world."
And just like that, the Nets and the ABA came crashing back to reality. Rather than collapse altogether, the ABA agreed in June 1976 to merge with the NBA, with four of the league's teams -- the Nets, Nuggets, Indiana Pacers and San Antonio Spurs -- making the move.
"I was naive enough to think that it would be for the better for basketball," Erving said. "Even though the ABA was gone as we knew it, the ABA would be represented in the NBA.
"I felt as though the rosters, between 1-12, were certainly a lot deeper in the NBA, but in terms of the top two players or top three players on each team, they could have been exchanged from one league to the other without missing a beat," Erving added. "And evidence of that was the All-Star teams the first year after the merger. Of the 24 players, 11 were former ABA players, and that lent a lot of credibility."
For Erving, personally, a new league meant a change of scenery. As part of the deal to join the NBA, the Nets owed a territorial fee to the Knicks -- $3 million that Nets owner Roy Boe didn't have. The solution came in the form of an offer from the 76ers to buy Erving's rights. Soon after, Dr. J had been shipped to Philadelphia, where he was initially uncomfortable with his role.
"It was a tremendous adjustment to move to Philadelphia -- not because of the competition, but because of how we elected to play," Erving said. "Pat Williams, who was general manager, called me in his office as soon as I signed the contract, and he says, 'I know what you can do, I know what you've been doing, but we have a team here that we've assembled.'
"Doug Collins was the first pick in the draft (in 1973) and George McGinnis had been brought over the year before from Indiana," Erving continued. "And he says, 'With you and Doug and George, if we have three guys who will give us 20 points a night and play within our system, I think we can be successful.' And I said, 'Twenty points? You want me to take nights off?'"
Williams' vision paid off, though, and that season, Philadelphia -- four years removed from the worst season in NBA history to date -- reached the NBA Finals on the strength of 21.6 points per game from Erving, 21.4 from McGinnis and 18.3 from Collins.
It was the start of a seven-year run that included four Finals trips, including a Sixers championship in the 1982-83 season. Erving was also named the league's MVP in 1981 after averaging 24.6 points, 8.0 rebounds and 4.4 assists, making him the only player to win the honor in both leagues.
"It was a relief," Erving said of the recognition. "I never started a season saying, 'I'm going to be league MVP this year,' but the one year my average took a jump, I was intent on using more of my scoring abilities and taking more field goal attempts and just doing something different.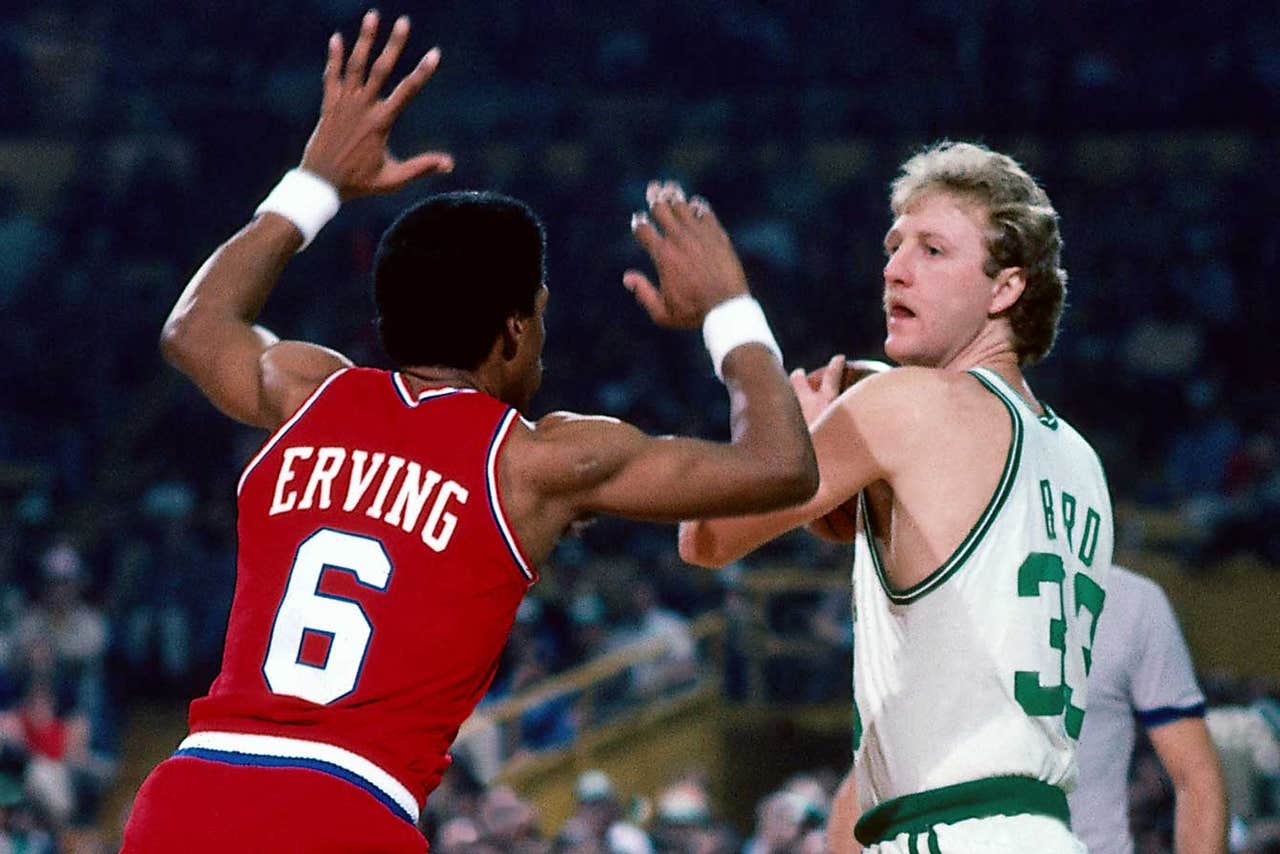 Dr. J guards Larry Bird.
"I'd been getting criticized, and maligned even, with people saying, 'Well, he's not the same guy he was over there,'" Erving continued. "It was kind of like taking a chapter from Wilt's book -- 'OK, you think I can't do that, huh?' But it really was a relief, and I guess validation that I belonged with the best of all time."
And while he may be best remembered as a Sixer, Erving says he still pulls for the league's ABA holdovers to this day, and will always appreciate the avant-garde league where he got his start.
"When I see George Gervin or see Artis Gilmore or whoever, we just embrace each other and recognize that experience that we had," Erving said. "It was ours and it was kind of unique to us because it can't happen again. It just can't happen to anyone else again the way it happened to us. 
"We were sort of weaned in an environment that was professional basketball -- we were getting paid to play -- but we would have been doing it for free, and we had this attitude of one for all and all for one," he continued. "Any time a guy got publicity of any kind, an SI cover or whatever, all the guys would call each other and say, 'This is really good, man, congratulations. We love you.' And the NBA wasn't like that. The NBA was more I and me, you know, 'I've got to get mine.'
"So when I see Freddie Lewis or Steve Jones or Donnie Freeman -- any of those guys who were a part of it," Erving added, "(I realize) that experience brought about an everlasting bond that can't be broken."
You can follow Sam Gardner on Twitter or email him at samgardnerfox@gmail.com.
---
---