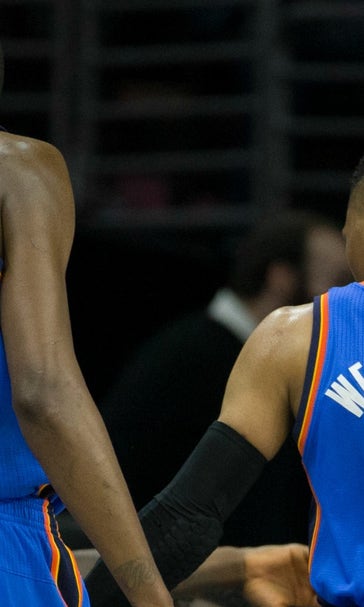 4 reasons the Oklahoma City Thunder have owned the San Antonio Spurs
May 11, 2016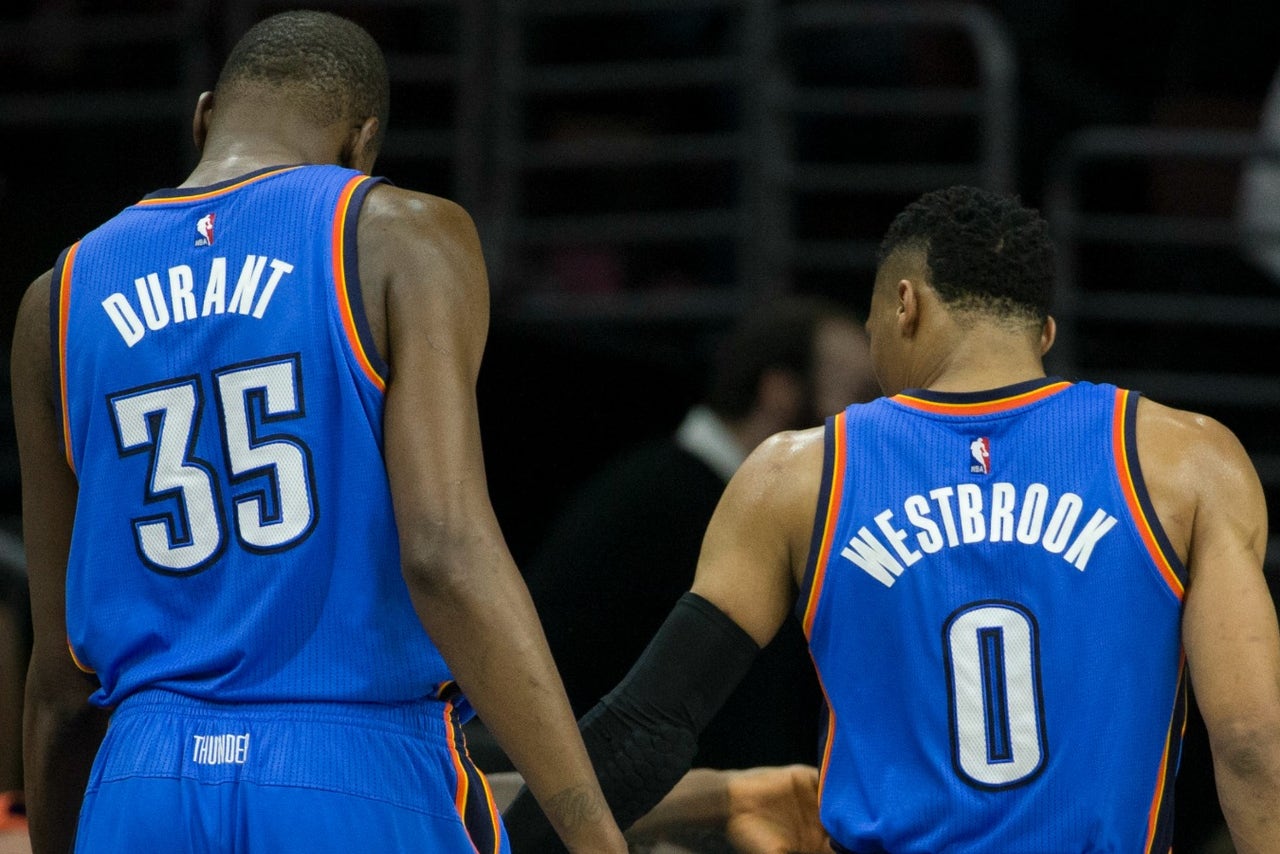 Since getting obliterated in their series opener, the Oklahoma City Thunder have outscored the San Antonio Spurs by 5.7 points per 100 possessions, a somewhat startling mark that helps show just how much trouble the Spurs might actually be in with their season (and, quite possibly the Tim Duncan-Manu Ginobili era) on the line.
Yes, the last four games could've easily gone either way. A whistle here and a whistle there, and the Spurs may have already won this series. But it's all been far more competitive than expected, and the Thunder has thrived in several somewhat-surprising ways on their way to a 3-2 series lead.
Let's have a look at how they're pulling off the impossible.
Oklahoma City is the best offensive rebounding team in the NBA. In this series, they've injected that muscle with drums of HGH, and the Spurs have yet to find an answer.  
In each fourth quarter from the last four games, the Thunder have grabbed an astounding 47.1 percent of their own missed shots. By comparison, they led the league with a 31.1 percent offensive rebound rate during the regular season, and that was viewed as dominant.
San Antonio's exceptional work on the defensive glass was supposed to balance things out; the Spurs finished third in defensive rebound rate during the regular season. But instead, guys like David West and Boris Diaw have been overwhelmed by the likes of Enes Kanter and Steven Adams.
In Game 5, Russell Westbrook came away with four offensive rebounds, in part because his man tends to roam and clog up passing lanes whenever Westbrook doesn't have the ball. Whether it's Tony Parker, Danny Green or Kawhi Leonard, the Spurs need to find Westbrook and put a body on him whenever a shot goes up that he didn't take.
If not, Game 6 will probably be their last of the season.
The Thunder entered this series with the entire country pointing at their thin depth chart and laughing out loud. Beyond Westbrook and Kevin Durant, the roster is a collection of solid but flawed role players who thrive in one area but fail miserably in others. Andre Roberson can't shoot; Kanter can't do anything but helplessly sag defending a pick-and-roll; Serge Ibaka is one-dimensional on offense; and so on and so forth.
But Thunder head coach Billy Donovan has finally discovered a rotation and closing lineup that seems to work. Unplayable liabilities like Nick Collison, Cameron Payne and Anthony Morrow have been all but completely removed from his game plan. 
(Donovan inexplicably decided to close the first half of Game 5 with Collison on the floor, only to watch San Antonio outscore that group by five points in the blink of an eye before yanking him once the Spurs downsized for the final possession.)
But the bench actually hasn't been totally useless! Over the last four games, whenever Kanter, Dion Waiters and starting center Adams have shared the floor, Oklahoma City's outscored San Antonio by 31.3 points per 100 possessions. It's a 46-minute sample size which means little in the big picture, but the Spurs don't have time for regression to take its course.
Kanter and Waiters played the entire fourth quarter in Game 5 (minus the final defensive possession, which Kanter understandably sat out), and a majority of it in Game 4.
These two former lottery picks could easily crumble in Games 6 and 7 (particularly on defense), but until then they're San Antonio's biggest nightmare. Kudos to Donovan for realizing it, and being bold enough to bench Serge Ibaka.
It's unclear just how much of this is San Antonio's inability to, just, well, look like themselves, and how much is Oklahoma City exerting change by packing the paint and relentlessly controlling the boards, but minus a few moments of glittery ball movement here and there, the Spurs don't look like the Spurs we've all come to know and love. 
Over the past four games, they're averaging 305.8 passes, 3.0 secondary assists (a pass that directly leads to an assist) and 39.8 potential assists (a pass that leads to a shot attempt). During the regular season, they averaged 7.1 secondary assists (third best), 331.7 passes (fifth best) and 45.4 potential assists per game. 
Their offense is stagnant and boorish, peppered with an unsightly shot selection that, at times, feels more like the result of their own impatience than anything the Thunder are doing. Particularly down the stretch of the last few games, Parker, LaMarcus Aldridge, Leonard and West have all missed perfectly makable, wide-open shots. 
The Spurs aren't taking advantage of a cement-shoe defense that perpetually stayed one step behind the offense's next move all year long. They aren't moving the ball side to side or making the second-nature cuts and reads they normally do. 
Isolating Aldridge and Leonard may work in the short term, but it also plays right into the Thunder's hands.
The next couple sentences you're about to read are, more or less, the exact opposite of brain surgery. Westbrook and Durant are two of the best basketball players in the world. When they're on the same team, that team is a diabolical handful. 
Only three players in the entire league garnered more MVP votes than Westbrook and only four had more than Durant. For all the criticism the Thunder attack receives for its inability to "look brilliant", installing an equitable offensive system would render these two as strong as their team's weakest link. 
Sometimes it's just better to take the handcuffs off and let them do what they do. Durant leads the playoffs in points (264) and is averaging 29.5 points (on 51.8 percent shooting), 5.8 rebounds and 4.0 assists over the last four games.
After posting a 31-point, 8-assist, 9-rebound line in Oklahoma City's Game 3 loss, Westbrook apologized for his performance. To be fair, he also took 31 shots, but the point stands that this duo is held to an unbelievably high standard; the pressure and responsibility that weighs on their shoulders is unmatched by any other star in the league, including Steph Curry and LeBron James.
In this series, the Thunder offense is averaging 109 points per 100 possessions when Durant and Westbrook share the floor, against a defense that held opponents to a league-best 96.6 points per 100 possessions during the regular season. 
They're unstoppable aliens who're playing some of the best basketball of their Hall of Fame careers. Will it be enough to push the Thunder through to the Western Conference Finals? So far, the answer is yes.
---
---