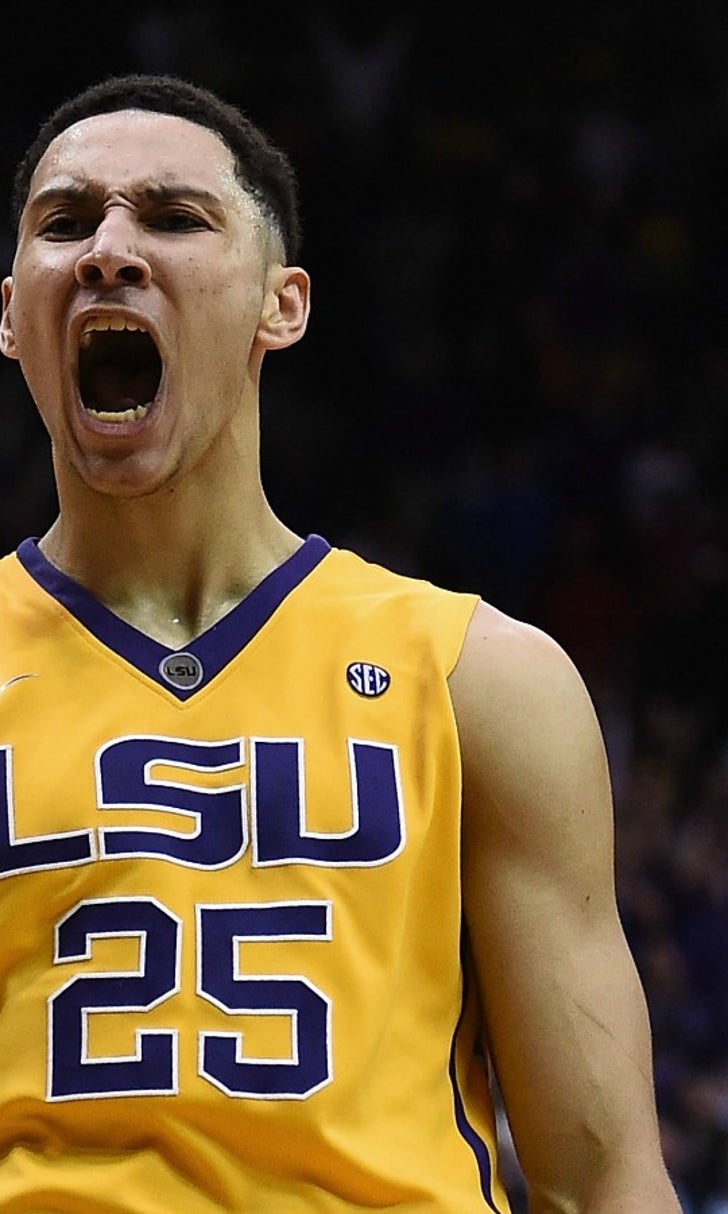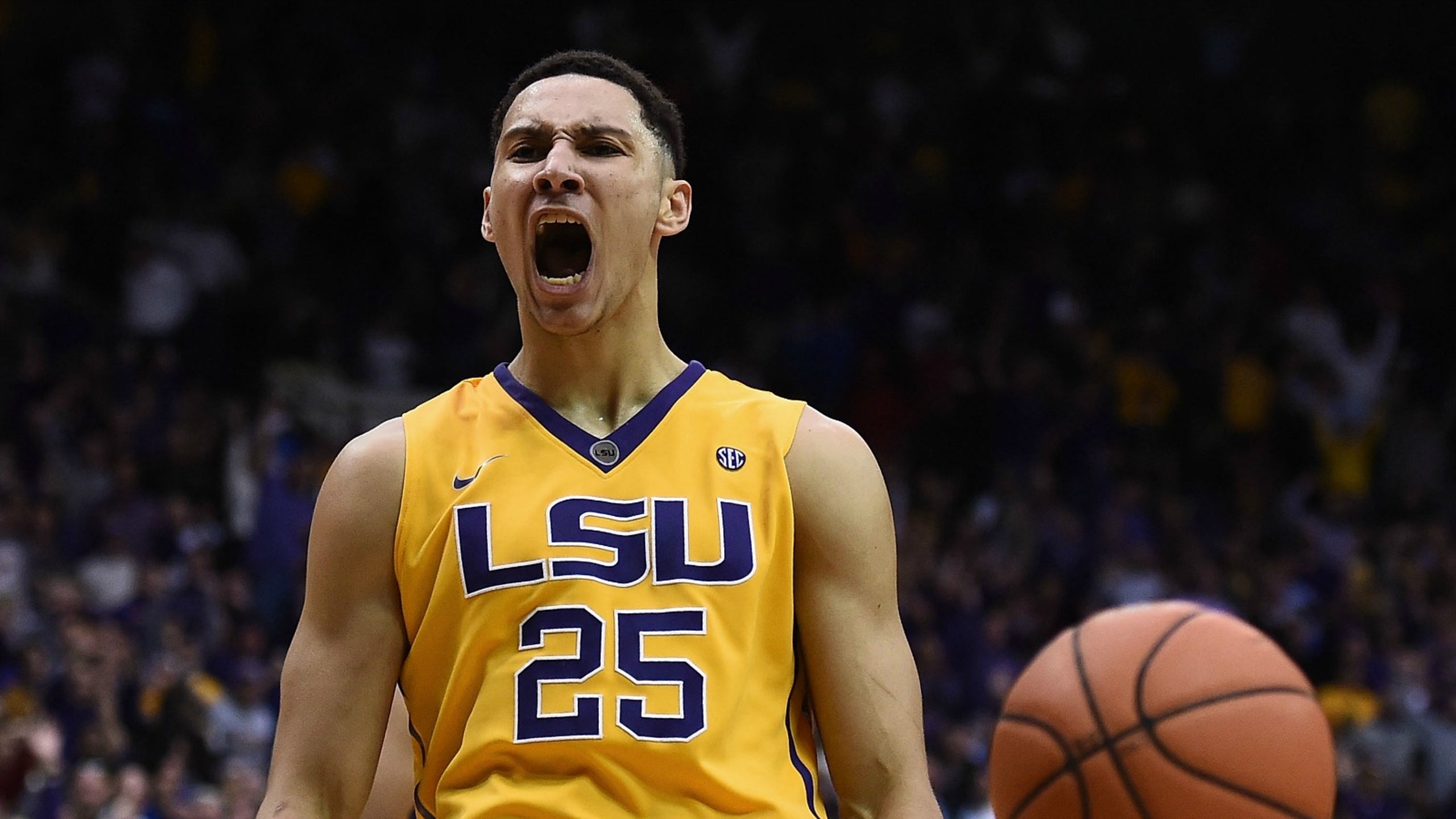 2016 NBA Mock Draft 2.0
BY foxsports • June 15, 2016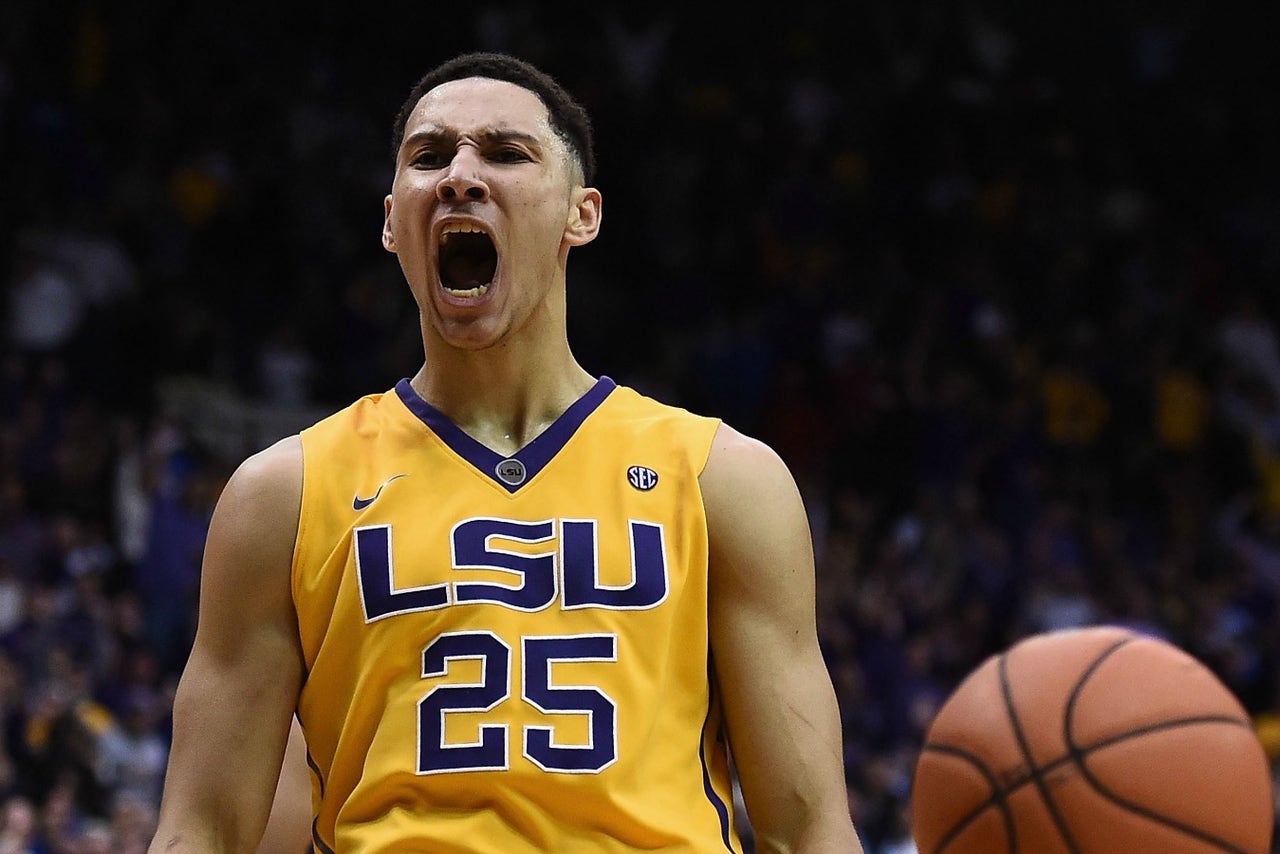 While the NBA Finals have fully captured America's imagination over the past two weeks, it's easy to forget that the NBA Draft is slowly creeping toward us.
Correction, it's not "slowly creeping toward us," it's basically right here, with slightly more than a week until Adam Silver steps to the podium and puts the Philadelphia 76ers on the clock, all while a bunch of (slightly inebriated) New Yorkers fill Barclay's Center with a smattering of boos just a few feet behind him.
That's right, the draft is here, so with eight days until the first selection, how are things shaping up?
Here is FOXSports.com's second mock draft, after we released our first on the night of the NBA Draft lottery.
1. Philadelphia 76ers, Ben Simmons, F, LSU
I told you on lottery night that Simmons was the pick for the 76ers, and nothing has changed since then. Simmons remains the best overall player in the draft, the best passer and arguably the best athlete, with none other than 76ers coach Brett Brown going so far as to compare him to both Magic Johnson and LeBron James.
After years of waiting for a superstar, this is Philadelphia's chance to finally draft one. As I said draft lottery night, let's hope the 76ers don't screw this up. 
2. Los Angeles Lakers, Brandon Ingram, F, Duke
No, Ingram doesn't have the high-end upside Simmons does, and he's certainly not the Kevin Durant clone many made him out to be at Duke. But he's still the second-best player in this draft, and to be blunt, the Lakers need to acquire as many good players as they can, any way they can get them.
Ingram is that guy, and in teaming him up with D'Angelo Russell, the Lakers have the makings of an interesting young core, for the first time in a long time.
3. Boston Celtics (from Brooklyn), Marquese Chriss, F, Washington
Now this is where it starts to get interesting. By all accounts the Celtics want to trade this pick (maybe in a package for Jimmy Butler?), and if they keep it, there has been speculation that they could go with either Jamal Murray or Buddy Hield, after each had incredible workouts with the club.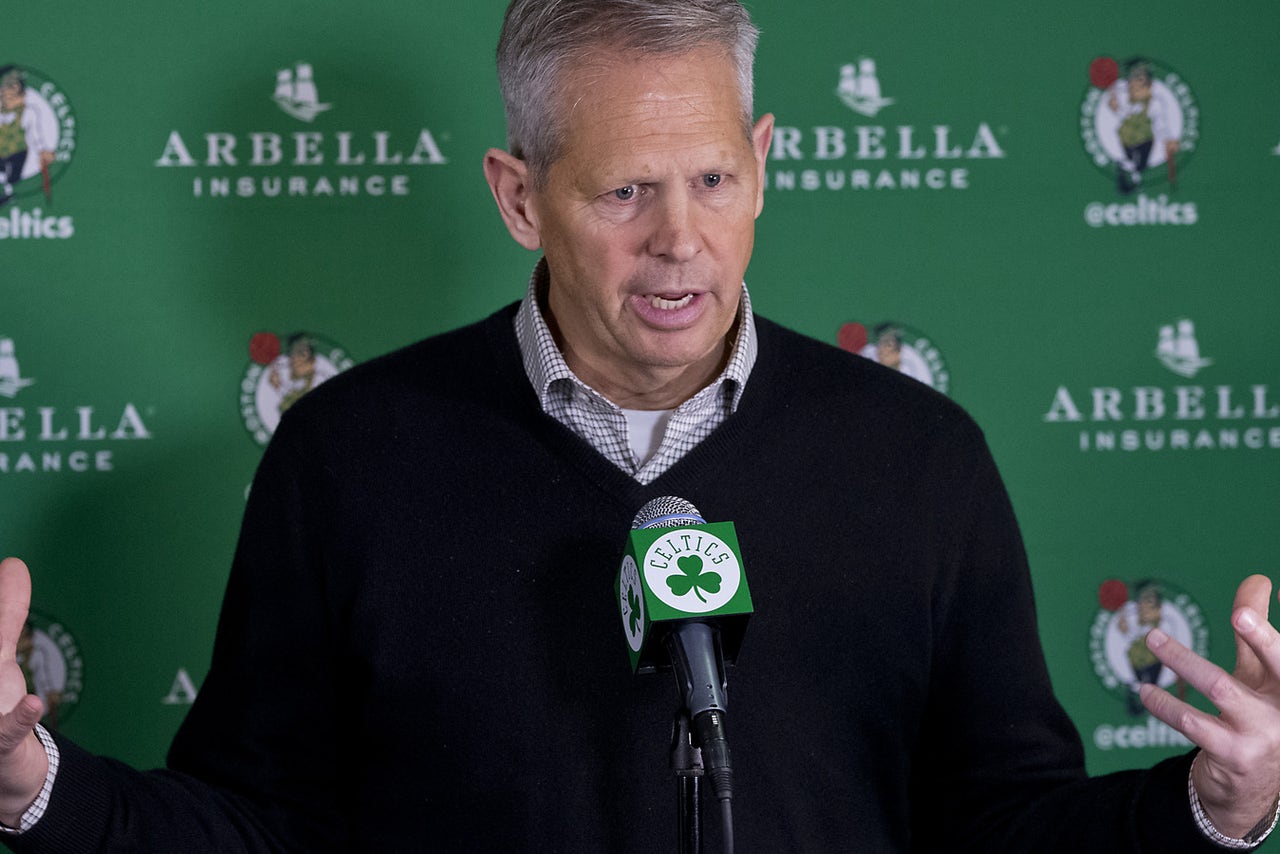 Danny Ainge
At the same time, there are two things going against Murray and Hield: The Celtics don't need more guards, and from the beginning, GM Danny Ainge has said he's more interested in drafting the best long-term prospect, rather than the guy most likely to help right away.
With that in mind, there is no better long-term prospect than Chriss, the springy 6-foot-9 forward from Washington who can jump out of the gym, shoot 3s and maybe, someday be a star in Boston.
4. Phoenix Suns, Dragan Bender, F, Croatia
With Eric Bledsoe, Brandon Knight, Devin Booker and Alex Len in place, the Suns are building an athletic, fast team, and Bender should fit in perfectly alongside those other guys.
No, he's not ready to contribute tomorrow, but at just 18 years old, he could be a nice sidekick for Len in the front court for years to come.
5. Minnesota Timberwolves, Jamal Murray, G, Kentucky
I've got to be honest: When John Calipari floated the idea that Murray is the safest pick in the draft, and therefore should go No. 1 overall, I didn't necessarily disagree. Yet while it's a lovely pipe dream for Coach Cal, it just doesn't seem realistic that Murray goes anywhere before No. 5, based on the needs of the teams drafting before Minnesota.
Jamal Murray and John Calipari
But Murray's loss is the Timberwolves' — and NBA fans' — gain.
That's because Murray's skill set (deep shooting) should be a welcome addition to a fascinating young team, and provide the perfect balance for a team that already has scoring from the wing (in Andrew Wiggins) and in the paint (Karl-Anthony Towns). 
That'sr right, with Murray in the fold, the sky is the limit for the T-Wolves, who — don't laugh — could be a playoff team as early as next season.
6. New Orleans Pelicans, Buddy Hield, G, Oklahoma
Outside of Anthony Davis, Drew Brees and the occasional beverage at Pat O'Brien's, there isn't much to get excited about in New Orleans these days, and the one thing about Hield you can't deny is that he is exciting.
After averaging 25 points per game last season, Hield will be able to step in the NBA and score immediately, something the Pelicans desperately need with both Eric Gordon and Ryan Anderson hitting free agency this summer.
Buddy Hield
7. Denver Nuggets, Jaylen Brown, F, Cal
Brown has the skill to go as high as No. 3, but an attitude that could cause him to fall well beyond this No. 7 spot in the draft.   
Still, if Brown can put together his immense gifts, he could team with Emmanuel Mudiay on one of the most exciting young rosters in the league.
8. Sacramento Kings, Kris Dunn, G, Providence
While Simmons and Ingram are the most hyped players in this draft, Dunn is the guy most ready to step in and play tomorrow.
With Rajon Rondo headed toward free agency, Dunn should start from Day 1, and if I were a betting man, he would be my early pick for Rookie of the Year.
Whether he'll actually help Sacramento in the win column is another story altogether.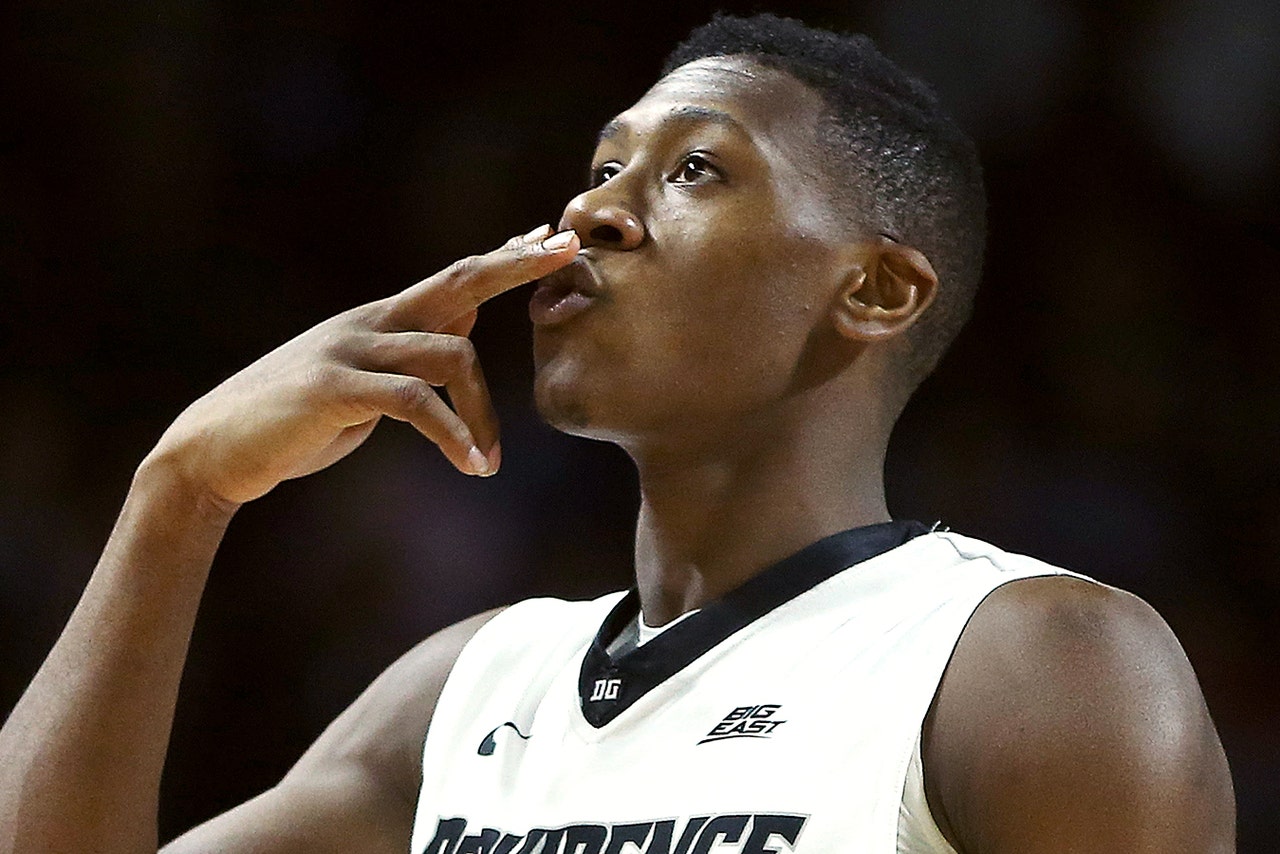 Kris Dunn
9. Toronto Raptors, Deyonta Davis, F, Michigan State
With Bismack Biyombo hitting free agency (and commanding a heavy pay raise), look for the Raptors to go big here, and while the obvious choice would be Henry Ellenson or Jakob Poeltl, I'm not so sure either makes sense for the Raptors based on recent history.
That's because since taking over in Toronto, the one thing that general manager Masai Ujiri has emphasized is athleticism, something that Davis certainly possesses.
Give him a year or two, and Davis could be one of the best young big guys in the league.
10. Milwaukee Bucks, Jakob Poeltl, C, Utah
There have been rumblings that the Bucks prefer to take a point guard here, but it still feels like too much of a stretch to go after Wade Baldwin, Demetrius Jackson, DeJounte Murray or anyone else in this spot.
Instead they play it safe and go with the smart pick in Poeltl.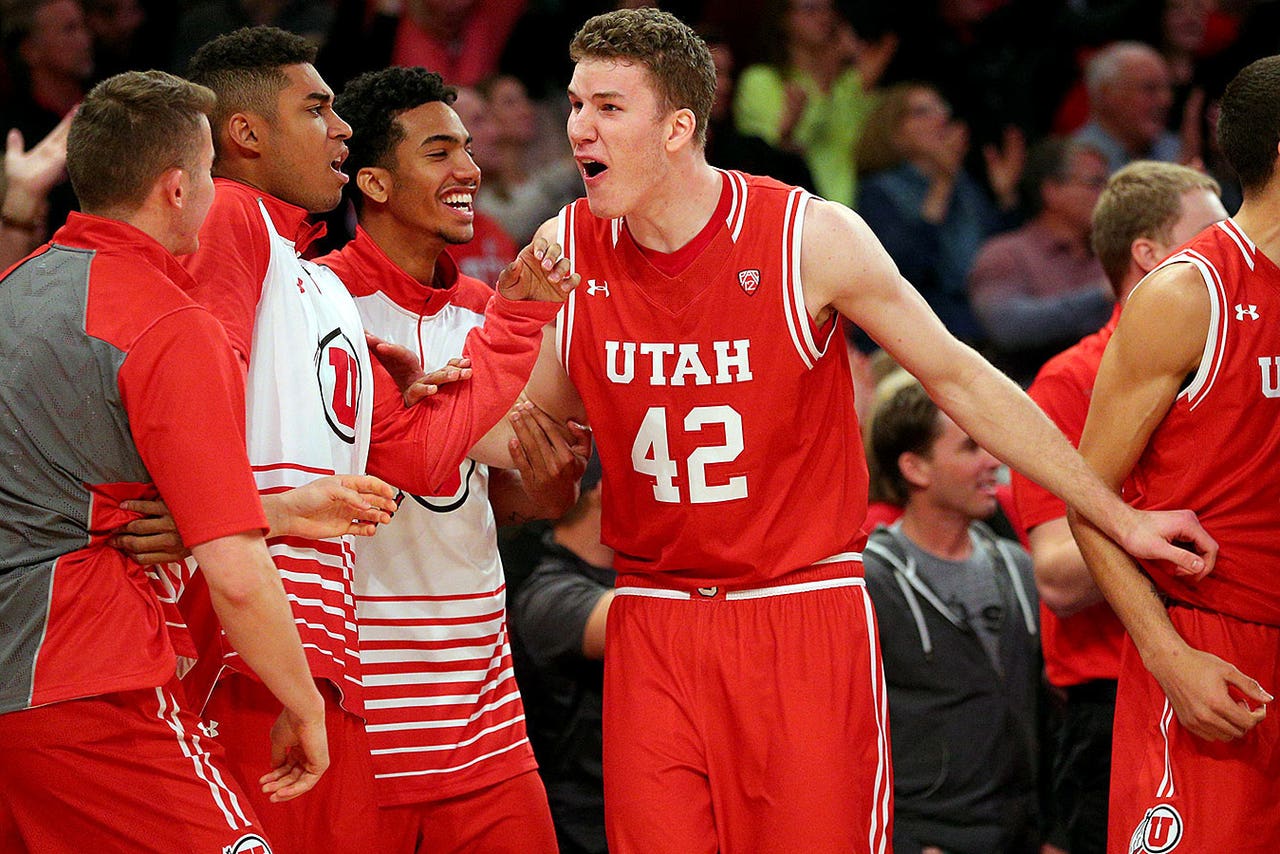 Jakob Poeltl
The Austrian center was a near double-double machine last season at Utah, and should fit in nicely alongside Greg Monroe in the Bucks' front court.
11. Orlando Magic, Skal Labissiere, F, Kentucky
The Magic are back in the position of drafting in the lottery, but not necessarily needing to select a guy who can help them right away. Their much bigger need is developing the guys they already have.
Given that Labissiere, 20, most definitely will not be ready to play right away, he could be a good, long-term fit for Orlando.
Not only does he have a skill set (length, mid-range shooting, shot blocking) which perfectly complements center Nikola Vucevic, but he also fits perfectly with the Magic's track record of emphasizing athleticism (think Aaron Gordon, Elfrid Payton, Victor Oladipo) over sheer skill.
12. Utah Jazz, Wade Baldwin, G, Vanderbilt
Say this for Baldwin: No one has done a better job of saying all the right things throughout the draft process (whether he really believes them or not) than the former Vanderbilt guard has.
With all the big comments, he may have done enough to talk his way into Utah with the 12th pick.
The Jazz desperately need a point guard, and he's got the requisite size and skill to be a long-term starter in the NBA at the position.
Based on those comments, he also has the necessary moxie as well.
Wade Baldwin IV
13. Phoenix Suns, Timothe Luwawu, G/F, France
With the Suns selecting Bender at No. 4, the obvious pick of Henry Ellenson doesn't make sense here, since he and Bender are basically the same player.
Instead Phoenix adds to its stable of young, athletic wings with Luwawu, a 21-year-old from France, who looks to be the quintessential, modern NBA perimeter player.
14. Chicago Bulls, Domantas Sabonis, F, Gonzaga
Sabonis skipped the NBA Draft Combine completely, which led many — including a few people I talked to — to believe some team has guaranteed him he'll be a lottery pick.
Assuming that's the case, it wouldn't get much better for Sabonis than landing in Chicago.
Not only would the Bulls be getting the most underrated player in the draft, but Sabonis also would be heading to a place where he could play right away, with both Joakim Noah and Pau Gasol hitting free agency this summer.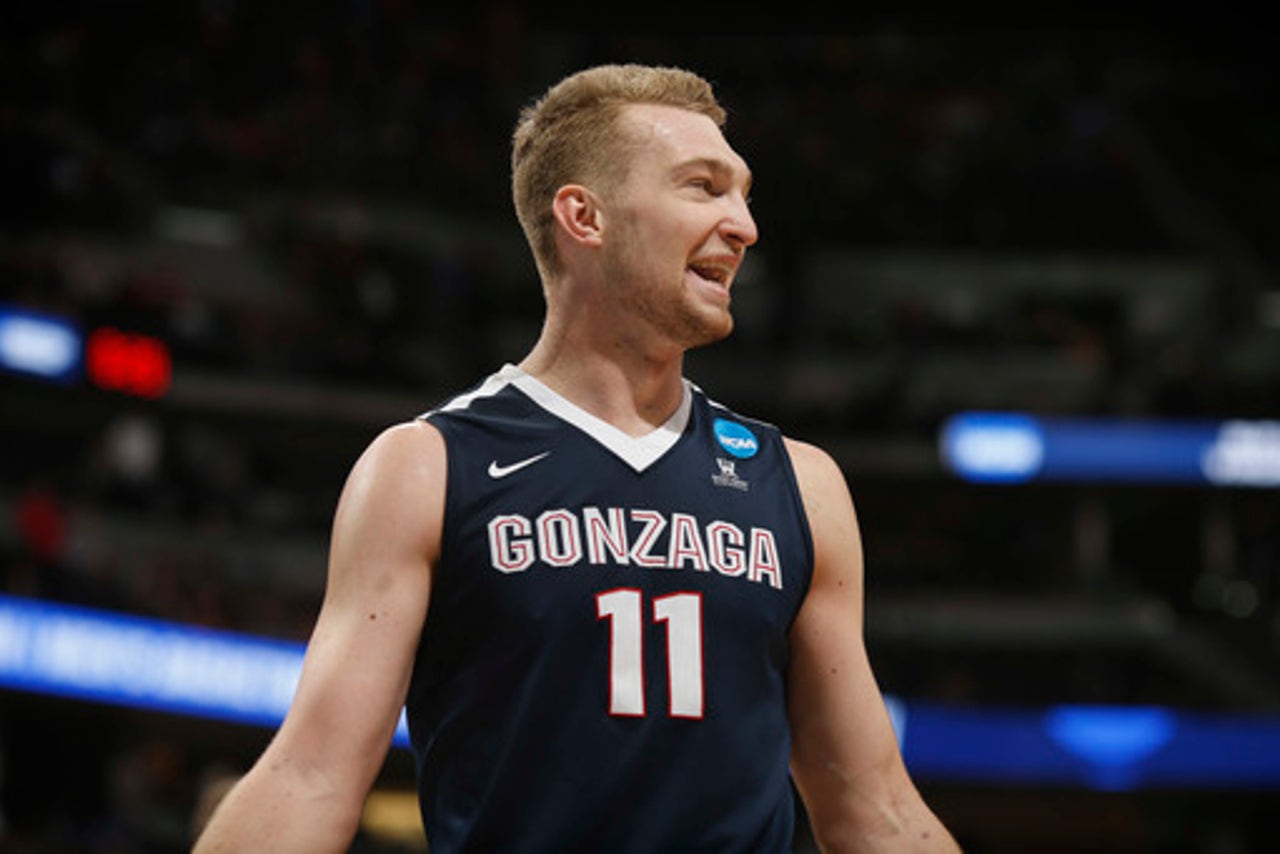 Domantas Sabonis
15. Denver Nuggets (from Houston), Furkan Korkmaz, G, Turkey
The Turkish guard had threatened to pull out of the draft without a lottery guarantee, so with his decision to stay in, it's hard to see him falling much past this spot.
And if Kormaz does land in Denver, well, look out. The Nuggets might not be very good in 2016-17, but pairing him alongside Emmanuel Mudiay and Jaylen Brown, they will be one of the most exciting teams in the league to watch on any given night.
16. Boston Celtics (from Dallas), Ante Zizic, F/C, Croatia
This is a pick of luxury, not need for the Celtics, so why not take a chance on a legitimate, 6-foot-11, 19-year-old who many believe is one of the best long-term prospects in the draft?
Given Danny Ainge's willingness to be patient with draft picks (James Young and Marcus Smart both spent time in the D-League during their rookie years), and the fact that Ainge was overseas scouting Zizic earlier this spring, this pick makes a lot of sense, for a lot of reasons.
17. Memphis Grizzlies, Henry Ellenson, F, Marquette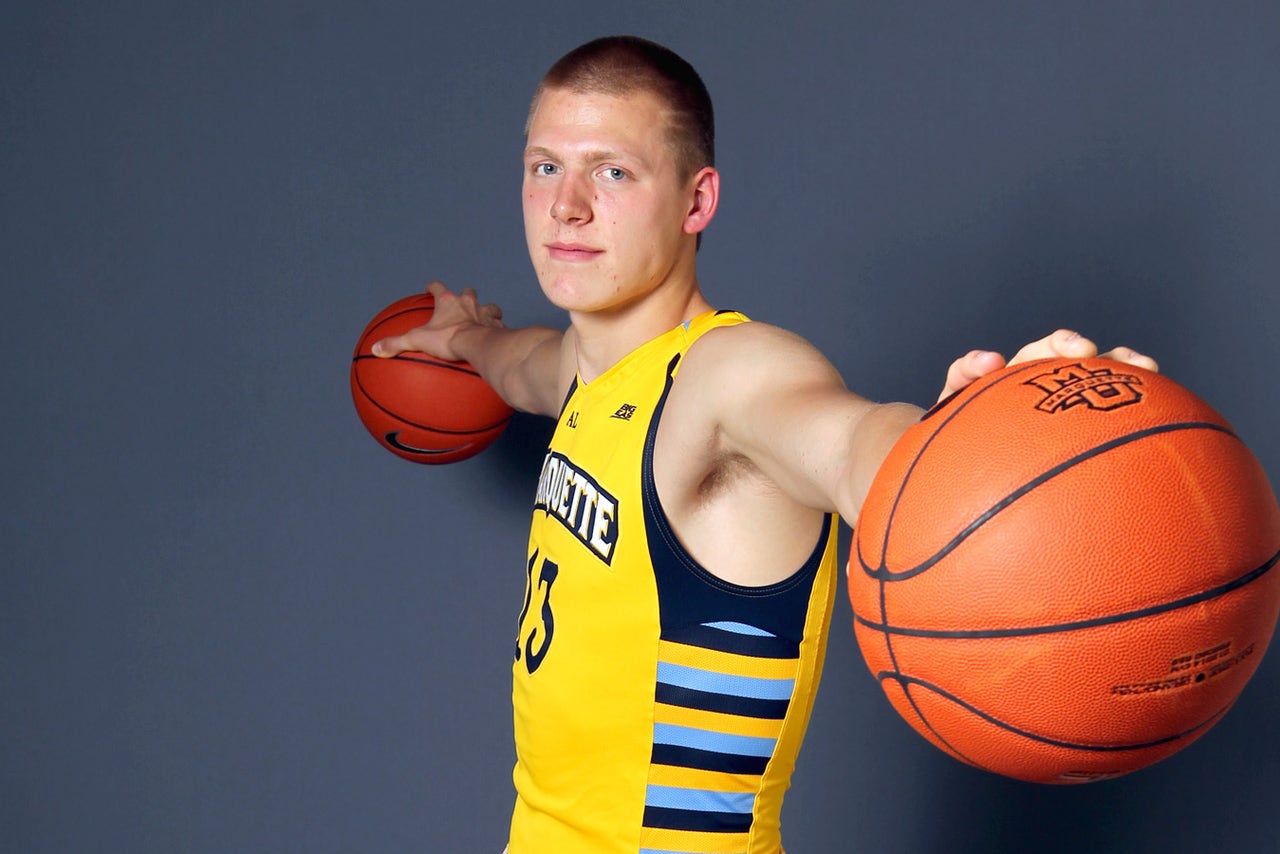 Henry Ellenson
Poor Ellenson tumbled in this draft, and not due to any reasons in his control. His skill set simply isn't the right fit for the teams selecting ahead of this slot.
At the same time, what looks like a plunge on paper could be a gift from the basketball gods in the long term. Going to Memphis means that Ellenson gets to learn from Marc Gasol and Zach Randolph in the short term, and take over for them (both over the age of 30) in the not too distant future.
18. Detroit Pistons, Denzel Valentine, G/F, Michigan State
This selection has little to do with the proximity of Detroit and East Lansing, where Valentine played college ball. Rather, the selection making perfect sense for both parties.
On Valentine's end, Detroit is one of the few teams he's chosen to work out for, and on the Pistons' end, they get to add another versatile, talented player to an already established playoff roster.
19. Denver Nuggets (from Portland), Brice Johnson, F/C, North Carolina
Sure, Jaylen Brown and Furkan Korkmaz are fun, long-term upside guys, but at some point, you need some adults in the locker room to balance out all the youth. After four years at North Carolina, Johnson is definitely an adult, and a guy who will do all the little things (defend, rebound and score when needed) to help the team win.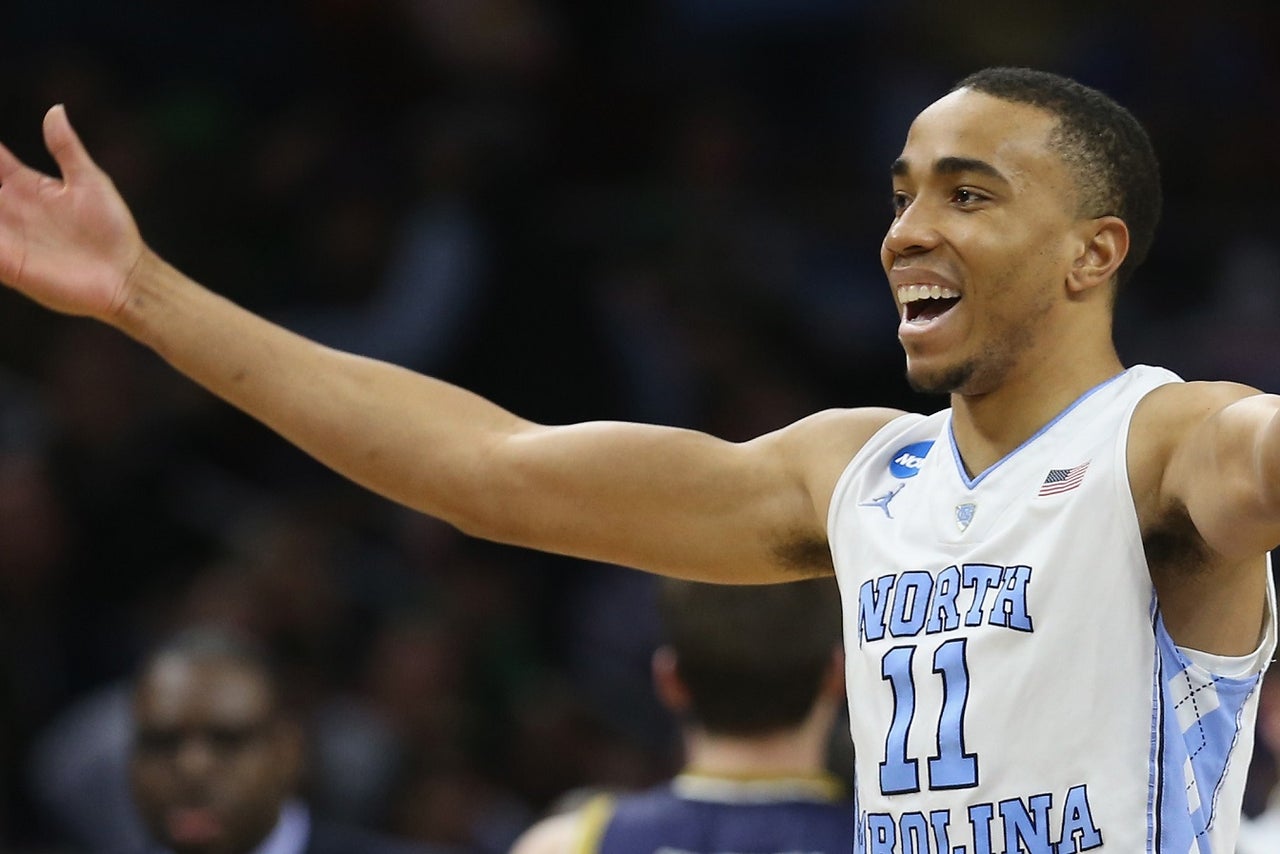 Brice Johnson
20. Indiana Pacers, Demetrius Jackson, G, Notre Dame
Larry Bird fired Frank Vogel in large part because he wants the Pacers to play faster, and Jackson perfectly fits into that plan. As the most athletic guard in the draft he won't be afraid to push tempo, and as a guy who averaged nearly 18 points a game in the ACC last year, he should be able to score right away at the pro level.
With George Hill hitting free agency next year, this is a perfect place for Jackson to grow for a year, then take over the offense full-time in 2017-18.
21. Atlanta Hawks, Malachi Richardson, F, Syracuse
At this point, the question isn't whether Richardson is the "right fit" in Atlanta, but whether the fast-rising former Syracuse forward will last this long in the draft.
If he does, he's a steal for Atlanta.
As I said on lottery night, he has "future star player" written all over him, on a team that desperately needs a star player.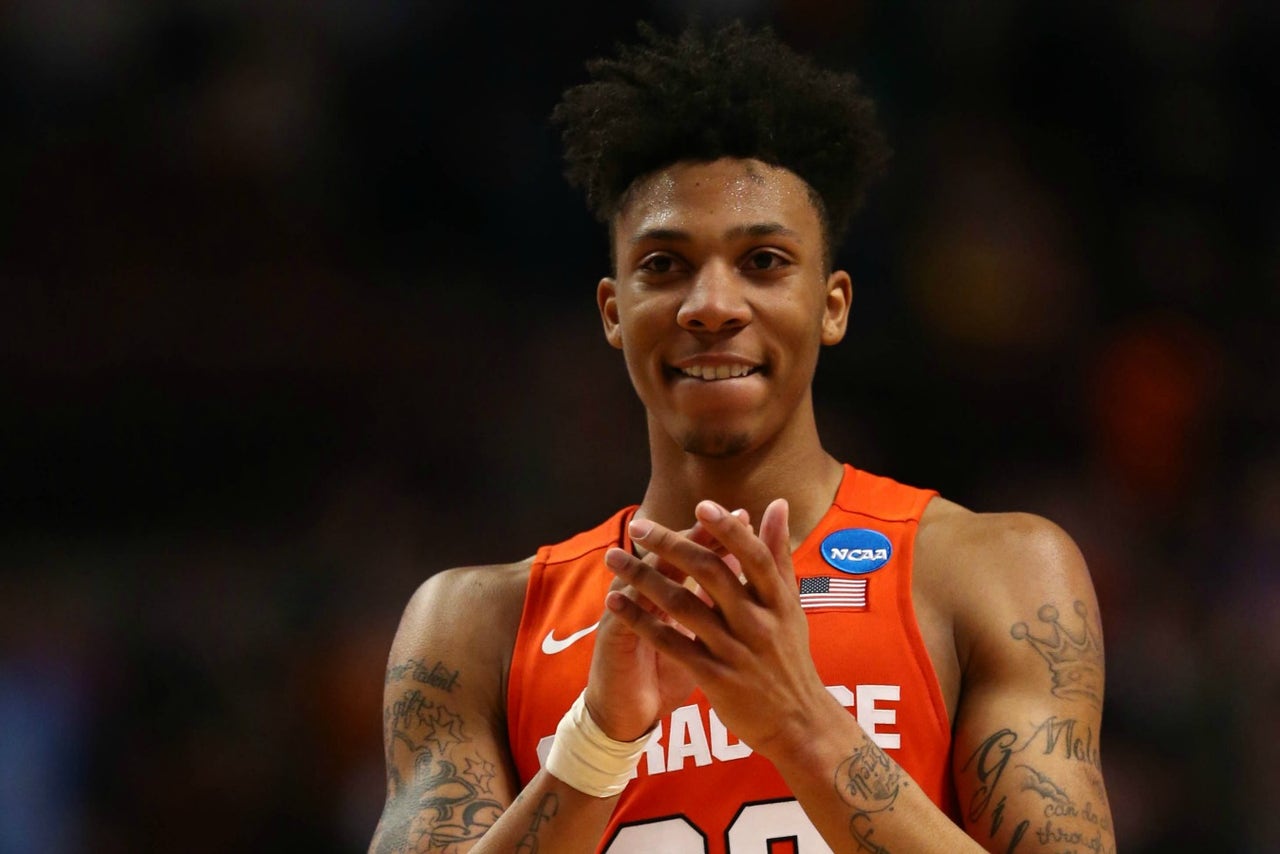 Malachi Richardson
22. Charlotte Hornets, Malik Beasley, G, Florida State
With Courtney Lee and Nic Batum potentially gone on the wing, and Al Jefferson also hitting free agency, Charlotte sure does have a lot of needs for a team which nearly made the second round of the playoffs.
In the paint, the Hornets should be able to address those needs internally (hey, Cody Zeller and Frank Kaminsky), but on the wing it's another story altogether.
Because of that, Beasley could be a great fit in Charlotte, after averaging 15 points in his sole season in Tallahassee.
23. Boston Celtics, Taurean Prince, F, Baylor
After using their first two picks on players who primarily will play in the post (Marquese Chriss, Ante Zizic) it only makes sense that the Celtics actually use their third first-round pick in the one place that's actually a position of need: the wing.
Prince should be their guy, after averaging 16 points last year at Baylor, and showing the necessary size (6-8, 220) and skill set (36 percent shooting beyond the arc) to be a starter in this league for years to come.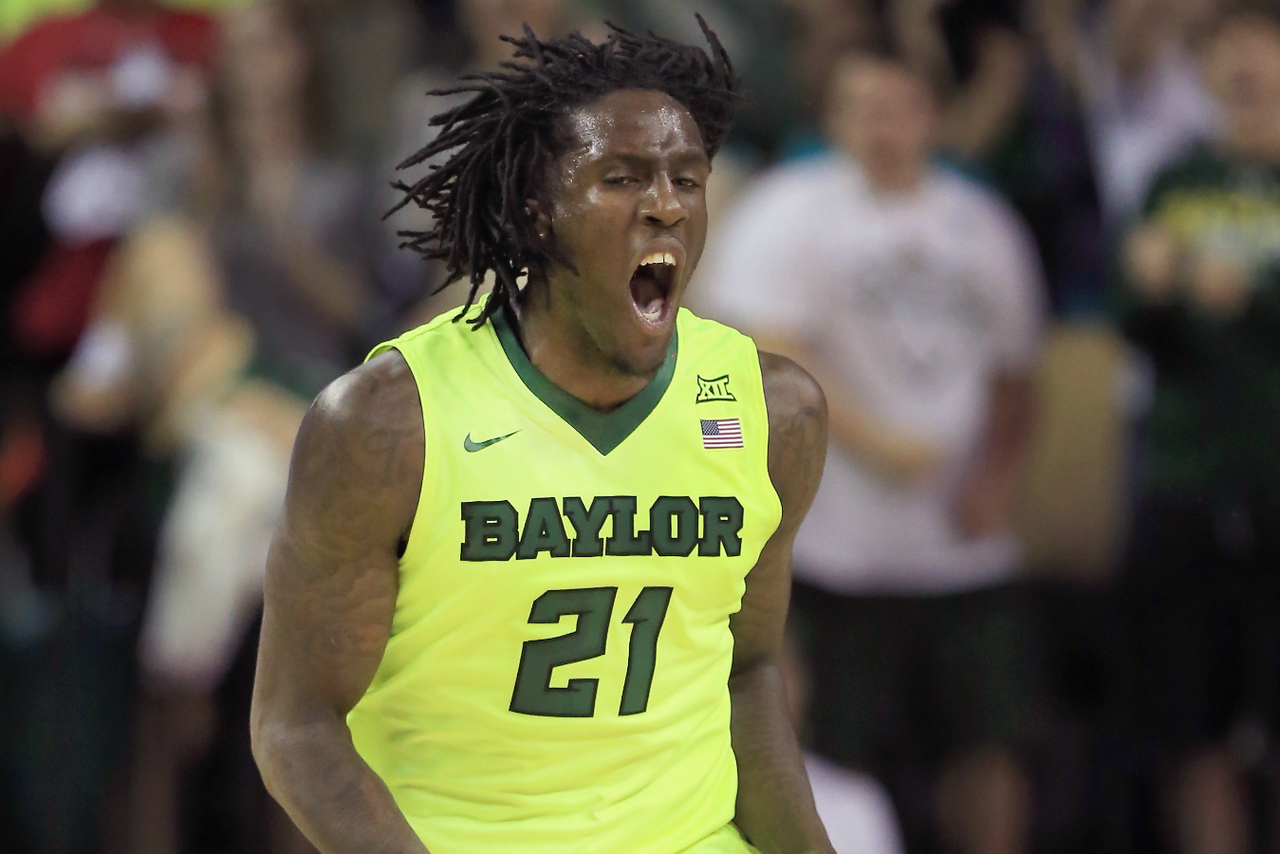 Taurean Prince
24. Philadelphia 76ers (from Miami), Cheick Diallo, F, Kansas
With new management and so many holes to fill, it's hard to know exactly what Philadelphia will do in this draft.
However with Jahlil Okafor and Nerlens Noel both on the trading block, it's clear that front court depth will be a priority for Philly, and they can do a lot worse than drafting a guy who most people assumed would be a top-10 pick in the preseason.
25. Los Angeles Clippers, DeAndre Bembry, F, St. Joseph's
Even off another 50-plus-win season, and with the big three of Blake Griffin, DeAndre Jordan and Chris Paul all signed from now until the end of time (or at least that's the way it seems), the Clippers still do have big holes to fill this offseason. And the biggest one appears to be bench scoring with Jamal Crawford hitting free agency, Austin Rivers owning a player option and Paul Pierce just about ready to hang 'em up.
Enter Bembry, a guy who proved he could score big at St. Joe's last year, and whose hair could make him an immediate crossover star in Los Angeles.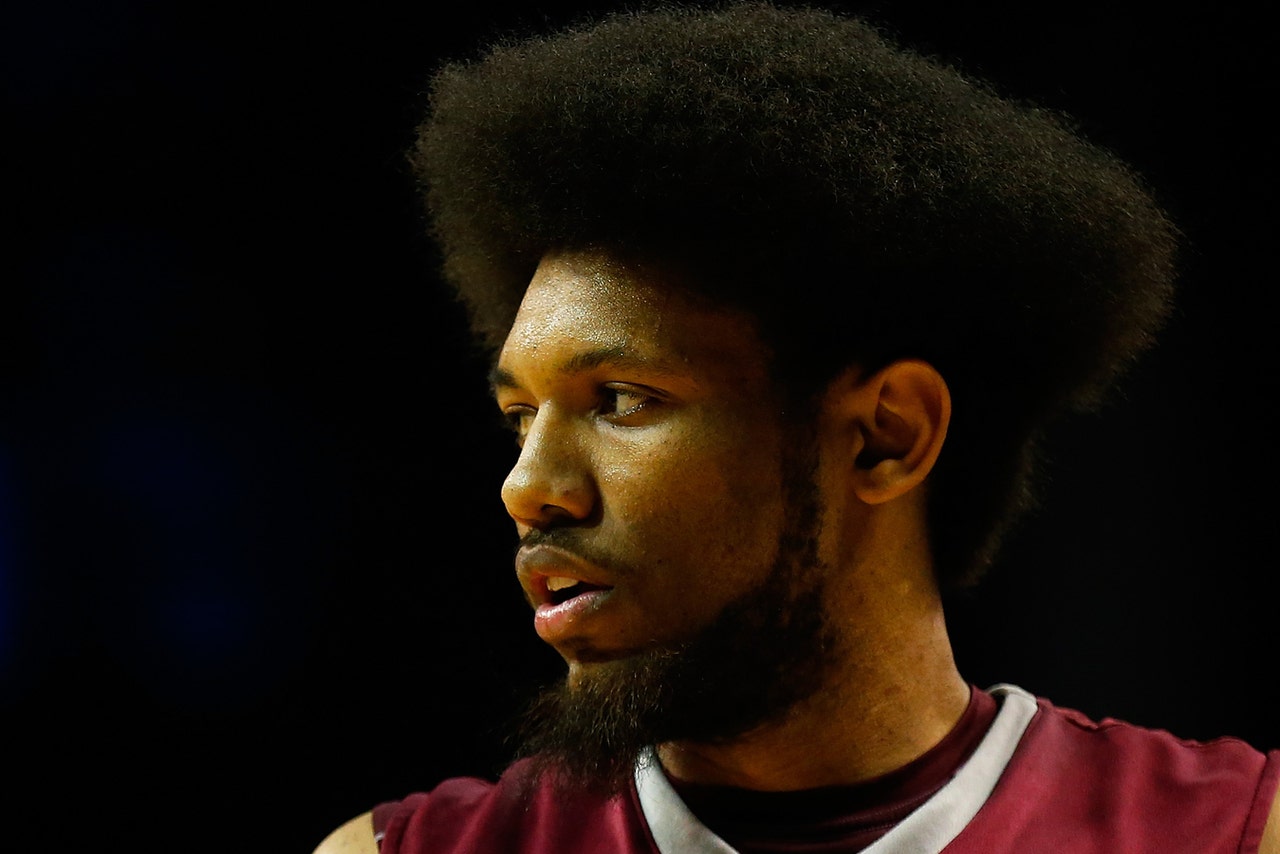 DeAndre Bembry
26. Philadelphia 76ers (from Oklahoma City), DeJounte Murray, G, Washington
The 76ers need guards in the worst way, and while Tyler Ulis would be the obvious choice, it's hard for a team as bad as Philly to take a risk as big as Ulis, after reports surfaced this week of a new, previously unreported hip injury. 
So with Ulis off the board, the 76ers go the safer route with Murray.
He averaged only 12 points last year at Washington, but at 6-foot-5 and with off-the-charts athleticism, he has the skills to one day be a starting point guard in this league.
27. Toronto Raptors, Diamond Stone, F/C, Maryland
Again, size and athleticism are the Raptors' need and calling card, respectively, and Stone has both in spades.
While he didn't have the season many expected at Maryland, the Raptors have the team and infrastructure in place to let Stone take his time, and hopefully develop into the player he's capable of becoming.
28. Phoenix Suns, Thon Maker, F, Orangeville Prep (Canada)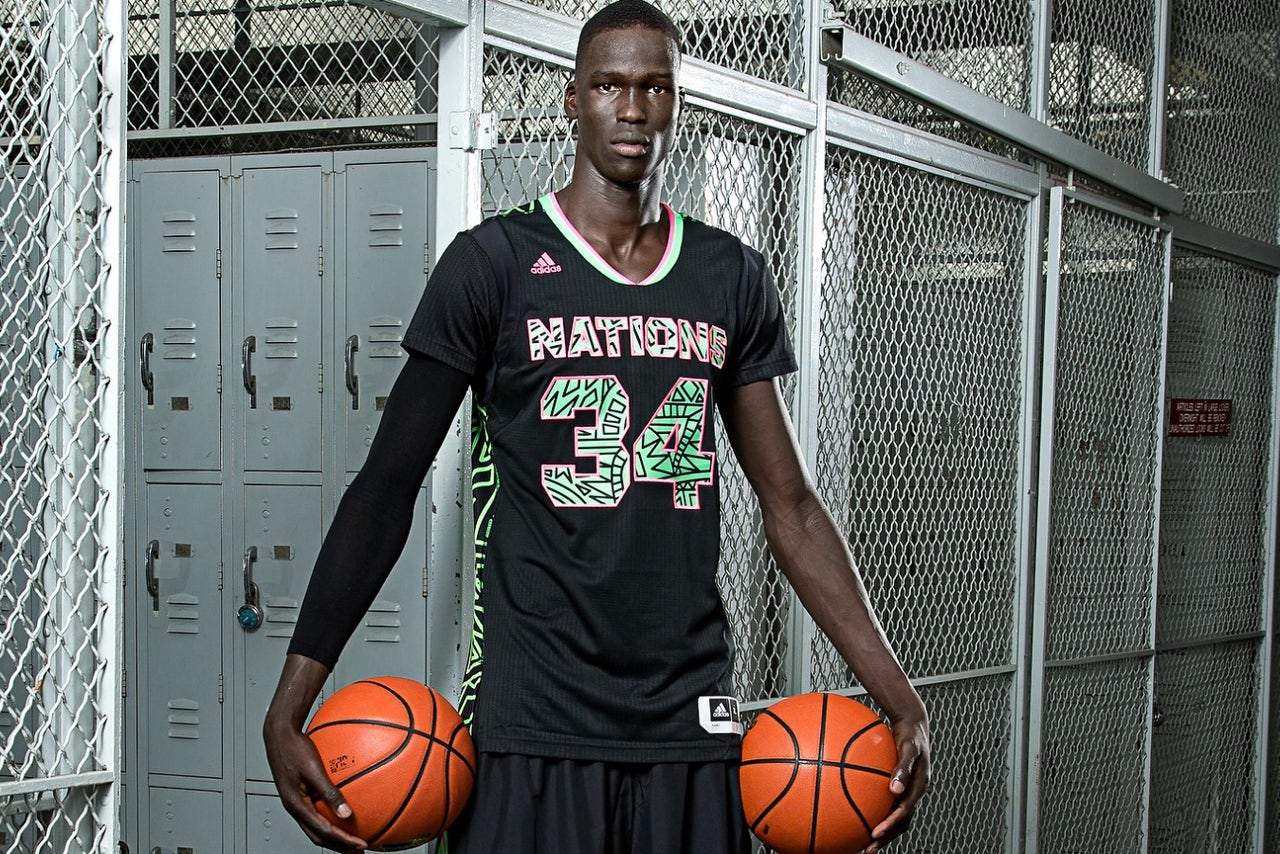 Thon Maker
With three picks in the first round, not only do the Suns not need all three of their first-round picks to play right away, but they frankly might not have the space on their roster to accommodate all of them.
Therefore Phoenix grabs the ultimate high risk/high reward player in this draft in Maker, sends him to the D-League and sees if he can develop into a star.
29. San Antonio Spurs, Tyler Ulis, G, Kentucky
It's funny, because back in March I wrote that Ulis would become the latest "how-the-heck-did-they-get-him" steal of the draft for the Spurs, a guy in the mold of Tony Parker, Manu Ginobli and Kawhi Leonard, who'd fall to San Antonio in the draft, promptly become a bona-fide star, and once again lead us to wonder "How do the Spurs always get so lucky?"
At the time it seemed like a joke, but with the latest reports on Ulis' hip, it could become a reality.
It also could become the steal of the draft, if San Antonio pulls it off.
After all, this is a team that needs a point guard of the future, and prides itself on being the smartest, mentally toughest team in the league ... the two traits which perfectly describe Ulis.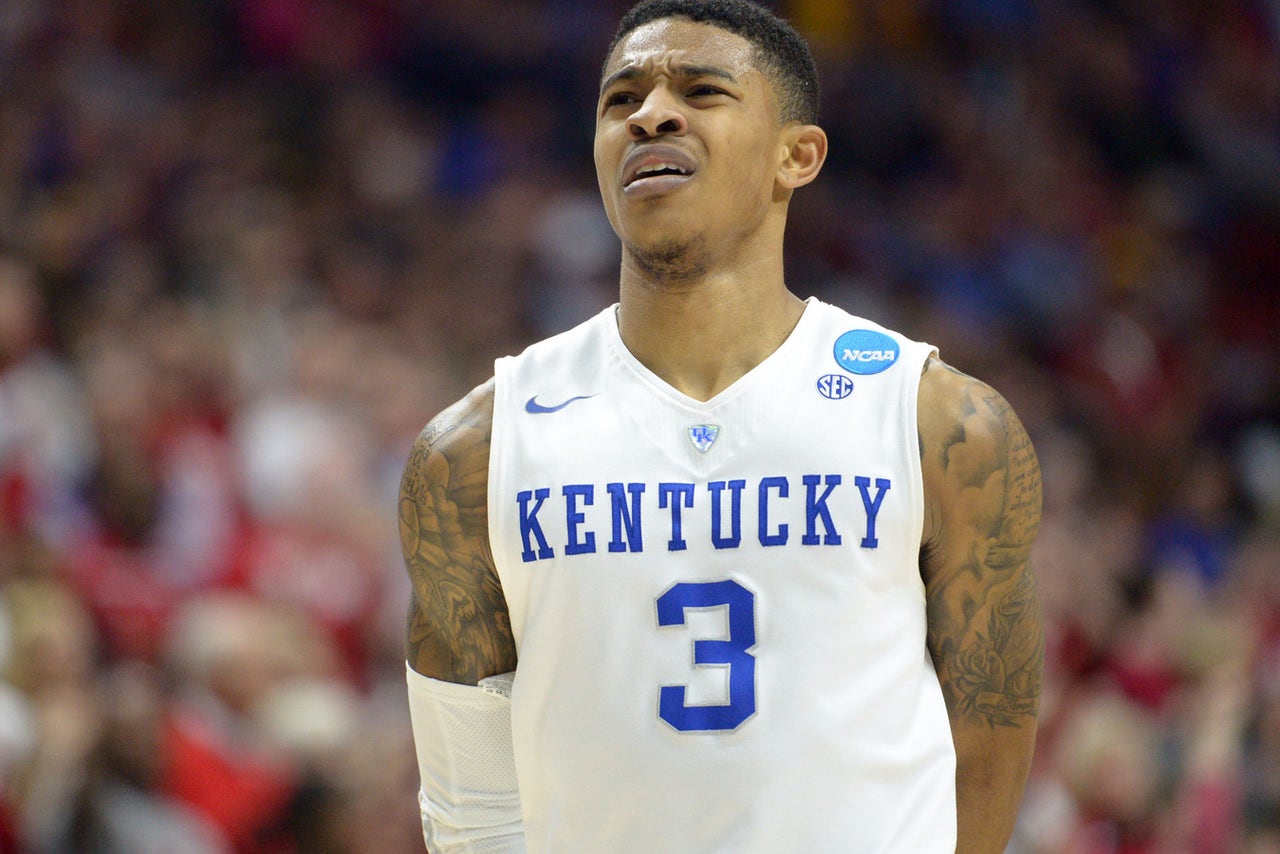 Tyler Ulis
30. Golden State Warriors, Ben Bentil, F, Providence
Bentil is basically a Festus Ezeli clone, a guy who is a bit undersized but is a tough, hard-nosed player, a ferocious rebounder, and a guy who doesn't care about his stats as much as doing whatever it takes to help his team win.
So with Ezeli hitting free agency (as well as Marreese Speights), why not potentially replace him with a guy exactly like him.
Bentil won't be as good as Ezeli right away, but eventually could be, and could give the Warriors a good excuse to let Ezeli walk and spend the money on other players instead (Harrison Barnes this year, Steph Curry next).
Aaron Torres is a writer for FOXSports.com who covers college hoops. Follow him on Twitter @Aaron_Torres or Facebook. E-mail him at ATorres00@gmail.com.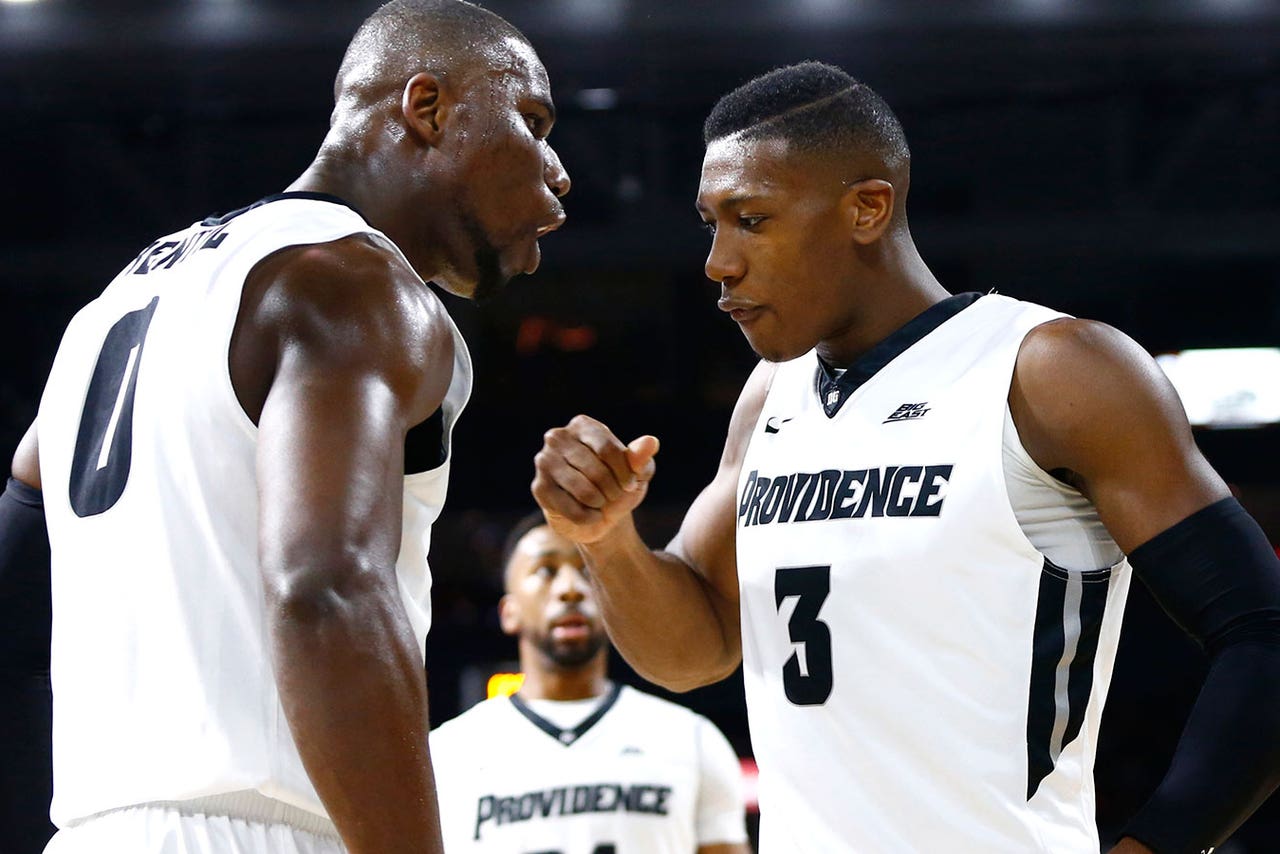 Ben Bentil (left)
---
---