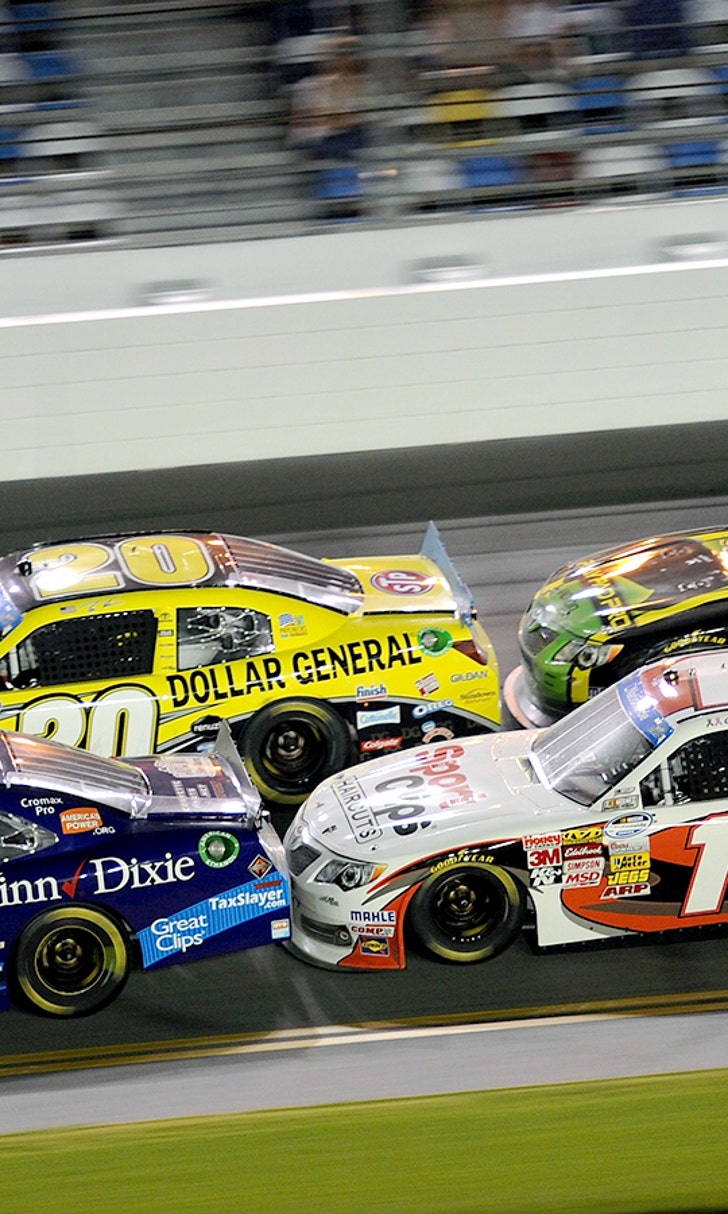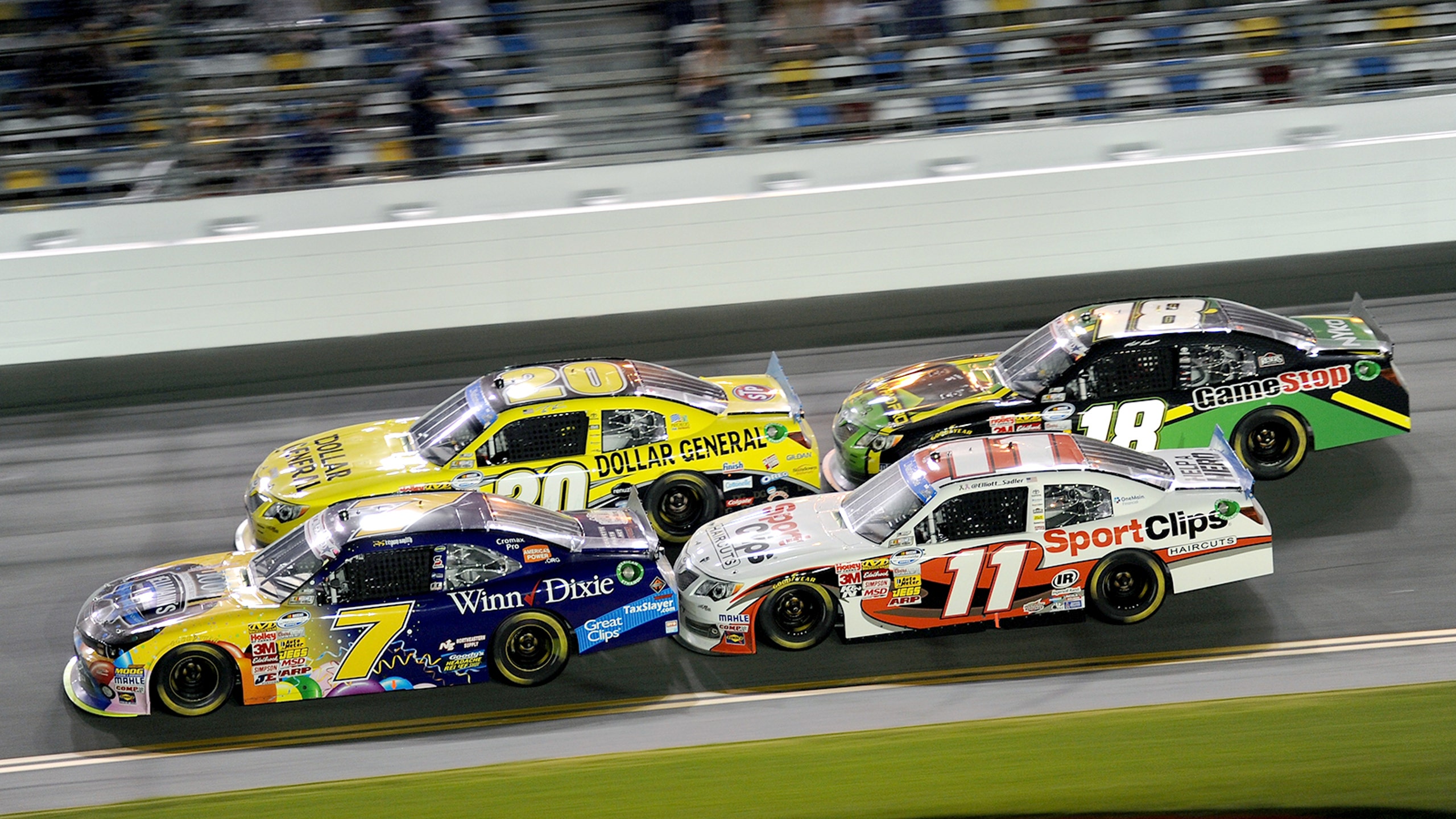 Nationwide drivers blue that NASCAR won't allow two-by-two?
BY foxsports • February 21, 2014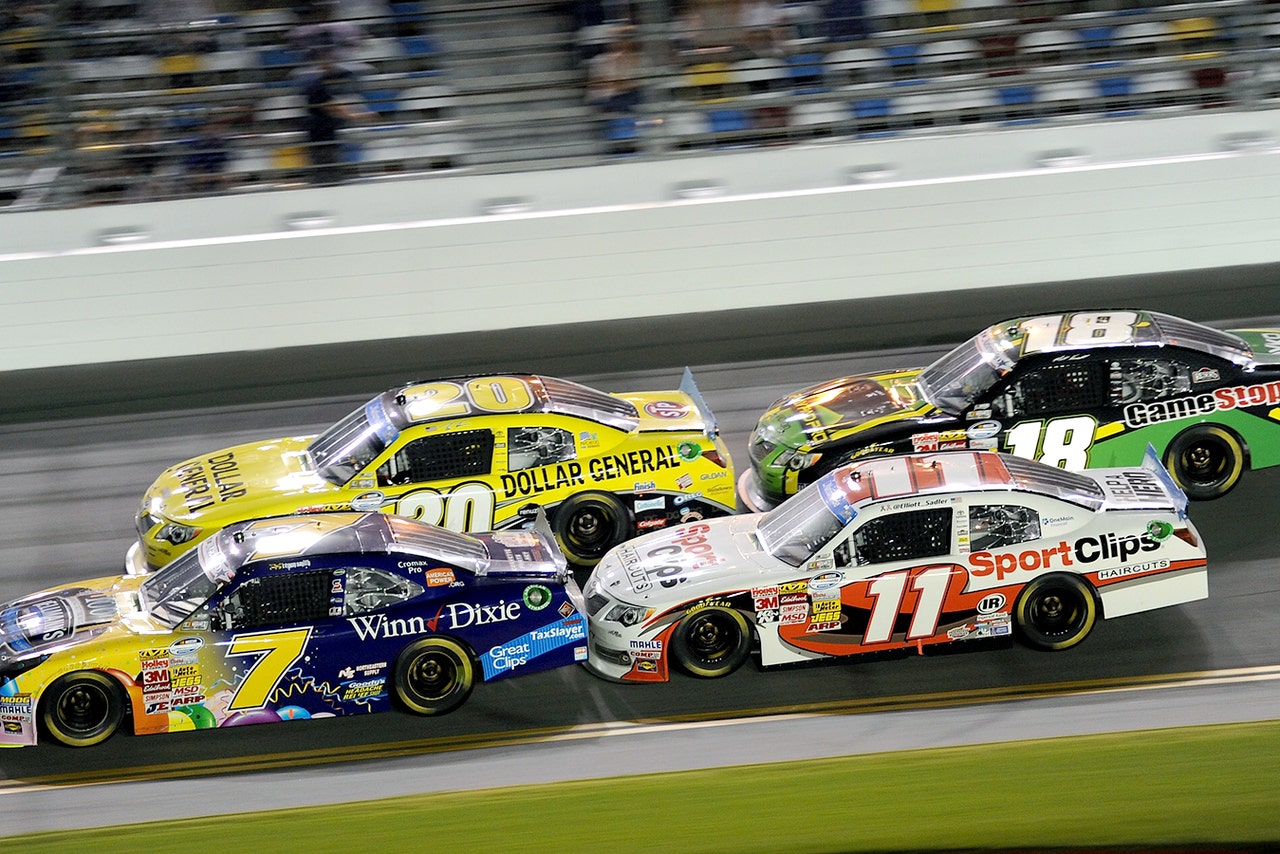 When the NASCAR Nationwide Series takes the green flag Saturday afternoon at Daytona International Speedway, the race will take on a whole new look.
In the past few seasons, Nationwide Series races on the superspeedways of Daytona and Talladega Superspeedway have been dominated by two car tandem drafts. The rules package and aerodynamic intricacies allowed two cars to hook up nose-to-tail and battle it out in pairs instead of in the big packs.
This style of racing has led to some incredible finishes and devastating wrecks. However, NASCAR made efforts during the off-season to ensure the days of tandem drafting were over. The sanctioning body announced drivers would no longer be allowed to hook up in a tandem draft, and NASCAR would be policing the effort. If race control determines a driver is pushing another car for too long, a black flag could be thrown and a pass-through penalty will be assessed.
In addition to the ban on tandem drafting, changes were made to the rear bumper configuration to discourage drivers from locking together, the radiator inlets were reduced to restrict the amount of air entering the engine, and the size of the radiator itself was reduced.
With the new rules and changes to the cars in place, drivers and teams went to work planning how they approached Saturday's 300-mile season opener.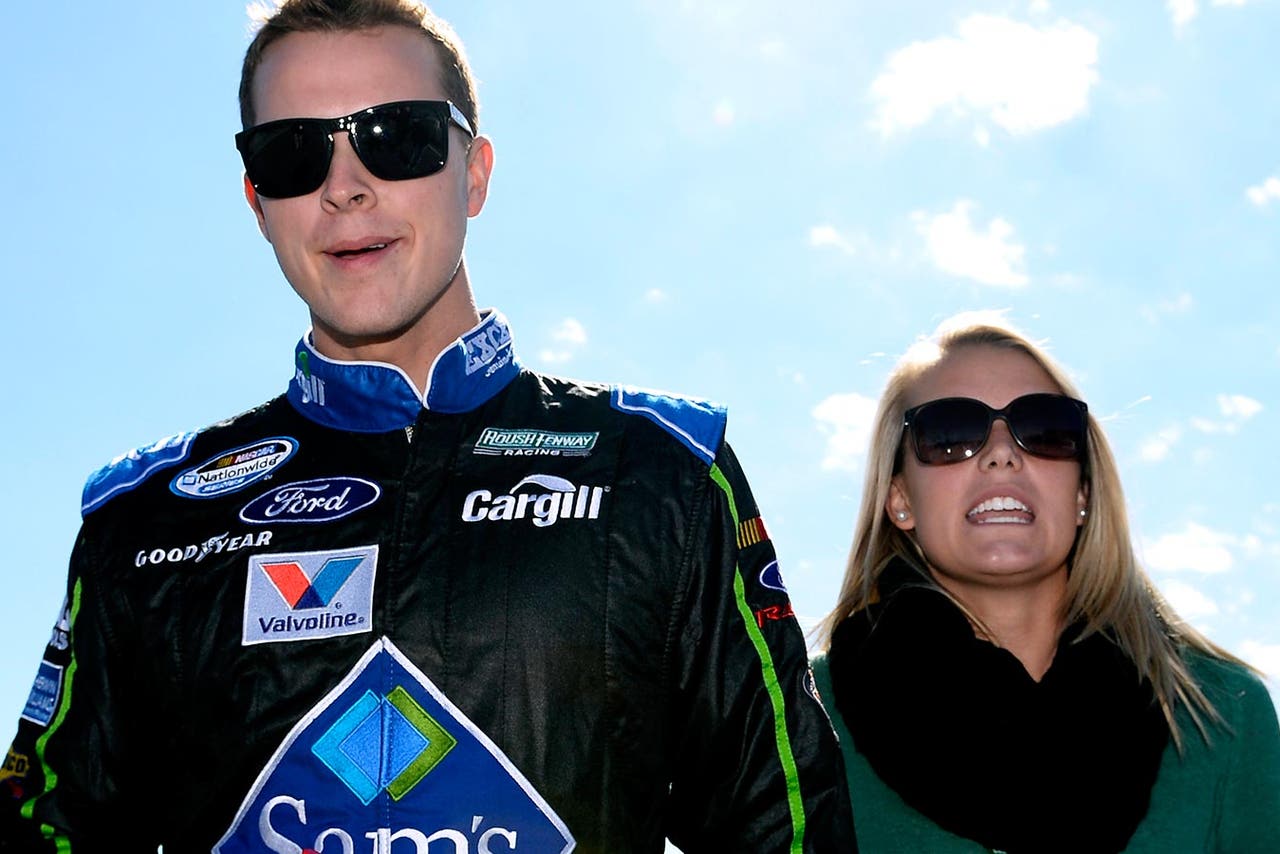 Trevor Bayne will miss tandem drafting at the superspeedways.
"I felt the tandem racing was great racing," said Roush Fenway Racing's Trevor Bayne, who used the tandem draft to win the 2011 Daytona 500. "It put more into our hands -- when you want to go, when you want to be at the front, how you time your runs. Now it's the luck of the draw a little bit what lane you're in, if it moves; hopefully, nobody makes a mistake in front of you. I think it will be bigger clusters of cars, which causes more action, so we'll just have to see what happens."
"We used to be able to get hooked up with another driver and make moves," Sadler said. "The tandem is how you maximized speed. It's illegal now, so I'll go back to a more methodical approach to the pack. It will be more difficult to pass, so the key is to be patient and to be in the right line at the right time."
Following Thursday's opening Nationwide practice session, NASCAR announced teams would be allowed to open their grilles a half-inch across the bottom of the car due to the high temperatures in the area.
"We went out with three cars (in practice) and I was concerned about my temperatures with three cars," said Regan Smith, "which typically would mean you get in a big pack and you're going to run hot. I was fearful after we discussed, and had our talks after the first practice that you'll see guys having to get out of the draft just to keep their motors cool."
For Richard Childress Racing's Brian Scott, though, opening the radiator inlet means very little.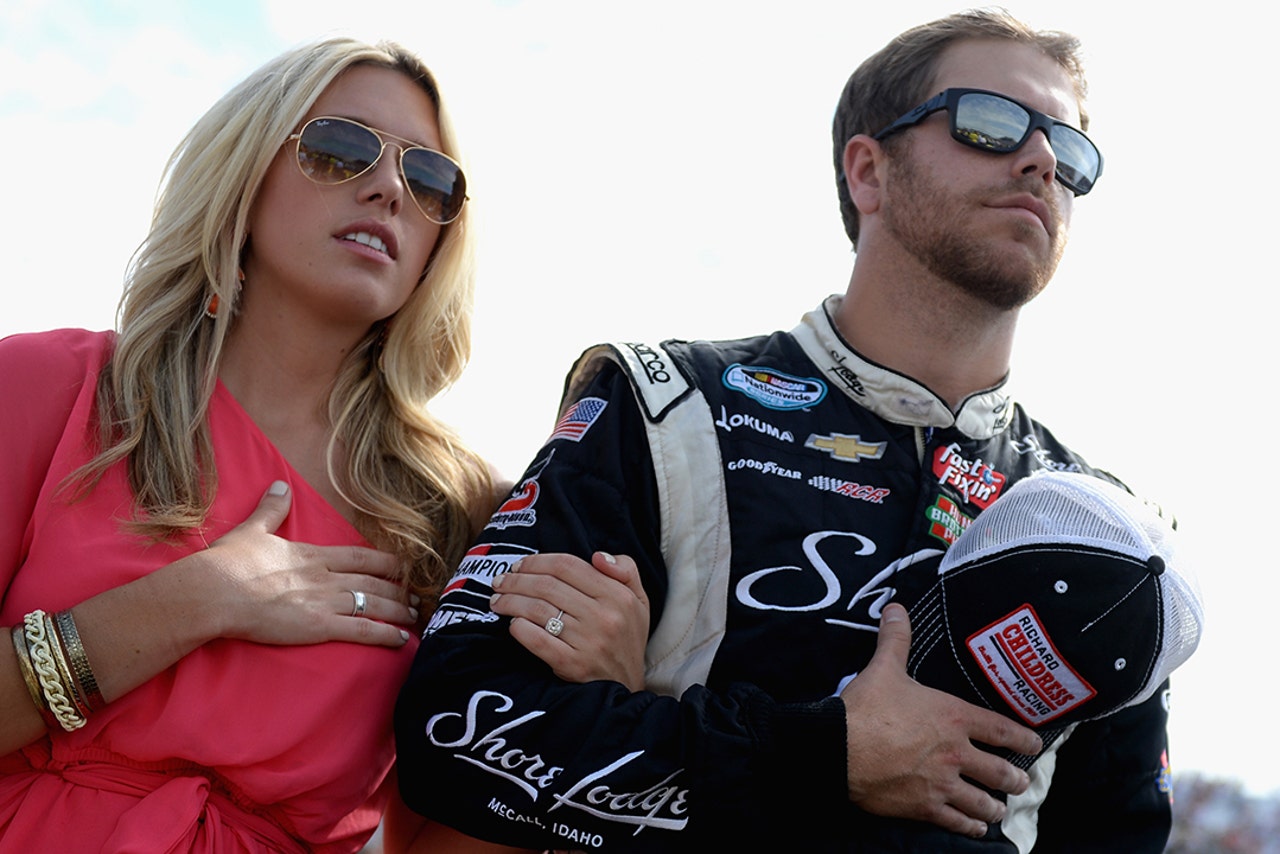 Brian Scott has concerns about the rule change regarding tandem drafting.

"I'm not sure why (NASCAR) decided to change that up at the 12th hour," he said. "Maybe it will help for the race having a little bit more of a opening, but you're still going to want as much taped up as you can possibly tape without your car overheating, because it adds speed."
For many drivers, the biggest challenge will be avoiding the tandem draft. While changes were made to the cars, drivers still have to work behind the wheel to keep from hooking up with the car in front.
"I'm glad I'm not a cop if they're going to police this, because it's going to be tough," Smith said. "We're going to push the limit. We're going to see how far we can go. Somebody's going to get black-flagged. Inevitably, somebody during this race is going to get black-flagged.
"It wouldn't surprise me to see controversy at the end of the race -- somebody thinking they got pushed too much or that somebody pushed too much, or another car get pushed and get black-flagged and not have anything to do with it because a car behind him is pushing him. It wouldn't surprise me if that happened, but at the same time, we're all professionals and understand what the rules are and understand how to use them as we've been told they are."
Much like Smith, Scott believes it will be interesting to see how NASCAR handles the policing of this new policy.
"I'm not sure how NASCAR is going to do a thorough and consistent job policing it," said Scott. "I'm sure there will be situations they miss, and I'm sure there will be situations they call unfairly. I know that just in practice with a maximum of 12 cars out there, I had to use a lot of brake to get off cars. Otherwise, I would have been hooked on (the other car) and it would have been a situation where I would have been penalized.
"I was able to hit cars, but I had to make sure I let off the gas or hit the brake to make sure I didn't get locked onto them. That's only going to get amplified with 43 cars out there, because there's a lot more air moving around and a lot bigger holes. It'll be interesting. As long as everyone minds their P's & Q's, it will be alright. The questionable time will be when you come off Turn 4 to the start-finish line and some cars are bumping a lot, and whether NASCAR says they're bumping or locked together. How they're going to police it coming to the checkers, that will be the telltale thing."
For veteran Sadler, however, the rules are clear and he expects the field to ultimately play by the rules.
"NASCAR doesn't want us to tandem draft, so I won't do it. We know the rules. Bump drafting is legal and tandem drafting isn't," he said. "Tandem drafting will not be tolerated. If we do it, they are going to black flag both cars. That penalty deters the car in front that would typically drag the brake to stay connected and it tells the guy in the back that if you get connected, you better get off of the car in front or your chances to win may be over. It's not worth the risk."
With most teams focusing on the new qualifying format in the opening practice sessions, the true test of the new rules package and drafting policy will come in Saturday's race.
However, the Nationwide Series will get a preview of how NASCAR will handle the ban on tandem drafting during Friday night's Camping World Truck Series race on FOX Sports 1. 
---
---