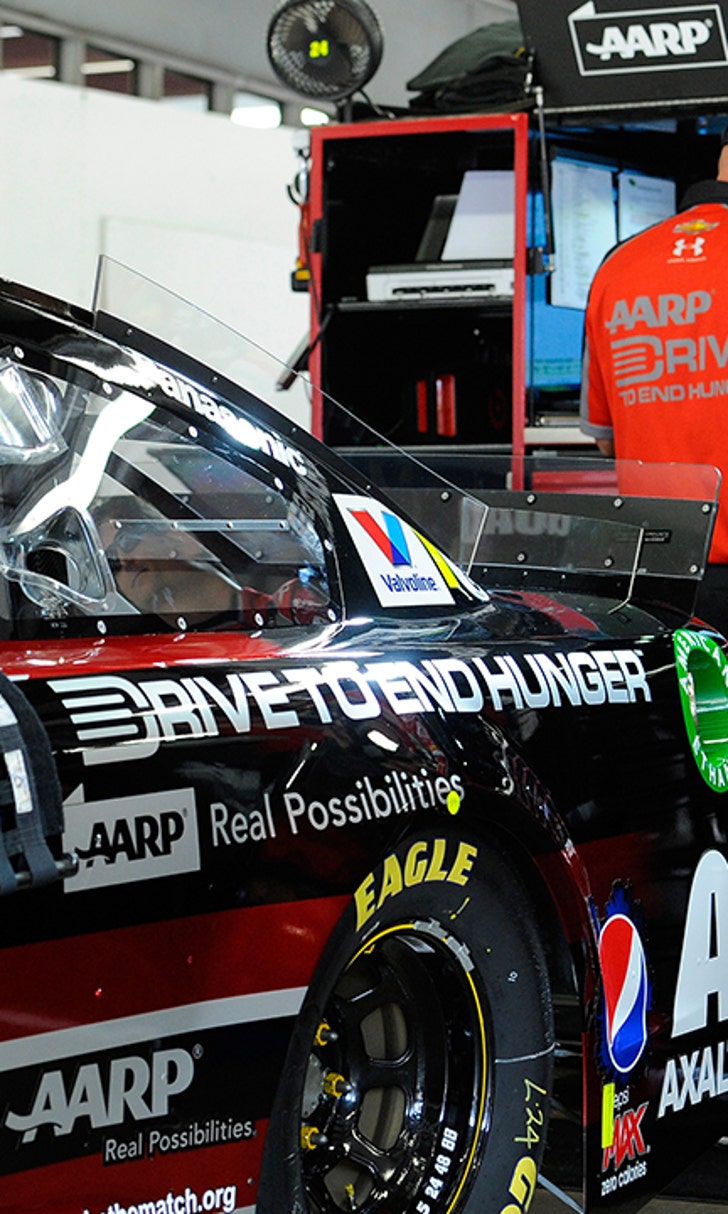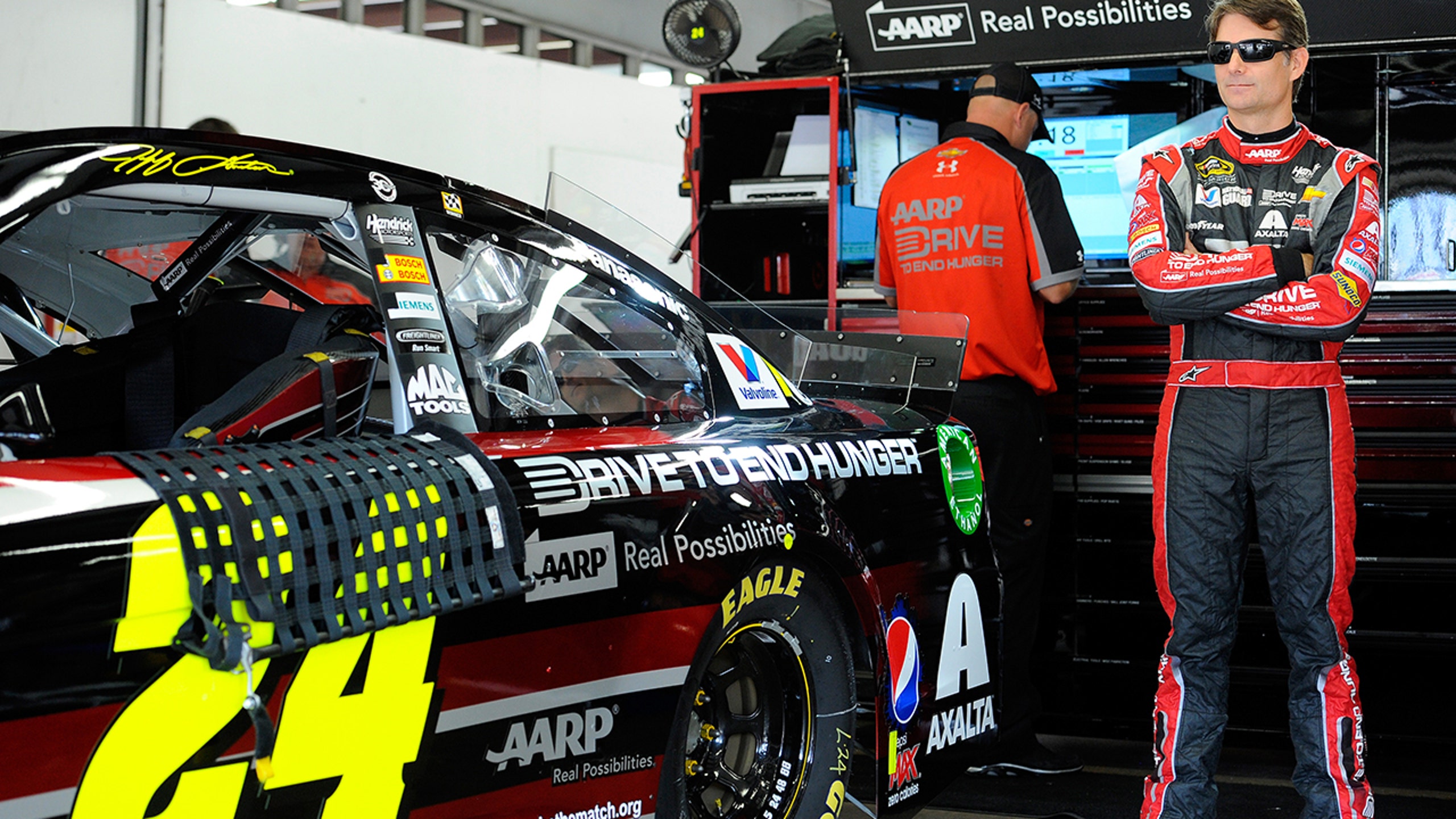 Drive to End Hunger returning with Gordon for fewer races in '15
BY foxsports • August 8, 2014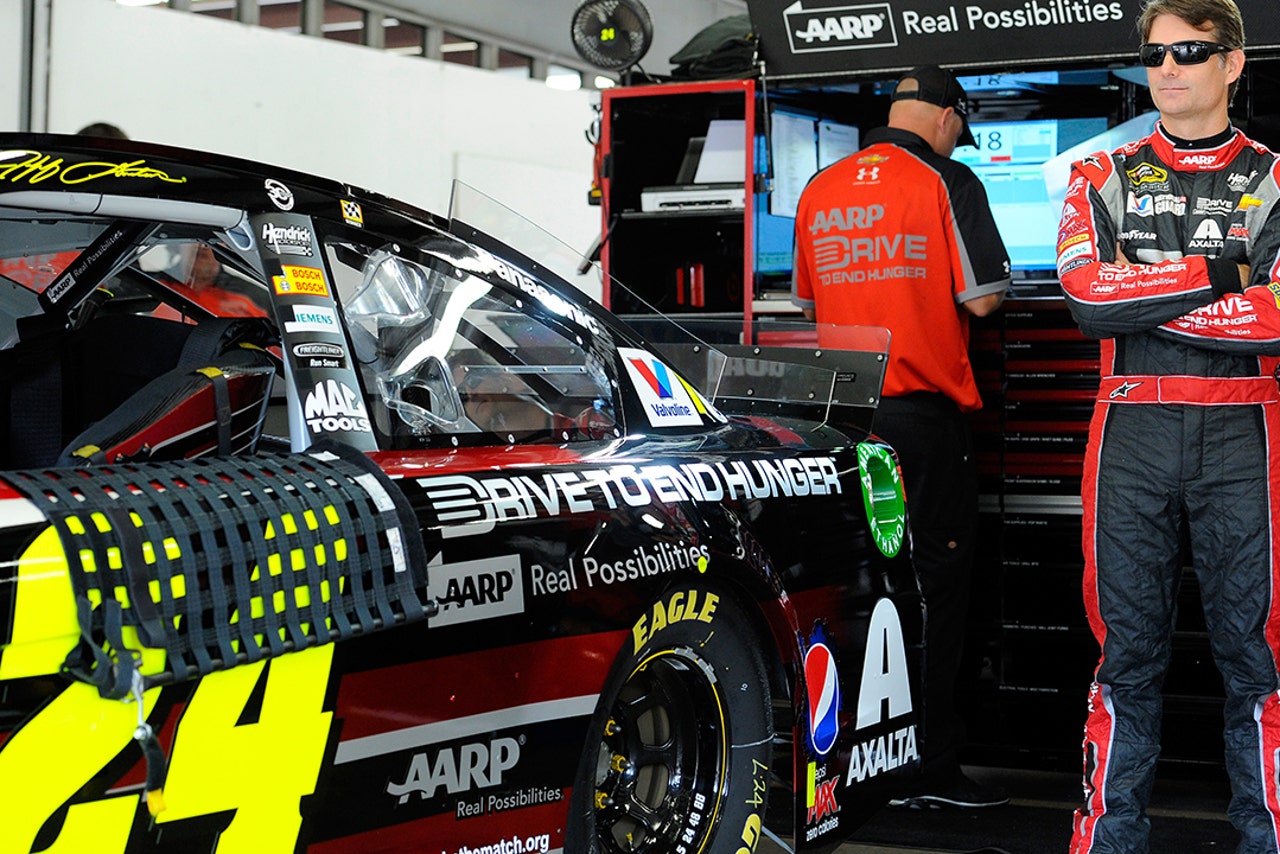 AARP and AARP Foundation announced Friday morning they have extended their relationship with Hendrick Motorsports to have the Drive to End Hunger program on Jeff Gordon's No. 24 Chevrolet through the 2015 season.
The AARP's Drive to End Hunger will serve as the primary sponsor on the four-time Sprint Cup Series champion's car for 13 races, down from 22 this year, as well as an associate sponsor for the entire season. The 2015 season will mark the fifth year AARP has been a primary sponsor on Gordon's No. 24 Chevrolet.
"What's been accomplished by Drive to End Hunger in a relatively short time is absolutely inspiring," team owner Rick Hendrick said. "At the beginning, we felt the program would ultimately be judged on how many lives it impacted. There's no question it's been successful by that measure, but we still have much more to do. Our team is proud to continue the effort alongside our friends at AARP and AARP Foundation and with the incredible support of the NASCAR community."
According to a team release, the Drive to End Hunger program has donated more than 30 million meals since AARP and the AARP Foundation began the initiative in February 2011.
"Hunger is a hidden problem that millions of older Americans are battling silently. We are excited to keep building on the great work of these last four years to help the nearly 9 million older Americans who face the threat of hunger," said Lisa Marsh Ryerson, AARP Foundation president. "With Jeff Gordon and Rick Hendrick, we have committed champions behind the wheel on and off the track. Together we will make the most of this unprecedented opportunity to end the struggle that so many older Americans have with hunger."
Gordon credits NASCAR fans with playing a large part in the success of the Drive to End Hunger program.
"I've seen them packing meals, texting donations and getting involved in their communities," Gordon said. "AARP and AARP Foundation are incredible partners to be involved with, and I'm very happy to continue our work together. It's been an extremely rewarding and humbling experience for me personally."
Friday's announcement was the latest in a string of sponsor-related news out of the Hendrick Motorsports stable this week. On Wednesday, the National Guard announced their NASCAR and IndyCar sponsorship would end at the season.
While HMS has said they have a contract through the 2015 season, it appears the sport's biggest driver Dale Earnhardt Jr. is in need of a new primary sponsor for next season. 
With AARP dropping its primary sponsorship of the No. 24 team by nine races, the need for further funding on yet another Hendrick car is a priority heading into the Chase and the off-season. 
Despite this week's news, Gordon belives "things are strong" for Hendrick Motorsports and he remains optimistic about the future. 
"I think the last couple of years we have all been very stressed out about sponsorships and getting those deals done," he said Friday at Watkins Glen. "Here recently a lot of positive good things have been happening. There is more to come." 
---
---