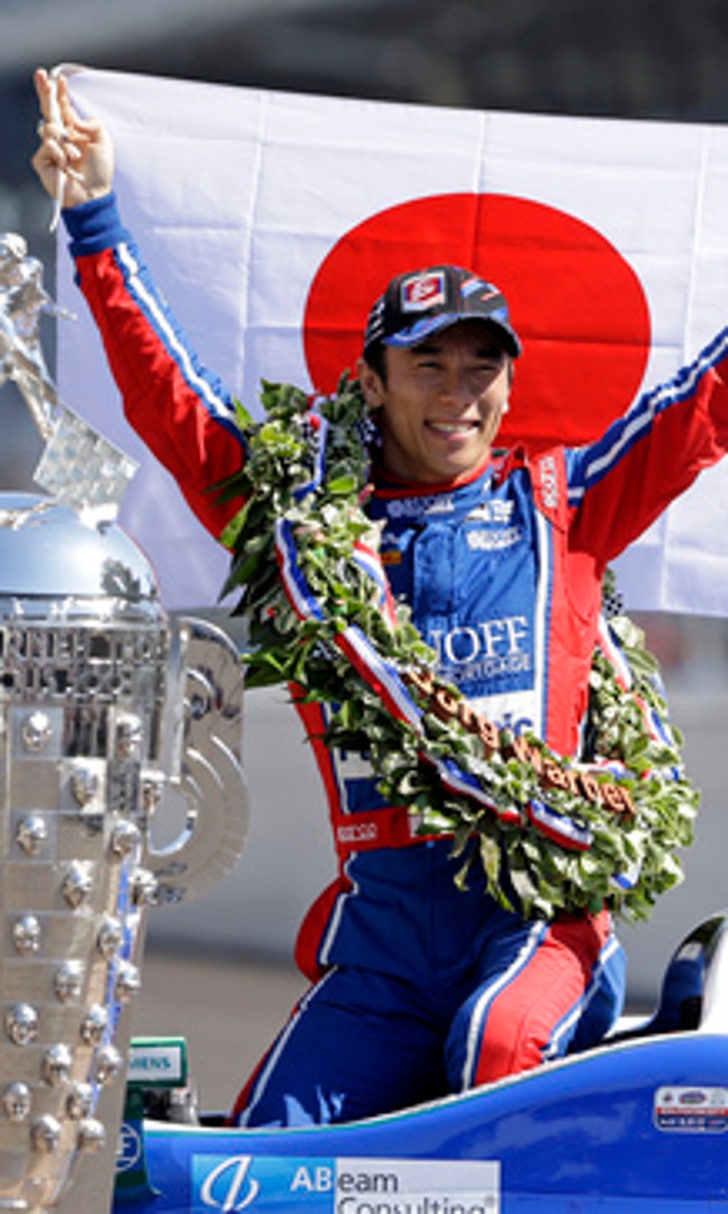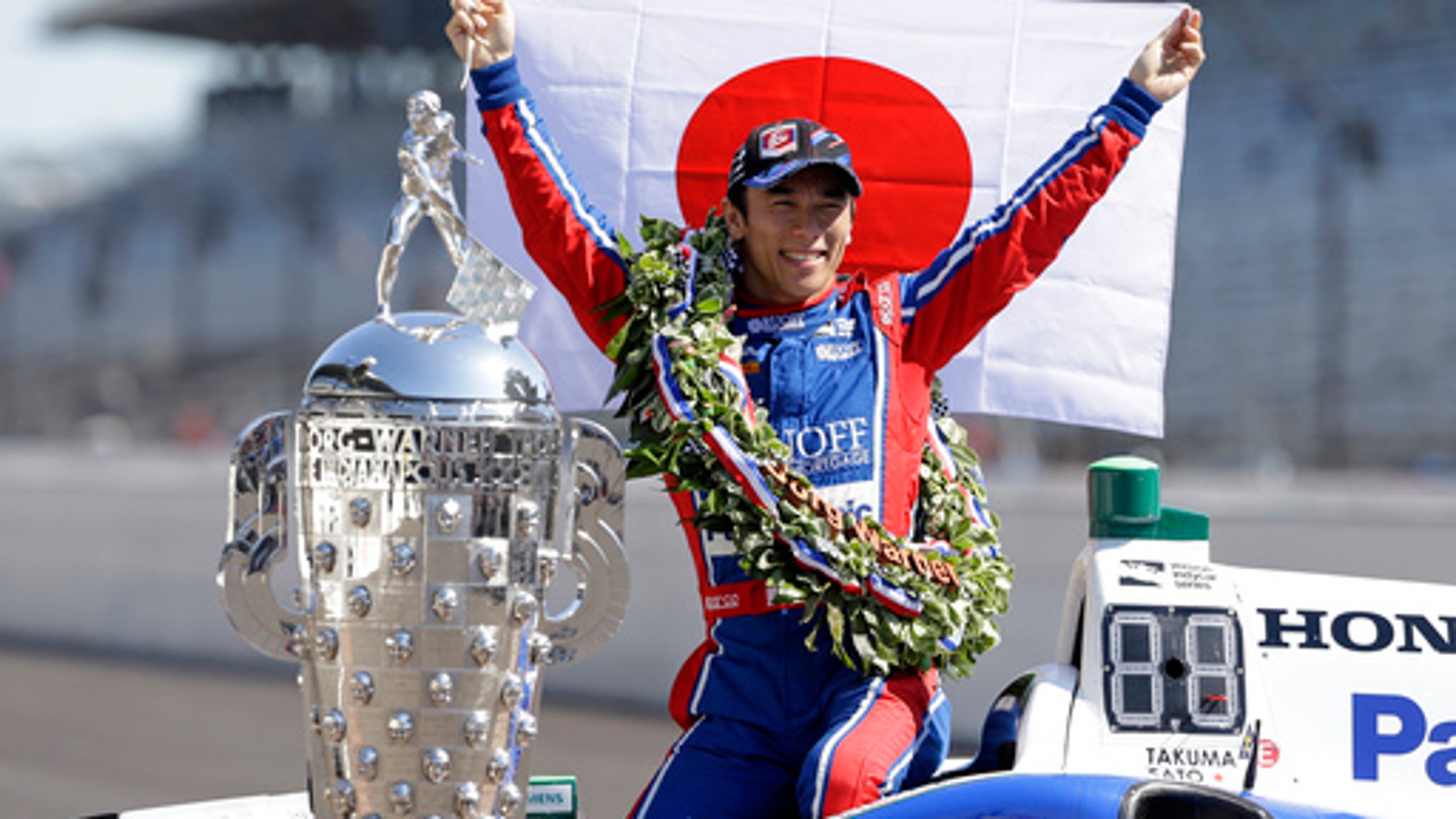 Sato takes Michael Andretti to victory lane at Indy
BY AP • May 29, 2017
INDIANAPOLIS (AP) Make no mistake, this Indianapolis 500 was very much about Fernando Alonso .
Until his engine blew with 20 laps remaining, the two-time Formula One champion had a shot to win ''The Greatest Spectacle in Racing.'' But when his Honda power-plant went out with a white puff of smoke, the Alonso show was effectively over .
Then Helio Castroneves briefly flirted with a record-tying fourth victory that surely would have been a popular victory.
But Indianapolis Motor Speedway is a place so special to the Andretti family that its team could not be counted out even after Alonso and Ryan Hunter-Reay exited with engine failures.
It was Takuma Sato , the newest full-time Andretti driver, who went the distance, drank the milk, and once again put Michael Andretti in victory lane. Sato, the first Japanese winner of the Indianapolis 500 , proved Andretti was no fool when he stretched his organization to six cars for Sunday's 101st running of the event.
Four of the six Andretti drivers led 95 of the 200 laps Sunday, and Andretti has now put a car in victory lane three times in the last four years. For a driver who could never win at Indy, Andretti is doing just fine as an owner.
Andretti the team owner now has five total Indy 500 wins, moving past A.J. Foyt into a tie for second with Chip Ganassi and Lou Moore for most among owners. Roger Penske is the runaway leader with 16.
''You know, somebody said that to me when we were down in victory lane. I'm like, `Whoa, that's a big deal,''' Andretti said. ''Obviously I couldn't ever win it as a driver. I said this a few years ago, maybe I was meant to win it a ton of times as an owner. Maybe when I'm 80 years old, hopefully I'll have more wins than Roger. That's our goal.''
Sato, a former Formula One driver, is in his eighth season in IndyCar. He had one previous victory, a reputation for crashing, and a heartbreaking finish to the 2012 Indianapolis 500 when his fight with Dario Franchitti for the victory ended with Sato crashing on the final lap.
This year, in part due to his long relationship with Honda, he landed with a top tier team for the first time since he moved to the American series. A team with a record of winning and a burning desire to collect those victories at Indianapolis.
If adding Alonso to the stable came at the expense of the team effort, it never showed.
''I think Michael did a great job in terms of preparing all the teams, got things together, found the most competitive drivers in the field, and that's why I was very happy, extremely happy to be chosen by him to become his driver,'' Sato said Monday.
''Among the practice days, we worked together, we shared the information. There was no secret, nothing hidden.''
Now Sato is soaking in his place in history as an Indianapolis 500 winner. The obligations are seemingly never-ending for the next few days, and when he finally got out of his milk-soaked firesuit Sunday night, there was a team celebration back at the hotel.
The alarm rang early Monday for the traditional winner photos on the Yard of Bricks, and Sato was back to work, almost as if he was living a dream.
''I had a few hours' sleep, so I had a headache and was kind of feeling not great,'' he said, ''and oh, my gosh, was it just a dream? But my manager said, `Come on, you've got five minutes to go for the interview.' OK, so now it's real. It was nice to see it actually happened.''
A hero in Japan, where much of his country was asleep when he crossed the finish line, Sato took time in many of his media obligations to discuss the effect his victory might have at home. He still talks about the 2011 earthquake and tsunami off the Pacific coast of Tohoku that killed more than 15,000 people. He normally wears a special helmet for the Indy 500 that he would later auction off for the relief funds in Japan.
''There was a Japan program that really started in 2011, immediately after the earthquake happened, and all the intention was helping the children from the devastated area,'' he said. ''It's a difficult life for them, lost friends and family, and lost home. As I repeat, 250,000 people are still living in temporary houses today, so it's suffering.
''I couldn't put a big donation, but I can bring some energy through the motor racing. Always I invite 100, 150 kids from the devastated area, and we do a go-karting event. That's spreading all over Japan now. I wanted to keep supporting the children until they become adults, and hopefully one of them becomes a professional race driver.''
With Sato as a national hero, and the newest Andretti winner, he just might get his wish.
---
More AP Auto Racing: racing.ap.org
---
---