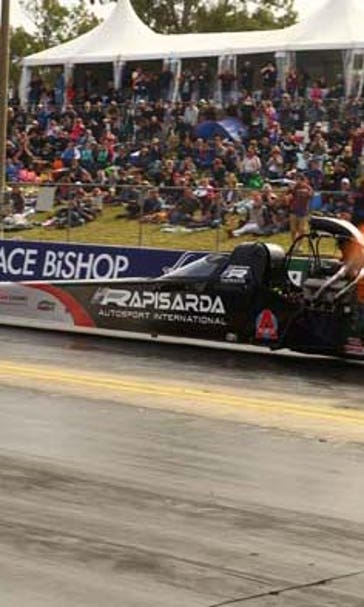 NHRA's Larry Dixon returns to winning ways in Australia
BY foxsports • June 13, 2016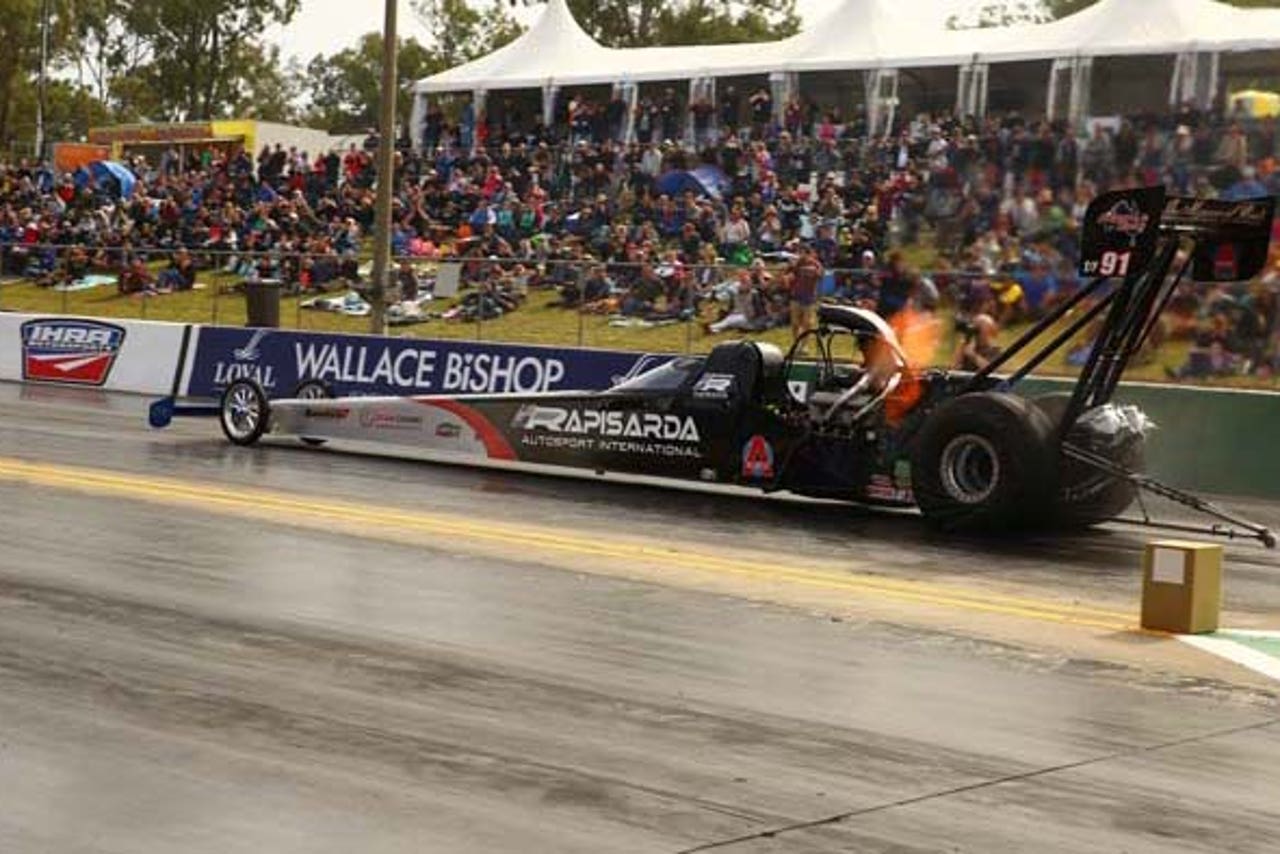 When it comes to racing in Australia, three-time NHRA Top Fuel champion Larry Dixon is quite accomplished.
For Dixon, the success has come naturally.
For instance, on his very first run at Willowbank Raceway, a top notch drag racing complex located 45 minutes southwest of Brisbane, Dixon had quite the introduction to thunder while Down Under. An axle broke on the 300-inch wheelbase Rapisarda Autosport dragster he was piloting, causing the car to lose a wheel and do a complete 360-degree turn without as much as a brush with either retaining wall.
This kind of a stunt takes real driving talent, as Dixon proudly proclaims with a jestful smile.
Dixon, along with accomplished tuner Lee Beard, returned two qualifying sessions later with the same car and completed Australia's quickest run, a 4.503 ET, a mark which stands today.
"Fans come up and ask me about that incident and the record run, and always I ask, 'do you remember who won that race?'" Dixon said. "They're like, 'no I don't.'
"I'm like, exactly. So we put on a show, and we have a great story with it."
On Sunday, Dixon once again gave the passionate Aussie drag racing fans a show they'll remember. He also left them with a firm impression of who won the race.
As the sun was starting to rise over Old Bridge Township Raceway Park back in the United States, Dixon thundered to an engine-flaming victory at the City of Ipswich Australian Winternationals over Aussie fan favorite Wayne Newby. Winning the largest drag race outside of North America was a win the decorated drag racing veteran needed if only to balance recent hardships.
"Really, the last year of my life, with cancer and a broken back and then losing my ride; everything that's happened, days like today makes all that pain go away," admitted Dixon.
And for Dixon to miss Englishtown, a race he's won six times in his career, traveling the world to drive again had to be something special.
"This is the first time since 1986 that I haven't been at the Englishtown event, so this is a big deal race," said Dixon, who hashtagged the race as the #BigGoDownUnder in his Tweets. "I'm fortunate to be here, honored to be driving for Sano Rapisarda."
Australian drag fans quickly embraced Dixon, even anointing him with rock star status.
"We both have accents, and when you talk about the Australian drag racing fans, they're hardcore," Dixon explained. "They have a passion for drag racing. People that you see here, want to be here, and they want to see a show, and they want to see some great runs and be entertained. That's the common bond we have.
"I've talked to a lot of them here that I've talked to at Gainesville, Indy, Pomona; they come up here. They're hardcore. They want to see racing. They're hungry for it. To be able to catch up and see that passion, it carries over, and wherever you can fire up nitromethane, you're going to find a passionate fan."
Speaking of passionate, Dixon doesn't mince words when he expresses his love for racing quarter-mile. This weekend's event was only the second time he's been able to race to the 1320-foot mark since the NHRA - for safety reasons - limited the nitro cars to 1000-feet back in 2008.
"Well, if anyone knows me, they know I love quarter-mile," Dixon said. "I don't have that opportunity in the States, so you have to go where they do it. Having this opportunity to race down here and do quarter-mile, it's right. It's what we're supposed to be doing."
He's even willing to miss an hour or five of beauty sleep in regulating his body clock for the experience.
"I've been fortunate this time working on my time zone, sleep and such," Dixon explained. "I flew in on Tuesday; I got three hours of sleep. Wednesday it was six hours of sleep. Thursday it was seven hours. I'm not going to whine about it. I could be sitting at home, so this is a good thing, and I'm definitely not going to complain about it."
Those who know Dixon understand the cockpit of a Top Fuel dragster is his home, wherever it might require him to be.
"When you sit in the car having the opportunity to drive a Top Fuel car and just being around these cars, literally my entire life; just sitting in the car for a warm-up, it still gives me goosebumps," Dixon said. "I love the class, I love the sport, and just very thankful that I'm getting another chance."
***
Bobby Bennett is the Publisher/Editor of CompetitionPlus.com, a leading independent online drag racing magazine, since 1999. For the latest in dragster news worldwide, visit www.competitionplus.com or follow on Twitter @competitionplus
---