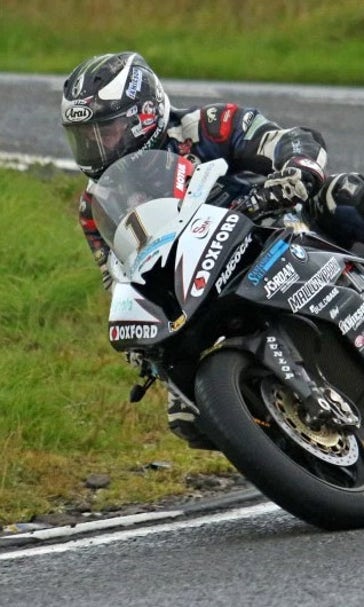 Michael Dunlop on a roll with Dundrod 150 Superbike win
BY Samuel Reiman • November 15, 2016
UPDATE: Superbike Superpole was ultimately ran on Saturday, with Bruce Anstey setting the fastest time at 133.551 mph.
The 2016 Ulster Grand Prix will be held this Saturday, with seven races taking place on the 7.3-mile Dundrod Circuit in Belfast, Northern Ireland.
On Thursday, five Dundrod 150 races were held, with Michael Dunlop taking home the spoils in the Dundrod 150 Superbike race. The race had been red-flagged due to a non-serious incident, and then was called when visibility deteriorated. Dunlop had a 0.677 second lead over Bruce Anstey when the red flag flew.
Dunlop will also start from pole for Saturday's Superbike and Superstock races, with a 131.783 mph time in Superbike practice and 121.625 mph in Supersport qualifying. Superbike Superpole qualifying was cancelled due to the misty weather conditions. Anstey set the fastest time (125.94 mph) in Supersport qualifying.
Dunlop has six Ulster GP wins to his name heading into this weekend. His late uncle, Joey Dunlop, holds the record with 24.
Due to the mixed conditions, no riders have been able to challenge Bruce Anstey's lap record of 133.977 mph so far, which he set in 2010.
Heading into this week's events, a lot of eyes were on Lee Johnston, who won three of the Ulster GP races held here last year. However, he has been ruled out for the weekend after a crash during practice on Wednesday.
Thursday's Dundrod 150 winners:
Seven races taking place on Saturday:
Follow Ulster Grand Prix on Twitter for race updates.
---