IndyCar faced with unpredictable weather for first race at NOLA
April 12, 2015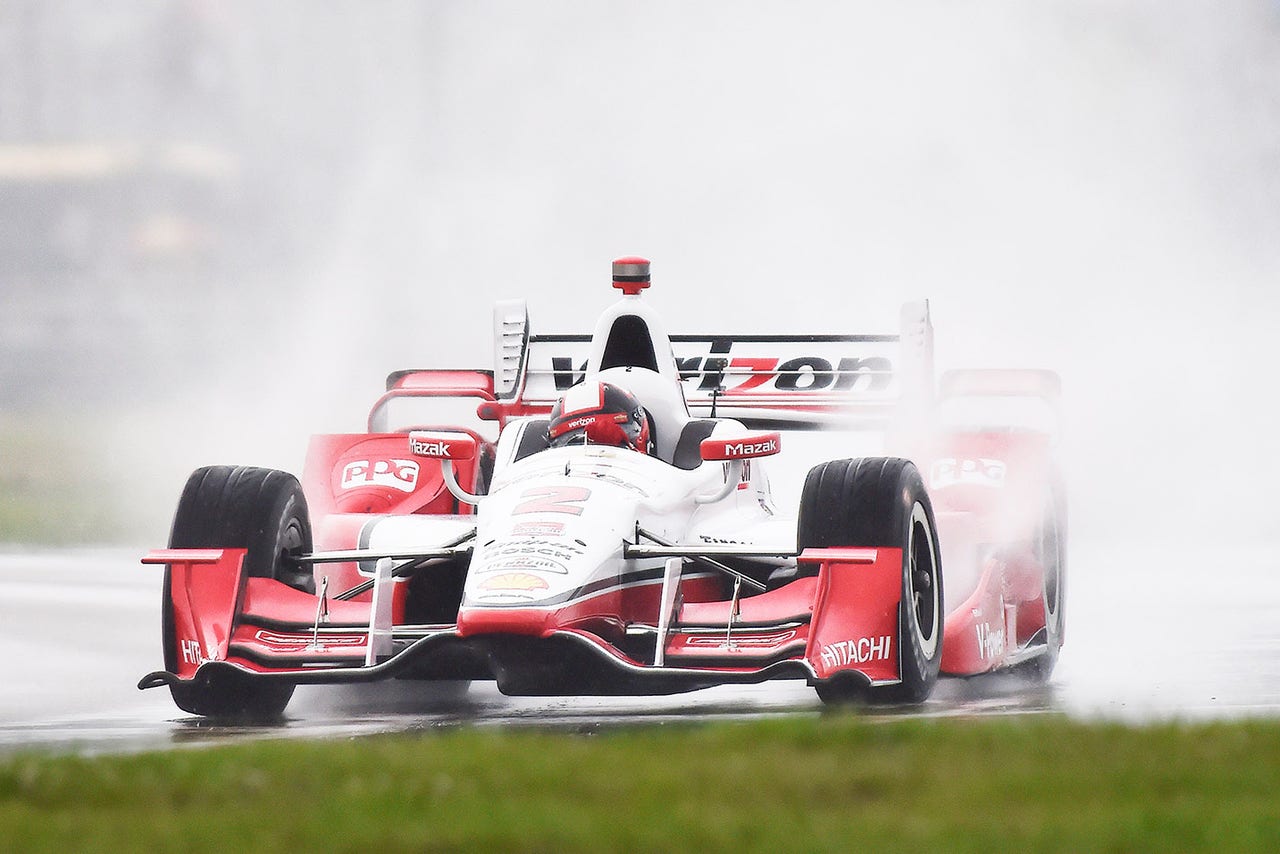 AVONDALE, Louisiana – Juan Pablo Montoya's Saturday evening in New Orleans ended up like so many hapless over-served victims of a night of Bourbon Street gone wild – stuck in a giant puddle.
Unlike many of those who got a little too carried away in the French Quarter and will wake up on Sunday wondering what happened, Montoya went from the giant puddle to the pole for Sunday's Indy Grand Prix of Louisiana at NOLA Motorsports Park.
INDYCAR officials started Saturday evening's qualifications in light rain and the first session ended with Montoya off course and stuck in a giant puddle. His car was towed out and it appeared the Verizon IndyCar Series leader would start the race far back in the field.
"To be honest with you, after I spun, when they were bringing me back and they found more water already from those two minutes, it was incredible how much more water was sitting," Montoya admitted. "I don't know how much this is going to last, and it kind of gave me a bit of a smile, but it is what it is."
But shortly after the second session began, the rain intensified and when a large bolt of lightning struck near the track, INDYCAR officials red-flagged the session and would ultimately cancel qualifications.
So the 24-car starting lineup will be based on entrant points and that put Montoya – winner of the season-opening Firestone Grand Prix of St. Petersburg – on the pole.
"We were lucky, but at the same time that's why you need the points, when you have days like this, it will pay off," Montoya said. "We try something a little different for qualifying, and we made a mistake there with the setup, but it is what it is. I think our car was actually pretty good. I didn't get to run the entire practice session in the morning. I put new tires on my fast lap I got ‑‑ the red flag came out, and on the lap I was actually up to the point I was running I was on pace with Simon Pagenaud, and Simon was P3 or whatever he was, so I thought we had a pretty good car. 
"I still feel like to win the race I feel like we need a tenth or two to be a little quicker.  We're going to make some changes for Sunday, and we'll see what happens with the weather now. That is the big question mark. I think IndyCar did a great job today making an effort to run the qualifying. I think that was a ballsy call, and I think that's what it takes. I think it was great."
Montoya led a four-car Team Penske effort at St. Petersburg when he defeated 2014 Verizon IndyCar Series champion Will Power. Three-time Indianapolis 500 winner Helio Castroneves finished fourth and newcomer Simon Pagenaud was fifth in that race on March 29.
And that is where they will line up on Sunday with Chip Ganassi Racing driver Tony Kanaan starting third.
With more rain in the forecast, the decision for the Verizon IndyCar Series teams will be devising a strategy for both dry and wet conditions at the 14-turn 2.74-mile road course in the swamplands outside of New Orleans.
"Well, at the moment you've got to look at the two things," Montoya said. "If it's dry, where are we going to run?  And if it's wet, where are we going to run?  You have to look at the two scenarios.  If it's dry, we're going to go with this.  And we're going to try to run here, here and here.  And if it's wet, then you've just got to wait to see what the weather does, and how much rain are we going to get tonight?   There are a lot of unknowns. 
"The hard thing is we keep going every time back to a green racetrack. Every time we've run there is a green racetrack. So the track hasn't really rolled. So the question is, okay, we kind of know what it's going to do from testing, but is it going to really evolve enough? We have a lot of entry issues with my car, for example, that we know when it rubbers up, they're going to go away. But every time we go out there, the first time we're like hanging on for dear life."
Montoya believes despite its flat layout the track surface drains well as long as cars continue to run on a wet track. That will help push the water off the track with the Firestone rain tires.
"I think Turn 9, the fast chicane, the right‑left, and that left‑hander there is going to be a lot of standing water there," Montoya warned. "I'm sure there are a couple more spots. I mean, I think Turn 5 was a little bit and Turn 6. The new asphalt on six was slippery, but it's not standing water, so it doesn't matter. There are a couple of apex's where there is lots of water.
"If we can keep running, it's okay. Once you stop, you're done. The first group was lucky enough to run when it wasn't too wet. I mean, it was wet, but there was not so much standing water they could actually start clearing the water.  The car starts clearing water, and you start seeing the two ‑‑ like you go into the corners and that's awesome. You're looking for the two groups where you want to run the front tires. 
"When that goes away, then you're in trouble."
How much rain on the track can IndyCar drivers feel comfortable with before it starts to become hazardous in the race?
"I don't think anybody knows that," Montoya admitted. "Because there was a lot of rain in that second session, and the problem with the rain is it's when you have thunder, like today. You can't control that. I think you can run in more water than they think they can.  It would be really slow, but everybody will be really slow. 
"If you know there is a big puddle and you need to slow down, if not you're going to aquaplane, well, then you slow down. You know what I mean? You've just got to know how far you can go."
Montoya went too far in Saturday's qualifications and ended up in a big puddle but he won the pole anyway. As for the over-served denizens on Bourbon Street in the French Quarter, some will go beyond their limits and won't have the same positive outcome as Montoya did on Saturday.
**
Be sure to catch Bruce Martin's Verizon IndyCar Series Report on RACEDAY on FOX Sports Radio every Sunday from 6-8 a.m. ET.
---