IndyCar: Drivers blame Hunter-Reay for race-ending crash at NOLA
April 13, 2015

AVONDALE, Louisiana – The major incident that doomed Sunday's Indy Grand Prix of Louisiana to a yellow-flag finish involving three of the biggest names in the Verizon IndyCar Series was something "lost in translation."
Simon Pagenaud of France was racing hard with 2012 IndyCar Series and 2014 Indianapolis 500 winner Ryan Hunter-Reay of the United States in the closing stages of the race at NOLA Motorsports Park. Hunter-Reay was alongside another driver from France, four-time Champ Car Series champion Sebastien Bourdais, when Pagenaud made his big move.
Pagenaud put his Team Penske Chevrolet to the outside of Hunter-Reay's DHL Andretti Autosport Honda. But Hunter-Reay believed he could not move over because Bourdais' KVSH Racing Chevrolet was alongside.
As those three drivers went into Turn 3, Pagenaud's car was forced into the grass. It skated across the wet surface and speared both Hunter-Reay and Bourdais in a massive crash on Lap 44. Pagenaud's car essentially landed on top of both cars and that is all James Hinchcliffe needed to conserve enough fuel to win Sunday's rain-plagued and incident littered race that saw just six laps of green flag racing contested from Lap 16-47.
Pagenaud stuck his head inside of Bourdais' cockpit to make sure the fellow driver from France was unharmed before confronting Hunter-Reay for triggering the crash.
"He pushed me into the grass," Pagenaud said of Hunter-Reay. "It's a shame Sebastien got involved in there. He didn't deserve it. I'm really disappointed with Ryan's actions. That is just not professional. That is absolutely as bad a move as I've experienced.
"I have to tell you – the guy impressed me. He's upset with me. He needs to look at the cameras.
"I feel bad for Seb. He had a good race going and unfortunately it was a big hit for him. I hope he is all right."
Bourdais shook off the incident and also put the blame on Hunter-Reay.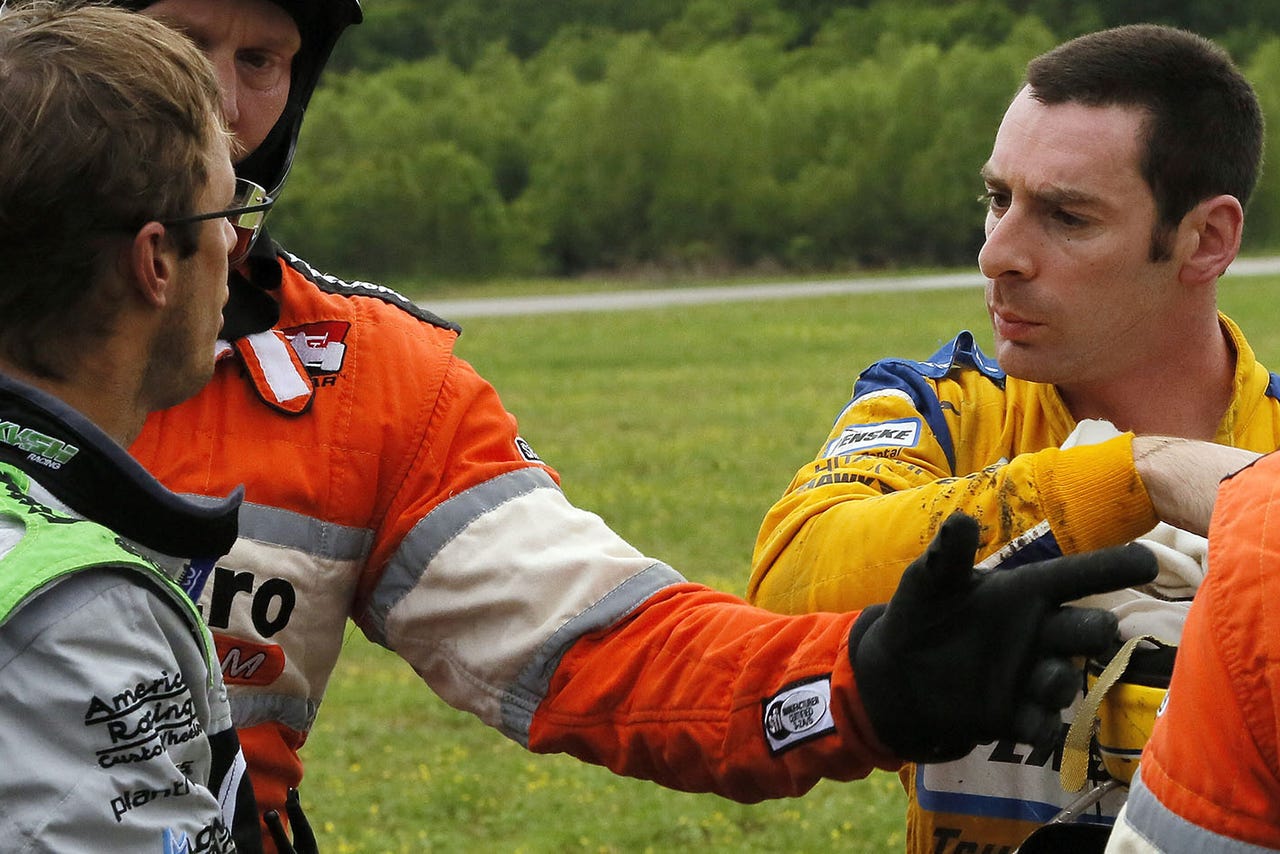 French drivers Sebastien Bourdais (left) and Simon Pagenaud (right) exchange words after a crash during the IndyCar Grand Prix of Louisiana auto race on Sunday, April 12, 2015, in Avondale, Louisiana.
"It was a pretty nasty hit and missed my head by a couple of inches," Bourdais said. "The tub is broken at shoulder level. It was a very big hit. I'm on the inside and I'm three wide. The bummer is Ryan throws him in the grass. If he doesn't do that we're just running three-wide and it's all good. But once he put Simon in the grass it was all over. It was a big hit.
"It was a non-race. A good race for us until all the yellows came out. We had a good race in the rain but when the yellows came out – yellow after yellow restart after restart – then you end up with a fake winner. No offense to James Hinchcliffe (race winner) but Helio Castroneves makes a mess of a restart and breaks his front wing and James Jakes spins out early in the race and all these guys finish ahead of you – that's disappointing."
Hunter-Reay finished 19th,Pagenaud 20th and Bourdais 21st.
"Too many cars in one spot, I took the regular racing line, Pagenaud decided to put himself in there and there was no room," Hunter-Reay said. "Bourdais was to my left so I had no where to go. I need to take a better look at it.
"I'm just glad nobody got hurt."
Even Hunter-Reay's team owner, Michael Andretti, believed his driver was at fault for the incident that ended the race.
"From what I saw it looks like Ryan pushed Simon off and Simon was out of control at that point and had nowhere to go," Andretti said. "It's an expensive hit. It's not going to be cheap to fix all of that."
Ben Bretzman is Pagenaud's engineer and moved with the driver from Schmidt-Peterson Motorsports to Team Penske. There are some high expectations for this combination at the winningest team in IndyCar history and Pagenaud finished fifth in the Firestone Grand Prix of St. Petersburg on March 29. Because of the quirky nature of Sunday's rain-plagued and caution-filled race at NOLA Motorsports Park, Pagenaud wasn't in contention for the win but was racing for a decent finish.
"You need to average a sixth or seventh place finish to win the championship so 20th isn't going to do very well," Bretzman said. "We were looking at a top-10 finish because of how the yellows played out. We're disappointed. We could have had an eighth or seventh-place finish there but we gave up some bad points there. That's racing.
"Ryan is known for being pretty hard-nosed and going for a tight space. In the rain you can't do that. He pushed him off the track and ended up with Simon on top of him. You don't see Simon get very upset unless he feels he is in the right. He kept the helmet on and kept it in check."
Pagenaud is a very likeable driver from France but he isn't afraid to stand up for himself, either. He proved that when he confronted Hunter-Reay.
"I think we had a shot if that last yellow didn't happen we would have been really good," Pagenaud said.
Rick Mears won four Indianapolis 500s and became an IndyCar legend by driving with a cool head.
"He tried to take his half out of the middle," Mears said of Hunter-Reay. "It's a shame. The whole point is racing and racing isn't because my nose is just ahead of his nose that it's my corner. All I know is he ran out of room. I saw him do the same thing with the 11 car (Bourdais) at the start of the race going into Turn 10. He got in too hot, went to the outside and all the way to the corner but the 11 car didn't run him off the track – that's the difference."
**
Be sure to catch Bruce Martin's Verizon IndyCar Series Report on RACEDAY on FOX Sports Radio every Sunday from 6-8 a.m. ET.
---