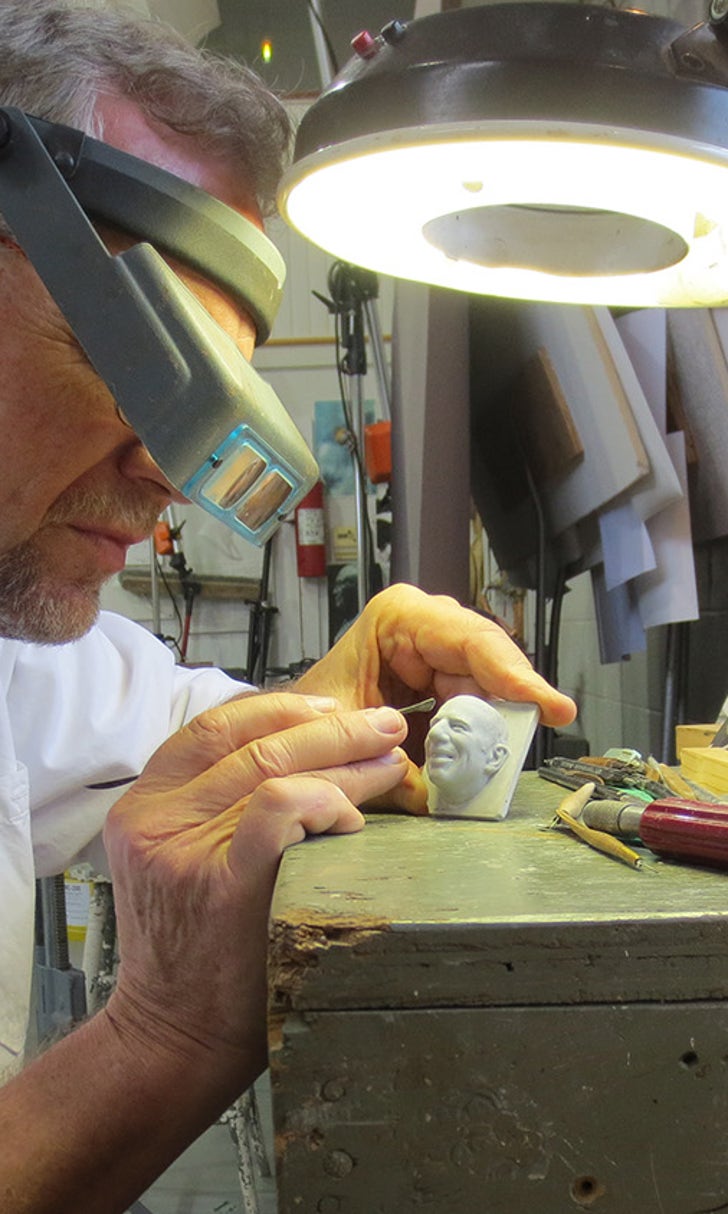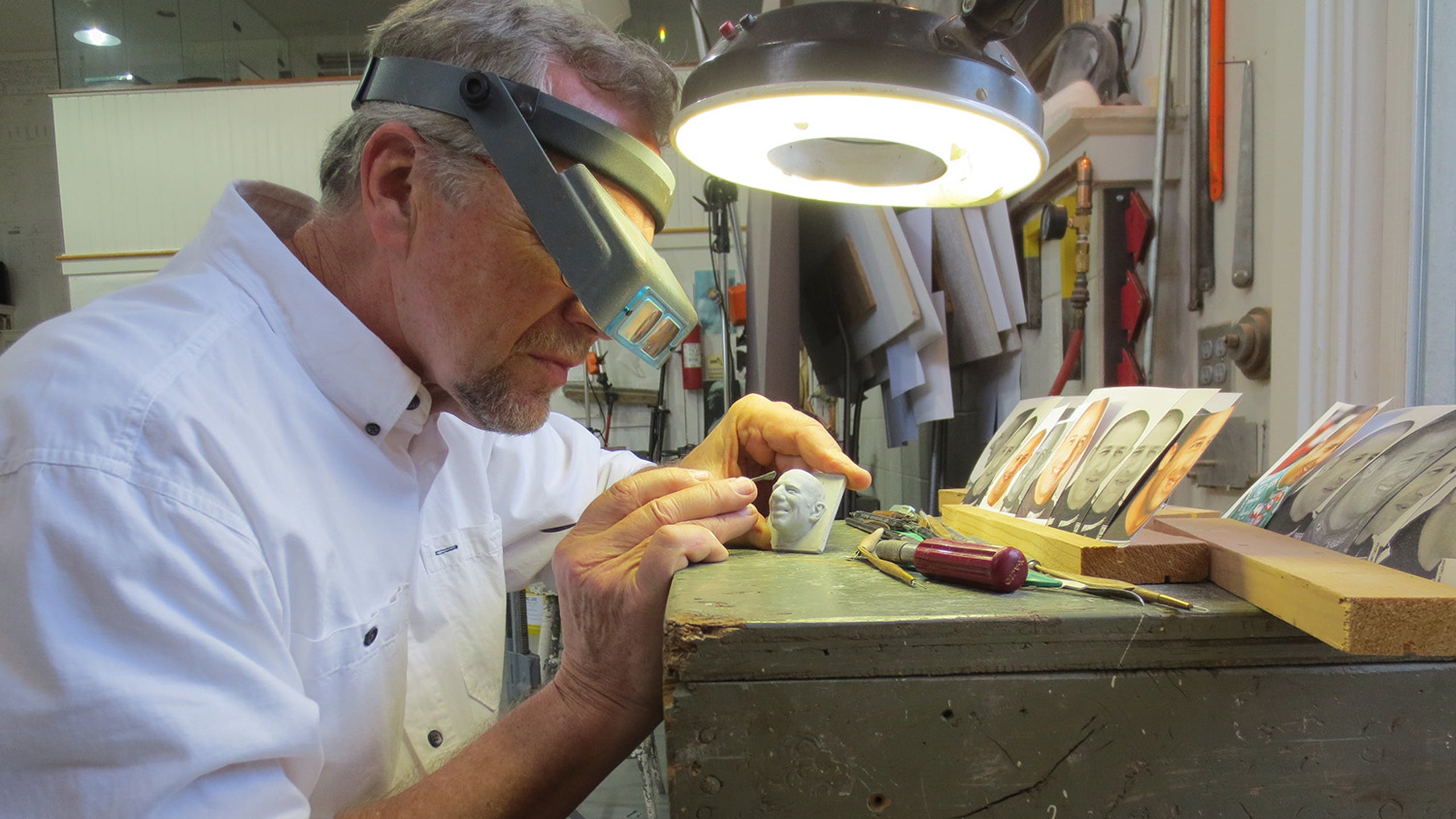 From Willie Mays to Juan Montoya: The sculptor of sporting history
BY foxsports • October 23, 2014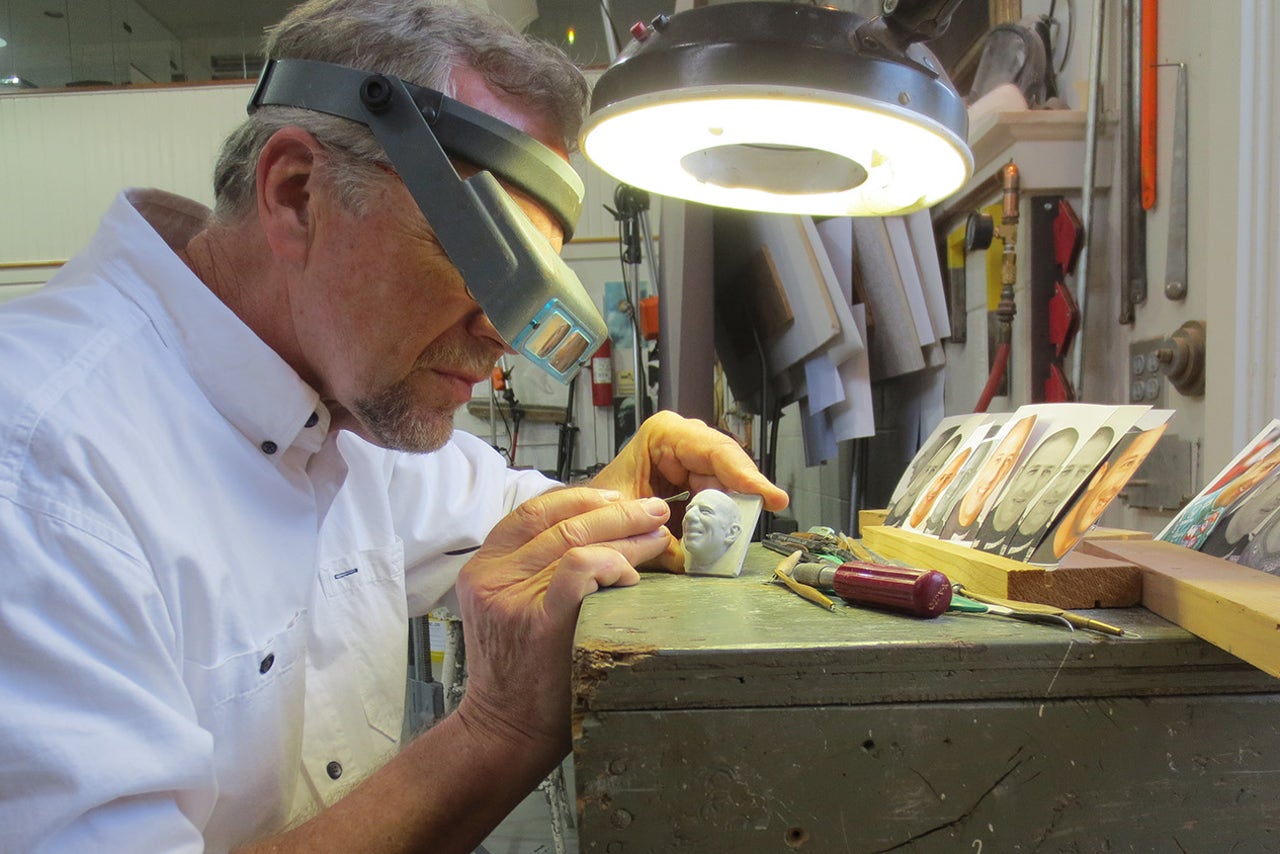 Any driver who has ever strapped into an IndyCar dreams of eventually having his face sculpted onto the Borg-Warner Trophy as the winner of the Indianapolis 500, just as a baseball player who makes it to the "Big Leagues" dreams of playing in the World Series.
The Borg-Warner Trophy is a bigger-than-life prize that gives the winning driver of the Indianapolis 500 immortality. Long after the prize money has been spent and the driver's career is over the face and the achievement lives on as part of the perpetual trophy.
For fans who attend Game 3 of the World Series at AT&T Park in San Francisco, they are also greeted by four bigger-than-life sculptures of four of the greatest baseball players in San Francisco Giants history – Willie Mays, Willie McCovey, Juan Marichal and Orlando Cepeda. Each one is about 9-1/2 feet tall on 5-foot high granite pedestals.
For noted sculptor William Behrends of Tryon, N.C., he understands the importance of both dreams.
For the past 25 Indianapolis 500s, Behrends is the man who sculpts the winner's face that goes on the Borg-Warner Trophy. He is also the man who sculpted the statues of the four Giants greats that are on display outside of AT&T Park.
Behrends has created every face on the Borg-Warner Trophy since Arie Luyendyk in 1990. He is currently working on the 2014 Indianapolis 500 winner's image – Ryan Hunter-Reay – that will be unveiled on the trophy on Dec. 3 at the Indianapolis Motor Speedway. It will be Behrends' 25th image on the Borg-Warner Trophy.
The Indianapolis 500 is one of the fastest-paced sporting events on Earth, with the participants in race cars exceeding 240 mph down the front straight at the Indianapolis Motor Speedway. The World Series is played at a leisurely pace – an untimed sport played in a best-of-seven games format. The first team to win four of the seven games is the World Series winner.
While these two sports are dramatically different, so is Behrends' works of art.
"I am very fortunate and I feel honored to be part of the Indianapolis 500 and the World Series," Behrends said. "They are two American institutions in sports and I'm very much a sports fan – a racing fan and a baseball fan so they are very special to me.
"When they were building the ballpark in 1998 they envisioned having a statue of Willie Mays in front of it and wanted an entrance piece to their ballpark. They found me through a sculpture I had done of golfer Ben Hogan. They asked me if I would like to do this piece and I jumped at it because Willie Mays was a hero of mine growing up. In Little League I modeled my batting stance after him. I made two clay models of what the statue should look like and they immediately liked it."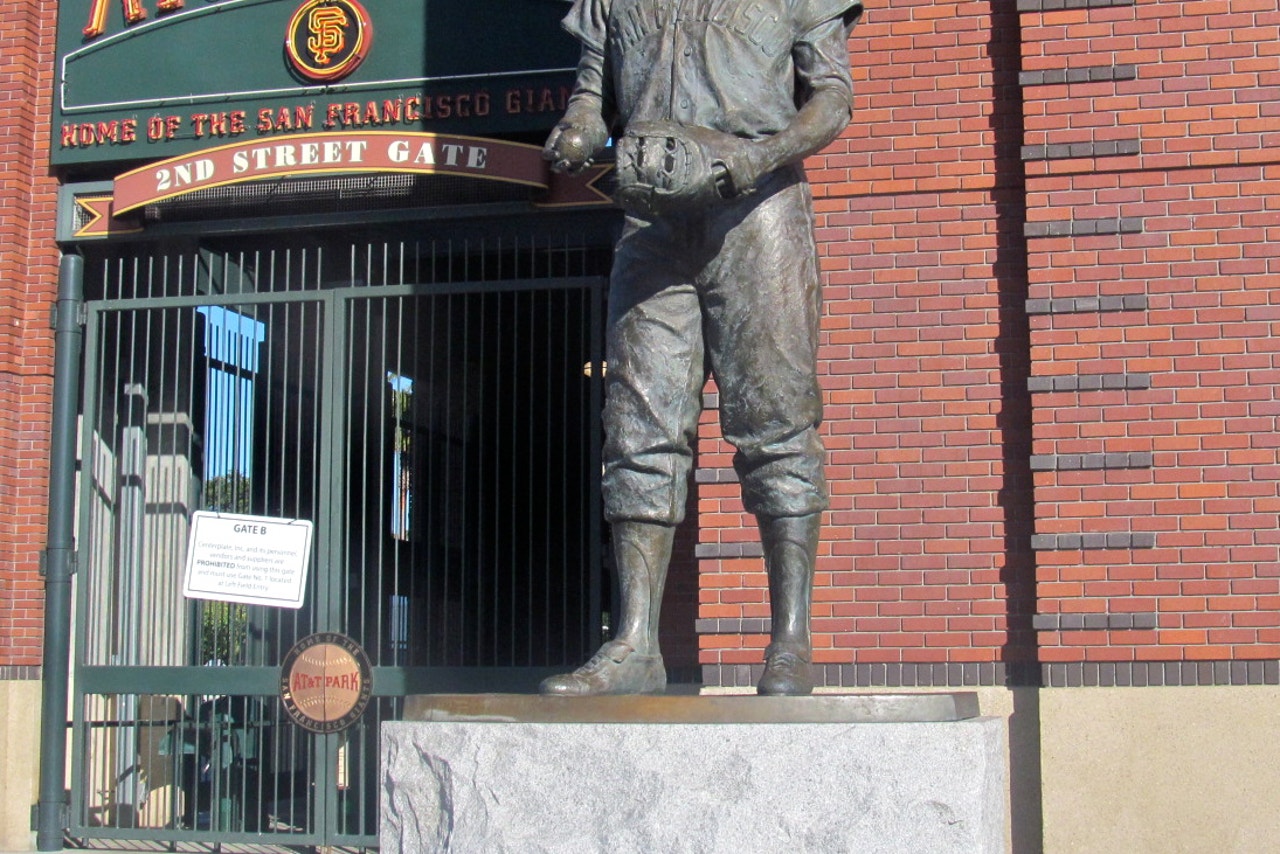 The sculpture of Orlando Cepeda outside of AT&T Park in San Francisco.
The sculptures of Mays, McCovey, Marichal and Cepeda depict each player's entire body. The image of the Indianapolis 500 winner on the Borg-Warner Trophy is only his face and is less than the size of an egg. He uses the same piece of clay that he has been using since 1990.
"When I did the face in 1990, I fixed my own batch of clay so it had the properties necessary to work on something that small; something that could hold the detail allow me to work that small," Behrends said. "Normally the pieces I do are life-size or larger so it was the first time I did something that small. My challenge, even in that small size, is to give a strong likeness and a lot of character and expression in these small sterling silver pieces. I want someone who visits the trophy at the Indianapolis Motor Speedway Museum or on Race Day to be able to see from 12 feet away that it's Ryan Hunter-Reay and they love the expression on his face. It being such an important event really pumps me up and makes me excited and honored to have a chance to do it."
It takes two to three months from start to finish for Behrends to complete the face for the Borg-Warner Trophy. He begins with clay, then makes a mold of the clay to refine the detail of the face on a harder material. After he has it to his satisfaction, the face is then cast onto Sterling Silver.
"It's like doing three different sculptures," he said. "We try to refine it as we move along. It really is an important day when the driver sees their face for the first time. They are an important judge and I'm delighted when they are happy with their image. Most of the drivers have been very gracious about it and let me know when I've done a good job and that means an awful lot to me."
By contrast, when he made the four larger than life sculptures of the four San Francisco Giants greats, Behrends' work was super-sized.
"It's a larger physical challenge where I'm going up and down on the scaffolding," Behrends said. "The large ones are a different challenge. They are action sculptures and I have to study Willie McCovey's swing and what an athlete Willie Mays was on a large image in addition to achieving a good likeness in their faces as well as the physicality of their athletic ability. I do a lot of studying of each image."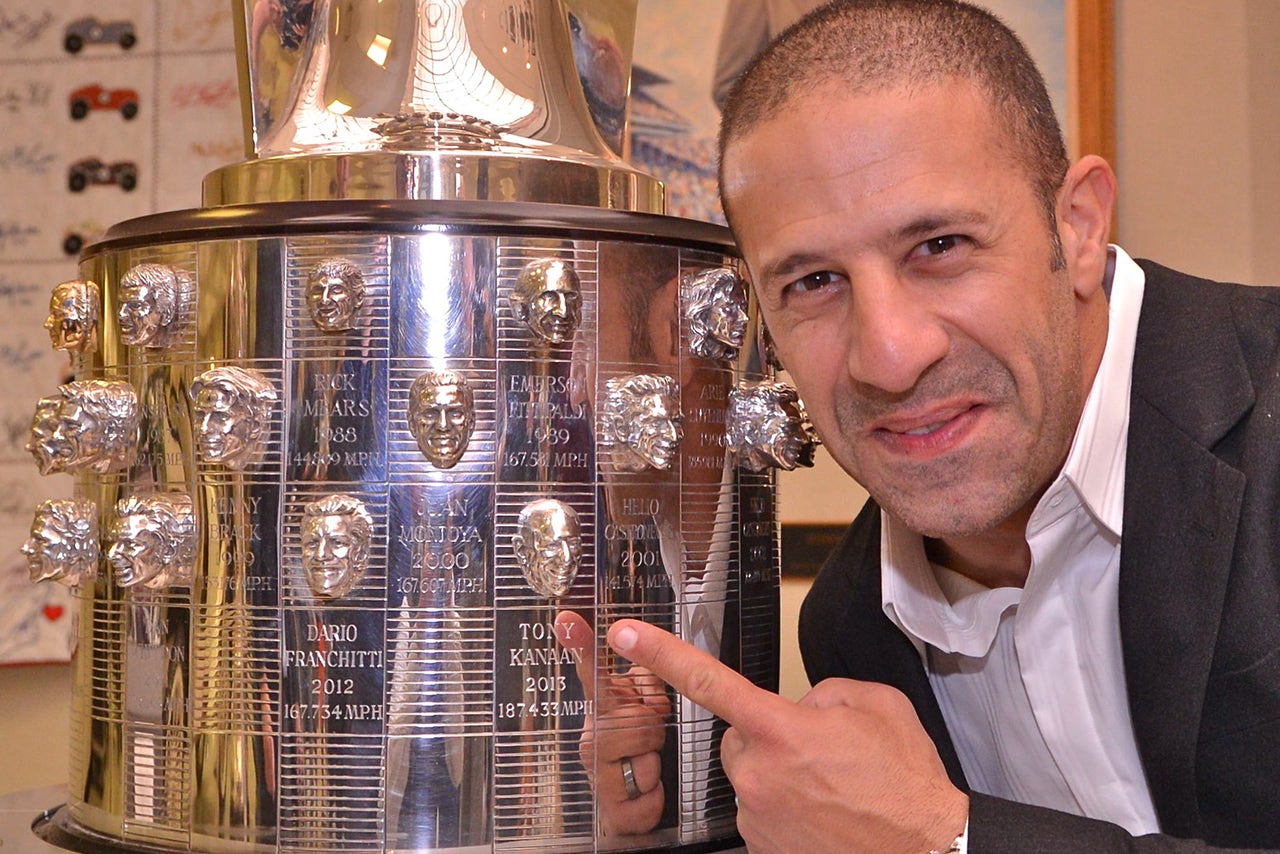 Tony Kanaan points to his face on the Borg-Warner Trophy after winning the 2013 Indianapolis 500.
Behrends is one of the top sculptors in the world and his skills are depicted in two totally different mediums that help promote and create lasting memories in the world of sports at two iconic events know worldwide.
"It really is a privilege and with it comes a big responsibility because these are sculptures I hope will be in place a long, long time," Behrends said. "The Indy 500 and the San Francisco Giants are organizations that value history. In 20-30 years, I hope people are able to get a sense of what it is like to look Ryan Hunter-Reay in the eye and to see Willie Mays hit that ball and head towards first base.
"I got to do the last image of Rick Mears of his four wins on the Borg-Warner Trophy and he is a legend of the sport just as Mays, McCovey, Marichal and Cepeda are to baseball."
In addition to the Borg-Warner Trophy and the four statues outside of the Giants ballpark, Behrends has sculpted statues of golfers Ben Hogan in August, Georgia and Bobby Jones in Atlanta; baseball's Tony Gwynn at Petco Park in San Diego, Buck O'Neill in the Baseball Hall of Fame, and Jackie Robinson and Pee Wee Reese in Brooklyn.
The Indianapolis 500 and the World Series have little in common and that is what makes Behrends and his work so unique.
"It's a big deal to me," Behrends said. "The Indy 500 and baseball are something I'm very much a fan of. It's a tremendous honor that I can contribute something lasting to these two events."
**
Be sure to catch Bruce Martin's Honda IndyCar Report on RACEDAY on FOX Sports Radio every Sunday from 6-8 a.m. ET.
---